Whole Life Insurance
Whole life insurance is no longer available in Australia, but there are plenty of alternatives that can protect you and your family.
We're reader-supported and may be paid when you visit links to partner sites. We don't compare all products in the market, but we're working on it!
Whole life insurance was popular in the '70s and '80s, but it's no longer sold in Australia. Thankfully, there are reliable alternatives that can provide a safety net for you and your family.
These days, term life insurance is used instead of whole life insurance. The only real difference between the two is that whole life insurance used to include an investment portion, which Aussies could withdraw funds from when they retired.
When superannuation was made compulsory, there was no longer any need for that investment portion of the policy, and term life insurance became more popular.
Get a quote for term life insurance
Term life insurance is considered more affordable than whole life insurance, and it's still possible to find a policy with no age limits. The options below also have an expiry age of at least 99 so long as you keep paying your premiums.
An adviser can help you find cover from trusted life insurance brands.
Get competitive quotes from multiple brands

Lower rate of declined claims (according to ASIC)

Save time and effort
---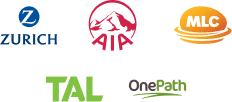 How does Whole Life Insurance work?
Before superannuation was made compulsory, most workers used whole life insurance as a means of providing funds for when they retired, by surrendering their policies so they could access the policy's cash value. A portion of the premium paid for whole life assurance having been put aside for investment purposes and another to fund the insurance cover.
How much does Whole Life Insurance cost in Australia?
Whole life insurance was considerably more expensive to low cost term insurance, due to the cash value component. However, it is important to note that while the guaranteed earnings you can get with whole life insurance is attractive, often the interest you receive from the investment portion does not pay any more than when you have savings account with a bank.
However, some might still consider whole life to be a worthy investment in Australia, this is because whole life was seen as forced savings and by having a cash value component. Policyholders had the assurance that the life insurance company would have to pay out on whole life insurance one way or another, either in event the life insured's death or when the policy was surrendered.
What are the advantages and disadvantages of Whole Life Insurance
Whole of Life policies presented a number of benefits and drawbacks to owners of this type of cover. Let's review these;
Advantages

Disadvantages

Peace of mind of having a lifelong protection.
Often used as mandatory savings.
Access to cash when your circumstances change.
Premium remains the same throughout the life of the policy, regardless of your age.
Guaranteed death benefit.
Your cash value portion will continue to grow each year with guaranteed interest earnings.
Possible dividend earnings, which can be used to increase your cash value, reduce premiums, or withdrawn for other purposes.
Possibility to save money to fund your retirement.

Premiums are much higher compared to term life insurance.
Not flexible when you need to increase or decrease your cover.
The cover amount does not keep up with inflation, which puts your beneficiaries at risk of underinsurance at the time of claim.
Poor investment choice as the interest you earn on the cash value may be lesser than other available investment alternatives.
It is important to note that although whole life insurance policies are generally regarded as "whole of life," they do in fact expire when you turn 100 years old. This means, if you were to live to 100 or more, the policy would mature and the face value would then become payable.
---
What's the difference between whole life and term life insurance?
Similar to whole life insurance, term life cover provides a lump sum death benefit in the event that the policyholder passes away while the policy is still active. There are some notable differences between whole life and term life insurance. These include:
| Characteristics | Whole Life Insurance | Term Life Insurance |
| --- | --- | --- |
| Cost | More expensive, due to the investment portion of the policy. | More cost-effective. |
| Length of Cover | Covers you for your entire life, provided that premiums are paid when due. | Remains active for the term selected by policy owner at time of application. This can usually be renewed into the future. |
| Flexibility | Not so much - you can't change your cover amount when your needs change. | Very flexible - you can apply to increase your cover when necessary without having to provide further medical evidence. |
| Inflation | Death benefit stays the same, regardless of the inflation rate, which may result in insufficient cover in the future. | Cover is automatically increased each year to keep up with inflation. |
| Features and Benefits | The cash value component allows you to borrow funds when required, used as a collateral against a loan, or to pay for your premiums. | Greater range of features and benefits that you can tailor to suit your needs. You can also link term life with other types of life insurance to cover temporary and permanent disability. |
Financial advisers will often recommend term life insurance for insurance purposes and suggest that you find other ways to invest the remainder of your money, but this depends on how much money you have available for investment purposes and whether you have the capital available to take advantage of the most profitable investments.
---
How long can term life insurance be taken out for?
You have the power to select a period of cover most suitable for your situation. Applicants usually select terms of 5, 10, 15, 20 and 30 years. Another benefit of term life insurance is that you will continue to be insured in the future as long as you meet the premium payments when due, regardless of any changes to your health, occupation or pastimes.
How are premiums paid for?
You are also in control of choosing the premium structure that best suits your financial situation:
How does it work?
Your premiums will stay the same regardless of your age with level premiums, however, it will convert to stepped premiums at the cut-off age, usually between the age of 60 to 65. With stepped premiums, your rates will increase overtime with age and become considerably more expensive in the later stages of life. On the other hand, Hybrid premiums offer the benefits of both level and stepped premiums, so your premiums will increase as you age at the first stage of your cover, and fixed to a specific rate for the rest of the policy life.
Will Whole Life Insurance ever return to the Australian insurance industry?
An important question was raised in a recent MDRT gathering for financial professionals in 2013 on whether the time has come for whole life product to make its comeback to the Australian market. Jeffrey Ranz, a US based adviser, shared his opinion that the major distinction between term life and whole life policies comes down to 'when' and 'if.' The question with term life insurance is 'if' the policy will provide a payout, while whole life is a matter of 'when' the policy will be paid. Ranz concluded that whole life insurance is the only cover that can guarantee this 100% of the time, but not so much with term life insurance.
The Australian market may one day see the revival of whole life insurance when the industry sees the merits of bundled life insurance and savings/investment plan.
More guides on Finder