Red Energy vs Origin
Red Energy may not be as large as Origin Energy, but which comes out ahead?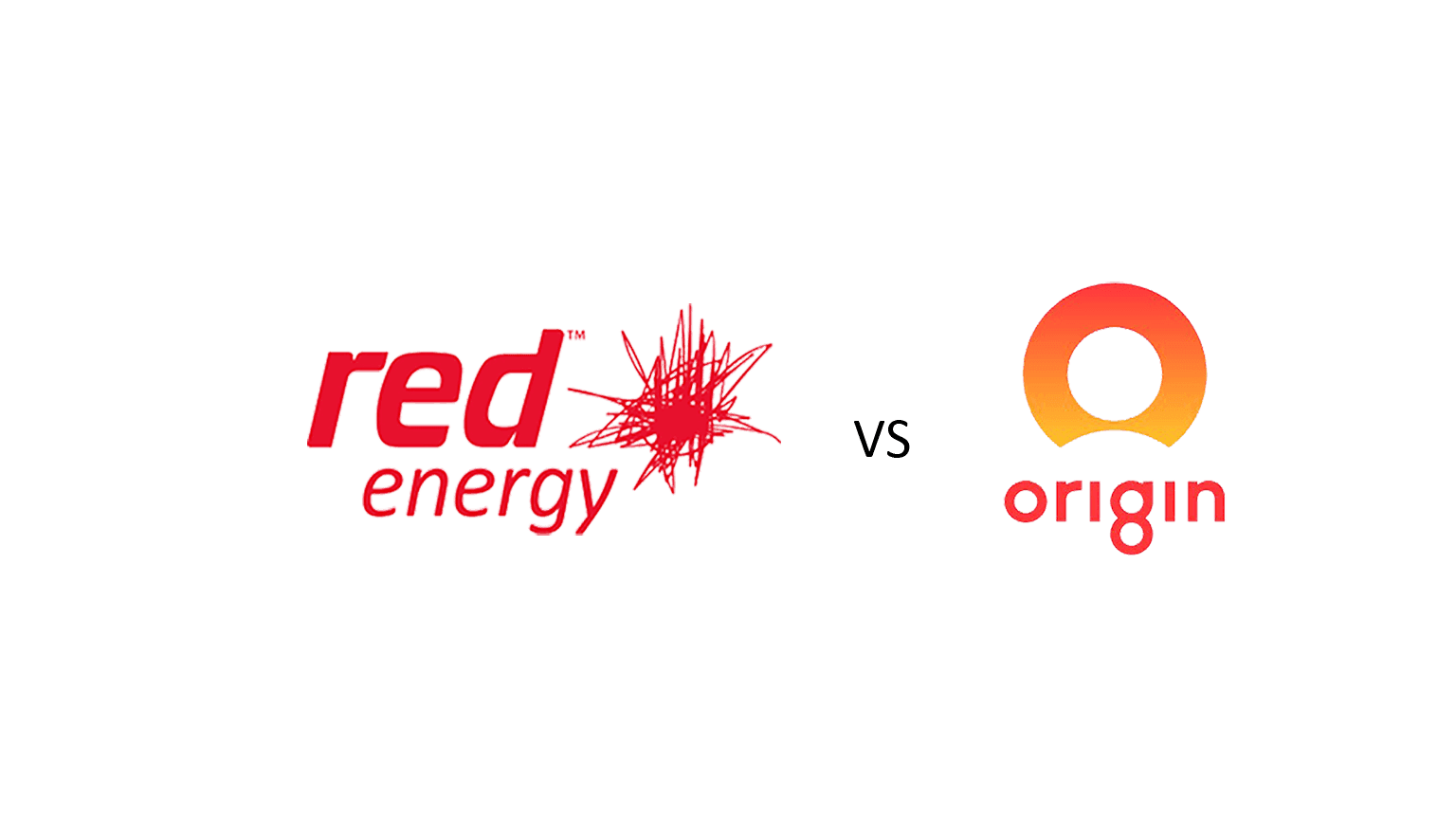 We've put together this guide to help you figure out whether Red Energy or Origin has the better deals. We've examined the four states they both operate in for convenience. Retailers can alter their plans and rates at any moment, so the numbers and plans we've summarised below may change in the future.
Get a price estimate for Red Energy or Origin
Red Energy vs Origin: How do they compare?
Here's how the two providers compared to each other at the time of writing:
| | Red Energy | Origin |
| --- | --- | --- |
| Incentives | Qantas points, Red Energy Rewards | Online sign-up discount on some plans |
| GreenPower options | Yes | Yes |
| Customer service rating | 4 stars | 4 stars |
| Price | Red Energy is cheaper in 0 out of 4 states that we reviewed | Origin is cheaper in 4 out of 4 states that we reviewed |
| Notes | No benefit period on discounts/ongoing discounts | Discounts may expire after 12 months on cheapest plans |
Last checked August 2020
Cost comparison: Red Energy vs Origin
The tables below show the cheapest plans for each provider in each state. We don't include plans that have special eligibility requirements.
What plans are available from Red Energy and Origin in each state?
Note: Discounts and incentives change often. Be sure to check with the provider before signing up or applying.
New South Wales
Residents of New South Wales have access to the most plans combined between the two retailers.

Get variable rate electricity and access to Red Energy Reward discounts on hotels, restaurants and more.
You can earn up to 10,000 bonus Qantas points by purchasing power.
A deal tying in with Taronga Zoo. Get a 1 adult, 2 children membership to Taronga Zoo, plus some associated discounts.

Extremely cheap variable rates for a 12-month period, but you have to agree to online monthly billing and communications, as well as installing a smart meter.
Not as big a guaranteed discount as the Max Saver, but you don't have to meet any special conditions.
Provides a smaller discount than the Flexi plan, but is ongoing rather than expiring at the end of a 12-month period.
Victoria
Origin's cheapest plan has a few conditions attached to its use in Victoria, while Red Energy gives you access to some rewards for its plans.

Variable rate electricity with access to the Red Energy Rewards program, granting access to over 4,500 discounts.
Get up to 10,000 bonus Qantas points for purchasing electricity.

Cheapest rates with a 12-month guaranteed discount, but you have to agree to online bills, communications and monthly billing.
Similar to the Max Saver with slightly higher rates but no special requirements.
Queensland
The gap between Red Energy and Origin is a little bigger in Queensland than it is in other states, with Origin's best plan giving solid benefits.

Simple variable rate electricity with no contract term. Get a boosted feed-in tariff on your solar for the first 5kWh per day.
Earn up to 10,000 bonus Qantas points when spending money on your power bill.

Heftily discounted electricity rates for a benefit period of 12 months. Under this plan, you'll only be sent billing and communications via email, and you'll be billed monthly.
Higher variable usage rates than the Max Saver. No special requirements to access the 12-month guaranteed discount.
Smaller discount than either of Origin's other Queensland offerings, but the discount is ongoing and doesn't expire after 12 months.
South Australia
Origin wins out in South Australia, where Red Energy's plans are equivalent to a standing offer.

Basic variable rate electricity with no set contract term.
Identical to the Living Energy Saver, but you earn Qantas points for every dollar you spend on your energy bill.

Access a significant 12-month guaranteed discount by agreeing to online billing, communications and a monthly billing period requiring a smart meter.
Removes the extra requirements of the Max Saver, offering standard variable rate electricity with a smaller guaranteed discount.
No expiry period on the guaranteed discount, meaning that you'll get a smaller discount than other plans, but it won't run out after 12 months.
Customer service score: Red Energy vs Origin
The Finder customer service score is distinct from customer reviews, and is based on a range of accessibility and responsiveness measures. These include when support is available, support and application processes, payment plans and more.
Red Energy and Origin Energy stand on equal footing with both scoring 4 stars out of a possible 5.
Verdict
When examining incentives for signing up, Red Energy comes out ahead, especially if you value Qantas frequent flyer points. Origin has a small online sign-up bonus for its Max Saver plans, but nothing much beyond that.
You can get GreenPower with either provider. With Red Energy it's a 100%, while Origin has increments of 25%, 50% and 100% for a bit more flexibility.
Origin Energy has a dedicated app for plan management, but Red Energy just has the usual online account management portals. With Origin's Max Saver plan, app use is mandatory.
When it comes to customer service, both Origin Energy and Red Energy outshines most of their competitors, with extensive service available throughout the week.
Origin has cheaper plans with a few more attractive features, but the best plan to go with depends on where you live and the prices you have available to you.
Icons made by Freepik from www.flaticon.com
How do the big energy brands stack up against each other?
Related Posts
Lower your household bills