Telstra vs Optus vs Vodafone: Prepaid mobile plans compared
Prepaid mobile plans come with plenty of data nowadays, but which big telco offers the best deals?
We're reader-supported and may be paid when you visit links to partner sites. We don't compare all products in the market, but we're working on it!
Looking for value in a prepaid phone plan and keen to stick with the reputation of one of the big three brands of Telstra, Optus, or Vodafone? We dig through the most important features offered by these providers' prepaid plans to help you make up your mind which one will work best for you.
Telstra vs Optus vs Vodafone: Prepaid data allowances
The three providers offer a surprisingly small number of regular prepaid plans between them. Fortunately, they fall at roughly the same price points, so we've grouped them accordingly to make comparison of their data allowances quick and easy.
| Provider | $30 | $40 | $50 |
| --- | --- | --- | --- |
| Telstra [Prepaid Complete] | 8GB (+17GB on first 3 recharges) | 18GB (+17GB on first 3 recharges) | N/A |
| Vodafone [Combo Plus] | 10GB (+15GB with automatic recharge) | 20GB (+25GB with automatic recharge) | 30GB (+25GB with automatic recharge) |
| Optus [Epic Data] | 10GB (+25GB on first 3 recharges) | 20GB (+25GB on first 3 recharges) | 30GB (+25GB on first 3 recharges) |
Winner for data allowances: Vodafone
While Telstra has the worst value on data overall, we rate Vodafone's prepaid plans ahead of Optus. This is mostly because Optus' extra data will stop from your fourth month onwards, but as long as you're fine with automatic recharges you can keep the bonus data from Vodafone on an ongoing basis.
Telstra vs Optus vs Vodafone: Additional prepaid plan features
When you sign up to a plan with one of the three big telecommunications companies, you'll get access to a number of other features or extras that are automatically included or can be tacked on. Here's what each offers with their prepaid plans.
Telstra
Data bank. You can save up to 200GB of unused data when you recharge before your plan expires.
Data free streaming. Stream lots of different sports including AFL, NRL, Netball and more without using up plan data. You can also stream Apple Music data-free, though you will require a valid subscription.
Telstra Air. As a Telstra customer, you can access free Wi-Fi at over a million hotspots across Australia.
Telstra Plus. Money from your bills will earn you Telstra Plus points that can be spent in Telstra's loyalty rewards store.
International minutes. Some prepaid plans give you international calling minutes you can use to place calls to certain international destinations.
Vodafone
International minutes. Some Vodafone prepaid plans give you a certain number of international minutes to call overseas destinations. These destinations are split up into two zones, with minutes allotted to each separately.
Optus
Data rollover. If you recharge before your plan expires, you can rollover up to 200GB of data.
Expiry extension. Recharging before the expiry date of your plan will retain the remaining days of expiry, up to 84 days.
Streaming data. Receive up to 10GB bonus data for streaming purposes, usable on Netflix, Stan or ABC Kids.
Prepaid add ons. Prepaid plans can be modified with a number of add ons, ranging from data roaming to travel credit, talk packs, extras credit and sport streaming.
Extras credit. Some prepaid plans come with bonus extras credit that can be spent on international calls, data roaming and some premium SMS services.
Winner for extra features: Telstra
In the additional features field, it's a toss up between Telstra and Optus, with Vodafone coming a distant third. Telstra's extras are the most widely useful, since almost anyone can benefit from Telstra Air, Telstra Plus and the data bank regardless of usage habits. Optus isn't too far behind, offering data rollover and some streaming data that could be helpful for those who love streaming movies on their phone.
Telstra vs Optus vs Vodafone coverage
Comparing coverage between the big three providers can be done, but keep in mind that unless you're in a remote rural or regional area, the actual service variation you're likely to run into is minimal.
Telstra
Telstra's network reaches the furthest, servicing 99.5% of Australians right across the country. However, if you're accessing its network through an MVNO, be aware that you'll probably only be able to access its wholesale network, which covers only 98.8% of the population. The other providers offer their full network to MVNOs.
You can check out an overview of Telstra's coverage map below, with 3G areas shown in dark blue, 4G in green and 5G areas in purple.
Telstra also has the most established 5G network of the three, already offering some 5G trials to customers with compatible devices in serviced metro areas. For a closer look at whether you are located within Telstra's service area, check out its coverage map here.
Vodafone
Vodafone's network services 22 million Australians with its 4G network. It's the last of the three to roll out its 5G network.
Unfortunately Vodafone's coverage map doesn't have a full country view of its coverage areas, so to see if you're within their network, enter your address into its map for full details. The above areas in pink are Vodafone's 4G spots, with green showing their 3G areas.
Optus
With the second-largest network of the three, Optus covers around 98.5% of the Australian population with 3G and 4G. In recent years, it's focussed on bringing its network to underserviced regional areas that would typically have been the domain of Telstra. You can see in Optus' coverage map below that while they do service a larger portion of the country than Vodafone, Telstra is still covering a greater area, especially in less populated areas of Australia. Only Optus' 3G and 4G areas are shown in the map below.
Optus has begun its 5G network rollout, which is available to some customers in the metro areas it covers. For more information on Optus' mobile network coverage, take a look at their coverage map.
Winner for coverage: Telstra
Telstra remains the top performer when it comes to sheer network coverage, reaching 99.5% of Australians. However, it's possible that when it comes to 5G, Telstra might start seeing some serious competition from Optus or Vodafone.
Telstra vs Optus vs Vodafone: Long expiry plans
Long expiry plans are designed for people who don't use their mobile phones very often. Most work on a pay-as-you-go (PAYG) model, where you load up a SIM with long expiry credit. Then, charges are deducted from this credit for each minute of calls, texts sent and unit of data consumed.
Telstra
Telstra has two types of long expiry plans. One of them is the "Long Life Plus" prepaid SIM that operates on PAYG with 6 months of expiry where you choose between $20, $40 or $150 of credit. The other two are regular prepaid plans:
60GB for $150 with 6 months expiry.
150GB for $300 with 12 months expiry.

Since call rates matter, here's what Telstra charges for usage on long expiry:
30c/min to standard numbers
30c/SMS
7c/MB ($72/GB).
Vodafone
Vodafone offers "Pay and Go" long expiry SIMs with two expiry periods that work on a PAYG model. You can get $30 of credit that lasts 180 days, or you can get a full 365 days expiry with $40 or $50 of starting credit.
Here are Vodafone's talk and text rates:
20c/min to standard numbers
20c/SMS
4c/MB ($40/GB)
Optus
Optus has three plans that qualify as long expiry. One is its prepaid "Epic Value" plan where you get 60GB of data for $180 that lasts 365 days, plus unlimited talk and text.
Beyond that it has two models of long expiry. The first is "Daily Plus", where you buy a certain amount of credit and then deduct $2 for every day you use the service (up to 500MB per day of data). You can buy $30 of Daily Plus credit with a 186-day expiry.
The second is the more common PAYG system. Purchase $30, $40 or $50 of credit and enjoy a 186-day expiry period.
Here are Optus' PAYG rates:
25c/min to standard numbers
25c/SMS
7c/MB ($70/GB)
Winner for long expiry plans: Vodafone
Out of all the providers, Vodafone has the best rates for PAYG phone plans, and should be the one to go with if you want a long-lasting plan. If you're after big data for a long period of time, Telstra's 150GB for $300 is something to consider since it lasts a full year, with Optus' 60GB for $180 coming second for those who don't need quite that much data.
Telstra vs Optus vs Vodafone: Prepaid data roaming
Want to take your data and make calls overseas? All three big carriers have international roaming options available. Just be aware that in many situations, you'll be better off avoiding roaming and going with an alternative, such as purchasing a local SIM at your destination.
Telstra
With Telstra, roaming operates on a system called the "International Day Pass". For this, you'll pay $10 per day in an eligible country ($5 in New Zealand). In return, you receive unlimited calls and SMS, plus 500MB of data daily. Telstra has a long list of eligible countries for travellers.
Vodafone
Vodafone plans have a "$5 roaming" feature. Rather than burning through roaming credit, you can get access to your regular data and call inclusions in eligible countries for $5 a day.
There are 84 eligible countries, and you can keep $5 a day roaming running for a maximum of 90 days per year.
Optus
Optus handles data roaming on prepaid plans using an add on. You can purchase $20 of data roaming, which gives you:
14 days expiry
$210 value (equivalent of 10GB)
10 included countries, such as the US, Japan and Malaysia

Optus also offers something called "Travel Credit" which can also be used for international talk, text and roaming, but which is lower value for roaming specifically.
Winner for prepaid data roaming: Optus
If you're going to be in a country for a reasonable period of time and mostly after data, surprisingly, Optus may be the best choice, offering about 10GB of data for just $20. However, if you want to make calls and send texts as well, Vodafone has the best deal, letting you basically use your phone like you're at home (so long as you're in an eligible country).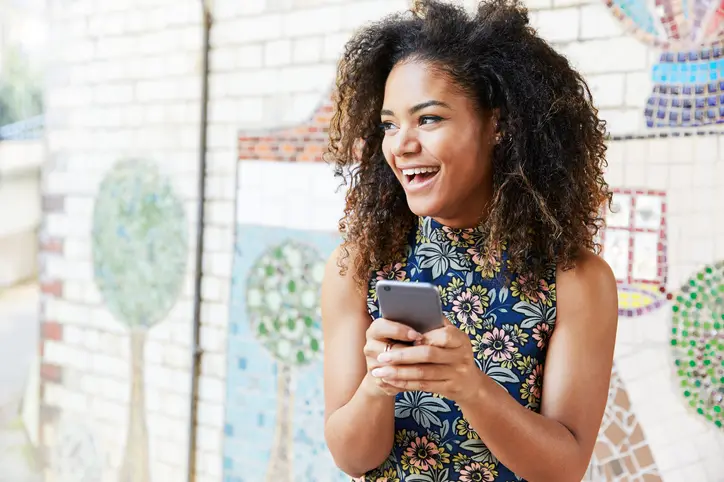 The final verdict: Who comes out on top?
In almost every category, Vodafone has the best value prepaid plans, from data allowances to long expiry plans and more. That being said, Telstra comes out on top if price isn't a major factor for you - giving you unparalleled coverage and a whole load of extra features, which you won't get with Vodafone.
Keep in mind that the best provider for you will depend entirely upon your individual circumstances, and the previous judgment is simply a general evaluation of the value each provider offers.
Keen to grab a prepaid plan from one of the big three? Compare prepaid plans below
To narrow down plans from a specific provider, just click on the "filter results" button and choose between Telstra, Optus or Vodafone.
---
Icons made by Freepik from www.flaticon.com
More guides on Finder
Latest mobile plan deals on Finder