Life insurance for cancer patients and survivors in Australia
Is it possible to take out life insurance if I have cancer or am in remission?
We're reader-supported and may be paid when you visit links to partner sites. We don't compare all products in the market, but we're working on it!
Whether it is possible to take out life insurance if you have cancer will depend on the nature of your condition and the insurance company's terms for providing cover. By law, you must disclose any known information about your health that may be relevant to the insurance company's decision on whether or not to provide you with cover.
When it comes to pre-existing conditions, companies can either:
Refuse to provide you with cover
Apply a premium loading
Exclude cover for certain events (they may provide life insurance to cover accidental death but exclude any cover for claims related to cancer)
In reviewing your application, an insurer will consider:
Whether or not you are undergoing any treatment for your condition
Whether you are in remission
Whether you have had any relapses and when that occurred
Details of medication you are taking
Whether they can charge a higher premium to account for the additional risk
Put simply, if you have had cancer and are now in remission, cover is generally available; however, it does depend on how long you have been in remission for – this is generally the biggest factor when insurers consider offering you cover.
What happens if I don't tell my insurer about my condition?
In the event of a claim, your insurer can use your condition to refuse paying your claim.
Source: The Cancer Council
Compare direct life insurance brands that underwrite up-front
An adviser can help you find cover from trusted life insurance brands.
Get competitive quotes from multiple brands

Lower rate of declined claims (according to ASIC)

Save time and effort
---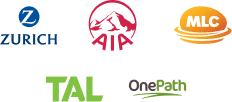 Do I have to tell my insurer if I am diagnosed with cancer after taking out insurance?
You will not usually have to notify your insurer of your diagnosis unless you are renewing your policy or changing your level of cover. However, some policies might include a specific condition that requires you to notify your insurer of any diagnosis or genetic test results, so you should check the fine print closely to be sure.
Of course, another situation where you will obviously need to tell your insurer about your condition is if you are making a claim based on it.
How can life insurance help me if I develop cancer after taking out my policy?
Half of all Australians are expected to be diagnosed with cancer by age 85 and the disease accounted for almost 20% of the $1.6 billion in claims life insurer TAL paid in 2017.
There are several ways life insurance can help you if you need to make a cancer-related claim and it all depends on the type of policy you took out beforehand:
Do I have to mention my diagnosis if I haven't taken out insurance yet?
If you have cancer and you apply for insurance cover, you must inform the insurer of your condition. Under Australian insurance law you must tell your provider anything that may be relevant to their decision to offer you cover, so you'll need to disclose your diagnosis when you fill out an application form.
Currently, you must also inform your insurer of genetic test results when you apply for life insurance. However, as of 1 July 2019, some people will no longer be required to do so depending on the type of policy and the amount you're covered for. If your benefit limits are below the following amounts, you will not be required to disclose the results of your genetic tests:
Death and total & permanent disability: $500,000 lump sum
Trauma: $200,000 lump sum
Income protection: $4,000 per month
Positive results (which mean you're more likely to get cancer) will typically lead to increased income protection and life insurance premiums, while negative results will usually help an insurer decide that you are no more likely to get cancer than anyone else.
So if you're thinking about getting a genetic test and your cover is below those amounts, you're better off waiting until after 1 July 2019.
Questions you might be asked when you apply
Do you have a family history of cancer? What was the age of onset and age of death as a result of cancer?
What type of cancer do you or did you have?
Have you been advised that the cancer is treatable and what is the percent chance of success?
What treatments did you receive while you had cancer?
Are you still taking medication or receiving tests?
What is the contact information of your doctor?
What if I feel the insurer is unfairly inflating my premium?
If you ever feel that you have been treated unfairly or discriminated against, you can choose to complain to:
The relevant anti-discrimination body in your state or territory
The Australian Human Rights Commission
The Australian Financial Complaints Authority (AFCA)
Alternatively, you can talk to a lawyer for further advice.
---
Can I take out trauma insurance for cancer?
Trauma insurance offers a lump sum benefit payment if you suffer one of several specified illnesses. Also commonly referred to as critical illness insurance, trauma cover is designed to provide the financial support you need to pay your medical costs, continue your rehabilitation and keep providing for your family.
Some insurers will provide cover for more than 50 medical conditions, and trauma insurance can provide financial support if you are diagnosed with cancer. The cancers commonly covered under trauma insurance policies are:
Breast cancer
Skin cancer (melanoma)
Prostate cancer
Leukaemia
Hodgkin Disease
Brain tumour
Cervical cancer
Ovarian cancer
Bowel cancer
Testicular cancer
Invasive cancer
Malignant bone marrow disorder
Carcinoma in situ of the male or female organs
Rates of cancer in Australia
To give you an idea of just how important trauma insurance cover can be, it's estimated that almost 130,000 new cancer cases will be diagnosed in Australia in 2015. By the time they reach 85 years of age, 1 in 2 Australian men and 1 in 3 Australian women will be diagnosed with some form of cancer (source AIA.com.au). However, while many people mistakenly assume that cancer is a death sentence, the Cancer Council reveals that more than 60% of people live for more than five years after being diagnosed with cancer.
What can the benefit payment be used for?
With this in mind, it becomes clear just how important the financial protection offered by trauma insurance can be. Not only will you and your family suffer from an emotional perspective if you receive a cancer diagnosis, but your finances will also take a hit. You may need to undergo expensive treatments, laborious rehabilitation processes and more, while at the same time you may need to take time off work and not be able to draw your regular income.
The lump sum benefit your policy offers can be used to pay your medical bills, manage ongoing expenses, help with your recovery and other expenses that may arise.
Trauma insurance is therefore about providing protection against the uncertainties that may arise in the future, safeguarding your family against the potential financial impact of a cancer diagnosis.
Learn more of the benefits of trauma insurance
What you need to know if buying life insurance as a cancer survivor
Over 88% of the women diagnosed with breast cancer will survive in remission for at least five years, and 85% of men diagnosed with prostate cancer will also survive for at least five years past remission. This has led to a lot of cancer survivors trying to find adequate life insurance for people with cancer to protect them and their families.
A cancer survivor is typically considered a person who has successfully undergone treatment for some type of cancer and has been in remission for at least five years. The insurance company will review each case on an individual basis to determine the level of risk the applicant presents. They will look at several different factors, such as the type of cancer you had, the stage of cancer you had, the treatment plan you underwent and the grade of the cancer.
Most insurance companies use a specific guideline to provide valuable statistics for various types of cancer at various stages and also provide the success rates for different kinds of treatment plans. The insurance company will evaluate your specific set of circumstances and compare it against its guidelines to determine your risk factor. This will determine your eligibility for life insurance for cancer patients and your premium rate.
Steps to increase the likelihood of finding cover
If you are a cancer survivor and want to obtain life insurance for people with cancer, there are some things you should know. These things can help you when it comes time to apply for life insurance cover for a cancer survivor.
Below is a list of tips and strategies that will help to increase your odds of having your life insurance application accepted and receive the life insurance cover you need.
Collect the right paperwork. When you are applying for life insurance cover for cancer patients, you want to have all of your medical records readily at your disposal, including your complete medical records consisting of your first pathology reports, any of your doctor's notes, and records of your treatment plan. Keep in mind that the more the insurance company knows about you, your cancer diagnoses and your treatment plan, the more likely it will be for you to be approved. You want to provide them with enough information to allow them to properly access your current medical status.
Get a note from your doctor. Ask your doctor to write you a note stating when you had treatments for cancer, when you went into remission and what your prognosis is. This may help the insurance company get a better understanding of your specific situation.
Abide by the treatment plan. It is important for the insurance company to see that you are in compliance with all aspects of your treatment plan. This means that you do not want to miss follow-up appointments or check-ups. The more proactive you are about your health, the more likely you are to remain healthy.
More guides on Finder