Switching life insurance policies
What do I need to consider when switching policies?
We're reader-supported and may be paid when you visit links to partner sites. We don't compare all products in the market, but we're working on it!
There are some important things that you need to take into consideration including:
Long waiting period. You may find that there is a fairly lengthy waiting period before you can claim on your new policy. Check carefully before you make the switch.
Pre-existing conditions. If you have developed a medical condition check whether or not your new insurer will cover it.
Reputation. Make sure that you do your research and find about more about the company and how well known/experienced the company is when it comes to life insurance services.
Get Life insurance quotes from these direct brands
An adviser can help you find cover from trusted life insurance brands.
Get competitive quotes from multiple brands

Lower rate of declined claims (according to ASIC)

Save time and effort
---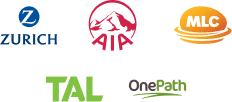 Why do people change their life insurance policies?
Reasons why people switch life insurance policies include:
Reaching the end of term. Generally when you take out life insurance in Australia, you'll be asked to select the length of time you want cover for. This period of time is what is referred to as the term. Generally once someone reaches the end of a term, they will reassess their situation and need for life insurance.
Changes in circumstances. Due to the long term nature of most life insurance policies, there is a good chance of your circumstances changing over the term of the policy. Some people end up switching life insurance policies when they realise their existing one no longer meets their needs.
Financial reasons. One of the reasons why people decide to switch life insurance policies is because of the cost of premiums. This can happen for several reasons including the premiums becoming too expensive due to age or the amount being cover becoming excessive due to changes in the family dynamic (such as children no longer being financially dependent).
Can I have two life insurance policies at once?
The simple answer to the question is yes you can and there are many reasons why you might need to do so. However, although you can have more than one life insurance policy on your own life, it can be an expensive way of giving yourself the cover you need.
If you can find a way of only having only one life insurance policy to look after all your needs, you should be able to finish up with the same amount of cover at a much lower cost.
What do I need to consider when obtaining multiple life insurance plans?
Taking out multiple life insurance policies is perfectly acceptable and can actually provide increased peace of mind and protection for you and your loved ones. However, there are some things that you need to bear in mind if you are considering taking out multiple life insurance plans:
Managing multiple plans could be more difficult. Although having multiple life insurance plans in place does offer greater security and peace of mind, it can also cause more confusion and become more difficult to manage. The more life insurance plans you have, the more time you will have to put into managing and reviewing them, so you should bear this in mind when considering multiple plans.
The cost implications of multiple plans. If you take out multiple life insurance plans, it also means that you will have to pay a multiple of the specified premiums, which can be costly in the long-term.
Time implications. When you take out multiple life insurance plans, you will have to dedicate more time not only to finding suitable plans and providers but also in terms of reviewing and checking your life insurance plans and coverage.
What's the average cost of life insurance?
One of the biggest reasons people switch life insurance is to get a cheaper premium. Compare your current premium to the average cost of life insurance*.
| Cover amount | Male | Female |
| --- | --- | --- |
| 30-year-old | Cost per month | Cost per month |
| $200,000 | $16.95 | $13.36 |
| $500,000 | $27.74 | $20.63 |
| 40-year-old | | |
| $200,000 | $18.46 | $15.42 |
| $500,000 | $30.72 | $24.71 |
| 50-year -old | | |
| $200,000 | $40.77 | $31.42 |
| $500,000 | $74.90 | $56.39 |
Click to compare personalised quotes
*Prices shown in table are an average taken from the finder.com.au quote engine and are for non-smoking office worker. These prices should only be taken as a rough guide. Rates last checked on August 2020.
Learn More About Life Cover
Photo by Erik Dungan on Unsplash
More guides on Finder