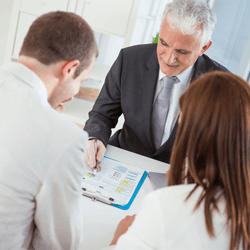 OnePath began operations in 1878, as Sydney based Mercantile Mutual. Several mergers and acquisitions down the line this ANZ Bank owned subsidiary is amongst the nation's leading wealth, insurance and advice solutions provider.
OnePath functions as a unit of ANZ's specialist wealth business. ANZ bank has operations in over 30 countries. It employs more than 48,000 people and services more than eight million retail customers.
Other than super and retirement solutions, OnePath also provides general and life insurance alternatives. Its super fund offering is open to individuals as well as small, medium and large businesses.
Awards and honours for OnePath
Rainmaker Excellence Awards, 2014. OneAnswer Frontier Personal Super awarded Personal Super Product of the Year - Premium Choice.
Rainmaker Excellence Awards, 2014. OneAnswer Frontier Personal Super received Innovation Award - Product Development.
A closer look at OnePath
OnePath offers a range of wealth and insurance products that you can avail of through your financial adviser or on your own, simplifying how you look for solutions that suit your requirements best.
It owns several financial service providers, which include RI Advice Group (a financial planning firm), Millennium3 (a financial services adviser group), Financial Services Partners (a financial planning company) and Oasis (a financial services platform).
OnePath offers a superannuation fund in the form of the OneAnswer Frontier Personal Super. When you invest your super through this fund you get access to world leading investments, chosen by experts and backed by ANZ. As a fund member you to choose from vastly diversified and expertly managed investment portfolio options.
What's Internet banking like for OnePath?
As a OnePath customer you get free access to it secure online platform. By logging in using your username and password you can view your OnePath portfolio, check the balance of your super, update personal details and transact online.
Back to top
What super funds are offered by OnePath?
The OneAnswer Frontier Personal Super comes with three basic investment options.
OptiMix Multi-Manager. This option lets you choose from different Multi-Manager funds that deliver effective diversification across select specialist managers. The multi-manager approach has multiple investment managers working in tandem on a single portfolio. This gives you, the investor, an easy way to diversify your investments across assets classes and managers. The diversification works in reducing risk, offering protection against volatility in the market. Some of these managers don't offer their services to retail customers in Australia, so by choosing this option you get access to some of the best names in the business.
OnePath Diversified Multi-Manager funds. This option brings with it a blend of OptiMix and index based investments. While the spread across asset classes and managers addresses the need for diversification, investments in index funds add a greater level of consistency. A major portion of your investment remains with active managers. Any investment in an index fund requires that the fund matches a particular investment index.
Single Manager Investment funds. With this option, you get to choose from a number of specialist managers from single asset classes such as Australian and international shares, property securities, global property securities, emerging markets and fixed interest. You can change strategic partners if you feel they are underperforming, without it having an effect on your documentation. Strategic investment partners that implement the investment management process of OnePath investment funds include Vontobel Asset Management, MFS Investment Management, UBS Global Asset Management, Karara Capital, PIMCO, CBRE Clarion and SG Hiscock & Company.
Back to top
What pension accounts are offered by OnePath?
You can switch from the OneAnswer Frontier Personal Super to the OneAnswer Frontier Pension seamlessly. You can also apply for the OneAnswer Frontier Pension account otherwise.
Basics. By transferring your superannuation to this pension account you can defer any tax you have to pay on cashing in your super. You can benefit through pension tax concessions while ensuring that you have a continual income stream.
Features. You get at-call access to funds in your account through a Cash Management Account system that includes EFTPOS, ANZ ATMs, ANZ Branches, ANZ Internet Banking and ANZ Phone Banking. Pension payments can be monthly, quarterly, half-yearly or yearly. Through effective estate planning you can nominate who receives the proceeds from your account in the event of your passing away. OnePath's exclusive InvestorBenefits come with a range of special offers and discounts. Tracking and managing your account is easy using the OnePath online platform.
Investment options. The investment options you get to choose from include Optimix Manage the Managers (MTM) funds, OnePath Multi-manager funds and single manager funds managed by leading fund managers. You can switch between your investment options as per your changing requirements.
Back to top
What do I need to know before I apply
You can apply for a new OneAnswer Frontier Personal Super account by speaking to a OnePath adviser over the phone. You can visit the OnePath website to find a qualified financial adviser in your area.
You can also download an application from the OnePath website and send the completed form across via mail. You can think about joining the OneAnswer Frontier Personal Super fund at different stages in your life:
At the time of entering the workforce.
When you change jobs.
When you start planning about retirement.
To open a new OneAnswer Frontier Personal Super account you have to meet some basic eligibility criteria:
You are a resident of Australia.
You have a tax file number (TFN).
You are investing a minimum of $2,000 ($1,000 if you opt for an account with a Regular Investment Plan).
You agree to maintain a minimum total balance of $2,000.
Completing the application successfully requires that you provide different kinds of information:
Your name and contact details.
Details about your employment.
Your TFN.
Rollover and contribution details.
Details of beneficiaries.
Once OnePath opens your account you can use its online platform to make changes to your personal details, details of beneficiaries and investment options.
---
While the OneAnswer Frontier Personal Super offered by OnePath is a good superannuation fund to go with, make sure you compare it with offerings of other super providers before making a decision.