14 benefits of Income Protection
What does income protection cover? Here are the key features.
Income protection provides a monthly benefit payment of 75% of injured/sick workers income. A standard income protection policy will include:
Income replacement. A benefit is paid (usually monthly) of 75% of the workers income for injuries and illness that has been sustained both at work and at home.
Excess contributions to super. Some policies will provide cover for more than 75% of the insured's income though this must be contributed to their superannuation fund.
In addition to income replacement, income protection policies also provides the following benefits:
1. Rehabilitation programs and expense benefits
Rehabilitation costs are the expenses involved in physical therapy, home and workplace modifications and related recovery steps. People who are ineligible for Medicare, or don't have this through another form of insurance may want to look for it in particular.
Rehabilitation programs, and rehabilitation expenses, typically take the form of two different options.
Rehabilitation programs can pay out an extra amount on top of your other income protection benefits, such as an additional 50% for every month you are participating in a rehabilitation program.
Rehabilitation expenses can help cover the cost of necessary modifications to your home, your workplace, your car or almost anything else that helps you rejoin the workforce sooner.
2. Travel and accommodation benefit
With this feature, you or your family can get reimbursed for travel costs and sometimes accommodation. For example, if you need to travel a long way to see a specialist practitioner you can may be able to get reimbursed for transport costs up, and your family can get reimbursed for accommodation expenses in order to stay near you.
3. Transport or overseas assistance benefit
Transport benefits can help cover the cost of emergency transport to hospital from within Australia, while overseas assistance benefits can help pay for your return airfare if you're overseas when it happens.
4. Childcare benefits
If you have young children, this policy feature can pay a certain amount for each child, while you are unable to work. This benefit is intended to help with the additional childcare costs you might face, such as a live in nanny or other care, when you are unable to do it yourself.
5. TPD benefit
Additional benefits may be paid on top of the income replacement if the insured person becomes totally and permanently disabled. Note: Benefits may vary depending on whether you have a linked TPD insurance policy, or are able to claim TPD benefits from a different policy.
6. Specified injury or trauma benefits
With this inclusion, you can receive an additional payout on top of your income protection benefits if you experience one of the specific injuries or illnesses listed on your policy. Unlike trauma insurance the benefits are typically paid over time, although you might also have options to get it paid as a lump sum.
7. Elective surgery benefits
With this features, benefits may still be payable as a result of disability or illness following transplants, elective surgery or cosmetic procedures carried out at a doctor's recommendation, such as aesthetic procedures to help restore one's appearance following burns.
8. Death benefits
This option can pay out an additional lump sum in the event of the policyholder dying while income protection benefits are payable. For example, if someone passes away as a result of the injuries that led to their disability, shortly after the event occurred, then additional death benefits through income protection may be payable. However, if the incident was fatal at the time benefits might not be payable.
9. Bed confinement benefit, or nursing care benefits
The bed confinement feature can pay additional benefits in the event of the insured person being confined to bed on the advice of a medical professional. The nursing care benefit is similar, except it typically requires the person to also be under the care of a registered nurse at the same time, also at the advice of a medical professional.
10. Family support benefits
This option can pay additional benefits if a family member takes time off work to care for the policyholder while they are disabled.
Additional benefits with this option may require the insured person to be confined to bed on a doctor's recommendation.
Benefits payable may be reduced by other reimbursements or benefits paid elsewhere, such as bed confinement benefits, or nursing care benefits.
11. Cover through superannuation
Income protection can be provided through superannuation. This can deliver additional benefits, including cost reductions, but can also carry some disadvantages.
12. Your choice of benefit periods and waiting periods
You can significantly reduce the cost of your income protection policy by reducing the benefit periods, or increasing the waiting periods. Or, you can get a higher level of cover at increased cost by increasing your benefit period or decreasing your waiting period. This flexibility is available with many income protection policies and has a significant impact on your cover.
The availability of benefit and waiting period options may depend on your personal working arrangements. For example, part time workers might be limited to benefit periods of only two years.
13. Premium freezing or pausing cover
The conditions of income protection mean that it will generally not pay benefits if the insured person is not gainfully employed at the time of an incident. In other words, policies can't pay out a portion of your income if you aren't working at the time.
The premium freeze and pause benefits mean that in the event of temporary unemployment you may be able to pause your cover and stop paying premiums so that you aren't paying for nothing. This can be a very useful feature because cancelling a policy and then taking out a new one later will often cost more than simply pausing your cover.
14. Taxation benefits
Income protection premiums may be tax-deductible when held outside of superannuation funds, but are generally not when held inside super funds (unless you are self-employed). There can be a range of tax implications with income protection, and it can be worth learning more about these to take full advantage of the cover and cost benefits that are available with income protection.
---
Compare income protection quotes from these direct brands
An adviser can help you find cover from trusted life insurance brands.
Get competitive quotes from multiple brands

Lower rate of declined claims (according to ASIC)

Save time and effort
---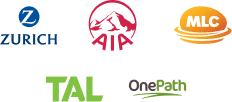 Related Posts