Vodafone prepaid plans
With longer expiry periods and international inclusions, you can grab a Vodafone prepaid plan from as little as $30.
We're committed to our readers and editorial independence. We don't compare all products in the market and may receive compensation when we refer you to our partners, but this does not influence our opinions or reviews. Learn more about Finder .
Vodafone has a set of prepaid plans designed to help you save money while getting access to all the data that you need. The 35-day expiry period on some of its prepaid plans means you'll have to recharge less throughout the year, making it great value for money.
Why consider Vodafone?
It offers the best prepaid data value of the big three if you're happy to sign up to automatic recharges
International minutes are included
Cheap prepaid handsets are available to purchase at Vodafone stores
Which is the best Vodafone prepaid plan?
While it's impossible to say that there's one best plan to suit all types of users, we think Vodafone's 45GB for $40 plan is pretty great value. It's also super popular, being the Vodafone plan that Finder users clicked on the most over the last three months.

Vodafone Combo Plus Starter Pack $40
SIM-only - Prepaid
This is our best pick out of Vodafone's prepaid range. While there are a couple other providers that offer around 45GB for $40, Vodafone's unique 35 day expiry period for this plan really makes it one to consider.

You'll save yourself 1 month's worth of recharge with this plan, compared to grabbing a 28-day prepaid plan, where you'll have to pay for 13 months in 1 year.
45GB

per 35 days

Unlimited calls & texts




Vodafone network

$

40

per 35 days
Learn more
Don't think it's the right plan for you? Have a look at all of Vodafone's prepaid plans below to find the one that works best for you.
Start comparing Vodafone prepaid plans here
You can pick between a Combo Plus plan, which is a monthly prepaid plan for regular phone users, or a Pay and Go long-expiry plan if you rarely use your phone and don't really need much data. We'll break these plans down for you in more detail further down the page.
What are the Vodafone prepaid plans?
Vodafone offers two types of prepaid plans: Combo Plus and Pay and Go.
Combo Plus plans are regular prepaid options where you pay for all your usage at the beginning of the month. With a Pay and Go plan, you purchase credit upfront that will last you a certain amount of time, and usage charges are subtracted from that total.
Combo Plus
Here's what the Combo Plus plans look like:
$30 Combo Plus. 10GB for $30 with 28-day expiry. Bonus 30GB when you sign up for automatic recharge.
$40 Combo Plus. 20GB for $40 with 35-day expiry. Bonus 30GB when you sign up for automatic recharge.
$50 Combo Plus. 30GB for $50 with 35-day expiry. Bonus 30GB when you sign up for automatic recharge.
If you're a regular mobile user, you'll definitely want to go for one of Vodafone's Combo Plus plans. They have all the normal inclusions that you need, including calls, text and data, plus some international minutes if you need them.
The 35-day expiry period on the $40 and $50 options is unique to Vodafone and means you won't have to recharge as much throughout the year as you would on a 28 or 30-day expiry plan, as shown below.
| Provider | Plan | Expiry period | Recharges required per year | Estimated yearly cost |
| --- | --- | --- | --- | --- |
| Telstra | Pre-paid Complete 18GB for $40 | 28 days | 13.0 | $520 |
| Kogan Mobile | Large 20GB for $36.90 | 30 days | 12.2 | $450 |
| Vodafone | Combo Plus 20GB for $40 | 35 days | 10.4 | $416 |
As you can see, Vodafone's prepaid plan will cost less compared to similar offerings with shorter expiry periods. Of course, this means that you do have to ration your data over an extra 5 days each recharge period, so you'll have access to less total data throughout the year as well.
To help address that, Vodafone will roughly double your monthly data if you agree to automatic monthly recharges, raising its plans' data value significantly. You might want to avoid this feature if you're planning to cancel in the near future or you don't need regular recharges, though.
Pay and Go
Vodafone's Pay and Go plans are all largely the same, differing only by starting credit amount and expiry period:
$30 Pay and Go. Credit has a 180-day expiry period.
$40 Pay and Go. Credit has a 365-day expiry period.
$50 Pay and Go. Credit has a 365-day expiry period.
All three plans have the same PAYG rates: 20c/min for calls, 20c/SMS sent and 4c/MB of data.
Pay and Go is only useful if you don't use data – basically, ever. The rates work out to be about $40 for 1GB of data, which is terrible (considering you get 45GB for that same price on Combo Plus). Avoid Pay and Go unless you very rarely use your phone and you expect that credit to last for six months to a year.
How do Vodafone's prepaid plans compare to its competition?
Vodafone is known as being the cheapest option of the big three providers, so let's see how it stacks up against Optus and Telstra when it comes to extra features available on its prepaid plans:
| Feature | Vodafone | Optus | Telstra |
| --- | --- | --- | --- |
| Automatic prepaid recharge | | | |
| Auto data top-ups | | | |
| Entertainment extras (e.g. access to sports, music streaming, etc) | | | |
| Data-free media streaming | | | |
| Roll-over data | | | |
| International calls/texts included | | | |
| International roaming | | | |
| Rewards program | | | |
While Vodafone is generally seen as the "budget" option, that doesn't mean its plans aren't good. Its plans are cheaper for the data that they offer and they only offer a little less in the way of extra features than competitors.
Telstra may always come out on top in terms of bonus features, but Vodafone is an excellent alternative that can save you quite a bit of cash.
How does Vodafone fare against smaller MVNOs?
Compared to smaller MVNOs, Vodafone provides more features than most but doesn't always measure up price-wise. Since MVNOs don't have to pay for network maintenance and construction, their plans are often cheaper than what Vodafone offers.
If you'd like to see how competitive Vodafone's prepaid plans are, you can compare its plans against all other mobile plans on the market using our Mobile Plan Finder™.
For a quick snapshot of how Vodafone prepaid plans compare, we've summed up the pros and cons below:
Pros
35-day expiry period means fewer recharges throughout the year, which saves you money
Lots of bonus data with automatic recharges
Unused data rolls over towards next recharge period
Cons
Cheaper prepaid plans do exist from smaller MVNOs
Vodafone network is technically the smallest of the big three
Vodafone prepaid phones
Prepaid plans don't come with a new handset on a contract. If you're looking for a phone on a plan, see what options Vodafone has on offer.
You can purchase a couple of select handsets from Vodafone, bundled in with your prepaid plan. Unfortunately, you can only get them in store at the moment, so head into your nearest branch if you're interested.
What are Vodafone's prepaid international roaming inclusions?
Vodafone's higher value prepaid plans already include some amount of international call credit, with 20 countries in Zone 1 and 70 countries in Zone 2.
When it comes to roaming, you won't have access to Vodafone's $5/day roaming offer, which lets you use your normal phone inclusions. Instead, you can purchase one of the following roaming add-ons:
$5 add-on. 1-day expiry. Provides 200MB of data, 25 call minutes and 30 SMS texts.
$15 add-on. 3-day expiry. Provides 750MB of data, 90 call minutes and 120 SMS texts.
$35 add-on. 7-day expiry. Provides 2GB of data, 200 call minutes and 300 SMS texts.
Without these add-ons, you'll be charged pay-as-you-go rates, which will generally work out to be much more expensive. We recommend picking up a local or travel SIM when overseas to avoid expensive roaming options.
Vodafone prepaid recharge options
Regardless of your recharge method, Vodafone accepts the following payment types:
Credit and debit cards, including Visa, Mastercard and American Express
PayPal
Visa Checkout
Here are the three ways that you can recharge your plan:

Online
Visit Vodafone's express recharge page. Then simply enter your mobile number and follow the instructions. You won't be charged for data if you're using your phone's Internet to do this.

Over the phone
You can call 1511 on a mobile with your Vodafone SIM, or instead call 1300 650 410 and enter your phone number and PIN. Follow the instructions to recharge.

Using the My Vodafone app
You can download the My Vodafone app from Google Play or Apple's App Store. The app allows you to see your usage, purchase add-ons and recharge.
How to check your Vodafone prepaid balance
Similar to the ways that you can recharge your plan, you can also check your Vodafone prepaid balance in three different ways:
Dial 1512 or text "BAL" to 1512 from a phone with the Vodafone SIM that you want to check
Log into your Vodafone account on the Vodafone website
Use the My Vodafone app
Can I pay for a Vodafone prepaid data add-on?
You can purchase small extra data packs to top up your prepaid account. They only last for a limited time and can be purchased:
Through the My Vodafone app
Via Vodafone's Express Recharge
By texting a keyword to 1511 to pay with a credit card, or 1264 to pay with your My Credit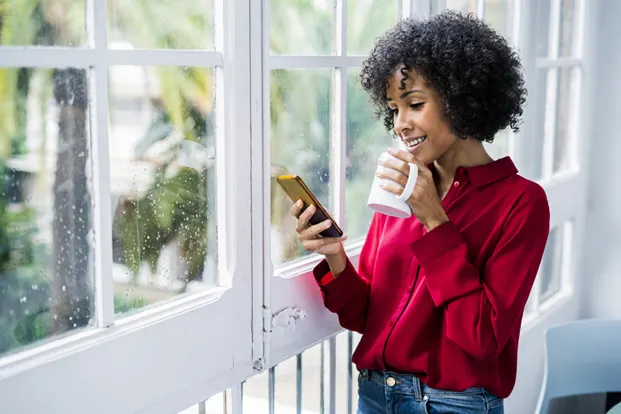 Vodafone prepaid Internet options
If you're only looking for data and you don't need to make calls or send texts, you can pick up a Vodafone prepaid mobile broadband plan. Starter packs cost between $30 and $50 for up to 55GB of data. Expiry periods are 30 days long for starter packs, though recharge options vary in expiry from 7 days up to 365.
They can be bought either as a standalone plan if you already have a modem or device, but you can also grab a suitable tablet or modem on a 12, 24 or 36-month repayment plan with your mobile broadband.
Compare Vodafone's mobile broadband plans here
Vodafone prepaid FAQ
How long does a Vodafone prepaid SIM last?
The expiry period depends on which plan you purchase. Regular Combo Plus plans will last for 28 or 35 days, while Pay and Go plans last between 180 and 365 days before expiring.
Do Vodafone prepaid SIM cards expire?
Once you've purchased a Vodafone prepaid SIM, you have a full year to activate it before it expires. There's no rush whatsoever!
How do I change my Vodafone prepaid plan?
You can change your Vodafone prepaid plan once every billing cycle. You can change it through My Vodafone (the app or online) no matter what kind of prepaid plan you're already on.
You'll be charged an additional $8 transfer fee if you downgrade your plan to a lower tier, but upgrading to a higher tier is free.
Not right for you? Compare mobile plans from 50+ providers here
---
Latest Vodafone news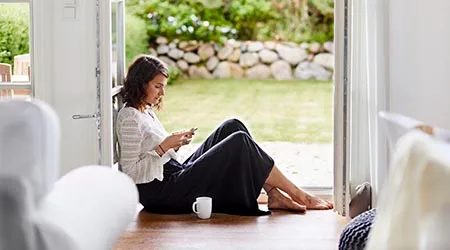 Vodafone's new range of SIM only plans come with faster speeds and no excess data charges. Is it worth signing up?
Read more…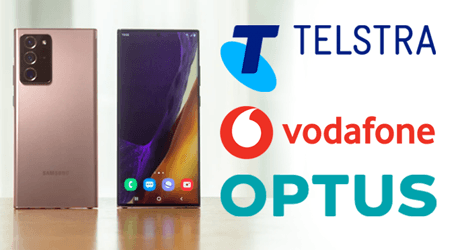 Find out which provider has the best value plan for the new Samsung Galaxy Note 5G range.
Read more…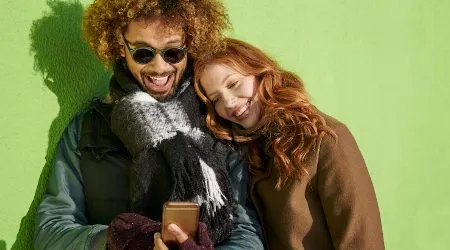 How plans from the big telcos compare right now.
Read more…
Image from Getty, icons made by Freepik, Those Icons & smalllikeart from www.flaticon.com
More guides on finder
Latest mobile plan deals on Finder