How much does income protection insurance cost?
The average income protection insurance costs around $45 a month.
We're reader-supported and may be paid when you visit links to partner sites. We don't compare all products in the market, but we're working on it!
To help give you an understanding of the cost of income protection, Finder researched average premium amounts across Australian insurance brands for both men and women.
We found that a healthy 35-year-old male earning the national average annual salary of around $86,000 can expect to pay about $40 to $45 per month.
What is next?
The cost of income protection insurance varies due to a range of different personal factors including your age, gender and occupation. Keep in mind that these prices do not reflect your own individual circumstances and the prices you pay might be different from what we have listed here.
What is the average cost of income protection?
The prices and benefit payouts below are based on a 35-year-old, non-smoking office worker with no pre-existing conditions listed. Quotes checked across 8 brands in December 2019.
| Monthly income (Pre tax) | Average cost per month (male) | Average cost per month (female) | Monthly Payout Range |
| --- | --- | --- | --- |
| $4,000 | $30.58 | $42.97 | $3,000 |
| $5,000 | $38.61 | $54.27 | $3,750 - $4,000 |
| $6,000 | $47.33 | $66.60 | $4,500 - $5,000 |
| $8,000 | $57.25 | $80.64 | $6,000 |
| $10,000 | $72.23 | $101.34 | $7,500 - $8,000 |
| $12,000 | $82.55 | $114.15 | $9,000 |
| $14,000 | $90.82 | $125.81 | $10,000 - $10,500 |
| $16,000 | $102.27 | $144.14 | $12,000 |
Compare options and get personalised income protection costs
An adviser can help you find cover from trusted life insurance brands.
Get competitive quotes from multiple brands

Lower rate of declined claims (according to ASIC)

Save time and effort
---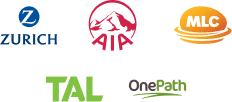 What factors influence my income protection premium?
What you pay for income protection is based on a number of factors used by insurers to determine the level of risk you carry. These include:
Age: Premiums will increase with age because you are more likely to be susceptible to medical conditions.
Your gender: Women are generally considered to be more susceptible to pre-existing medical conditions such as heart problems and pregnancy complications.
Whether you smoke: You may pay as much as 50% more for income protection insurance if you are a smoker. You can have your premiums changed to reflect non-smoker status if you have not smoked for 24 months.
Pre-existing medical conditions you have: An insurer will need to know the nature of your condition and any current treatment you are currently receiving. There are conditions that will be excluded automatically and others that you may receive cover for if more information is provided.
Your occupation and how dangerous it is: This will also depend on the actual duties carried out on your occupation and their perceived level of risk.
Lifestyle factors: Potentially dangerous hobbies such as dirt bike riding or hang-gliding may result in an increase of the premium.
The waiting period you choose: A shorter waiting period will result in a higher premium.
Benefit period you choose. The longer your benefit period the higher the premium.
How often you pay your premium: Paying your premium annually as oppose to monthly will usually bring a discount.
Here's how your occupation and income can influence the cost of income protection
In the example below we take a look at various occupations with different income levels. As shown, both occupation AND income can affect the cost of cover. For example, a retail supervisor and a registered nurse who earn $4,000 a month will pay a different premium on income protection.
Likewise, a medical specialist may have a higher income to insure than a general doctor. This, along with the occupation category can mean a difference in premiums.
| | Income** | Average monthly premium* |
| --- | --- | --- |
| Retail Supervisor | $4,000 | $92.51 |
| Doctor | $12,000 | $185.10 |
| Specialist Medical Practitioner | $15,000 | $220.54 |
| Registered Nurse | $4,000 | $138.34 |
| Machinist (Metal or Wood) | $4,000 | $154.57 |
| Building Industry, Supervisor | $4,000 | $115.73 |
*Average monthly premium is based on the average premium of all policies available in finder's quote engine for both males and females. Quotes are based on non-smoking 35 year old in NSW. Income levels are for illustrative purposes and not as a definitive guide.
How can I get cheap income protection that still provides enough cover?
While it's important to ensure you have adequate cover when you take out Income Protection Insurance, there are still ways you can save money and reduce the cost of your premium.
You can choose a longer waiting period such as 60 or 90 days before your benefit will start to be paid
You can opt for a shorter benefit period (the length of time your claim will be paid out for)
You can choose to be paid only up until age 60 instead of 65
Take out a joint policy with your partner and receive a multi-policy discount
Pre-pay your benefits up to 12 months to receive tax deduction for the current financial year, while receiving the benefit for the next financial year
You can reduce the overall cost of Income Protection by combining it with other benefits such as TPD cover in a life insurance package
Already got cover? It could be worth reviewing your current cover to see if there is a more suitable option available to you
Stepped and level premiums: What's the difference?
When you take out a life insurance or income protection policy, you have the option to structure your premium repayments as either stepped or level.
Stepped premiums - Stepped premiums will increase over time in line with your age. They are a more affordable option at the start of your policy but increase steadily overtime...particularly once you have reached 40 years of age.
Level premiums - Level premiums will start out higher than stepped but will remain the same for the life of the policy. Generally level premiums will end up being more affordable in the long run.
| Year | Stepped | Levelled | Hybrid |
| --- | --- | --- | --- |
| 5 | $1800 | $2000 | $1900 |
| 10 | $1900 | $2000 | $2000 |
| 15 | $2000 | $2000 | $2100 |
| 20 | $2100 | $2000 | $2100 |
| 25 | $2200 | $2000 | $2100 |
| 30 | $2300 | $2000 | $2100 |
| Increase over time (%) | 27.78% | 0% | 10.53% |
*Figures above are a rough estimate for illustrative purposes and should not be used as an indicator for cover.
So what type of premium should I choose for my situation?
Stepped premiums can be a good option if you are looking for a cost-effective option in the early years of your policy if you are on a tighter budget for cover. It's also more suitable if you are likely to change your policy in the future.
Level premiums could be a better choice if you are confident that your financial situation won't see too much change in the years ahead and that you are likely to stay with the same policy.
How do waiting periods work?
The waiting period is the period between the time you make the claim and are unable to work and the time you receive your benefit payout.
You can usually choose a waiting period of 14, 30, 60, 90 days, 1 year or 2 years
The shorter waiting periods usually correlate to a higher premium, as you are asking the insurer to pay your benefits sooner, however, if you have savings which can help you make ends meet for a few weeks or months, or sick leave you can use, you may want to opt for a longer waiting period to make some savings each month. In other cases, your insurer may also include an accident benefit, where the waiting period is waived if you are unable to work due to an accident.
Typical payment waiting period payment cycle:
| Day | Stage |
| --- | --- |
| Day 1 | Claim lodged by policyholder following onset of disability and stops work. |
| Day 30 | Waiting period stops. |
| Day 60 | First benefit payment given to policyholder. |
How do benefit periods work?
When you apply for coverage you will also be able to choose how long you want to receive the benefit payout for. Often you can choose from a benefit period of one, two or five years for example, or you can choose to receive your benefit up to a certain age, such as 60 or 65 years old. Again, the benefit period you choose can affect the cost of your premiums, as the longer the benefit period, the higher the premium.
| Benefit Period | Renewal to Policy Anniversary Preceding Age |
| --- | --- |
| 2 Years | 65 |
| 5 Years | 65 |
| To Age 60 | 60 |
| To Age 65 | 65 |
| To Age 70 | 65 |
| Lifetime | 65 |
Still not sure?
Income protection insurance can be tricky to understand at first, but don't give up. Give our beginner's guide a go and see if that helps.
If you're looking for a bit more info on how pricing works, check out our research on the average cost of income protection insurance.
If there's still something you can't find, feel free to drop us a comment. We'll do our best to clear things up for you.
More guides on Finder