Cheap income protection insurance
Compare low-cost income protection that won't leave you uncovered.
We're reader-supported and may be paid when you visit links to partner sites. We don't compare all products in the market, but we're working on it!
Nobody wants to pay too much for income protection but getting stuck with a policy that doesn't actually meet your requirements is far worse.
In this guide, we'll look at current sign up deals that offer discounts, compare side by side brands and take a look at some average pricing.
Must read: Finding cheap income protection insurance
We looked at a broad range of brands and products in Australia to illustrate some examples of affordable cover. However, these may not be an accurate reflection of your own situation and costs may vary depending on things like your age, health and occupation.
Some of the cheapest income protection policies on Finder's quote engine
We ran quotes from 10 of Australia's leading direct insurance brands. Quotes are based on a 35 year old office worker who doesn't smoke. You should be aware that your own personal circumstances may have an impact on the premiums you pay and these costs are not representative of the whole market.
Cheap income protection policies for a 35 year old male
Cheap income protection policies for a 35 year old female
*Quotes are based on a 35 year old office worker who doesn't smoke. Premiums are an estimate based on finder.com.au's quote engine and are subject to change. Quotes were last checked May 2019 and are subject to change.
Premiums are based on an office worker in NSW aged 45 or 55 who doesn't smoke. Premiums are an estimate from the finder.com.au quote engine. Quotes were last checked May 2019 and are subject to change.
Start your search for low cost cover by comparing some of our partners
Still have income protection questions?
Income protection insurance can be tricky to understand at first, but don't give up. Give our beginner's guide a go and see if that helps.
If you're looking for a bit more info on how pricing works, check out our research on the average cost of income protection insurance.
If there's still something you can't find, feel free to drop us a comment. We'll do our best to clear things up for you.
Follow these 9 steps to keep your income protection premiums affordable
One of the great benefits of income protection insurance is that it can be customised with additional cover options to be tailored to suit your specific needs and circumstances. If you have a tight budget, there are a number of things to consider to help keep your policy affordable:
Determine an appropriate waiting period. The waiting period is the period of time following when you are first unable to work to when you receive your first payment. It is important to determine the appropriate waiting period that suits your financial position and other benefits that you may be entitled to. Consider how long you are entitled to receive sick pay from work and for how long your savings can sustain your financial commitments comfortably until the benefit payment starts.
Determine an appropriate benefit period. The benefit period is the period of time that you will receive payments from your insurer. It's worth considering your own situation and other income streams that you may be able to draw on when choosing an appropriate period.
Features and additional options on your policy. One of the benefits of income protection is that you can tailor your policy to match your personal situation. You can add extra options for extra payments for losses incurred during your recovery. However, remember that these options will incur a premium loading, so it is important to consider the options that can offer the most benefit for when you need to lodge a claim.
Policy structure - agreed value or indemnity value. Indemnity policies can be 20% cheaper than agreed value policies.
Premium structure - stepped or level premiums: Level premiums will lock in your premium rates throughout the life of the policy. Level premiums can be quite expensive initially, but in the long-term, they work out to be more affordable. The reason for this is because the monthly premium cost is calculated on average over the life of the cover. Stepped premiums, will start off lower but increase gradually overtime as the policy remains in force.
Apply for cover younger. Applying at a younger age will mean you are able to lock in a more competitive rate than when you are older and more susceptible to pre-existing medical conditions.
Premiums are generally tax-deductible. Income protection premiums are generally tax deductible if you pre-pay your premium before 30 June. Whether premiums are tax-deductible will depend on whether or not cover has been funded inside or outside of superannuation.
Give up smoking. As is the case with life insurance, whether or not you smoke can have a significant impact on the premium you pay with smokers paying as much as double in premiums. Most insurers will let you have your policy reviewed to reflect non-smoking status if you have not smoked for two years.
Compare options from a number of insurers. Going with the first policy you find may not only lead you to having a policy not suitable to your actual needs but also paying more than you have to for cover. An insurance consultant can help you compare a number of insurers.
Income protection discounts to help you save on cover
But I am covered under Worker's Compensation?
While short-term protection is usually provided by your employer, such as employee sickness benefit entitlements or workers compensation, it is important to note that the benefit is often not sufficient enough to cover your daily living expenses and other financial commitments, such as your mortgage repayments. Income protection insurance can provide the protection that is designed to act as a financial buffer for when you are too ill to return to work for an extended period of time.
Benefits of getting cheap income protection insurance quotes online
Many Australians these days look for cheap income protection insurance online and there are many reasons why this method of finding and buying income protection cover has become so popular. These include:
Ability to compare multiple policies at once. There is an abundance of income protection policies and providers online. An insurance consultant can provide the service of comparing multiple policies all at once, which can boost your chances of finding the right cover at the right price.
Access to experienced insurance advisers. By getting income protection quotes online, you have the option to speak to an insurance consultant who can provide tailored recommendation based on the quote that you have received. Insurance advisers have the expertise and knowledge of the market to be able to find policies that match your needs with competitive premiums.
Time effective. You can save a lot of time by going online to find cheap income protection insurance. To get a quote, you simply fill in your personal details such as your age, gender, occupation, and your income. An insurance adviser will then contact you to discuss policy options. If you would prefer to purchase your policy direct, cover can be arranged entirely online or over the phone in through a direct brand.
Your information is safe and secure. The personal details that you have provided when submitting an enquiry for an income protection quote will be securely transferred to the team of insurance advisers. Your details will be used solely to confirm your quote request and to produce a preliminary income protection quote.
Should I just look for the cheapest policy*?
While the cost of income protection is an important consideration, it is vital that you do not compromise on cover in order to cut costs. If you purchase income protection insurance based purely on the price of the cover, without taking the time to review the actual conditions of the policy, you could find yourself exposed to losses your situation requires cover for.
Consider all your options
Many people make the mistake of going with the first policy they come across. The Australian insurance market offers a diverse range of policies that can be funded both inside and outside of super or bundled with other types of cover. Speaking with a consultant to help you design a policy offering suitable cover can make the process much more straightforward and give you access to great savings on your premium.
Why is it important to protect my income?
Statistics have shown that many Australians still neglect the importance of having a form of protection in place for their ability to earn an income in case of serious illness or accident. As much as 83% of Australians will not hesitate to insure their cars (AAMI, 2008). However, when compared to insuring their income in the event they are unable to work due to illness or injury, only a mere 31% have income insurance in place (TNS/IFSA, 2006). Your income should be considered your most important asset. Without it, you lose the ability to maintain your financial commitment and take care of those who depend on you. This is when having income protection insurance in place can be valuable, as it generally provides a monthly benefit to replace your income of up to 75% of your average salary.
Am I better off getting cover through my super?

In addition to being purchased as a standalone policy, income protection insurance is also available through your superannuation fund. Purchasing cover through super can be more affordable option - the group buying power of super funds mean cheaper cover for you - but there are also a few drawbacks to taking out cover this way. Examine the lists of pros and cons below to help you decide whether taking out cover through super is the best* option for you.
Benefits of taking out cover through super
It's generally cheaper. Super funds can purchase group income protection policies at wholesale prices, which means the savings get passed on to you in the form of cheaper premiums.
No medicals required. You will not have to undergo any medical tests to obtain income protection coverage through your super.
Cover for high-risk occupations. While standalone income protection policies may impose restrictions when it comes to insuring people who work in hazardous occupations, no such issues exist with super cover.
Tax-effective premium payments. Your premium payments are taken from your super contributions rather than your after-tax income.
You don't have to dig into your own pocket. Your insurance premiums are funded from your superannuation contributions rather than from the money you have available for day-to-day expenses.
Drawbacks of taking out cover through super
Limited cover. Income protection through super offers a lower level of cover than standalone policies.
Can't be tailored to your needs. Unlike standalone policies which can be adjusted to suit your personal requirements, cheap income protection through your super cannot be tailored to your needs.
Claims are more complex. You will need to convince both the insurance provider and the fund trustee of the legitimacy of your claim in order to receive a benefit. You will need to satisfy both the insurance contract and the super funds temporary incapacity conditions of release
Moving funds. If you move to a different super fund your cover may end, or if you change jobs and start receiving contributions into a new fund you may have two policies in place with different super funds.
What about your retirement? You'll need to dip into your retirement savings in order to fund your premium payments.
Traps to avoid when trying to find cheap income protection
Base your decision solely on price. While it's important to find cover that fits within your budget, it's no good having cover in place that doesn't provide the protection you actually need. Make sure you assess other benefits you are entitled to and what would need to be covered if you were unable to work to ensure you have enough cover in place.
Beware of the drawbacks of cover inside superannuation. While it may be a more affordable option, funding cover through your super is not without it's drawbacks. Consider the tax implications of this option, increased difficulty of claiming and also that at the end of the day, you are taking funds accumulated for your retirement.
Cheaper cover may mean increased terms and conditions. Cheaper policies are generally going to have more exclusions in place for when a claim can/can't be made. It's crucial to be clear on when you will/won't be paid and how it compare across different policies.
Don't get stuck with a policy you can't adjust. Cheaper policies will generally be less flexible in terms of making changes to your policy in the future as your situation changes.
Don't lie when applying to save a few dollars. It may be tempting to skip out on a few details about pre-ex*sting conditions or whether you smoke when applying but your only risking having your policy rejected in the event of a claim. Insurers go to great lengths when investigating claims in reviewing your medical history and any other factors relevant to your claim.
Simple steps for selecting the right income protection
Are you ready to start your journey to get yourself covered and find cheap income protection quotes? Being prepared for the application stage when buying income protection insurance online can ensure that the process goes as smooth as possible.
An adviser can help you find cover from trusted life insurance brands.
Get competitive quotes from multiple brands

Lower rate of declined claims (according to ASIC)

Save time and effort
---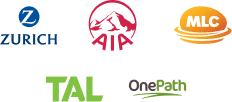 Some final questions you might have about getting low cost cover

Receive a quote for income cover
*The products compared on this page are chosen from a range of offers available to us and are not representative of all the products available in the market. There is no perfect order or perfect ranking system for the products we list on our Site, so we provide you with the functionality to self-select, re-order and compare products. The initial display order is influenced by a range of factors including conversion rates, product costs and commercial arrangements, so please don't interpret the listing order as an endorsement or recommendation from us. We're happy to provide you with the tools you need to make better decisions, but we'd like you to make your own decisions and compare and assess products based on your own preferences, circumstances and needs.
More guides on Finder