How to manage multiple credit cards
A guide to using multiple credit cards from different banks and credit card issuers.
We're reader-supported and may be paid when you visit links to partner sites. We don't compare all products in the market, but we're working on it!
From 0% interest offers to ongoing benefits such as rewards or complimentary insurance, there is a wide range of reasons people use credit cards. While just over 70% of all Australian adults own a credit card, data from Finder and the Reserve Bank of Australia shows that many of us also have more than one card in our wallets. In fact, the majority of people aged 35 years and over who use credit cards have more than one on hand.
It may seem convenient to have different cards for different purposes but it can also be challenging to manage them all – and it may cost you more in the long run. At worst, multiple credit cards could lead to debt. This guide looks at the different reasons people use multiple cards, how to manage them and what to do if you want to cancel some of them.
Why do people use multiple credit cards?
There are many reasons someone might end up with more than one credit card. Usually, it comes down to why they have chosen a particular product, with different credit cards designed to suit specific needs. For example, one card could have a low purchase rate, while another earns reward points per $1 spent.
Low rate credit card vs. rewards credit card
A low rate credit card can save on costs if you need to carry a balance, while a rewards credit card offers extra value through points that are earned when you spend money on the account. Usually low rate cards don't include points, while rewards cards have higher rates. This means if you want the convenience of both a low interest rate and rewards, you may consider getting two credit cards.
Reasons why people use multiple credit cards:
Compare different types of credit cards
Tips to manage multiple credit cards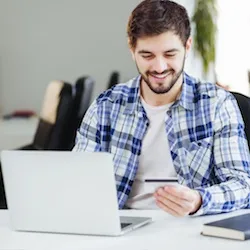 If you have or want to use several credit cards, keeping the following tips in mind will help you make the most of each account.
Have a reason for each card. You will get more value out of each card if it serves a specific purpose. For example, you could use a frequent flyer credit card to earn more rewards, but a card with no foreign transaction fees for your actual travel. This is more effective than, say, having two rewards credit cards or two low rate cards with similar benefits.
Be specific about when you use each card. Consider when you will use different cards so that you can get the greatest benefit from each account. For example, you could use a low rate card if you know you need a few months to pay off a purchase, while you may want to pay for flights and accommodation using a card that offers complimentary travel insurance. Similarly, you could use a business credit card for your professional expenses, and have a low-cost, no annual fee card for occasional personal expenses.
Change your statement due dates. If you find you're struggling to keep track of when each credit card payment is due, you could call your credit card issuers and request a specific due date for each account. For example, you may want to have all your credit card payments due around the beginning of the month, or you may want to have some at the start of the month and some around the middle to match up with your pay cycles. Consider what's best for you, and then call your credit card issuers to request a change.
Set up automatic payments. Another option for managing repayments across multiple cards is to set up automatic payments from your bank account. You can usually request to pay the full amount, a minimum amount or a nominated amount off your accounts each month. This allows you to keep each card in good standing. But if you only choose to automatically pay the minimum each month, you should also aim to make additional payments to avoid interest charges and ongoing card debt.
Regularly review your credit card costs. Having multiple credit cards can be expensive when you factor in annual fees, interest charges, and other costs that could apply for each account. Taking the time to regularly review your accounts will help you decide whether the benefits outweigh the costs for each card. If you can't justify the expenses of one or more of your cards, consider cancelling them and sticking with the ones that are working for you.
Check your credit score. Multiple credit cards can work for or against your credit score. On the one hand, if all your credit accounts are in good standing, having access to a large amount of credit could boost your score. On the other hand, if you carry balances on each account and have a high level of debt, multiple credit cards could have a negative impact on your credit history. Either way, you should aim to check your credit history and score every year so that you can decide whether or not your current spending habits are working for you in the long run.
Using multiple credit cards
There are also instances where you can end up with multiple credit cards simply by deciding to change accounts. For example, say you had a rewards credit card with a $5,000 debt and decided to move it to a balance transfer credit card that offered 0% interest for the first 12 months.
Let's also say you were approved for the new card and then had to wait 2 weeks for the $5,000 debt to be transferred across to the new account. This means you would have two credit cards active for at least that amount of time.
After the transfer is processed, you would have to decide whether you still want to keep the rewards card as an option for earning points on new purchases, or if you would prefer to cancel the account and manage just one card instead.
Credit card consolidation
While there are many potential benefits to having several cards, this option is not right for everyone. So if you find yourself struggling to manage multiple credit card debts, or if annual fees are becoming too expensive, consider consolidating your accounts. There are two main options for credit card consolidation:
Consolidate your debts with a new balance transfer card. Balance transfer credit cards offer a low or 0% interest rate for existing card debts when you move them to the new account. After the balance transfer has been completed, you can cancel your old cards so that you have fewer accounts to manage. This also means you will only have to make payments to one account. But if you apply for a balance transfer card, remember that any debt remaining at the end of the introductory period will be charged interest at the standard rate for that card, which could be as high as 22% p.a. Also check the card's annual fee to make sure it is affordable for you.
Transferring card balances to an existing account. Some credit card issuers allow you to transfer existing credit card debt onto an already active account. To do this, call the issuer of the card (or cards) you want to keep and ask if you can transfer your balance from the card (or cards) you want to cancel. Note that if you choose this option, the debt you transfer will attract interest at a standard rate. This is usually the cash advance rate for that card, but is sometimes the purchase rate.
Note that these two options are designed to consolidate credit cards when you have a balance. If you don't have existing debt, you can cancel your account at any time to reduce the number of cards you have.
Multiple credit cards can offer a wide range of benefits, but it's important to make sure you keep each account in good standing and cancel any that aren't working for you. This will help you avoid extra fees and interest charges so that you can maximise the value you get from each credit card you use.
Pictures: Shutterstock
Back to top
You might be interested of the following:
More guides on Finder