Life insurance if you have a pacemaker
It's still possible to get life insurance if you have a pacemaker.
We're reader-supported and may be paid when you visit links to partner sites. We don't compare all products in the market, but we're working on it!
Finding life insurance if you have a pacemaker might seem a little daunting. However, there are lots of people who have pacemakers for different reasons and finding cover is often not that difficult – particularly if you can prove that your heart condition is stable and you're in good health.
What is a pacemaker?
A pacemaker is a small device that is placed under the skin in your chest and uses electrical pulses to control your heartbeat. They're used to treat people who suffer from an irregular heartbeat, such as arrhythmias. Getting a pacemaker involves surgery and can help those with an irregular heartbeat live a more active and normal lifestyle.
Am I covered by life insurance if I have a pacemaker?
Yes. All causes of death are generally covered by life insurance. You'll have to let the insurer know that you have a pacemaker, which may increase the amount you'll pay, depending on your condition, but you should be able to get cover. Otherwise, they'll let you know.
To be on the safe side, it may be worth checking the product disclosure statement (PDS) for exclusions and to make sure the policy is not only designed to cover accidental death. You can usually find the PDS at the bottom of the insurer's website. You can also simply ask the insurer if you're covered.
Compare life insurance brands
Can I get life insurance if I have a pacemaker?
Yes, it's possible to get life insurance if you have a pacemaker, particularly if it's helping you to live a normal, healthy lifestyle. However, because most people have a pacemaker due to a heart condition, it's very likely you'll be charged more.
One of the main factors that will help you get a life insurance policy is the length of time you've had a pacemaker for – the longer the better – provided that you've had no symptoms related to your heart condition. This is because life insurance providers want to know that the pacemaker has helped your medical condition and had a positive overall impact on your health.
So if you are initially rejected or are finding it difficult to get a policy, don't worry. There's a good chance that you'll be able to once you've had the pacemaker for longer and have had no issues. And if you find that you're paying a lot for a policy at first, you may be able to lower your premiums at a later date if you can show that your condition has improved.
Because having an irregular heart rhythm and a pacemaker is considered a pre-existing medical condition, it might be best to speak to an adviser. They can be helpful because they know what to look for and they're not tied to one insurance provider. They'll be able to offer you multiple quotes, plus save you from having to search for a policy yourself. You can get in touch with an adviser by filling out our broker form below.
An adviser can help you find cover from trusted life insurance brands.
Get competitive quotes from multiple brands

Lower rate of declined claims (according to ASIC)

Save time and effort
---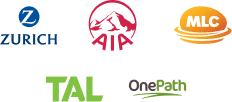 Do I have to let my insurer know if I get a pacemaker while I have cover?
When you apply for a policy, your premiums are worked out based on your current health, lifestyle, age and job. If any of those things change once your policy has been accepted, which they inevitably will, you don't generally need to inform your insurer.
However, if you want to update or alter your policy – say you want to increase your life insurance benefit - then you will have to provide updated personal information, including that you've got a pacemaker.
Do I have to declare that I have a pacemaker before taking out cover?
Yes. You need to let your insurer know about your pacemaker and heart condition or you risk invalidating your cover, meaning that any future claim you make will likely be rejected. It's crucial that you're honest.
When you take out life insurance, you'll usually have to provide a detailed account of your medical history. This often requires some kind of medical exam to assess your health. It's essentially to help the provider determine how much of a risk you are to insure and work out how much to charge you.
You'll also be asked questions about your:
Overall health
Diet, exercise, lifestyle
Condition history (e.g. how long you've had the condition and pacemaker)
Occupation
Is it worth getting life insurance if I have a pacemaker?
Yes. Having a pacemaker shouldn't necessarily make it a whole lot more difficult or expensive to get life insurance. If anything, it can show insurers that you've had a heart condition that is now stable thanks to the pacemaker, provided you've not had any symptoms for some time.
Even if the cost of your cover is increased marginally or considerably, life insurance is really important if you want peace of mind and financial security. It can pay off debts from your mortgage to your car loan and ensures that you're not leaving your loved ones in the lurch.
Bottom line
Getting life insurance if you have a pacemaker isn't as difficult as you might think. There are policies out there for you. Begin comparing here.
FAQs
Does TPD insurance cover me if I have a pacemaker?
Does critical illness insurance cover pacemakers?
It's unlikely that a
trauma insurance
policy will cover you for pacemakers. But it is likely to cover you for a serious heart condition.
Does income protection insurance cover me if I have a pacemaker?
If you need to take some time off work to recover from having a pacemaker installed,
income protection
will only cover you if it was unexpected. This is because income protection doesn't cover you for the time off work that you knew you needed to take.
Picture: Getty Images
More guides on Finder