Income Protection Insurance vs Mortgage Protection
Choosing the right cover for your situation.
We're committed to our readers and editorial independence. We don't compare all products in the market and may receive compensation when we refer you to our partners, but this does not influence our opinions or reviews. Learn more about Finder.
If you were suddenly unable to work for a period of time, it's ideal to have some sort income stream to support your ongoing costs while you recover. There are two options you can take out: Income Protection or Mortgage Protection.
Both income protection and mortgage protection is designed to cover a temporary disability (e.g. illness or injury) by replacing a portion of your income. Here's the main difference:
Mortgage protection. Can only be used for your mortgage repayments.
Income protection. Can be used for mortgage repayments as well as other expenses e.g credit card debt, electricity bills, food.
Theses aren't all the differences but for getting a general idea, it's the most important thing to know. This guide digs a little deeper - so keep reading to learn more.
Receive income protection quotes from these direct brands and apply
An adviser can help you find cover from trusted life insurance brands.
Get competitive quotes from multiple brands

Lower rate of declined claims (according to ASIC)

Save time and effort
---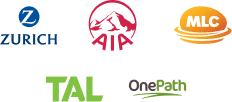 The differences between mortgage protection and income protection
| Key Differences | Mortgage Protection Insurance | Income Protection Insurance |
| --- | --- | --- |
| Benefit Payment | Provides a lump-sum or ongoing benefit payment to cover your mortgage repayments if you pass away or suffer an injury/illness | Provides an ongoing benefit payment of up to 75% of your income if you are unable to work following serious illness or injury |
| Flexibility Options | Less flexible and only offers limited additional features | Allows you to choose your level of salary cover (usually up to 75%) and the waiting period for your cover |
| Basis for Claims | You can claim in the event of injury, accident, death or redundancy | Different definitions in place for when worker is eligible to claim. They generally must not be able to perform the regular duties of their occupation |
| Application Process | Fast application with no medical or blood tests required | Whether cover is available and the premium you pay will be based on a number of factors including age, gender, smoking status, occupation, hobbies and pastimes |
Back to top
What is usually covered by Income Protection and Mortgage Protection?
Standard built-in benefits
Choice of agreed or indemnity value: Income protection gives you a choice between agreed value or indemnity protection. Agreed value guarantees your salary benefits at the time of your application, safeguarding against changes in your salary. Indemnity protection requires you to prove your salary if you make a claim. Agreed value benefits are up to 20% higher but are important for people with flexible incomes such as freelancers or small business owners.
Death benefit: This benefit covers you in the event of death or terminal illness.
Total and partial disability benefits: Most insurers include disability benefits in all income protection plans, but these differ between total and partial disability benefits. The definitions of total and partial disability differs between providers, but total disability generally stops you from working due to an illness or accident, whereas partial disability means you are able to work part time or in another occupation.
Stepped or level premiums: You have a choice between stepped or level premiums. Level premiums remain the same throughout the life of your policy, whereas stepped premiums start off lower and increase with age.
Additional features at an extra cost
These options differ between insurance providers, but some of the main additional options for life insurance cover include:
Superannuation contribution: Contributions to your super are continued while your are receiving an income benefit.
Involuntary unemployment: Income protection does not offer a payout for redundancy, but some providers offer features such as loan repayment cover or premium waivers.
Rehabilitation benefit: Your insurance provider will cover the cost incurred from rehabilitation that can help you if you become completely disabled
Accommodation, overseas or domestic transport: This option safeguards you if you become disabled while away from home.
Family support: This benefit in the event if you are totally disabled and an immediate family member must stop work to look after you.
Return to work bonus: Some insurers offer this benefit when you return to work after being injured.
Standard built-in benefits with mortgage protection
Death Cover: This benefit covers you in the event of death or terminal illness. Any difference between sum-insured and amount owing on mortgage can be paid to your estate.
Disability benefits: You will receive a monthly benefit payment to cover your mortgage repayments in the event of an illness or injury and you are unable to work.
Involuntary unemployment: Mortgage protection insurance will provide cover in the event of redundancy generally up to three months.
Complimentary accidental death cover: Complimentary cover for accidental death while loan provider is setting up home loan. This is usually provided for up to 2 months.
Important points to know regarding your Mortgage Protection policy
You will not be covered for any claims related to a an injury or illness that you received medical consultation for in the months before you purchased the policy
Involuntary unemployment cover is not available if you are employed in a permanent part time, casual, contract or temporary capacity for less that 20 hours per week or if you are a sole trader working less than 20 hours per week
Cover may only be available up to a maximum loan value
More guides on Finder