AIA income protection review
Is AIA Priority Protection Income Cover the right policy for me?
We're reader-supported and may be paid when you visit links to partner sites. We don't compare all products in the market, but we're working on it!
AIA has been around for nearly a century and is well attuned to the fact that people's life needs changes in different stages. However, your need to find a good way to keep yourself and your family protected will not change.
AIA offers income protection to help you in the event where an injury or an illness puts you out of work. Enter your details in the form below to receive a quote for AIA Income Protection Insurance or Continue reading to learn the features and benefits of this cover.
AIA Priority Protection Income at a glance
Maximum monthly income benefit
$60,000 (Up to 75% of your monthly income)
Age of entry
16 - 60
What policies does AIA offer?

Income protection (sickness and injury)
Accidental injury standalone
Cover inside super
Business expenses

How much can I expect to pay?
For an annual income of $75,000:

$101.47 per month to cover 75% of your monthly income

How do I apply?
With an adviser over the phone
Based on Income Protection plan. Age of entry varies with the type of premium you choose. Costs are an estimate based on a 35 years old male, non-smoking office worker and was taken out on August 2020 using Finder's quote engine. Cost is subject to change at anytime.
| Pros | Cons |
| --- | --- |
| A lot of build in benefits | Policy fee in addition to your premium. |
| Flexible levels of cover to cater to a range of needs e.g. if you only want to cover accidents. | You could be charged an additional fee to replace lost policy documents. |
| Vitality Rewards program is offered to help you save on premiums. | |
Information last checked on August 2020. Always consult the Product Disclosure Statement (PDS).
This cover might be suitable if:
You are after a high maximum benefit
You need income protection but also want to take advantage of AIA Vitality
Comprehensive cover built in e.g. a small amount of cover for death.
Apply carefully if:
If you just want to join AIA's Vitality program - consider your need for income protection first.
Don't get this cover if:
You don't want to use an adviser
Information last checked on August 2020. Always consult the Product Disclosure Statement (PDS).
An adviser can help you find cover from trusted life insurance brands.
Get competitive quotes from multiple brands

Lower rate of declined claims (according to ASIC)

Save time and effort
---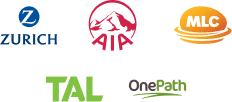 AIA Priority Protection comparison of core features and benefits
Income Protection
Income Protection with Advantage Optional
Income Protection with PLUS Optional
Income Protection Accident Only
Non-Super and Super Extras
Super Only
Non-Super
Super Extras
Non-Super
Super Extras
Non-Super and Super Extras
Super Only
Premium Structure
Level Premiums
Stepped Premiums
Optimum Premiums
Type of Cover
Agreed Value
Indemnity
Extended Indemnity
Worldwide Protection
Aids Cover
Built-in Benefits
Total Disablement
Partial Disablement
Benefit Indexation
Waiver of Premium
Rehabilitation Expenses
Recurrent Disablement
Severity Benefit
Death Benefit
Terminal Illness Benefit
Complimentary Interim Accidental Death Cover
Complimentary Interim Accidental Income Protection Cover
Involuntary Unemployment Waiver of Premium
Needlestick Injury Benefit
Cosmetic or Elective Surgery Benefit
Multi Definition or Total Disablement
Multi Definition or Partial Disablement
Specified Injury Benefit
Crisis Recovery Benefit
Bed Confinement Benefit
Accommodation Benefit
Family Care Benefit
Home Care Benefit
No Claim Bonus
Relocation Benefit
Rehabilitation Benefit
Guaranteed Future Insurability Benefit
Benefits at an Additional Cost (Optional Benefits)
Day 1 Accident Benefit
Claim Escalation Benefit
Income Protection Lump Sum Benefit
AIA company history
AIA Group Limited and its subsidiaries make up the largest independent and publicly listed pan-Asian life insurance group across the globe. It has branches in 14 Asian Pacific markets, specifically Hong Kong, Singapore, Malaysia, Thailand, the Philippines, China, Korea, Indonesia, Taiwan, Macau, Brunei, Australia and New Zealand.
The present AIA business has had its roots in Shanghai for over 90 years. It is one of Asia Pacific's market leaders (excluding Japan) in life insurance premiums. AIA holds leading positions across most of its markets' majority. AIA offers a wide range of products and services that fall under savings and protection needs. These services include life insurance, accident and health insurance, as well as retirement planning.
Benefits of AIA Income Protection
AIA income protection insurance is designed to provide financial relief in form of a replacement income if you cannot earn one due to disability or severe illness. Owners of small businesses and homemakers can also benefit from AIA income protection insurance plans that can be tailored to meet their needs.
There are three types of benefits offered by AIA income protection, depending on your employment status:
Income Protection benefit: provides a monthly replacement income if you are unable to work due to an illness or injury. Full-time and permanent part-time employees, including those who are self-employed on a full-time basis, are eligible for this cover.
Income Protection Accident Only benefit: provides cover if you become disabled as a result of an accident. Also available to full-time and permanent part-time workers. Those who are self-employed can also apply for this cover if they are working on a full-time basis.
Income Protection Essentials benefit: provides a replacement income for workers who are not working on a full-time basis and those who are homemakers.
Built-in Features of AIA Income Protection
With AIA income protection plan, you have the flexibility to choose the level of cover that is most suited to your needs. You also get to tailor your policy with comprehensive features and benefits to enable maximum protection should you be temporarily disabled and unable to work.
Some of the features and benefits that you can access through AIA income protection policies include:
Death Benefit: With most income insurance protection policies, you will not get anything if you die regardless of the cause. With AIA, they will pay a death benefit that totals six times the insured monthly benefit, but not going beyond $60,000.
Severity Benefit: works for those who have been disabled to the extent that they cannot perform regular activities of daily living as described by their policy. This applies to you if you have been on claim for more than six consecutive months after the waiting period ends and cannot perform the said functions or if you are being cared for my another adult. AIA will then pay you an additional 1/3 of your monthly insured benefit, up to a maximum of $30,000 until the end of the benefit period.
Premium Waiver: AIA will waive premiums while insured is receiving benefit.
Rehabilitation Expenses Benefit: AIA will pay the cost of a rehabilitation program. This must be an approved program. AIA will not pay for additional expenses such as wheelchairs or home and car modifications.
Choice of Agreed Value or Indemnity Value: With Agreed Value, you get to lock in the amount of monthly benefit at the time of application as it is based on your income at the time. Indemnity Value, on the other hand, is based on your income at the time you submit a claim.
Indexation: Claim will automatically increase each year by the greater of 5% or the Consumer Price Index increase.
AIA Income Protection with Advantage or PLUS Optional Benefits
When you apply for AIA income protection plan, you can also opt for Advantage or PLUS Optional benefits that offer additional features not available under AIA's basic income protection plan.
Some of these additional features and benefits include:
Advantage and PLUS Optional
Elective Surgery Benefit: If you become totally disabled as result of a cosmetic surgery or organ transplant surgery, AIA will provide a benefit payment.
Multi Definition for Total and Partial Disablement: If you become totally or partially disabled, your disability will be assessed based on the definitions as defined on your AIA Income protection policy with Advantage or PLUS Optional.
Specified Injury Benefit: If you suffer from a condition due an injury as listed your AIA income protection policy, you will receive a benefit payment at the date of your injury and no waiting period is applicable.
PLUS Optional only
No Claim Bonus: provides a benefit that if no claim is made for at least three years after you've signed up for it, you will be rewarded by increasing your monthly benefit at no extra cost.
Bed Confinement Benefit: If you are totally disabled and have been confined to bed for more than 3 days within your waiting period, you will be eligible for a benefit payment.
Accommodation Benefit: AIA will provide a benefit payment if you are totally disabled when you are 100 kilometres away from your home.
Family Care Benefit: If you are totally dependent on an immediate family member as a result of your total disability, you will be eligible for a benefit payout.
Crisis Recovery Benefit: Medical practitioners have high risk jobs where they can contract any illness or disease at any time. With this benefit, 41 crisis events are detailed in their policy's terms. If a medical practitioner is disabled by any of these, AIA will pay a lump sum benefit that is equal to six times the insured monthly benefit.
Guaranteed Future Insurability Benefit: provides you with the option to increase your insured monthly benefit when your salary package increases. This does not include medical underwriting and is available only for people who are earning a wage. Self-employed persons are unable to avail of this benefit.
Extra Benefits at an Additional Cost Available Through AIA Income Protection
Additional features and benefits are available through AIA income protection basic, Advantage and PLUS Optional plans for an extra cost. Some of these include:
Day 1 Accident Benefit: If you become totally disabled for either a three or 30 day qualifying period (in consecutive days) from when the accidental injury occurred, you will receive a portion of your monthly benefit each day until the end of Day 1 Accident Period.
Income Protection Lump Sum Benefit: In the event that you are totally and permanently disabled under an Own Occupation definition, you may be eligible for a lump sum income protection benefit payment.
Retirement Optimiser: This unique benefit allows you to insure 5% of your
average monthly Income as superannuation contributions to your fund.
Business Expenses Benefit: is suitable for self-employed individuals who are looking to cover the fixed business expenses when they are unable to work due to an injury or illness.
AIA Income Protection Essentials
AIA has developed an innovative income protection plan that is catered to those who perform home duties and employees that do not work on a full-time basis. AIA Income Protection Essentials is a simplified protection plan designed to meet the basic protection needs of homemakers and seasonal workers, without sacrificing the quality of cover and affordability.
AIA Income Protection Essentials cover comes with the following built-in features and benefits:
Benefit period of two years
Waiting period of 90 days
Agree value policy
Death Benefit
Terminal Illness Benefit
Crisis Recovery Benefit
Total Disablement
Rehabilitation Expenses
Recurrent Disablement
AIDS Cover
Waiver of Premium
Worldwide Cover
Interim Accidental Death Cover
Benefit Indexation
Restrictions on Claims for Income Protection Plan
If you are interested in taking out an income protection plan, it is important to understand the restrictions and limitations that come with your insurance and read the Product Disclosure Statement (PDS) carefully before you buy.
The basic feature of an income protection plan is to provide a partial income supplement to the insured in case of illness or accident. You cannot claim for a monthly income benefit if your unemployment is due to other reasons. The amount of your premium is also related to the deferred period in your policy. The deferred periods typically take a minimum of 4 weeks up to 52 weeks. The premium is decreased with an increased deferred period.
You should also check the exclusions provided by the insurance agencies where you cannot claim your monthly benefits if the reason of your illness or injury is due to certain conditions such as drug and alcohol abuse, self-inflicted, pregnancy, war and criminal acts. Then there are the maximum allowable monthly benefits that you can avail from your policy. Also, any change of your occupation may render your policy insurance invalid or the life insurance agency will require you to adjust your premiums that will include new risks.
Does AIA Income Protection Plan Provide Cover When I'm Made Redundant?
It is important to note that getting an income protection plan is not to offer you protection against involuntary unemployment. The benefit is only paid by the insurance agency when unemployment arises from incapacity to work.
You may want to consider mortgage payment protection insurance, an accident or sickness insurance policy to complement your income protection plan. Getting an AIA income protection plan can cover you for the gaps of benefits that may result from statutory sick pay and other incapacity benefit. Since income protection insurance is not health or death insurance you will need to get a separate insurance policy for these purposes.
Apply for Comprehensive Income Protection Cover from AIA Australia
AIA offers a comprehensive plan for income insurance policies. Not only do they provide the basic service of providing a monthly income if you are disabled, but there are options to cover other instances that may not be offered by other policies.
AIA has a long history and a solid reputation that guarantees their policies and services are sound. If you are looking for a reliable income protection insurance provider, consider AIA as your top pick.
Obtain a preliminary income protection quote from AIA Australia
More guides on Finder