Income Protection for dentists
Why should dentists consider Income Protection Insurance?
We're reader-supported and may be paid when you visit links to partner sites. We don't compare all products in the market, but we're working on it!
Being a dentist means that you are constantly exposed to health risks due to the nature of your work such as being infected with a contagious disease carried through one of your patient's blood, saliva, or other bodily fluid. Dentists are also likely to earn an above average income, which can be worth protecting if you're the breadwinner of the household.
What does income protection offer?
Income protection can cover you for.
Up to 75% of your monthly income. You can receive an ongoing benefit to cover you while you recover.
Injuries and illnesses from working as a dentist. You can get covered for incidents such as needle stick injuries.
Injuries and illnesses outside of work. You are covered if anything is caused away from work.
Compare income protection quotes for dentists
An adviser can help you find cover from trusted life insurance brands.
Get competitive quotes from multiple brands

Lower rate of declined claims (according to ASIC)

Save time and effort
---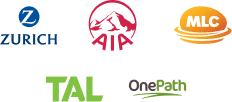 What risks are dental practitioners exposed to?
Dentistry is a medical profession that is considered by the healthcare practitioners as being potentially hazardous due to a number of significant health risks. Dentists are not only at risk for a blood borne viral infection, but they are also exposed to certain conditions on a daily basis, which include:
Risk

Details

Infections

Dentists are at high risk of infection of a life-threatening blood borne disease, such as HIV or viral Hepatitis, which are often transmitted through sharp instruments (such as needles), spatter and aerosol.

However, bacterial infections are also considered to be a major concern, particularly in dealing with the likes of tuberculosis and syphilis.

Percutaneous exposure incidents

Percutaneous involves any medical surgeries that require the practitioner to access the inner organs or other tissues using a sharp instrument (such as needle) to puncture the skin, rather than an "open" method where the organs or tissues are exposed with the use of a scalpel.

Dentists regularly have to perform exposure prone procedures on daily basis and work predominantly on the mouth, increasing the risks of being exposed to infectious diseases.

Radiation

There are two types of radiation that affect dental workers on a day-to-day basis - ionizing and non-ionizing radiation. Ionizing radiation occurs through using X-ray machines at the dentist's practice room.

On the other hand, non-ionizing radiation may occur through lasers practice in dental procedures, use of composites and other resins, which becoming a concern due to the potential hazard to the eyes and other tissues.

Dental materials (chemicals)

Dentists often require the use of anaesthetics on patients and exposures of nitrous oxide gases on a regular basis for an extended period of time can be hazardous to health.

In addition, exposure to toxic chemicals, such mercury (through amalgam fillings), pose a significant threat to dental workers as inhalation of mercury vapour in high doses can lead to biological and neurological problems.

Noise

Certain sounds of dental equipments may lead to noise-induced hearing loss and the first complication that often encourages dentists to seek a hearing evaluation is the presence of tinnitus - a condition in which the ear is persistently "ringing," and not caused by the outside sounds.

These sound inducing hearing loss may be caused by high-speed and low-speed turbine handpieces, high-velocity suction, ultrasonic instruments and cleaners, vibrators and other mixing devices, and model trimmers.

Musculoskeletal disorders

Musculoskeletal injuries affect dentists significantly more compared to other healthcare workers. A dentist's posture is constrained when they are performing a procedure, in which they may be standing up or sitting down, close to the patient who is in a sitting or lying down position.

This repetitive posture is often the main cause of stress injury on a musculoskeletal system.

Psychological problems
Work-related psychological disorders are prevalent in the dental field, with stress, tension, depression, emotional exhaustion and depersonalisation as the common contributing factors.

Dermatitis

Using gloves and other protective equipments are imperative for dental professionals, particularly in the effort of reducing the transmission of blood borne pathogens. However, it has been reported that dentists often have allergic reactions to gloves containing latex, which may result in skin irritation.

Other dental materials, such as detergents, lubricating oils, solvents, and X-ray processing chemicals could also lead to skin allergies.
Source: Dental Research Journal, 2012
What are the key benefits of income protection for dentists?
Income protection does not only provide you with a replacement income of up to 75% of your regular wage in the event of a serious illness or injury, but also covers you against the associated risks of your occupation as a dental practitioner. There are some features and benefits that are designed specifically to meet the needs of dentists. These include;
Cover for HIV, blood-borne diseases, and needle stick injuries:
As a dentist, you may be required to perform oral surgical procedures. These procedures are often prone to exposures, in which a direct contact between the skin (usually the finger or thumb of the dentist) and sharp surgical instruments or body parts within the oral region is potentially established.
In the event that you contract HIV, Hepatitis B or C even, you may requested by your professional governing board (such as the Dental Board of Australia) to cease performing any exposure prone procedures. Depending on the severity of the infection, you may have to stop working completely, even if you still have the ability to work.
With needle-stick cover, you will eligible for a lump sum benefit in the event that are unable to work or suffer from a reduction in income as a result of contracting HIV, Hepatitis B or C.
Cover for Mental Illness:
It has been noted in recent studies that due to the high level of stress, those who are in the medical profession are 20% more likely to stop working due to mental illness. Dental practitioners in particular may be prone to different sources of professional stress, such as professional burnout, anxiety disorders and depression (Rada and Johnson-Leong, 2004).
With an income protection policy in place, you will have access to a form of financial relief, especially if you are required to take time off work due to debilitating mental illness.
What features should dentist look for when it comes to income protection?
In addition to important features such as needlestick and mental illness cover, income protection insurance also provides other important features and options that you can tailor according to your needs. It is essential to read the Product Disclosure Statement (PDS) for more information, as policy features may vary between providers.
Some of the features and benefits that you may to consider include (but not limited to):
Rehabilitation Benefit: With this benefit, your rehabilitation and treatment costs with an approved medical practitioner will be covered.
Death Benefit: In the event of your death, a multiple of your monthly benefit will be payable to your nominated beneficiaries.
Terminal Illness Benefit: A lump sum benefit is payable if you have been diagnosed with a terminal illness with only less than 12 months to live.
Inflation Cover: This coverage allows your policy to increase in value with time. The increase is based on the Consumer Price Index (CPI) or a set percentage. It should be noted, though, that adding this in your coverage means an increase on your monthly premium.
Worldwide Cover: You may want to be able to access your cover no matter where you are in the world, 24/7.
Featured Australian income protection providers that offer needle-stick cover:
Are there income protection policies designed specifically for dentists?
No. While you might be able to find an insurer that specialises in offering products to dentists, your polciy will be the same as someone in any other profession, ie you'll be covered for up to 75% of your income should you be unable to work.
What about life insurance cover for dentists?
Dental practitioners can also benefit from having a life cover plan in place. Life cover provides:
A lump sum benefit to your financial dependants should you pass away or be diagnosed with a terminal illness with less than 12 months to live.
Features and benefits to suit your specific needs and situation.
Some life insurance providers offer Needle Stick Benefit as an additional option on your life cover plan if you work in the medical and allied health occupations. With this benefit, you will be covered for any incident that arises and causes an HIV, Hepatitis B or C infection, whilst working in your normal occupation.
Read the Beginner's Guide to Life Cover
Australian life insurers that offer coverage needlestick injury with their life insurance offers include:
Needlestick injury cover is important for dental professionals to have, especially when dealing with a possible infection of HIV, Hepatitis B or C. However, as previously mentioned, dentists are also at risk of other types of illness or injury that can have a debilitating effect, such as repetitive strain injury, depression and hearing loss. So, it is important to consider and compare the features and benefits of income protection plans, as they may vary between providers. Income protection is valuable insurance solution for dentists as it protects their income when they are unable to earn due to an illness or injury for a prolonged period of time.
Receive a preliminary life cover or income protection quote for dentists
* The products compared on this page are chosen from a range of offers available to us and are not representative of all the products available in the market. There is no perfect order or perfect ranking system for the products we list on our Site, so we provide you with the functionality to self-select, re-order and compare products. The initial display order is influenced by a range of factors including conversion rates, product costs and commercial arrangements, so please don't interpret the listing order as an endorsement or recommendation from us. We're happy to provide you with the tools you need to make better decisions, but we'd like you to make your own decisions and compare and assess products based on your own preferences, circumstances and needs.
More guides on Finder