Think you might need to make a TPD claim? Here's what you need to know
If you're lodging a TPD claim, it's likely you've got a lot on your plate right now. We hope our guide will make things a little easier for you.
We're reader-supported and may be paid when you visit links to partner sites. We don't compare all products in the market, but we're working on it!
Suffering a serious injury or illness is stressful enough – don't let the total and permanent disability (TPD) claims process add extra pressure. This guide will help you understand when and how you can lodge a TPD insurance claim, so you know exactly what to expect and you can ensure the claims process is as smooth as possible.
What is a TPD claim?
TPD insurance provides a lump-sum payment if you ever suffer a serious injury or illness and are no longer able to work. The claims process can be lengthy, because insurance companies want to be certain that a disability is total and permanent, before providing the lump sum.
Am I eligible to make a TPD claim?
There are a few basic conditions you'll have to meet before you become eligible to make a TPD insurance claim. The specific criteria varies between different insurance companies and individual policies.
It's worth checking with your insurance company to find out what requirements you have to meet, before making a claim. We've listed a few common variations in the table below:
Requirement
Variations between insurers
Your disability is total and permanent

You're unlikely to return to any type of work
You're unlikely to return to your previous role
You have lost a limb or suffered a serious injury

You've met the waiting period

Some conditions don't have a waiting period
You've been off work for at least 3 months
You've been off work for at least 6 months

You can prove work history

You were employed full-time for at least a year before the claim
You were in full-time employment when the claim was made
You were working a set number of hours before the claim was made

You've lost some independence

You can show you're unable to perform two to three daily living activities, such as using the bathroom or washing yourself

You're complying with ongoing medical care

You must maintain regular appointments, advice and care of a medical specialist
You must be under regular care of a medical practitioner
You must be undergoing, or have undergone, rehabilitation
How do I make TPD claim?
The exact claims process varies between insurance companies and different super funds. However, in general, this is usually how it works:
Step 1
Contact your insurer or super fund. Tell the company about your intention to make a claim and find out what evidence you'll need to provide.

The exact process varies, but a member of the claims team will be able to walk you through next steps. You may be assigned a case manager at this point.

Step 2
Submit your claim. Fill out any forms provided and include evidence of your condition. Medical reports and employer information, along with relevant statements, should be included.

Once you've passed this onto your case manager, they'll keep you up to date throughout the process, and let you know whether you need to provide anything else.

Step 3
Your claim is assessed. The insurer will decide whether you are eligible for a claim. In some cases, the insurer may request further evidence, such as a second opinion, or further medical exams.
Step 4
An initial decision is made. After assessing the information, the insurance provider will accept, defer or decline your claim.
Step 5
Respond. You may be given an opportunity to provide more supporting information if the claim is initially rejected. You can also lodge an appeal if you don't agree with the decision.
Accepted: The benefit will be paid and your insurer will be in touch to finalise payment details.
Deferred: Further assessment is required so your payment will be delayed.
Declined: You have not satisfied the conditions of the policy and will not receive payment.
Did you know? If you have TPD insurance with more than one super fund, you might be able to claim multiple benefits. Contact your funds directly to find out how they handle multiple benefits.
Claiming TPD bundled with life insurance
If you have bundled a total and permanent disablity policy with a life insurance policy, a TPD payout will reduce your overall life insurance cover. For example, say you were to take out $1.5 million worth of life insurance cover and combine it with $500,000 TPD insurance. If you suffer an accident and become disabled, you will receive $500,000 for a successful claim, and your TPD cover would then end. However, this will now mean that your life insurance cover amount will be reduced by this amount, which in this case brings it to $1 million.
Figuring out whether you want TPD on its own or bundled with life insurance really comes down to the risk you're willing to take. It can make cover cheaper, and if you're sure to calculate your living expenses, it can still leave your loved ones with more than enough to pay off debts, home loans and other everyday living costs.
How long does a TPD claim usually take?
A straightforward TPD claim shouldn't take more than 2-3 months to be completed, while more complex cases may take around 6 months. Unfortunately, difficult and contentious cases can take years to settle.
If your claim is taking too long, you may want to consider lodging an internal complaint to the insurer or superannuation fund, or to the Australian Financial Complaints Authority (AFCA). You may also want to consider hiring a lawyer who specialises in TPD claims.
What's the difference between "any" and "own" occupation?
Your likelihood of being able to make a TPD claim may largely depend on whether you have insurance for any occupation or own occupation.
| Type | What it means |
| --- | --- |
| Any | You'll receive a benefit if your injury or illness stops you from working in any occupation. This is typically the cheaper option, but it's harder to make a successful claim. |
| Own | You'll receive a benefit if you're unable to work in your own occupation. This is more expensive, but can be easier to prove when it comes to claim time. |
Do TPD benefits get taxed?
This is a little tricky, and we explain it better here, but in a nutshell:
If TPD insurance is through your super: The benefit isn't taxed when it's initially credited to your super account. However, if you withdraw the money from your super early – which means before the age of 60 for most people – it is subject to tax.

The effective tax rate on withdrawal can vary between less than 1% to over 18%. In fact, a person with multiple TPD claims may have a different tax rate on each one.

If TPD insurance is through an insurer: The benefit is not taxed. Your premiums were subject to tax, so you don't pay tax on the payout. Easy.
How to get a TPD claim approved
The best way to get a TPD claim approved is by providing as much information as possible and cooperating with your insurance company.
You may have to comply with post-injury or post-illness medical requirements. For example, your insurance company may require ongoing rehab or specialist appointments.
Remember, you have a duty of disclosure when lodging a TPD claim. That means you have to tell the company any information that's relevant to the outcome of your claim.
Finder Award Winner 2020: Noble Oak Life Insurance
Fully underwritten with Trauma and TPD options. NobleOak offer up to $15 million maximum cover level.
Can you claim TPD for partial disability?
Although TPD insurance refers to total and permanent disability, some insurance companies will provide a payout for partial disabilities.
This means you'll have cover for any income lost if you can only work at a reduced capacity because of sickness or injury.
Benefits may be paid out under the following options:
Hours-based. You'll receive benefits if you can't work as many hours. To qualify, you'll need to earn less than you did before your disability and be under medical care.
Duties-based. You'll receive benefits if you're unable to perform all the duties essential to your previous job and are making less money as a result.
Some policies will also provide partial payment if you suffer certain disabilities. This may include loss of limbs or loss of sight.
Can you claim TPD for mental illness?
It can be difficult to prove that you'll never be able to return to work due to mental illness. However, insurance companies will take certain factors into consideration and may pay out in some circumstances.
Insurers may look at the type of treatment prescribed, as well as how often you're having the treatment. Insurers can also defer the payment if you can't prove your condition is permanent or severe enough to warrant a claim. Deferral can last until all treatment options have been tried.
Could your TPD claim be disputed?
In some cases, your TPD insurance claim may be disputed. This means your insurance company might not pay your claim. There are a few reasons why this might happen:
Varied definitions. There is no standard definition of TPD. Your insurance company might not agree that you are totally and permanently disabled.
Ongoing requirements. Some TPD insurance policies will only pay out if you follow ongoing specialist advice or even a rehabilitation program.
Waiting periods. Some policies enforce waiting periods before a payment is made. This means you might not be able to access your benefit immediately.
Exclusions. TPD insurance doesn't cover everything. If you're totally and permanently disabled due to a pre-existing medical condition, you might not receive the benefit.
What if your TPD claim is denied?
It's possible that your TPD claim might be denied. If that happens, there are still measures you can take to get your case reassessed.
Understand why you were denied. If your claim is rejected, your insurance company has to tell you why. Understanding the company's reasoning is the first step to forming a strong counter-argument.
Put together your case. Gather evidence that proves your insurer was wrong to reject your case and supply any supporting evidence. Perhaps your insurer declined your claim because it believed the illness was pre-existing, but a doctor disagrees.
File a dispute with the insurer. Your insurer will have an internal dispute resolution process (IDR). Send your case to your insurer's resolution department and it will be reviewed by a team which did not initially handle your case.
Wait. Insurers have 45 days and super funds have 90 days to make their final decision, although they do have to communicate with you at reasonable intervals during that time.
If things still don't work out:
Talk to AFCA. Lodge a complaint with the Australian Financial Complaints Authority (AFCA).
Take legal action. There are law firms that specialise in having TPD claims approved.
Compare TPD insurance quotes
An adviser can help you find cover from trusted life insurance brands.
Get competitive quotes from multiple brands

Lower rate of declined claims (according to ASIC)

Save time and effort
---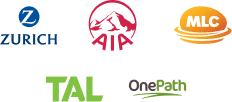 TPD claim stories
"I wish I had known sooner - Julia, 57"

Julia is a former ambulance officer from Queensland. She had TPD insurance through her super fund, and made a claim in 2016 as she was suffering from fibromyalgia.

In the two years leading up to the claim, Julia had also been suffering from PTSD. When she finally lodged the TPD claim for her fibromyalgia, she was expecting to receive $450,000.

However, after undergoing an 18-month claims process, Julia was surprised to learn she would only be receiving $300,000 in disability cover.

"They told me I could only receive $240,000 because of my age, which is almost half of what was promised," Julia told Finder. "Then they said they would backdate the payment to 2015, so I would receive 300,000."

Finder contacted Julia's super fund and confirmed that the value of the potential TPD benefit policy does reduce as you get older, but the payment will be backdated to the date of the claim.

"Make sure you check if your cover diminishes as you get older," Julia added. "Age reduces cover and it's something I wish I had known sooner."

It's not the only advice Julia has for anyone else going through a TPD claim – she also urged other policyholders to be well-prepared for any insurance-mandated medical assessments.

"Be aware of the independent medical assessments, especially those provided by the insurance company," she said. "Demand taking in a support person who can witness and verify what he or she said."
Frequently asked questions about TPD claims
How long does a claim take to process?
A tpd claim can take anywhere from two to six months. It depends on the complexity of the claim and the terms of your policy.
Can I claim TPD and Income protection at the same time?
Yes, you can generally claim a tpd benefit while receiving income protection. There are some instances where this may not be possible but that is generally in the conditions set out by the insurer. In order to check what you are eligible to claim you should contact your provider directly.
Should I get a lawyer to help with a TPD claim?
Some people decide to hire a solicitor to help them navigate the claims process. While this can help if you don't want to deal with the insurer or if the claim is complex, you might want to consider if it's totally necessary. Lawyers can be expensive and can charge upfront and ongoing fees for representation. If your claim is straight forward, you may be saving yourself money by dealing with the insurer yourself. However, if your claim has been disputed or is taking an exceptionally long time you might consider getting some legal advice.
Do TPD payouts affect Centrelink?
Generally TPD payouts won't impact your centrelink payments, particularly if that insurance is held within super. However a TPD payout is a form of income and you should always report any changes in circumstances to centrelink and seek advice from them directly.
Can you claim multiple policies?
Many people have TPD insurance that has accumulated in multiple funds that have been opened by different employers. In some circumstances, you may be able to claim multiple benefits at the same time. However, it is important that you carefully check the conditions of each fund before submitting multiple claims at the same time.
What is a duty of disclosure? Do I have to do this?
When looking for TPD cover, you have to disclose any relevant information requested by the insurance provider to allow them to assess your situation. This is legally binding and you must disclose any relevant, known information to avoid the legal consequences of not informing the underwriter about information that may affect the policy.
More guides on Finder