Is income protection insurance tax-deductible?
Yes, income protection premiums are tax deductible - if you get it outside your super. Here's how it works.
We're reader-supported and may be paid when you visit links to partner sites. We don't compare all products in the market, but we're working on it!
The Australian Taxation Office (ATO) states that you can claim the cost of any payment made for insurance that covers you against the loss of your income, so your income protection insurance premiums should be tax-deductible if bought as a standalone policy.
| Tax deductible? | Outside super | Inside super |
| --- | --- | --- |
| Premiums you pay | | Only tax deductible in certain circumstances |
How do I qualify for an income protection tax deduction?
Here's how you can qualify for an income protection tax deduction:
Outside of super. The ATO allows you to claim a deduction for the cost of your premiums for income protection if the policy is held outside of your super fund.
Super income protection. For funds inside super, it's a bit trickier. Generally, full tax deductions are only available for self-employed workers.
Generally, you can only claim expenses as a tax deduction if they are incurred in the generation of their assessable income and are not of a capital, private or domestic nature.
When is income protection NOT tax-deductible?
You can't claim a deduction for a premium or any part of a premium:
If the policy compensates you for incidents with a lump sum payment
If the policy is provided through your super and the premiums are paid using your contributions
This generally refers to policies like:
Life insurance
Trauma insurance
Critical illness insurance
---
Can I claim tax deductions for an income protection policy inside my super?
If you have a policy inside super you can generally receive a tax deduction if you are self-employed. The ATO states that personal contributions towards your super can be claimed as a tax deduction only if less than 10% of your income comes from income as an employee.
2017/2018 financial year changes
From 1 July 2017 tax rules around personal superannuation contributions will change. The 10% rule mentioned above will be removed. This means that a larger portion of taxpayers can make additional concessional contributions (towards their super) up to the concessional contribution limit and claim a tax deduction for doing so.
Source: Mark Chapman. Director of Communications, H & R Block.
What if I'm an employee?
If you are an employee you won't be able to claim a full tax deduction. However, contributions you make towards your super with your pre-tax earnings (e.g. salary sacrifice from your employer that hasn't been taxed yet) are taxed at 15%.
If the same contribution were to be taken out as income you would pay your marginal tax rate (which might be higher than 15%).
---
Can I bring my premium payments (for next year) forward to receive a deduction this financial year?
If you prepay your income protection before 30 June, you can claim your tax deduction in the current financial year, e.g. you pay 12 months of premium in advance to receive a tax deduction.
Let's look at a hypothetical example of how this might work. Brian is a 30-year-old actuary earning $100,000 a year. He has an income protection policy that provides him with up to 75% of his monthly income should he be unable to work for an extended period of time. The premiums are $1,367 per year. In order to claim the tax deduction in the current financial year (2016–17), he has opted to pay the premiums up-front, prior to 30 June.
Prepaying your income protection for immediate tax benefits
How much of a tax deduction can I claim?
The amount of money that you will receive back from your tax claim will depend on:
Your income
How much you have paid for income protection
Your marginal tax rate (the highest tax rate that you pay)
Tax rates for Australian residents 2019–20
| Taxable income | Tax on this income |
| --- | --- |
| 0 – $18,200 | Nil |
| $18,201 – $37,000 | 19c for each $1 over $18,200 |
| $37,001 – $90,000 | $3,572 plus 32.5c for each $1 over $37,000 |
| $90,001 – $180,000 | $20,797 plus 37c for each $1 over $90,000 |
| $180,001 and over | $54,097 plus 45c for each $1 over $180,000 |
Foreign resident tax rates 2020–21
| Taxable income | Tax on this income |
| --- | --- |
| 0 – $90,000 | 32.5c for each $1 |
| $90,001 – $180,000 | $29,250 plus 37c for each $1 over $90,000 |
| $180,001 and over | $62,550 plus 45c for each $1 over $180,000 |
Source: ATO
Breakdown of how your deduction is calculated
Example: Tax savings with income protection for the 2019–20 financial year
Here's another hypothetical example. Kylie is a project manager and earns $70,000 annually. Here's how Kylie could save up to $310.50 in her post-tax income after claiming her income protection premiums:
Tax paid without deducting income protection
Tax paid after deducting income protection
---
How much can I save on my policy outside of super if I claim tax?
This will depend on your annual earnings and marginal tax rate. Consider the examples below for a policy that costs $800 p.a.:
| Policyholder's annual earnings | Annual premium to insurer | Marginal tax rate | Tax refund | Final cost of cover |
| --- | --- | --- | --- | --- |
| Over $180,000 | $800 | 45% | $360 | $440 |
| Between $87,001 and $180,000 | $800 | 37% | $296 | $504 |
| Between $37,001 and $87,000 | $800 | 32.5% | $260 | $540 |
Income protection insurance tax-deductible premium costs are unique to income protection insurance in Australia, though they apply only if the benefit payments are paid as a regular payment to replace lost income; further, the benefits paid are treated as income and are therefore taxable in the normal way. If the benefit is paid as a lump sum the premiums are no longer claimable as a tax deduction. This is a big help in managing the ongoing cost of the cover. Other life insurance policies have their own effects on taxation such as the following:
Term life insurance will pay out benefits to your beneficiaries should you die, and to yourself if you're diagnosed with a terminal illness and only have 12 months to live. These benefit payments are generally tax-free. However, this tax-free status can be affected if the benefit is paid out through a superannuation fund or if the benefit is paid to a person who in not considered to be financially dependent on you.
Other insurances such as total and permanent disability and trauma insurance are treated in a similar manner as term life insurance in that there is no taxation deduction allowed for any premium payments but the benefit payments are generally tax-free.
---
Common questions around income protection insurance and tax
| Question | Answer | Conditions |
| --- | --- | --- |
| Are income protection insurance premiums tax-deductible? | Yes | Provided the benefit is paid in regular instalments replacing a regular income |
| Are the benefits paid under an income protection policy taxable? | Yes | The benefit payments are treated as income by the Australian Taxation Office and are therefore taxable |
| Do I pay GST on income protection premium costs? | No | GST is only payable on fire and general types of insurance, not life insurance |
Compare income protection policies and get quotes
An adviser can help you find cover from trusted life insurance brands.
Get competitive quotes from multiple brands

Lower rate of declined claims (according to ASIC)

Save time and effort
---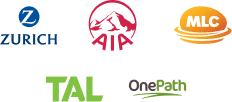 Read the guide to pre-paying income protection insurance for a tax-deduction.
*Benefits will be taxed if your premiums are tax-deductible. Check with your super fund. Note: This table is only a general guide and doesn't take into account your specific circumstances. It's a good idea to seek professional advice from a qualified tax consultant before applying the information to your personal circumstances.
More guides on Finder