Income protection insurance for footballers
No matter what code of football you play, it's a good idea to check out income protection.
We're reader-supported and may be paid when you visit links to partner sites. We don't compare all products in the market, but we're working on it!
Aussies love their football whether it's rugby league, union, Aussie rules or soccer, our nation is obsessed.
However, football is not without its risks. In fact, AFL, Soccer and Rugby are the top three sports in Australia1 for sports-related injuries.
If you play footy on the weekends, have you ever wondered what would happen if you were unable to work due to an injury on the field? This is where income protection insurance can help. Income protection can provide you with up to 85% of your monthly salary should you be unable to work for an extended period of time.
Can I get covered if I play football?
Professional footballers: No, you won't be able to get cover if you are a professional sportsperson.
Amateur footballers: Yes, you can get covered in many cases. Insurers may apply a higher premium for footballers due to the higher risk of injury. Make sure you disclose the fact that you play with your insurer.
Compare brands, get quotes and apply today
An adviser can help you find cover from trusted life insurance brands.
Get competitive quotes from multiple brands

Lower rate of declined claims (according to ASIC)

Save time and effort
---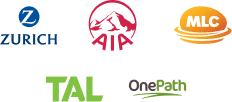 Can footballers get income protection insurance?
Since football is so popular in Australia, insurers typically still offer cover as long as you're not a professional player. However, it is still a risk factor which can affect your policy and may mean you're less likely to get cover. Factors including how frequently you play, at what level and your health may be factored into your premiums.
Do I need to disclose that I play football when I apply for income protection?
Yes. No matter what type of life insurance product you're applying for, it's part of your duty of disclosure.
How does playing football affect my premiums?
There are a number of ways that a footballers income protection policy may be adjusted to allow them to be provided with cover:
Premium loading. A premium loading is applied to income protection policies to reflect your increased risk of claiming. For example, if you're an amateur footballer an insurer might apply a 25% loading to your insurance premiums.
Adding sports cover. Some insurers offer you the option of adding additional personal accident cover for injuries sustained during sporting activities.
What's the benefit of income protection insurance for footballers?
Income protection insurance is designed to provide you with much-needed coverage when the unexpected happens. Income protection can:
Cover a large chunk of your monthly income. This is usually up to 75% (in some cases 85%) of your monthly salary
Provide ongoing monthly benefit payments. Having a steady stream of replacement income means you can keep paying your mortgage, repay other debts and manage day-to-day expenses.
Cover you for a benefit period you decide. You can generally choose a benefit that will stop after a set amount of years (normally 2 or 5 years) or one that continues to a specified age (normally 65 or 70).
What are my options if I am a semi-professional or professional football player?
While income protection cover is generally available for amateur footballers, the issue gets a little more difficult if you're a semi-professional or professional player. For example, if you're receiving small match payments for taking to the field, your insurer may reject your application for cover on the basis that you are playing at a more competitive level with higher risks.
Insurers will often offer or deny cover on a case-by-case basis. Speaking to a range of insurers and shopping around can help you find cover.
Professional players are generally excluded
Most mainstream insurers will not offer income protection cover to professional sports players of any kind. Generally, the salaries and the risk of injury are too high.
Check with your sporting association
If you're a member of a sporting association, your team may have an insurance scheme in place. For example, you may have personal accident cover while on the field, or might be able to get cover through a partnered specialist insurer.
There are specialist insurers that can deliver a range of other covers for professional footballers. This form of insurance can be found by individuals, or through a sporting organisation.
Learn more about income cover for professional sports players
Does "complimentary interim" income protection cover football injuries?
What is complimentary interim income protection?
Most insurance providers will provide complimentary accidental injury cover for applicants while the insurer is processing their application.
Check with your policy for exclusions
It is not uncommon for insurers to have an extra set of exclusions applied to this cover for when a benefit will be paid. As an example, AIA will not provide a benefit for total disablement that has occurred within the interim period if it is a result of a football injury. It is crucial to be aware of these exclusions prior to taking out cover.
Is income protection tax deductible?
In Australia, premiums for income protection insurance policies outside of super are tax-deductible. Your policy needs to be shown to be linked to your ability to generate an assessable income, while your policy cannot be related to death or specific injuries.
Compare income protection insurance quotes
Definitions of football in Australia
In Australia, football can refer to:
Soccer
Rugby league
Rugby union
Australian rules football
Touch football
Oztag
American football
Flag football
How will my insurer define football?
Cover varies depending on the insurer. As a general rule of thumb, it's a good idea to disclose your lifestyle with your insurer including any sports you play and how often.
How risky is football?
Both rugby and soccer are some of the riskiest sports out there, outpacing almost any other sport in both the number of injuries and likelihood of being injured across all age groups.
The table below shows the number of injuries requiring hospitalisation in a 12-month period from 2011 to 2012, and the hospitalisation rate per 100,000 participants. Every year you play football, your chance being one of the people who suffers a serious injury increases.
| | Number of injuries requiring hospitalisation | Rate of hospitalisation per 100,000 participants |
| --- | --- | --- |
| Soccer | 2,962 | 17.0 |
| Rugby (all codes) | 2,621 | 15.0 |
| Australian rules | 3,186 | 18.2 |
| Touch football | 644 | 3.7 |
Compare income protection insurance quotes
Photo by Keith Johnston on Unsplash
More guides on Finder