We're reader-supported and may be paid when you visit links to partner sites. We don't compare all products in the market, but we're working on it!
If you love to play sports in your spare time, then you really should be thinking about income protection insurance. This type of cover can offer a lifeline if you suddenly have to take unpaid leave off work due to a sports injury. The good news? It can be easy to find cover for most sports, as long as you don't play them professionally.
Get quotes for income protection at competitive prices
An adviser can help you find cover from trusted life insurance brands.
Get competitive quotes from multiple brands

Lower rate of declined claims (according to ASIC)

Save time and effort
---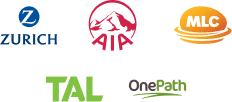 Before you apply
Make sure you check with your insurer before you apply. Income protection policies generally can cover sports players but will exclude:
Professional or paid participation
Extreme sports (unless permission is expressed by the insurer)
Combative sports.
Do sports injuries affect our ability to earn income?
As much as we love sports, the reality is that they can impact our work life because of the injuries risk that they pose. Our research discovered the following.
Based on a February 2017 finder.com.au survey
Income protection: A quick definition
Income protection insurance provides a monthly benefit of generally 75% of your average salary should you be unable to work due to a serious illness or injury. It provides the assistance you need to keep on top of your ongoing financial commitments, such as paying your rent or mortgage repayments, groceries, bills and other expenses. There are several factors you need to consider when choosing an income protection policy, one being the subject of this article – income protection for sports players.
Does income protection cover injuries sustained from sports?
Quick answer: Yes
It is important to note that your participation in certain types of sports and/or hazardous activities generally has an effect on your income protection application. If these activities increase your likelihood to claim, your insurance provider may place a special provision on your policy, in the form of a premium loading, exclusion or extended waiting period.
Will I need to pay more?
You may need to pay what's called a premium 'loading'. A premium loading is applied to reflect an increased risk of claim, which could either be a percentage of as much as 25% or a specified dollar amount for every thousand sum you wish to insure. So, if you participate in sporting activities that are considered to be high risk, you can expect to pay higher premiums rates.
Situations where you can't get cover
An exclusion is a restriction placed on a specific condition and/or event where a benefit will not be paid. If you have suffered an injury in the past from playing sport, your insurance provider takes into consideration the following:
the nature of your injury and degree of severity
when the injury occurred
the time it took for you to recover
whether or not you continue to participate in this activity.
If your insurer finds that it is likely you will suffer the same injury, an exclusion may be applied to your policy.
You may have an extended waiting period
Your insurance provider may apply an extended waiting period instead of excluding injuries that are the result of sporting activities. As an example, if you have selected a 30-day waiting period, your insurance provider may offer you cover but with a waiting period of 90 days for any injuries sustained whilst participating in a particular sport. It is important to note that not all applicants are offered a special provision on their income protection policy just because they play sport or have suffered a sporting injury. Your insurance provider may offer standard terms or ordinary rates on your cover if your sports injury was very minor and had occurred a long time ago.
Income protection or workers' compensation?
Workers' compensation does not cover any injuries that occur outside of work. So, if you are injured as a result of sporting or leisure activities that you partake outside of work hours, you will not be eligible for any benefit payment under workers' compensation.
Case Study: Landscaper John who loves dirt biking
John was a 32-year-old landscaper. His wife Louise, aged 30, worked part-time as a receptionist at a local law firm. They had two daughters, aged five and two. Since John and Louise had just purchased their first home, they had to pay closer attention to their monthly budgeting to keep on top of the mortgage repayments and daily living expenses. John enjoyed spending some of his Sundays dirt biking near his friend's property, a couple of hours drive from his home. While riding one morning, John had hit a small jump with too much speed and cleared the down ramp landing in flat ground, fracturing his spine. This injury forced John to take three months off work and undergo rehabilitation twice a week. With no income protection plan in place, John received no income over the three month period and since he was self-employed, he was not entitled to sick leave pay. He was forced to borrow money from his older
brother just to keep on top of the rehabilitation fees, mortgage repayments, school fees and other day-to-day expenses.
Which sports are the riskiest and most expensive to insure?
Generally, the chance of injury determines how much more it costs to insure you for participating in certain sports, as well as how severe injuries will tend to be. Motorsports, for example tend to have very severe injuries, although they may occur less frequently than in other sports, while football might have a significantly higher chance of injury, but they might generally be less severe. As such, there are different ways of defining "dangerous" in sports. To get an idea of how sports impact life insurance premiums, you might look at
The rate of hospitalisations that result from different sports.
The types of injuries that occur from a sport and how these will affect your ability to work.
The nature of the injury has a significant effect on how likely it is to result in you needing to make an income protection claim. Injuries that heal more quickly or tend not to result in disability will generally not lead to income protection claims, while those that do not affect your ability to work are generally not claimable either.
Read more about how income protection for non-professional football players works.
The rate of injuries for sports in Australia
| Type of sport | % | Total number of cases in 2011-2012 |
| --- | --- | --- |
| Australian rules football | 8.8 | 3,186 |
| Soccer | 8.2 | 2,962 |
| Cycling | 8 | 2,917 |
| Football, other and unspecified | 7.8 | 2,821 |
| Wheeled motor sports | 7.6 | 2,737 |
| Water sports | 6.9 | 2,502 |
| Rugby, unspecified | 4.6 | 1,650 |
| Roller sports | 4.5 | 1,632 |
| Equestrian activities | 4.3 | 1,568 |
| Basketball | 3.6 | 1,322 |
| Netball | 3.5 | 1,262 |
| Ice and snow sports | 3.1 | 1,114 |
| Cricket | 2.5 | 913 |
| Walking and running | 2.4 | 878 |
| Rugby league | 2 | 709 |
| Racquet sports | 1.9 | 687 |
| Touch football | 1.8 | 644 |
| Combative sports | 1.7 | 602 |
| Fishing | 1.4 | 525 |
| Dancing | 1.4 | 517 |
| Hockey | 1.2 | 442 |
| Adventure and extreme sports | 0.9 | 335 |
| Rugby union | 0.7 | 262 |
| Golf | 0.7 | 251 |
| Gymnastics and trampolining | 0.3 | 121 |
| Other and unspecified sports | 10.1 | 3,678 |
Source: Australian sports injury hospitalisations 2011–12 report, Australian Institute of Health and Welfare.
The most common type of injury in sports
Knee and lower leg injuries are often the most common type of injury for most sports, with fractures generally being the most common. In the case of Rugby Union, skull fractures as a result of contact with another player were the most common cause of hospitalisation. Depending on your occupation, different types of injury will have different impacts on your ability to work. It can be worth considering this. For example, if your job specifically requires walking or running then knee or leg injuries may be a significant risk.
| Body region | % | Total number of cases in 2011-2012 |
| --- | --- | --- |
| Knee and lower leg | 23 | 4,152 |
| Elbow and forearm | 20 | 3,588 |
| Wrist and hand | 20 | 3,544 |
| Head | 11 | 2,017 |
| Shoulder and upper arm | 11 | 1,883 |
| Trunk | 7 | 1,258 |
| Hip and thigh | 3 | 597 |
| Ankle and foot | 3 | 486 |
| Neck | 2 | 345 |
| Other and unspecified | 0 | 1 |
Source: Australian sports injury hospitalisations 2011–12 report, Australian Institute of Health and Welfare.
Amateur vs professional sports
The following table is a sample of the special acceptance terms that may be required for different sports. Rugby league, rugby union, Aussie rules, soccer and touch football will be used as points of reference.
| Insurance Provider | Football - Rugby League, Rugby Union, Aussie Rules/AFL (Amateur) | Football - Rugby League, Rugby Union, Aussie Rules/AFL (Semi-Professional) |
| --- | --- | --- |
| Insurer 1 | | |
| Insurer 2 | Standard rates | Cover may be offered based on your individual case |
| Insurer 3 | Acceptance term - 25% premium loading or 90 day exclusion period. | |
| Insurance Provider | Soccer (Amateur) | Soccer (Semi-Professional) |
| --- | --- | --- |
| Insurer 1 | Acceptance term - 30 day extended waiting period (recreational only), or 25% premium loading or 90 day extended waiting period (recreational with participation in competition) | |
| Insurer 2 | Standard rates | Limited cover may be considered |
| Insurer 3 | Standard rates | Cover may be offered with additional loading |
Please note that this information is not indicative of an actual policy and is to be used as a rough guide. It's a good idea to get in touch with your insurer for specific details.
What are my income protection insurance options as a professional athlete?
A professional sportsperson is someone who supports themselves or their family primarily by playing sports, or otherwise makes most of their income from playing sports.
Cover from your sporting institution
Your sporting institution will often have some form of insurance cover, but this may not include full income protection benefits for you.
Specialist cover
While standard income protection insurance policies might not cover you in the event of sports injuries. Here, specialist insurers might be able to offer cover where standard providers will not. Your cover can take the form of a personal accident policy, or a general combined life insurance policy that's specially tailored for professional athletes.
Standard income protection (with limitations and exclusions).
Most Australian insurance providers do not offer income protection cover for professional football players or professional sports players of any kind. However, a small number of providers may consider application for cover on an individual basis. It may be best to obtain more information from your sporting association and find out whether they have a national insurance scheme agreement in place that provides cover in case of an injury.
---
Securing an income protection plan to cover extreme sports
If you participate in sports that are considered to be hazardous, specific terms (loading or exclusion) may be applied to your policy or in some circumstances, your application for income protection cover may be denied altogether. The terms and conditions may also vary depending on whether your engagement in this sport is purely recreational or on a competitive basis. Some sporting activities that may be considered as high-risk include:
Abseiling
Caving
Deep sea or rock fishing
Diving
Hang-gliding
Motor/power boat/jet ski racing
Motor sport racing - car and motorcycle
Karting
NASCAR racing
Off-road riding
Trail bike riding
Road racing
Mountain climbing
Skydiving
Wakeboarding.
It is essential to seek advice from an insurance consultant who can provide a tailored recommendation based on your sporting pursuits, especially if you participate in high-risk activities, and help you find cover that matches your needs.
Do I have to tell my insurance provider about my sporting activities?
Yes, and it is crucial that you provide information to your insurance provider if you are playing a sport of any kind, either on a recreational or competitive basis. Almost all income protection application forms specifically ask on whether or not you currently participate or intend to participate in any sports, including those that are considered to be hazardous.
Weekend rugby: Income protection vs sports cover
James was an executive who played rugby union every weekend, and tried to get to training sessions at least once a week when he could. He wasn't a professional by any means, but still played fairly competitively and had seen a couple of broken bones on the field in his time. Looking at income protection insurance policies, he was surprised at the difference playing rugby made to his premiums. He wasn't willing to give up rugby, but wasn't keen on paying that much for insurance either. He didn't want to exclude sports cover from his income protection policy either, because he wanted to be able to play with full confidence. As such he started looking into whether his club membership included any insurance in the cost of registration. It did, and in fact offered a personal accident policy that included benefits such as:
Cover of non-Medicare expenses
Lump sum benefits in the event of death or serious injury
Weekly income protection
It covered him on during matches, as well as while training and travelling to or from matches and training. The only catch was that the income protection benefits through his club insurance had a limit of $300 per week. This was significantly less than the 75% of his income he would have been able to claim through a standalone income protection insurance policy. James did some more digging, and eventually found an insurer that let him take out his own personal accident sports insurance policy. It delivered similar benefits to his club cover, but instead offered a much higher income protection limit, of a full 75% of his typical earnings.
---
Are extreme sports covered by insurance in Australia?
Some sports are considered very high risk by insurance companies which can impact your ability to take out life insurance.
If you regularly participate in a sport considered extreme or high risk your insurer may apply one of the following to your policy.
Some insurers will refuse to provide cover for extreme sports.
Some insurers will include extreme sports cover, but at extra cost.
Some insurers offer policies with inbuilt extreme sports cover.
Some insurers will add an exclusion to your policy related to the extreme sport, meaning that if you injure yourself while participating in that sport, you will not be covered.
---
Conditions of your policy
Applicants that participate in sports that are considered to carry a certain degree of risk may be offered income protection cover with specific terms and conditions in place. The terms and conditions offered may vary depending on:
The type of sport that you participate in
Your age
Frequency of your sporting activities
Your level of involvement - recreational, competitive or semi-pro
Other qualifying factors, such as depth, height, distance and speed, with some sports
It is important to have a clear understanding of any special terms that may be offered by your insurance provider in relation to your sporting activities, as this effects whether or not you can claim. If you provide inaccurate information, you are breaching your duty of disclosure and your provider may cancel your policy.
Get income protection quotes for sport
---
References
https://www.finder.com.au/sports-injuries-in-australia
Photo by Ruben Leija on Unsplash
* The products compared on this page are chosen from a range of offers available to us and are not representative of all the products available in the market. There is no perfect order or perfect ranking system for the products we list on our Site, so we provide you with the functionality to self-select, re-order and compare products. The initial display order is influenced by a range of factors including conversion rates, product costs and commercial arrangements, so please don't interpret the listing order as an endorsement or recommendation from us. We're happy to provide you with the tools you need to make better decisions, but we'd like you to make your own decisions and compare and assess products based on your own preferences, circumstances and needs.
More guides on Finder