How much trauma insurance do I need?
Read our to guide to ensure you have the right amount of trauma insurance cover.
We're reader-supported and may be paid when you visit links to partner sites. We don't compare all products in the market, but we're working on it!
Trauma insurance pays out a lump sum in the event of specified injuries, illnesses or other medical issues. The size of the payout is known as the sum insured. If you go too high, you might be paying more in premiums than you need to. If you go too low, you might not be fully covered.
Use our life insurance calculator Prefer to speak to an adviser?
Questions to ask yourself
Trauma insurance pays out for specific health events, such as cancer, heart attack and many more. The costs of these events can vary widely, which makes it hard to find a sum insured that will suit every circumstance. Questions to ask yourself include:
1. How much cover can you afford?
The first question to ask yourself is how much you can afford, or are willing to pay, in premiums. Any sum insured will naturally need to work within this amount, and it can act as a solid price ceiling for you to work within.
Keep in mind there are a number of ways that cover can be structured to reduce the cost of premiums. Trauma insurance, for example, can be bundled with a life insurance policy which makes premiums cheaper. The downside is that if you claim on your trauma cover, you life insurance benefit will be reduced by that amount.
2. What types of insurance do you already have?
From here, the second question is what other kinds of insurance you have. If you have comprehensive income protection cover, for example, you will likely be able to get your ongoing living expenses covered, and can instead opt for an amount more focused on medical expenses and paying off debts.
3. More financial questions to consider
To help find your sum insured, ask yourself:
What are my financial obligations? Kids, living expenses, a partner that depends on you and other day-to-day costs combine to make up your financial obligations. This can generally be boiled down to your ongoing living costs.
What are my debts? The last thing you want to do is struggle with debt alongside a serious health issue. Think about your mortgage, any credit card payments and other forms of debt, and what kind of payout would be needed to pay them all off, alongside other costs.
What are my assets and savings? If you have extensive savings you might be able to live off them for a while, while assets that can be liquidated or otherwise used can also help you meet financial obligations and pay for essential medical expenses if a trauma event turns your life upside down.
What are my plans for the future? Discuss the future with your partner, and think about the things you are and are not willing to compromise on. For example, having enough to put your kids through school might be non-negotiable, but a post-retirement trip around the world could fall by the wayside.
This can give you a sense of your needs. However, the nature of trauma insurance means it's also worth considering the likelihood of making a claim, as well as the respective odds of different health events and how much they might cost. These are two key approaches to working out your cover needs.
The two key approaches to calculating cover
Weighing the respective likelihoods of different trauma events can help you anticipate costs. As such, it's important to have a sense of
What conditions are covered by trauma insurance
How likely you are to make a claim against each.
Fortunately you don't really need to consider every single one in detail. Trauma insurance covers dozens of conditions, but a small handful account for well over 90% of all claims. Consider these, and any others that you may be disproportionately likely to experience, such as due to family history or other health conditions.
The top trauma insurance claims
Cancer: This accounts for more than 62% of trauma claims for men, and more than 85% for women.
Heart disease and heart surgery: Almost 20% of men's claims, and 3% of women's claims.
Benign brain tumour: Over 5% for men and 3% for women.
Stroke: 3.7% for males, 2.7% for females.
Kidney failure: 0.5% for men, 0.4% for women.
Source: Money Management
Thee vast majority of claims are often accounted for by these conditions. As such, you might calculate your trauma insurance needs in line with these, and the lifetime medical costs typically associated with treatment and care for each.
What's the cost of a traumatic event?
Cost of common traumatic events
| Condition | Lifetime cost |
| --- | --- |
| Heart attack | $20,000 |
| Cancer | $120,000 |
| Stroke | $150,000 |
Source: Money Management
The costs of not working. The bulk of the loss generally comes in terms of loss of income over the years, as a result of being unable to work.
You may consider a higher cover amount than you need. $150,000 is generally enough to cover the medical costs and the benefits of the Australian healthcare system mean you won't need to pay it all out of pocket yourself. This is the upper end of the scale for very complex health issues. It is likely that your personal medical expenses will be considerably less, depending on the situation.
There may be ongoing care costs, especially when the medical event results in long-term disability. If you have TPD insurance, you might elect for a lower trauma sum insured. This is because TPD insurance pays out specifically in the event of a disability. Here you may be entitled to two separate lump sum payouts in the event of a disabling situation.
Your age is a factor. The lifetime cost of a severe health issue depends greatly on your age at the time. If you are younger, the total expenses will be larger in the long run.
What other expenses should I consider?
The average trauma insurance policy offers from $100,000 to $500,000 of cover. In the event of a claim, some may be earmarked for lifestyle changes, for both you and your family.
Will your partner become a carer? You might factor in the loss of their income as well.
Will you want more time off work to recover? Not all trauma insurance payout conditions are disabling. For example, you might claim a payout for a heart attack and be able to return to work in a matter of weeks. You might want to consider a sum insured that lets you take more time off.
Will you want in-home services? It might be worth factoring in the cost of a domestic helper, at-home nursing services or other changes.
Does your maximum allow room for discretionary spending? Some people may want to add a discretionary spending buffer, such as taking a trip they've always wanted in case they can't later.
Do you want to top up your income protection gap? Income protection insurance typically pays 75% of your usual income. You might want to calculate a trauma insurance sum that can top up the gap to return to the equivalent of your pre-injury income.
Adding up the expenses
You may want to layer your expenses by priority to find a way to keep the policy under your price ceiling.
Our calculator can help you work out your living expenses, debts, obligations and other crucial considerations. These are generally the high priority cover needs to be considered first.
For medical expenses it largely comes down to personal preference and the conditions you are especially at risk of. $100,000 to $150,000 is enough to cover most trauma situations with a considerable buffer, but something like quadriplegia at a relatively young age might end up having lifetime expenses in the millions of dollars. Brain cancer might cost $100,000 while a comparatively simple case of skin cancer might end up costing about $15,000.
The medical expenses are largely dependent on the situation. Much like the other discretionary costs, the right amount to add for it depends on your personal preferences and your circumstances.
The variety of situations in which trauma insurance can pay out means choosing your sum insured is always going to be something of a guessing game. Having other forms of insurance can make it more predictable, but will also involve other costs.
Answer a few questions about your assets, debts and cover to get an estimate on how much life insurance you might need
Receive quotes from these direct brands
An adviser can help you find cover from trusted life insurance brands.
Get competitive quotes from multiple brands

Lower rate of declined claims (according to ASIC)

Save time and effort
---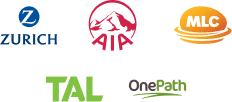 Picture: Shutterstock
More guides on Finder