Buying income protection insurance with SMSF
Not sure if you should fund your income protection through a self managed super fund? Learn the pros and cons here.
We're reader-supported and may be paid when you visit links to partner sites. We don't compare all products in the market, but we're working on it!
An SMSF (self-managed super fund) gives you greater control over where your super is invested and can have several financial advantages over belonging to a larger super fund. As well as accumulating wealth for their members' retirement, a SMSF can provide members with protection in the form of insurance.
What types of insurance are available through a SMSF?
As well as life insurance and total permanent disability (TPD) insurance, an SMSF can provide its members with income protection (IP) insurance, which pays up to 75% of their regular income if they are unable to work temporarily due to illness or injury. Such protection is particularly important in the case of self-managed super funds, which are often run by self-employed people and small business owners, who would be particularly disadvantaged if they were unable to work.
What are the benefits and drawbacks of holding cover inside an SMSF?
The good
Premiums are generally tax deductible
No out-of-pocket expenses, as premiums are paid with members' contributions
Increased cash flow for members outside of super because premiums are paid by the SMSF
The ability to customise insurance to suit members' specific needs (not always possible with a larger super fund)
As underwriting is usually not required for the default level of cover, the application process is relatively straightforward
The not so good
The danger of exceeding the $25,000 per year concessional contribution cap, in which IP cover is included (which could lead to additional tax liabilities)
Potentially more expensive cover due to lack of access to the group insurance rates enjoyed by larger funds
The need for medical underwriting for members (not required in larger funds)
A potentially longer claims process due to trustee compliance requirements (the trustee must meet the requirements of the temporary incapacity condition of release before a benefit can be paid to a member). If there is no binding beneficiary in place, the super fund is entitled to determine who receives the benefit payment.
Benefit payments paid to non-dependents are generally subject to tax
IP benefits can only be paid for the period of incapacity (unlike outside super)
Retirement savings may be depleted due to insurance payments being taken from members' contributions
The Income Protection policies offered through self-managed super funds are generally more basic in design with less features to tailor cover with further
While not related to Income Protection, Trauma Insurance is not available through superannuation.
SMSF income protection tax overview
There is no tax advantage to holding IP cover in an SMSF, as premiums are tax deductible both inside and outside of super. This is because the ATO views income protection as a replacement for normal salary and wages, and therefore IP premiums are a tax-deductible expense incurred in deriving assessable income.
There can actually be a tax disadvantage to holding IP cover in an SMSF: The benefit of a tax deduction is limited to 15% inside super, whereas it can be up to 45% outside of super. Because Income Protection benefit payments are viewed as assessable income, they are also fully taxable, which may cancel out any benefits provided by a premium deduction.
Back to top
What every fund trustee should know
The trustee of an SMSF has specific obligations to fulfil, including meeting the primary goal of generating wealth for the retirement benefit of members. SMSF trustees are also encouraged by super legislation to consider members' insurance needs, although they are not obliged to hold insurance within the fund if those needs are being adequately catered for elsewhere.
So whether a trustee opts to hold insurance (either life, TPD or IP) inside the SMSF will depend on the degree to which doing so financially benefits the members. If the disadvantages outweigh the benefits, then insurance might be better held with a retail fund outside of superannuation.
Other important responsibilities for fund trustees include:
Ensuring that any insurances held in the fund are owned and paid for by the trustee, not the member
Making sure the appropriate condition of release is met before any monies are released to a member
Minimising the sale of assets until a pension is payable to avoid paying capital gains tax (CGT)
Keeping the SMSF's money and assets separate from business and personal assets
Back to top
How does this option compare to taking out a retail policy outside of super?
Deciding whether to have IP insurance inside an SMSF or outside as a standalone policy will depend on a member's individual circumstances and needs.
If you are nearing retirement and need to put as much as you can into your super, you might opt for IP cover outside of super so that your fund is not being eroded by premiums. You might also opt for a retail policy if you want benefits and features not available inside super (such as cover for cancer, crises, specific injuries and return to work). Alternatively, if you have limited cash flow and just need basic income protection, then IP cover through your SMSF may be all that you require.
Back to top
SMSF Income Protection FAQ
Q: How many types of self-managed super funds are there?
A: There are two main types: multiple member funds and single member funds.
Q: What does IP insurance normally pay?
A: It usually pays 75% of your income if you are unable to work due to illness or injury.
Q: Can I transfer my current IP policy into my SMSF?
A: No, an SMSF cannot acquire an IP policy from a member. A new policy must be taken out in the trustee's name.
Q: Will I need to have a medical test?
A: Yes, to be covered by IP insurance inside an SMSF, you will normally be required to undergo a medical examination.
Q: I am self-employed. Which waiting period should I choose?
A: The shortest possible waiting period. As you have no sick pay entitlements, you will need the benefit as soon as possible after becoming ill or injured.
Q: Can I have an agreed value IP policy inside my SMSF?
A: No, legislation now dictates that only indemnity value cover is available inside super.
Q: Is the administration, auditing and tax return of an SMSF tax-deductible?
A: Yes, it is a tax-deductible expense payable by the fund.
Q: What is the sole purpose test?
An adviser can help you find cover from trusted life insurance brands.
Get competitive quotes from multiple brands

Lower rate of declined claims (according to ASIC)

Save time and effort
---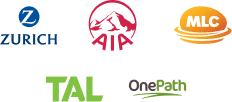 To get expert help, please click on one of the options below:
More guides on Finder