CGU Income Protection
Looking to protect your income if you suffer serious illness or injury? Discover the benefits of CGU Income Protection Insurance
We're reader-supported and may be paid when you visit links to partner sites. We don't compare all products in the market, but we're working on it!
With over 160 years experience providing insurance cover to Australians, CGU has grown to become a leading commercial, rural and personal loans insurance provider. The CGU Income Protection policy provides an ongoing benefit should you become sick or injured and are unable to work. You can choose between Personal Accident and Illness cover or Personal Accident only insurance and receive tailor your policy further through additional options.
Compare income protection from these Australian brands
Ready to start exploring your options?
An adviser can help you find cover from trusted life insurance brands.
Get competitive quotes from multiple brands

Lower rate of declined claims (according to ASIC)

Save time and effort
---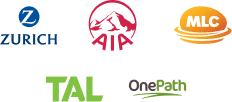 This review will explore what the CGU Income Protection policy covers and what to look out for if considering this option.
What does CGU Income Protection cover?
CGU Personal Income Insurance provides an ongoing income when you are sick or injured and unable to work. It offers a weekly benefit to replace your regular income, allowing you to continue to manage your everyday expenses and maintain your family's standard of living. This gives you the peace of mind you need to concentrate on your recovery and getting back to work.
Personal Accident Insurance Option
Personal Income Insurance is available in two forms - Personal Accident and Illness Cover or Personal Accident Cover only - allowing you to tailor a policy to suit your requirements. It pays an agreed upon weekly benefit if you become totally incapable of carrying out all the usual duties of your usual occupation. If you become totally incapable of carrying out some of the duties of your usual occupation, your policy will pay an amount equal to 25 per cent of the weekly benefit, with the maximum benefit period under the policy set at two years.
TPD Insurance Option
If you become totally and permanently incapable of carrying out any occupation at all, a lump sum TPD benefit will be paid. You'll also receive a lump sum benefit if you become totally and incurably blind or if you are completely and permanently paralysed in any two limbs.
Specific Injury Benefit
Finally, lump sum benefits are also payable to your loved ones upon your death or if you suffer a range of specified injuries or disabilities. These include the loss of sight in both eyes, the loss of use of both hands or feet, the loss of hearing and burns or disfigurement to more than 20 per cent of the body.
Back to top
How Much Will CGU Personal Income Cost?
The following factors will be taken into account when the cost of your CGU Income Protection Cover is calculated:
The sum insured. The higher the benefit you will receive, the more you can expect to pay for cover.
Your medical history. Your overall health status and whether or not you have suffered any previous accidents or illnesses will be considered when the cost of your premiums is calculated.
Your height, weight and gender. These can all influence the illnesses and injuries you are more prone to suffer from and can also have a bearing on your recovery time.
Your occupation and pastimes. If your job or your recreational pursuits regularly expose you to hazardous situations and an increased risk of illness or injury, this will result in more expensive cover.
Your claims history. A no-claim history will result in cheaper cover than if you have made an income protection insurance claim in the past.
The type of cover you select. Personal Accident and Illness Cover is more expensive to purchase than Personal Accident only cover.
Cover limits. The benefit period and waiting period you select will both have an impact on the cost of cover. Longer benefit periods and shorter waiting periods mean more expensive cover.
Back to top
How will the benefit be paid?
The maximum period for which the CGU Personal Income weekly benefit is paid is 104 weeks. The amount of the benefit you are entitled to receive under the policy may also be reduced by an excess period, which is commonly also referred to as a waiting period. You will not receive any benefits during the excess period and the length of this period will be shown on your Personal Income policy schedule.
In most cases you will be able to select your desired excess period at the time you apply for cover. However, sometimes CGU will impose the excess period that you must serve when you make a claim, and the period you receive is influenced by factors such as the type of cover you select, your occupation, and your previous insurance and claims history.
If you return to work and then suffer an aggravation of the same injury or illness, this will be treated as a continuation of your previous claim and not as a new claim.
Back to top
What is the age of eligibility for CGU Income Protection?
You'll need to be at least 18 years of age if you want to apply for a CGU Personal Income policy. However, your cover will not be automatically renewed once:
You reach the age of 65; or
You reach the age of 55 and you have cover for becoming totally incapable of carrying out all the usual duties of your usual occupation for seven days or more, or becoming totally and incurably blind or becoming completely and permanently paralysed in any two limbs
Back to top
Exclusions to be aware of
Your CGU Income Protection claim will not be paid if:
It is caused by a deliberate or self-inflicted injury.
It is a result of you being under the influence of or addicted to alcohol.
It arises due to elective cosmetic surgery or your recovery following elective cosmetic surgery.
It is caused by any sexually transmitted or transmissible disease.
Your claim is a result of you taking part in any sporting activity for which you receive a reward of more than $100 per year.
It arises due to your participation in aerial activities.
It arises because of the use of drugs, except as prescribed by a medical practitioner.
It is for any pre-existing illness or disease.
It is for any illness or disease which you contract within 28 days of your cover commencing.
It arises due to your participation in a riot, civil commotion or criminal act.
It is caused by war, revolution or acts of terrorism.
Back to top
CGU Income Protection - Other things to know
Cooling-off period. You have 21 days following the commencement of cover to cancel your policy and receive a full refund of any premiums you have paid.
Change in occupation. If you change your job, your work-related duties or your pastime, you'll need to notify the insurer of this in writing.
Change in health. If you suffer an illness or injury, you will need to obtain and follow advice from a medical practitioner as soon as possible.
Premium. The premium you will have to pay is shown on your policy schedule.
More guides on Finder