How much is 1 Qantas Point worth?
We've calculated exactly how much your Qantas Points are worth and the most cost-effective rewards to redeem them for.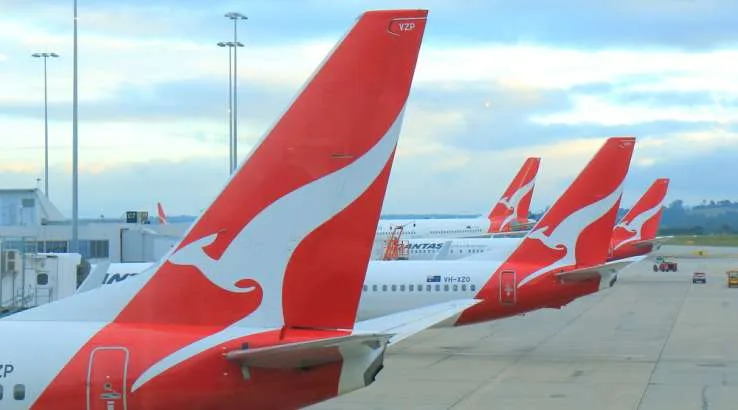 We're reader-supported and may be paid when you visit links to partner sites. We don't compare all products in the market, but we're working on it!
The best part of belonging to the Qantas Frequent Flyer program is that you get to redeem your hard-earned Qantas Points for rewards. The gamut of goodies on offer to members has grown over the years, and now you can redeem your points for literally anything travel-related as well as 8,000+ products and gifts cards available in the Qantas Store.
Your Qantas Points can get you a variety of rewards, including homeware, tech toys, car rentals, fine wine, gold class movie tickets and first class air ticket upgrades. However, not all redemptions are equal.
How much is a Qantas Point worth?
We've crunched the numbers to show just how much value you can get from your points. The infographic below provides a summary of the rewards that offer the least to most value (as well as how easy or difficult they are to redeem).
But how did we work that out? Through some careful research. In the table below, we've shown the points you need for a range of flight options and their typical average dollar value as well as items you can purchase from the Rewards Store. (All calculations are based on June 2018 prices. Points values for purchasing flights are for Classic Flight rewards.)
We've quoted the value here based on how much you get per 1,000 points. There are two reasons for this: the maths is easier to follow, and most redemptions require thousands of points anyway. Click at the top of any column to sort.
| Purchase | Qantas Points | Cost | Value/1,000 points |
| --- | --- | --- | --- |
| Sydney to Perth (Economy) return | 36,000 | $533 | $14.80 |
| Sydney to Melbourne (Economy) return | 16,000 | $321 | $20.10 |
| Melbourne to Brisbane (Economy) return | 24,000 | $321 | $13.40 |
| Sydney to Perth (Business) return | 72,000 | $2,600 | $36.10 |
| Sydney to Melbourne (Business) return | 32,000 | $998 | $31.20 |
| Melbourne to Brisbane (Business) return | 48,000 | $1,200 | $25.00 |
| Sydney to Perth return, upgrade from Economy to Business (2018) | 50,000 | $2,067 | $41.30 |
| Sydney to Los Angeles return (Economy) | 90,000 | $1,503 | $16.70 |
| Sydney to Los Angeles return (Premium Economy) | 144,000 | $5,096 | $35.40 |
| Sydney to Los Angeles return (Business) | 192,000 | $10,416 | $54.30 |
| Sydney to Los Angeles return (First) | 288,000 | $16,926 | $58.80 |
| Sydney to Los Angeles return (Economy to Premium upgrade) | 113,000 | $3,592 | $31.80 |
| Sydney to Los Angeles return (Economy to Business upgrade) | 180,000 | $8,913 | $49.50 |
| Sydney to Los Angeles return (Premium to Business upgrade) | 90,000 | $5,321 | $59.10 |
| Sydney to Los Angeles return (Business to First upgrade) | 101,500 | $6,510 | $64.10 |
| iPhone X 256GB | 281,110 | $1,829 | $6.51 |
| David Jones Gift Card | 16,530 | $100 | $6.05 |
| KitchenAid KSM170 Stand Mixer | 149,450 | $929 | $6.22 |
| Village Gold Class Adult Ticket x2 | 11,110 | $57 | $5.09 |
| Dyson Cyclone V10 Absolute | 164,690 | $999 | $6.07 |
| DeLonghi Lattissima Pro | 149,450 | $539 | $3.61 |
| Samsung 40L Microwave (White) | 62,260 | $199 | $3.20 |
Which rewards offer me the best value for my money?
There's a really simple rule you can follow when redeeming Qantas Points:
THE POINTS FINDER RULE
When redeeming points, make sure you get at least $20 of value for every 1,000 Qantas Points you spend.
As the table shows, the best value comes from upgrades, followed by business class flights, followed by economy flights, followed by store purchases. Two extreme examples: using your points for an upgrade from business to first can score you $64 in value per 1,000 Qantas Points, while buying a microwave gets you just $3.19 in value for the same number of points. At that rate, you might be better off buying the item with cash with your credit card and collecting more Qantas Points on the purchase.
Bear in mind that the highest-value rewards are also the hardest to attain. Qantas typically only releases a handful of first- and business-class international seats that can be purchased with points, and these are often snapped up by high-status flyers. An economy domestic flight can still represent good value, especially if you use points to book a flight during peak periods (such as Friday afternoons or during school holidays).
For instance, we've calculated the value of points for a Sydney to Melbourne flight based on a $321 return fare. During peak periods, you could easily pay that much in each direction, so a rewards flight would be worth much more.
Complete guide to using Qantas Frequent Flyer points
How can I get the most value from my Qantas Points?

Classic flight rewards are the cheapest flight rewards you can redeem with Qantas Points. There are special conditions attached to these flights that you should be aware of, including the fact that you have to pay taxes, fees and carrier charges in cash, and the fact that you cannot earn Qantas Points or status credits on these flights. Also, only a limited number of seats are available for this class of redemptions, and some flights don't even offer seats for classic flight rewards redemptions. This means you have to book early if you want to redeem a classic flight reward.
Do your research and do the math
While the general rule that "upgrades beat flights beat store purchases" is a useful guide, you should always check values carefully. You might miss out on getting the best value for your points if you head straight for flight redemptions and automatically pass over on the other available rewards that are actually on your "to-buy" list.
If the Qantas Store stocks items that you already need or want to purchase, there's no harm researching how much they cost in Qantas Points and comparing that to retail dollars. The way to calculate the value of a Qantas Point is by dividing the item's retail/dollar cost by the number of Qantas Points you'd need to buy the item. This easy step will help you get the most value out of your points.
Qantas also allows you to supplement your points with cash when purchasing an item. This option is available for flights, hotel stays and goods at the Qantas Store. The minimum number of points you can use on a flight is 5,000, so you must have at least 5,000 points in your account if you want to pay the difference with cash.
This scheme rarely works in your favour though and is not designed to be a sly way to stretch your Qantas Points. You'd only want to use this if you're genuinely short of points for a purchase.
While your Qantas Points are designed to reward you, they can feel like a burden if they're not worth the price you're paying to get them. Weighing up their value also means you have to factor in the cost of your Qantas Frequent Flyer credit card because those points become more expensive to earn if you're paying a high yearly premium for the card. So make sure you're using the right card, and make sure you're redeeming the right rewards.
Want to boost your Qantas Points balance?
Compare these credit cards with bonus points offers and redeem your next reward sooner.
More guides on Finder
Supercharge your frequent flyer points with Points Finder