How to get a free Qantas Frequent Flyer Membership in 2020
Enjoy the benefits of being a Qantas Frequent Flyer member without paying the sign-up fee.
We're reader-supported and may be paid when you visit links to partner sites. We don't compare all products in the market, but we're working on it!
The Qantas Frequent Flyer program is a great way to turn your travel and everyday purchases into points for flights and other rewards. Signing up to the program usually costs $99.50, but there are a few ways you can become a Qantas Frequent Flyer for free. From promo codes to partner retailers, use this guide to find out the different ways you can join the Qantas Frequent Flyer family for free.
10 ways to join the Qantas Frequent Flyer program for free
1. Get a Qantas Travel Money card
When you sign up for the Qantas Travel Money, you can join the Qantas Frequent Flyer program for free and save the $99.50 joining fee. This card doubles as your prepaid travel card and your Qantas Frequent Flyer membership card, so you'll only need to carry one card in your wallet. The card also offers up to 11 international currencies, locks in exchange rates and allows you to earn points as you spend in Australia and overseas.
2. Sign up through Everyday Rewards
As Everyday Rewards and Qantas Frequent Flyer are partnered programs, you can you can sign up for free via Qantas and Woolworths. As you'll see in the URL, the WOOLWORTHS code has already been included to ensure you can save on the usual Qantas joining fee. Plus, you belong to Everyday Rewards, you can exchange your supermarket reward points for Qantas Points.
3. Sign up using a promo code
If you're an Australian resident and you join the Qantas Frequent Flyer program via the Qantas website, you can use the promo code FAMILYFREE to waive the sign up fee. You won't need to enter the promo code anywhere, but if you sign up via this link on the Qantas website, you'll see the code is already in the URL.
4. Use a Qantas Frequent Flyer credit card
If you want to earn Qantas Points for every dollar you spend, there are many Qantas credit cards that'll also waive the frequent flyer membership fee. Most of these cards also come with bonus points offers and travel perks such as complimentary insurance and airline lounge passes, so you can compare your options below.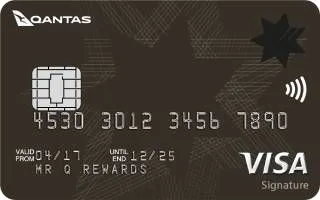 NAB Qantas Rewards Signature Card
Earn up to 110,000 bonus Qantas Points
Discounted $295 first year annual fee
Eligibility criteria, terms and conditions, fees and charges apply
NAB Credit Card Offer
Earn up to 110,000 bonus Qantas Points, take advantage of complimentary insurance covers and a 24/7 concierge service.
90,000 bonus Qantas Points (spend $3,000 within the first 60 days) and 20,000 points after 12 months
First-year annual fee of $295 ($395 p.a. thereafter)
19.99% p.a. purchase interest rate | 21.74% p.a. cash advance rate
Minimum credit limit of $15,000
Compare Qantas Credit Cards that waive the membership fee
5. Get a transaction account that's linked to the Qantas Frequent Flyer program
If you'd prefer a transaction account to a credit card, you can also receive complimentary membership to the Qantas Frequent Flyer program if you sign up to the Bankwest Qantas Transaction Account. This product also allows you to earn points when you make purchases with the debit card, withdraw funds overseas and for every $100 you have in your account at the end of each month. Although this product offers free Qantas Frequent Flyer membership, be mindful of any account keeping fees or other costs that may apply.
6. Get the ingogo app
This taxi app gives you a way to earn Qantas Points on your bookings – and offers complimentary Qantas Frequent Flyer membership through its website. Once you have downloaded the app, you can link your Qantas Frequent Flyer account to earn 1 point per $1 spent on eligible taxi trips.
7. Download the Qantas Wellbeing app
The Qantas Wellbeing app offers points for different health goals. While it's designed to offer more benefits to people who have eligible Qantas health insurance cover, anyone with a Qantas Frequent Flyer account can download and start using the app. The disclaimers on the Qantas Insurance page also state that the joining fee "will be waived if you join when you download the App".
8. Sign up through TerryWhite Chemmart REWARDS
Speaking of health, this free loyalty program for Terry White chemists has partnered with Qantas Frequent Flyer and gives you another way to become a frequent flyer member for free. The full details are on the TerryWhite Chemmart website – including this link to join the Qantas Frequent Flyer program for free.
9. Join through Luxury Escapes
If you're planning to book a holiday package, Luxury Escapes offers deals all around the world– as well as another way to earn and redeem Qantas Points. If you're not an existing Qantas Frequent Flyer member, you can sign up by following the link on the Luxury Escapes website to save on the joining fee.
10. Sign up to HOYTS Rewards
Register for a HOYTS Rewards account for free and you can also sign up to Qantas Frequent Flyer without paying a joining fee. This lets you earn points for all your movie ticket and candy bar purchases with HOYTS. But take note: while HOYTS Rewards standard membership is free, there are fees for HOYTS Rewards Plus ($12 p.a.) and HOYTS Rewards Premium ($50 p.a.) memberships. You can visit the HOYTS website for more information – or go directly to the Qantas Frequent Flyer joining page for HOYTS Rewards members.
---
These are just a few of the ways you can sign up to the Qantas Frequent Flyer program for free, and the airline regularly runs promotions that allow new frequent flyers to sign up for $0. So keep your eye out for opportunities to use promo codes or sign up through Qantas Frequent Flyer partners to start collecting points into your free membership account. Qantas offers one of the most competitive rewards programs available. Before paying any joining fees, always do your research and look out for promotions. Skip the joining fee and become a Qantas Frequent Flyer member without the additional cost.
Back to top
Picture: Qantas
More guides on Finder
Supercharge your frequent flyer points with Points Finder