Commander Energy: Business electricity plans in NSW, VIC and SA
Find out if you could save by bundling your business's electricity and phone plans with Commander Power and Gas.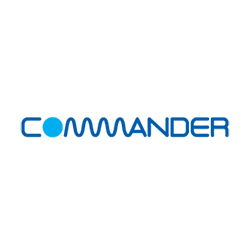 Is Commander Energy right for me?
What does Commander offer? Electricity in New South Wales, Victoria and South Australia.
Product highlights: Services are tailored to small businesses and allow business customers to bundle phone and electricity plans.
Watch out for: Commander doesn't offer gas, solar power or GreenPower options.
---
Commander electricity
Commander Power & Gas is the energy retailing arm of Commander, an Australian telecommunications company. As part of the Vocus Communications group, it offers electricity to residences and businesses in Victoria, New South Wales and South Australia.
While Commander offers residential electricity, the company is primarily tailored to business customers.
Customers can earn discounts by paying their bills on time and business customers can get further discounts by bundling their energy and phone bills. Electricity plans don't have lock-in contracts or exit fees.
Commander has support centres around the country for those who prefer in-person support.
| State | ⚡ Electricity | ♨️ Gas |
| --- | --- | --- |
| NSW | ✅ | ❌ |
| VIC | ✅ | ❌ |
| QLD | ❌ | ❌ |
| TAS | ❌ | ❌ |
| ACT | ❌ | ❌ |
| SA | ✅ | ❌ |
| NT | ❌ | ❌ |
| WA | ❌ | ❌ |
---
Does Commander offer solar power?
Unfortunately, it doesn't offer any solar services.
Does Commander offer GreenPower?
No, Commander isn't GreenPower certified.
---
Additional services
Commander Energy also offers Internet and mobile plans. While these plans are predominantly aimed at businesses, they're also available for residential customers. Discounts are available for eligible customers who bundle their electricity and business phone plans.
Compare Commander broadband NBN, ADSL and mobile broadband plans
In addition to electricity, Commander offers the following:
NBN and ADSL2+ plans
Internet and office phone bundles
Mobile plans
Mobile broadband
Mobile phones
Office phones
---
How can I pay my bills?
Commander offers several payment methods, including:
---
Why consider Commander Energy?
Bundled plans. Business customers may be eligible for discounts by bundling their electricity and office phone plans.
Designed for businesses. Commander's energy, broadband and mobile services are tailored to business owners who want to simplify their utility bills.
Pay on time discount. Commander offers discounts to eligible customers who pay their bills on time. The discount is typically applied to the following bill.
No-lock-in contracts and no exit fee. You can cancel your energy plan at any time and won't be charged any fees to do so.
Energy Assistance Program. Commander offers a hardship program for customers who are having trouble paying their bill. Call 133 914 for more information and to apply.
---
---
Ready to save on your energy bill? Find out how to switch energy providers
Read more on this topic
Lower your household bills