Personal Injury Insurance
Workers' compensation doesn't cover everyone, which is why you need workplace personal injury insurance.
We're reader-supported and may be paid when you visit links to partner sites. We don't compare all products in the market, but we're working on it!
Workplace personal injury insurance is vital for some, as workers compensation only covers your employees. In most cases it does not cover contractors, partners, trustees or the self- employed.
If you are one of the above, having workplace personal injury insurance could help prevent crippling repercussions if an accident were to occur.
Some of these costs can include:
Compensation benefits.
Medical expenses, including any hospital bills and rehabilitation.
Personal items damaged in a work related accident.
Lump sums for death and permanent impairment.
Compare insurance options

The brands that Finder work with do not offer specific cover for personal injury insurance. However, income protection insurance is a great alternative that offers a very comprehensive level of cover. It also covers you for illness and injury 24/7, not just while you're in the workplace.
Take a look at the providers below and see what percentage of your income you can expect to have covered and for how long. Click Get Quote to start comparing your options.

An adviser can help you find cover from trusted life insurance brands.
Get competitive quotes from multiple brands

Lower rate of declined claims (according to ASIC)

Save time and effort
---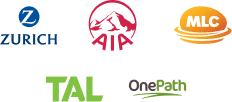 Who needs workplace personal injury insurance?
When the prospect of suffering an injury at work is raised, many of us believe we would be covered by our employer's workers' compensation insurance. In fact, it's compulsory for businesses who employ people to have a workers' compensation policy in place. If an employee suffers a work-related injury or illness, this type of accident insurance protects your business against the cost of treatment and support for the injured worker. This may include ongoing benefits, medical and hospital expenses, rehabilitation costs, and a lump sum payment in the event of total disablement or death.
However, such policies only cover a business' employees, which means people like directors, partners, trustees and sole traders do not receive any protection. As a result, some businesses also elect to take out optional workplace personal injury cover. This provides the same cover for those people who are not classified as workers and therefore do not receive any protection under workers' compensation cover.
In addition to directors, partners, trustees and the self-employed, workplace personal injury insurance also covers contractors no matter how old they are or what their health status may be. Providing cover for things like weekly benefits, medical costs and rehabilitation expenses, this type of insurance provides crucial protection and peace of mind for a wide variety of workers.
What does it cover?
While the cover available does differ between policies and providers, workplace personal injury insurance generally covers the following:
Weekly benefits. If you suffer a work-related injury and are unable to return to work, the resulting loss of income can place you under a huge financial strain. Workplace personal injury insurance provides weekly benefit payments to replace your loss of income when you are totally or partially disabled for a temporary period. Many policies will pay out up to 85% of your regular income in benefits.
Accidental death. This type of insurance will offer a lump sum benefit payment in the event of accidental death.
Permanent disability. If a workplace injury leaves you with a permanent disability, your policy may provide a lump sum benefit to help you cope with your changed circumstances and any resulting loss of income.
Rehabilitation expenses. If you're injured and unable to return to work for more than a certain period, any necessary rehabilitation costs will be covered by your policy.
What doesn't it cover?
It's worth noting that a workplace personal injury insurance policy is different to income protection cover. While income protection policies provide cover 24 hours a day, workplace personal injury insurance only covers you for work-related injuries or illnesses. So if you suffer an injury or illness when not engaged in any work-related capacity, this type of policy will not offer you any protection.
In addition, costs associated with common law are not included in your cover as taking out this type of policy means you are effectively insuring against yourself.
How much does it cost?
There are several factors that can influence the cost of your workplace personal injury insurance premiums.
The cost of your cover is determined by multiplying your wages by a premium rate, which is in turn based on your occupation.
This rate is heavily influenced by whether your occupation is classed as manual labour - including things like lifting, carrying, pulling, pushing and other physically rigorous duties - or office, admin or clerical work.
Your wages, also sometimes referred to as your Insured Benefit Level (IBL), are the amount of income you declare to the ATO. They are used to determine your premium and also affect your weekly benefit amount should you make a claim.
What is the difference between a worker and contractor?
Another important area of workplace personal injury insurance that needs to be examined is the definition of workers and contractors. While an individual may be classed as a contractor for tax purposes, they may be deemed to be a worker for workers' compensation purposes. People who are commonly deemed as 'workers' for insurance purposes include:
Outworkers
Contractors under labour hire service arrangements
Salespersons and canvassers
Collectors
Rural workers
Boxers, referees and entertainers
Generally speaking, contractors are more likely to be hired to complete a specific project or task using their own skills than a worker. They're also more likely to employ others and receive payment based on the price they quote for a job.
Who is exempt?
Certain employers are exempt from taking out insurance for their workers. If you pay less than $7,500 in annual wages, you don't employ any apprentices or trainees and you are not a group member for premium purposes, you are exempt from taking out insurance.
However, such employers still need to provide assistance to help an employee manage their injury and eventually return to work. A $175 administration fee will be charged for any claim made against an exempt employer, with such claims assigned to insurance agents.
Income Protection vs Workers Compensation
We briefly touched on the fact above that some people confuse the cover offered by income protection and workers' compensation policies. While these two policies are similar in a lot of ways, there are a few key differences that set them apart.
WorkCover
Income protection insurance
WorkCover provides protection when employees are injured at their place of work. When they suffer a serious injury that prevents them from returning to work for an extended period of time, they may be eligible to receive a range of workers' compensation benefits, such as:

income replacement
medical and rehab benefits
permanent disability benefits
death benefits.

Of course, in order to receive cover they will need to suffer the injury at work and also be able to prove the injury was caused by their employer's negligence.

Income protection insurance provides protection for illnesses and injuries 24 hours a day. When you consider that three-quarters of accidents in the home or while participating in recreational activities, the difference between the two types of cover becomes very important.In addition, while there are limitations on the types of injuries and illnesses workers' compensation covers, income protection provides ongoing income replacement benefits until you are able to go back to work or your benefit period ends.However, keep in mind that taking out income protection cover may affect any workers' compensation benefits This is to ensure that claimants aren't able to receive more money than they were originally earning while working.
Although it's an optional form of insurance, workplace personal injury insurance can provide essential cover in circumstances where workers' compensation insurance falls short. If you'd like to take out a policy, compare your options before deciding on the best one for your business.
More guides on Finder