What is the price saving by going off the grid?

If you're sick of the hustle and bustle of urban life, going off the grid could be the right move for you.
Living off the grid doesn't mean you have to be a fringe survivalist preparing for the zombie apocalypse. There are any number of perfectly sane reasons to leave modern society behind. Whether you're focused on doing your bit for the environment, looking to reduce your bills or just wanting a sea or tree change, off the grid living can save your sanity, and potentially your bank account.
Land
If you plan on living off the grid, the first thing you'll need to secure is a block of land. By looking outside the capital cities, you'll already be saving yourself money.
According to a CoreLogic report, capital city vacant land was valued at around $552 per square metre at the end of 2015. That meant the median land price in Sydney came out to a whopping $410,000, up 20.2% from the previous year.
By contrast, vacant land in regional markets averaged just $179 per square metre. The median lot size in Australia's capitals is 466 square metres. At the median price per square metre, this would set you back $257,232. A similarly sized lot in a regional area would cost only $83,414.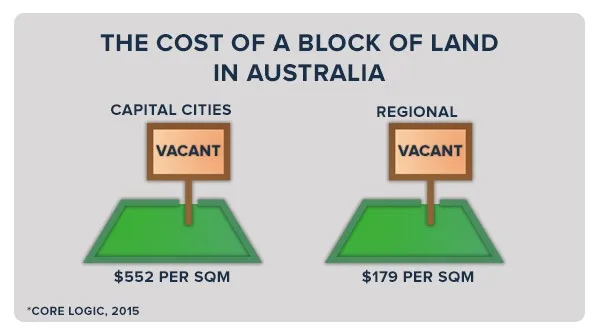 But you might be able to save even more money by buying in a cooperative. Yourway.org.au, a site aiming to help people transition to off the grid living, claims buying in a cooperative can help people secure rural land at $2,000 per acre. For point of reference, once acre is 4,046.86 square metres. This would put the price quoted by Yourway.org.au at less than $0.50 per square metre, a far cry from the median regional price of $179. By comparison, an acre of land at the median regional price per square metre would cost $724,413.
While less than $0.50 per square metre seems almost too good to be true, there are communities to connect buyers who want to combine funds to purchase large tracts of regional land. Landsharing.org offers a global network of established communities looking for new members as well as people looking to start communities.
One important thing to keep in mind when looking to buy regional land is acceptable land use. You'll want to make sure the land is either zoned for residential construction, or, ideally, doesn't require any permits to build. If the land does require permits, you'll have to pay close attention to any restrictions that could derail your plans.
Housing
Once you've got the permit-free land, the type of home you build is entirely up to you. But if you're looking to save money by living off the grid, you'll want one that prioritises energy efficiency.
Several Australian providers of pre-fabricated homes such as Ecoliv, Modscape and Ecoshelta focus on eco-friendly, sustainable buildings. Construction of the homes can generally be completed in a matter of weeks.
The downside to this option, though, is price. While some providers offer modular homes from under $200,000 for a four-bedroom model, builders who focus on energy efficiency often charge more, sometimes up to $450,000.
Alternatively, you can take on the task of home construction yourself. The Australian Government offers free building plans for eco-friendly homes, with two size options (three bedroom plus study or two bedroom plus study). The government's YourHome site even offers designs specific to each capital city's climate.
You can also increase your energy efficiency by choosing your construction materials wisely. Found materials can reduce your own upfront costs as well as your carbon footprint. Another energy efficient option is rammed earth. Rammed earth is a mixture of raw earth materials such as chalk, lime, gravel, soil and clay that is mixed with a small amount of concrete and formed into a stone-like material. It has the benefit of being inexpensive as well as providing excellent insulation.
Power and water
Getting off the grid, in its most literal sense, means disconnecting from electricity and water supplies in order to generate your own. While this might be one of the larger cost outlays when it comes to off the grid living, it's the one that will save you money in the long run.
Electricity production
To go off the electricity grid, you'll need an off grid wind or solar system that will include solar panels and wind turbines as well as an inverter and battery storage system. These can carry a hefty price tag.
Data from the Independent Pricing and Regulatory Tribunal (IPART) shows a household of three to four residents uses about 2,100 kWh of electricity per quarter. This breaks down to just over 23 kWh per day. A complete off grid system producing this amount of power runs $37,790 at offgridenergy.com.
A quick comparison of energy providers shows one of the best prices available to Sydney customers is around $1,300 per year for a household of three people. Regional areas are substantially more expensive, however. A similar energy contract in Broken Hill, for example, would cost more than $2,400 per year.
Even with the higher cost of connecting to the grid in regional areas, a system like the one mentioned above would take nearly 16 years to start producing net cost savings. However, the price of off grid systems doesn't take into account government rebates that could drastically offset the cost of installation.
The Federal Government offers Small-Scale Technology Certificates, or STCs, as a reward to homeowners who use renewable resources. The number of STCs a homeowner receives is dependent on the amount of sustainable energy they produce.
STCs are sold to companies which generate energy through fossil fuels, and the price of STCs varies depending on the market. Generally, your solar installer will sell the STCs and pass the upfront discount onto you. According to offgridenergy.com, this discount can typically range from $1,000 to $13,000 depending on the size of the solar array installed as part of your system. Assuming the best case scenario, this could knock the price of an off grid system down to $24,790, thereby reducing the time it will take to generate cost savings down to a little more than 10 years. This also doesn't take into account the inevitable electricity price hikes, from which you'll now be immune.
Depending on your commitment to sustainability, you can also reduce the size of the system you need by cutting your power consumption. This is where the aforementioned energy efficient construction of your house comes into play. Well insulated construction and a design that allows for plenty of natural light can help you drastically reduce your power usage.
Water and sewerage
Even living off the electricity grid and away from the daily grind of the big city, you may still choose to utilise council water and sewerage connections in your area. If this isn't an option, however, you can still manage your water collection and wastewater disposal without connecting to the grid.
Even as one of the driest countries on Earth, rainwater harvesting is popular in Australia. In a rural area where rainwater is free of dissolved solids, toxins and heavy metals, rainwater can be used for any purpose, including drinking.
The YourHome site recommends at least a 5,000-20,000 litre tank if rainwater is to be used for a whole of house water supply. A 5,000 litre tank runs around $850.
While placing a rainwater tank at roof level or above can allow gravity to provide water pressure, ground level tanks will also require a pump. A pump suitable for an average sized home could run as much as $800.
Sewerage will also be an issue. You'll have to find a way to dispose of the wastewater you produce. You could install an electric septic system, but these systems can be costly and will further add to your power consumption. But there are a variety of more sustainable solutions. Advanced Enviro-Septic offers a system that works without electricity, and only needs to be pumped every three to five years. For a three bedroom home, the system costs around $2,500.
For the ultimate sustainable system, however, several providers in Australia offer systems that use worms to treat wastewater, producing safe and odourless greywater that can be used to irrigate crops.
Is it worth the commitment?
Going off the grid isn't as simple as finding a plot of land and pitching a tent. It does require a significant cost outlay. Initial set-up could run you into six figures if you're looking for a fairly comfortable standard of living, though the more adventurous could DIY their way to some significant cost savings.
Long term, however, off grid living can prove significantly less expensive than city dwelling. And cost savings aren't the only consideration when making the choice to live off the grid. For a certain type of person, disconnecting from urban chaos can provide a lifestyle that transcends price tags.
Images: Shutterstock