Secured Personal Loans
Learn about and compare secured personal loans with this guide.
We're reader-supported and may be paid when you visit links to partner sites. We don't compare all products in the market, but we're working on it!
If you're looking for a personal loan to help take your next step towards a holiday, car or other large purchase, you might want to consider the benefits of a secured personal loan. While you might associate these loans with the purchase of a new vehicle, they are about so much more than just cars.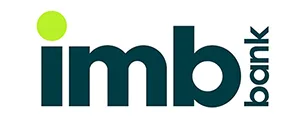 IMB New Car Loan
5.34 % p.a.

comparison rate
No monthly fees
No early repayment fees
Borrow up to $75,000

100% confidential application
IMB New Car Loan
A low rate loan to finance new vehicles or cars up to two years old. Borrow up to $75,000.
Interest rate: 4.99% p.a.
Comparison rate: 5.34% p.a.
Interest rate type: Fixed
Application fee: $275.12
Minimum loan amount: $2,000
Maximum loan amount: $75,000
Secured personal loans comparison
What is a secured personal loan?
A secured personal loan is a loan that is guaranteed against an asset either that you currently own or one that you buy with the loan. The most common form of secured loan is a car loan. Generally, car loans are secured against the vehicle that you are buying, though restrictions sometimes apply.
But a secured personal loan doesn't need to just be for a car purchase. You can get a secured loan for almost any legitimate purpose as long as your security is equal to or greater than the value of the loan. While the most common forms of security are generally vehicles and home equity, you can use almost any asset to secure a loan. For example, security can also come in the form of high-priced items such as jewellery or monetary accounts like term deposits. However, please note that restrictions on the type of security you can use will depend entirely on the lender.
You can usually apply for any amount up to $100,000 for terms up to 7 years with a secured personal loan.

Is a secured loan the best option?
It's important to determine whether any type of financial product is right for you before you apply. Secured loans have tons of benefits, but they're not for everyone. Whether a secured loan is the best option will depend entirely on your personal circumstances. The best way to decide if a secured personal loan is the best option is to consider your situation and do your research and compare loan options.
Here are some points to keep in mind:
Secured loans are usually cheaper

Because the lender has a backup (reselling your collateral), they face less risk should you default on the loan. For this reason, secured personal loans normally have lower or fewer fees and lower interest rates than unsecured personal loans. If you're looking for a loan at a competitive rate, a secured option is almost always going to cost you less.

If you don't have a perfect credit score, you might be hard pushed to be considered for an unsecured personal loan. However, secured loans have fewer restrictions because the lender faces less risk. If you need a loan and your credit score has a few black marks, speak to a lender about getting a secured personal loan. Using an asset as security will almost definitely be more economical than opting for a payday loan.

Having a steady income is an important factor that lenders usually consider when reviewing applicants because it gives them an indication of your ability to repay the loan. This can make getting an unsecured personal loan more difficult for these individuals. However, because there is less risk posed to the lender with a secured loan, self-employed, part-time and casual employees tend to find it easier to be approved for secured personal loans.

You need an asset

Do you already have an asset of value? Are you looking to buy one with the loan funds? If you don't own a valuable asset and you're not looking to buy one, a secured loan won't work for you. However, if you are looking to buy an asset, make sure that the lender you opt for accepts your specific purchase as collateral.

If you own an asset, are you willing to risk it?

If you have an asset, are you willing to risk it if you default on the loan? You have to either be totally sure that you can make the repayments or willing to give up your possession if, for any reason, your circumstances change.

Your asset needs to meet the requirements of the lender

Lenders will have requirements for the guaranteed asset, such as its age or value. For instance, if you're using a vehicle as security, it may need to be under a certain age, usually from two to seven years. If you are using a term deposit, you may need to have a certain amount in the account.
How to compare secured personal loans
Loan amounts. Find out what loan amounts the lender is offering and if it will match your loan purpose.
Loan terms. Generally, loans are available for terms from one to seven years. Loan terms may only extend up to five years for fixed-rate loans or peer-to-peer loans, so make sure you find a loan with terms that meet your needs.
Assets you can secure the loan with. Lenders have different requirements when it comes to secured loans. You may not be able to secure the loan with the asset you are planning to use, so check this before you apply.
Fees. Check upfront fees such as application or establishment fees as well as ongoing fees such as annual or monthly fees. Also, check default and late payment fees. These will add to your costs for the loan.
Interest rate. How competitive is the interest rate? Compare the rate to other lenders and make sure to check the comparison rate of a personal loan, which will give you a better idea of the true cost of the loan.
Repayment flexibility. Are you able to repay the loan early without penalty? Can you make additional repayments without being charged? Check this before you apply.
How to compare: Big banks vs alternative lenders
When looking for a secured personal loan, should you opt for a secured loan from a traditional bank or from an alternative lender? Firstly, it's important to recognise that there are different types of alternative lenders. There are building societies and credit unions known as "mutuals" (these are customer owned) as well as neobanks, P2P and independent lenders, commonly known as "online lenders".
Big banks

Mutuals

Online lenders

Physical branches. Big banks have numerous physical branches Australia-wide.
Reputation. Bigger banks are well-established and have an easily researchable reputation.
Customer-loyalty. You may prefer to apply for a secured personal loan from a bank that you have been a member of for a long time.
Higher loan amounts. If you're looking for a large personal loan, you may find it easier to apply for the amount you need with a bank.
ASIC and APRA-regulated. All big banks are regulated by ASIC and APRA.

Higher rates. Banks may have higher personal loan rates than non-bank lenders.
Strict criteria. Many banks do not approve loans for bad credit borrowers, even for secured personal loans.
Strict collateral criteria. Depending on the loan product and the bank in question, you may have to provide a specific type of loan security, such as real estate or a new car.
Lengthy application processes. You may find that getting approved with a big bank takes a longer time and has more paperwork involved than an application with a smaller lender.

Physical branches. Many mutuals have physical branches, though some may be state or area-specific.
Customer-owned. Mutuals are owned by their members, so profits that they make go back into providing better products and services for their customers.
Lower rates. Mutuals tend to have lower rates than bigger banking institutions.
Credit requirements may be flexible. If you have a good relationship with your mutual bank, but less than perfect credit, you may find that they are flexible when it comes to a secured personal loan.
ASIC and APRA-regulated. All mutuals are regulated by ASIC and APRA.

Members-only. Unless you are already a member, or willing to become one, you may not be able to get a loan from a mutual.
Specific member requirements. You may only be able to join a mutual if you live in a certain area or have a certain profession, e.g. a teacher.
Lower loan amounts. If you're looking for a particularly large secured personal loan, you may not be able to procure the appropriate funds from a mutual.

Lower rates. Because they have less overhead than bigger banks, online lenders tend to be able to offer lower interest rates on secured personal loans.
Risk-based available. While some bigger banks and mutuals do offer risk-based loans, it's common to find these products among online lenders. This can be beneficial for people with good-to-excellent credit histories.
Less stringent lending criteria. Because they are able to offer personalised rates, many non-bank lenders are also able to offer loans to people with poorer credit scores, particularly if they are secured loans.
More security options. Where banks may require real estate or vehicle security, online lenders may be able to offer loans on the basis of collateral such as art, jewellery, term deposits, etc.
ASIC-regulated and ASIC and APRA-regulated. All lending institutions are ASIC-regulated, so your risk using an online lender is effectively no higher than using a bank. Some online lenders are also regulated by APRA and ASIC.

No branches. Most online lenders do not have physical branches. This might not be preferable if you're someone who prefers face-to-face interactions when it comes to loans.
Fewer contact options. If something goes wrong, you may find it more difficult to get in touch with an online lender.
What can be used as security on a personal loan?
There are a number of different secured personal loans available, but you will typically be able to use the following assets as security for your loan:
New car. If you're buying a new car or if you have a car that is less than two years old, you can generally use it as a guarantee for a secured loan. Secured motorbike and caravan loans are also available.
Used car. Lenders will also let you purchase a used car with a secured loan. Other vehicles such as motorbikes or caravans may also be allowed. The vehicle will generally need to be less than 7 years old, although some lenders will accept cars up to 10 years old. Cars may also need to be in a certain condition.
Equity in your home. If you own a mortgaged property, you can draw against any equity you have in the property to finance a purchase. Common uses for home equity loans are home renovations. Find out if a home equity loan is right for you.
High-cost assets. Some lenders are more flexible with the assets they let you use. If you own expensive jewellery, fine art, precious metals, prestige cars or even some antiques, you can secure it against your loan.
Term deposits. This is a more common type of loan available from some banks and credit unions. How much you have available in your term deposit is how much you're able to borrow with that same institution. The amount of your term deposit works as the security in case you default on the loan.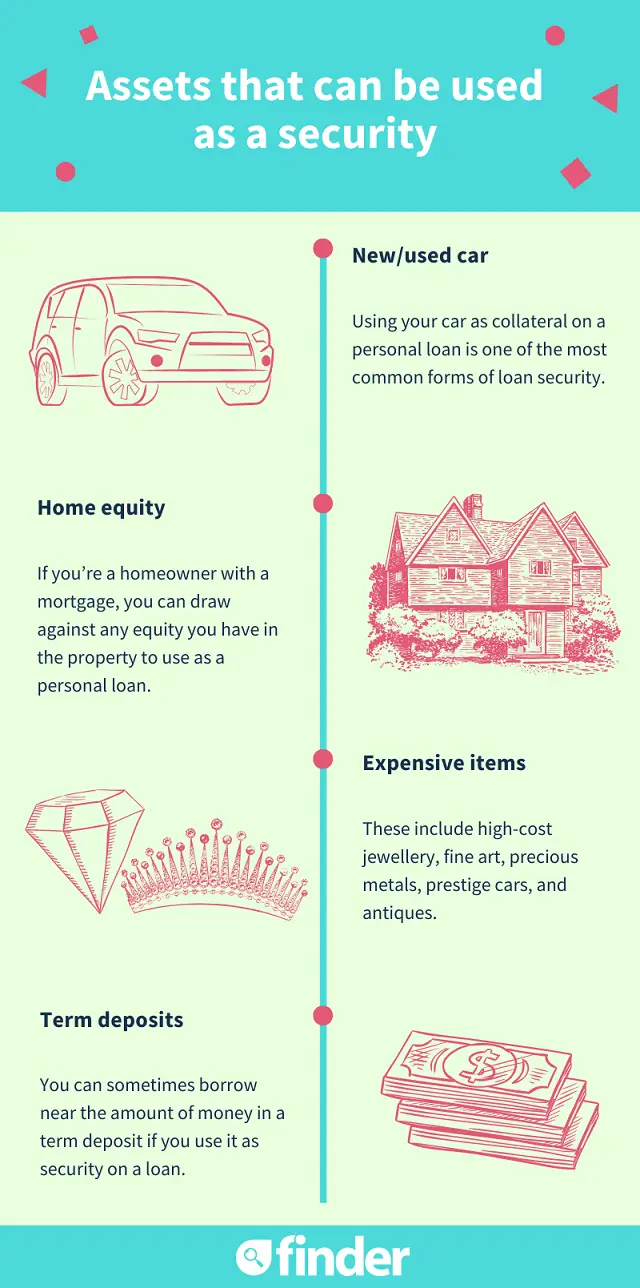 The pros and cons of secured personal loans
As with any type of personal loan, there are benefits and drawbacks to consider.
Lower rate. These loans are less of a risk for the lender and so come with lower interest rates.
Flexible. Unlike car loans, where you have to purchase the vehicle you're securing to the loan, you can generally purchase whatever you need to with a secured personal loan as long as the amount doesn't exceed your secured asset's value.
Can help you get approved. Offering an asset to secure a personal loan can help you get approved for loans you may previously not have been. This is because the loan is deemed less risky for a lender to take on when there is an asset attached to it.
Risk your asset. When you take out a secured loan, you are "guaranteeing" your loan with it. While securing your loan gives you lower rates, it also means you can lose your asset if you default on the loan.
Loan amount tied to your asset value. When you attach your asset to a secured loan, it needs to have enough value. This means that your loan amount will never exceed the value placed on your asset. Make sure that your asset is worth the amount that you will require when taking out a secured personal loan.
Secured personal loan options
You have a few options when it comes to secured personal loans:
Car loans. These types of secured loans can be for new or used cars. You can find car loans from most banks and credit unions as well as from dealerships and standalone car loan lenders. Rates can range from 2% p.a. for dealership finance (lower because of the balloon payment at the end of the term) and from 6-14% p.a. for a bank car loan.
Home equity loans. If you're looking to renovate, invest in property, go on a holiday or buy a new car, you can consider a home equity loan. With home equity loans, you can also qualify for a personal line of credit that can be drawn on continually based on the equity held in your property. This can be a flexible way to access funds.
Term deposit secured loans. This type of loan is offered by banks and credit unions to customers who hold term deposits with them. You're able to borrow as much as you hold in your term deposit, with the term deposit acting as the security.
Personal asset secured loans. High-priced assets such as boats, motorbikes, jewellery and art are accepted by some lenders as a guarantee. Your item or collection of items is valued and then used as security. You generally won't find these types of loans at major banks, but there are plenty of registered non-bank lenders who offer them.
Secured loans vs unsecured loans – which is better?
Whether a secured or an unsecured personal loan is better for you will depend entirely on your circumstances, what you need the loan for and your financial position. To get a better idea of which one you should opt for, please see the tables below:
What to consider with a secured personal loan
Pros

Cons

Suitable for

Typically lower rates than unsecured loans
Often higher available amounts than unsecured loans (loan amounts often correspond to the value of your security)
May have more flexible loan features than unsecured loans, such as redraw facilities
More easily accessible to self-employed, part-time and bad-credit borrowers

You are risking repossession of your asset if you fail to meet your repayments
Restricted loan uses (i.e. you may have to use the funds for a vehicle and secure the loan with said vehicle, etc)
If you aren't using the loan to purchase an asset, you will need to already own an asset of value

Purchasing large assets
Debt consolidation
Borrowing over a long period of time
What to consider with an unsecured personal loan
Pros

Cons

Suitable for

Flexible loan use – can be used for holidays, weddings and multiple purchases, etc
No risk of losing your asset to repossession
More straightforward and faster application process (you don't need to show proof of any asset ownership or have it validated by a third-party)

Typically higher interest rates than secured personal loans
May not be available to borrowers with bad credit histories
May not be as easily accessible to self-employed or part-time workers

Large purchases such as home renovations, weddings and holidays
Debt consolidation
Borrowing over a long period of time
Is there anything to consider before applying?
Before applying for any type of secured loan, it's important to establish whether you can afford the repayments. If you default on the loan, the asset you've used as the guarantee can be repossessed by the lender and sold to cover the loss.
Comparing lenders to find the most competitive options in terms of terms, rates and fees will help you find the right option for your budget and needs. Therefore, it's a good idea to consider whether you've done enough research prior to submitting your application.
What happens if I default on a secured loan?
If you default on a secured personal loan, you run the risk of your finance provider repossessing your asset. However, if you act quickly, you may be able to prevent this from happening.
If you receive a notice of default from your lender, contact them immediately for free legal advice. If you are facing financial difficulty, you may be able to come to a new and more manageable repayment arrangement with your provider.
When can a lender repossess my asset?
A lender can only repossess your asset if all of the following criteria have been met:
You're behind on payments
They have sent you a notice telling you to repay the amount within 30 days
Those 30 days have passed and you still haven't paid, arranged to pay or asked to postpone repossession
It's also worth noting that a lender also cannot repossess your assets without a court order in the following situations:
You owe less than $10,000
You owe less than 25% of the loan,** whichever is lower
If the asset security in question is a vehicle, a lender cannot repossess it if it is situated on your property. However, it can be repossessed if it is parked on the street. No credit provider is allowed to visit your property to repossess assets without written permission from you or a court order.

What do I do if my lender repossesses my asset?
If your asset has been repossessed by a credit provider, you may still have some time. Within 14 days of repossession, your credit provider must send you a notice which includes the following:
The asset's estimated value
Charges for repossession and any ongoing costs
A statement of your rights under consumer credit law
For 21 days after you have been provided with this notice, the lender cannot sell your asset.
During this three-week period, you can get your asset back if you pay the overdue amount plus costs or the full amount owing.
During this three-week period, you can also find a buyer for your asset for at least the estimated value. You may choose to do this to ensure that the asset is sold for the best price possible, or you may choose to do so if you have a friend or relative that is willing to purchase the asset on your behalf. To do this, you must provide the details of the buyer to your credit provider in writing.
If your asset has already been sold
If your asset has been sold after the three-week period, your credit provider must provide you with the following:
The value the item was sold for
The costs of repossession and sale
Your outstanding balance (if applicable)
If you have an outstanding balance, you must pay it straight away or contact your lender to set up a repayment plan.
What can you use a secured personal loan for?
There are a multitude of options for what you can use your unsecured personal loan for:
Can I get a secured personal loan if I'm on Centrelink?
While getting a personal loan if you're on Centrelink payments can be trickier, it's certainly not impossible, particularly if Centrelink payments make up less than half of your income and if you are able to offer asset security.
Find out more about getting a loan on Centrelink payments in our guide.
How to apply
If you've found a secured personal loan that you think would work for your circumstances, simply click "Go to site" on your selected lender and follow the online application process. Eligibility criteria vary from lender to lender – so please check the lender's specifications before applying to ensure that you qualify.
While this varies, you will typically need the following documents and details to hand in order to apply:
100 points of ID proving your name and that you are over 18 years old.
Proof that you will be able to pay off the loan – bank statements and payslips may be required.
Details of your address and supporting bills or documents.
Proof of ownership of a valuable asset/property.
Secured personal loan FAQs
What's the difference between a secured personal loan and a car loan?
A car loan can be a type of secured personal loan (not all car loans are secured). However, car loans are used specifically to purchase a vehicle. The difference is the secured loan amount is restricted to buying the vehicle that will be used as security for the loan. A secured personal loan can be for purchasing a valuable asset, but it can also be for almost any purchase if you already own the asset.
What happens if I default on a secured personal loan?
If you default on a secured loan, the lender can sell your asset to recoup its losses. If you think that you are likely to default on a secured personal loan repayment, contact your lender directly and inform them prior to the default. Most lenders will find a way to defer your payment (sometimes at a fee) and prevent you from losing your asset.
Picture: Getty & Shutterstock
More guides on Finder