Insurance for Massage Therapists
As a massage therapist, you are a healthcare provider. That's why it's vital you have the right insurance.
We're committed to our readers and editorial independence. We don't compare all products in the market and may receive compensation when we refer you to our partners, but this does not influence our opinions or reviews. Learn more about Finder .
Even the most experienced professionals make mistakes. However, as a massage therapist, the consequences can be significant.
You can be accused of negligence, accidentally injure a client, and be liable should someone get hurt whilst on the premises. In such a competitive environment, a simple mistake could spell the end of your professional career.
That's why insurance is so important, whether you own your own parlour, or simply work in one. Not only is professional indemnity insurance often a requirement to work, it also provides you with a financial safety net, should anything go wrong.
Get an insurance quote for massage therapists
Get quotes online Speak to a broker
What else can I find on this page?
Why do massage therapists need business insurance?
Remember, you're a health care provider. Insurance for massage therapists is often similar to insurance for any other health provider. Because clients are putting the care of their bodies into your hands, there will be some risk and liability on your part. It's only prudent that you give yourself the coverage you need to continue working the right way.
Your clients can't claim a rebate with their health insurance if you don't have indemnity cover
If you're just starting out in massage therapy, keep in mind that some of your clients might want to claim a rebate on their health fund to pay for your services. Health funds often require that health providers (including massage therapists) hold professional indemnity insurance with a minimum of $1 million in insurance coverage. If you want to make yourself available to a broader client base, you should hold this insurance and qualify for health fund rebates.
This kind of coverage can include policies starting at around $158.401.
Massage therapists insurance quick tips
Insurance requirements

The job of PI insurance is to protect you if something goes wrong with the service you provide… for example if you accidentally injure someone while massaging them or if they react badly to some lotion you've applied.

PL insurance protects you when you have your own massage parlour and someone injures themselves or damages something and it's not related to the service you provide - like if they trip and fall. It will also protect you if you accidentally damage something in a client's home.

An injury would probably make it difficult to continue giving massages. PA insurance provides a source of income if an accident means you're temporarily unable to work.
Average cost based on historical costs using our engine. Last checked October 2020

What types of insurance should massage therapists consider?
Insurance for massage therapists is much like the insurance you might get for any other business: you're dealing with the public, so you need professional coverage. There are multiple types of insurance you'll want to research if you own a massage therapy outlet, including:
Professional indemnity. This insurance is important not just because it is a requirement of health funds; it's also important because there's always the risk of you making some sort of error in your line of work. It's not likely but it's also not impossible.
Public liability. You're dealing with the public as a massage therapist, which means you're making contact with lots of people who come in and out of your business on a regular basis. Public liability covers you for claims of personal injury or property damage.
Business insurance covers the business assets that keep you afloat. This can include the bricks-and-mortar building you use to house your massage therapy business.
A woman named Joan ran a massage business and offered treatment to a man who needed a massage in relation to a running-specific sports injury. Joan provided her treatment and the man left, apparently satisfied with the service he'd received.
Not long later, Joan received notice: she was being sued by that client. What had she done wrong? The former client alleged that she'd damaged his hamstring to the point where he could no longer walk. The client did not tell Joan that he'd damaged this hamstring earlier, so the massage aggravated a pre-existing injury.
Even when you think you're providing satisfying service to clients, situations like these can arise in the course of doing business. Clients may not tell you the full information you need to properly treat them. Through no inherent fault of your own, you may find that someone sues your business for negligence. It's important to protect yourself in these instances through the proper application and coverage of business and liability insurance.
Can members of Massage & Myotherapy receive any discounts?
Since you're running a massage/myotherapy business, do you really have to pay for the levels of insurance that a surgeon might expect to pay? The answer: maybe.
It depends on a range of factors including the nature and location of your business. When you apply for insurance, make sure to follow up with individual insurance carriers to see if you qualify for any discounts. Agents will be able to inform you of any relevant discounts or promotions they have on offer.
It's vital that you look for the proper coverage to run your massage therapy business smoothly. This guide is your first step. Now that you know what to look for, you can start searching for insurance coverage for massage therapists right away.
If you are ready to speak with a consultant about different business insurance options available, simply enter your details in the form. Keep reading if you want to learn more about the different types of cover available.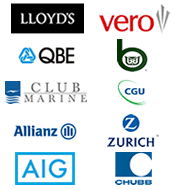 References:

Icons made by Smashicons, Freepik from www.flaticon.com is licensed by CC 3.0 BY

More guides on Finder