Energy bills have doubled during the coronavirus pandemic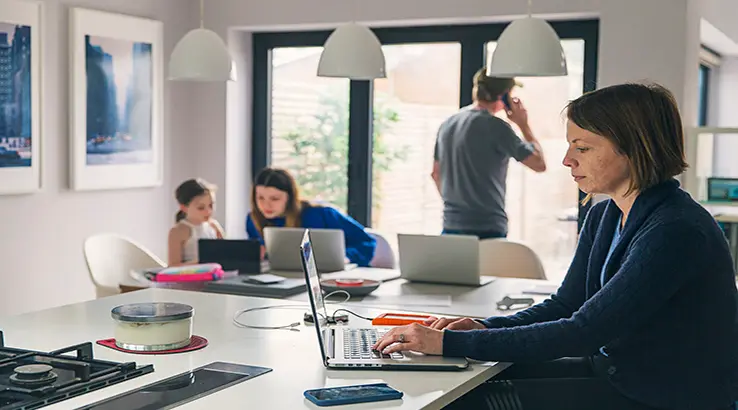 Australians are suffering from pumped-up power bills because of increased time at home during the COVID-19 pandemic.
The COVID-19 pandemic has struck Australians hard in many areas, and energy is no exception. Increased time at home spent studying, working or in quarantine has increased power usage for households – up to double according to data from solar and battery installer Natural Solar.
The corresponding bump in power bills comes at a particularly difficult time for households and individuals facing reduced income or job loss during this same period.
How has Australian energy use increased in the last few months since COVID-19?
Residential energy demand has jumped up significantly in the past few months, even as the Australian Energy Market Operator (AEMO) has reported a decrease in overall grid demand, potentially due to falling commercial use.
Estimates by Natural Solar reveal a significant spike in residential demand. In March, it reported average daily consumption had risen from 16.5kWh per day to 33.9kWh compared to the same time last year – more than double the consumption.
The increase may be less dramatic than that, however. A report by industry body Energy Networks Australia observed only a 14% increase in residential demand over previous year usage in the same month.
No matter who you listen to, though, more time at home has certainly boosted residential power use, affecting the bills of many Australians.
How have Australians managed increasing bill usage and potential job loss?
Unfortunately, even if residential energy bills held steady, Australians are having a harder time than ever paying them off. A new survey of 1,000 households by Finder has found that 1 in 4 deferred an energy bill during the pandemic, the equivalent of 2.2 million unpaid bills. Not only energy but water bills, credit card repayments and mobile phone bills are also being put off.
This is no surprise given how hard the pandemic has hit the Australian economy, with 227,000 people losing their jobs between April and May, according to a Bureau of Statistics report.
If you're struggling with your energy bill, you should contact your provider and see what can be done in the way of hardship measures and financial management schemes, which are explained in this guide. The Australian Taxation Office has also put special measures in place for claiming back up to 80% of your expenses while working from home, which we've broken down for you here.
What other factors have increased your energy use?
There are a lot of reasons your energy bill might be higher than normal beyond simply using appliances for longer while you're at home. Here are a few things that might be contributing more than you think:
Season. Heater and cooler use spike at different periods of the year. Check to see if you've been using more energy this year than the same time last year on heating. Taking longer hot showers can seriously affect your bill, too.
Renovations. Taken the opportunity to renovate your home during isolation? Construction stages often consume a great deal more energy than normal.
Extra people. The more people in your house, the more energy you'll consume.
Moving house. Moving can land you in a house that's more or less energy-efficient than your previous one. Some houses may not be as well insulated or have less efficient appliances.
Solar tariffs. If you've been relying on solar tariffs from excess energy to cut a bit off your bill, recent changes to feed-in tariffs may be cutting down your returns.
How can I save on energy?
Check discounts. Providers offer discounts for paying on time or signing up online. If you tell your provider you want to switch, it may offer a discount to keep you.
Bundling. While situational and somewhat uncommon, you may be able to save on your energy bill by bundling it with other services from the same provider.
Concessions and rebates. There are several governmental and provider concession or rebate schemes. See a list, sorted by state, of what might be available to you here.
Energy monitoring. Monitoring your energy via an app or smart meter utility can help you see when you use the most power and help you adjust your usage accordingly.
Monthly billing. If your provider allows you to opt into monthly billing, it can help you follow your usage more closely and reduce bill shock.
Compare providers. As always, comparing your options and finding an energy plan or provider that suits you can help lower your bills. Start comparing here.
Image: Getty