Everything you need to know about debt
Learn how to deal with debt and take charge of your finances in this comprehensive guide.
We're reader-supported and may be paid when you visit links to partner sites. We don't compare all products in the market, but we're working on it!
Unless you're one of a privileged few, debt is part of life for most Australians. From running up a credit bill during an online shopping spree to borrowing hundreds of thousands of dollars to buy a home, living with debt is something you'll probably have to deal with at some stage.
But when debt gets out of control it can place you under serious financial and emotional strain, producing severe consequences that could haunt you for the rest of your life. Let's take a look at the different types of debt and how you can deal with them.
What is "debt"?
Debt is money you owe to a third party, typically a bank, credit card provider or some other type of lender. You get in debt when you borrow money to purchase something, for example a home or car, or you use a credit card to spend money that isn't actually yours.
When you borrow money you need to pay it back, but as well as the amount you borrow (the principal) you also need to pay off the interest that accrues on your loan.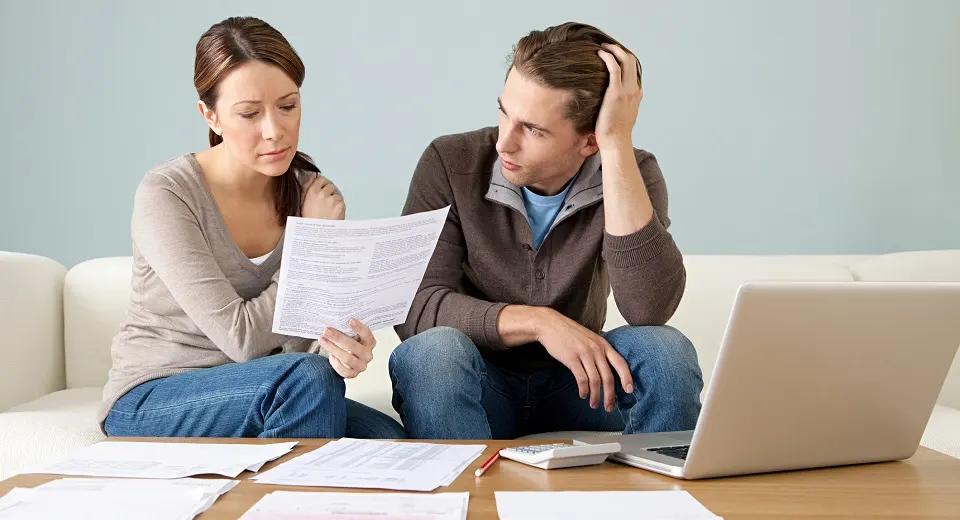 Is being in debt bad?
It might sound surprising to some, but debt isn't necessarily a dirty word. So what's the difference between good and bad debt?
If you take on debt to help build wealth, it is considered good debt. For example, when you take out a home loan to buy a house, you're borrowing money to buy an asset that will appreciate in value and boost your wealth – in other words, it's good debt.
Good debt is the type of debt that will lead to an overall improvement in your long-term financial standing, so you're often better off taking on this type of debt than trying to avoid it. Borrowing to purchase property or shares, assets which have the potential to increase in value and can also provide an ongoing income, is considered good debt.
However, if your debt costs you money (in the form of interest charges) and will not help you build wealth, it's considered bad debt. Borrowing money through a personal loan or credit card to purchase something that isn't going to rise in value, such as a car or just day-to-day purchases, will only cost you money and is bad debt.
What types of debt are there?
Home loan debt Credit card debt Personal loan debt Business debt Tax debt
Home loan debt
The vast majority of Australians will need to borrow to purchase a home at some stage. Taking out a home loan could see you borrowing several-hundred-thousand dollars or more, so home loan debt will probably be the biggest debt you have to deal with throughout your life.
Because home loan debt is so large, the interest charges on the money you borrow add up to a significant amount over the life of your loan. You'll also spend many years paying off your home loan, so financial discipline is needed. Making extra repayments, if allowed, as well as regularly reviewing your mortgage to see if you can get a better interest rate elsewhere, will help you pay down your debt.
Credit card debt
The instant gratification of credit cards can sometimes make it easy to spend money without thinking about the consequences. Unfortunately, there's a sting in the tail of every credit card purchase you make and once interest charges start to accumulate, your debt levels can quickly rise.
Credit cards charge some of the highest interest rates around, with some cards attracting rates as high as 20%. And if you've run up a hefty bill on more than one card, the level of debt can soon skyrocket.
Personal loan debt
In life, sometimes you need fast and easy access to money for all manner of important purposes, such as renovating or buying a car. The money from a personal loan can be used for just about anything, but personal loan debt can be dangerous if you can't afford to pay it off.
If the loan is secured by an asset, for example if your car loan is secured by the car you purchased, you run the risk of the lender repossessing the vehicle. While there's no such risk with an unsecured personal loan, their higher interest rates can end up costing you thousands of dollars if you don't pay your debt off quickly.
Short-term loans, which offer short-term financing solutions and quick access to cash, can often seem like an attractive solution if you're in urgent need of funds. However, they attract high fees and can lead you deeper into debt. You should only apply for a short-term loan if you have no alternatives.
Business debt
The old saying that you've got to spend money to make money holds true for many businesses, but sometimes it can result in a substantial amount of business debt. While you need to spend money to buy stock, expand into new markets and grow your business, this often involves borrowing money to access the necessary capital.
From business loans and business credit card bills to all the other overheads involved when starting and running an enterprise, it's possible to get in over your head – especially if the economy takes a turn for the worse.
If business debt gets too much for you to cope with, it's important to take action sooner rather than later. Prioritise your payments, consider debt consolidation loan options, and seek professional financial advice to help you get back in the black.
Tax debt
Tax time can sometimes bring a nasty shock and leave you with a hefty tax bill. If you can't afford to pay this bill, you can set up online and automated payment plans for debts of $100,000 or less, or phone the ATO to discuss payment options if your debt exceeds $100,000. If paying off your tax debt would cause serious financial hardship, the ATO may release you from some or all of your debt.
Tax debt can also be a problem for businesses, but the ATO has systems in place to help you set up a payment plan. If this is not an option, you could consider a tax debt loan to provide the financial support you need.
What are the different ways of dealing with debt?
If you're struggling with debt, there are plenty of options available to help you take charge of your finances.
Debt consolidation personal loan Balance transfer credit card Consolidating debts into your home loan Part 9 debt agreement Bankruptcy
Debt consolidation personal loan
If you're paying interest on multiple debts and you're struggling to make repayments, it might be time to consider a debt consolidation loan. Designed to help you take control of debt, these loans allow you to roll multiple debts into one loan. This means you only have one monthly repayment rather than several, and that you can consolidate high-interest-rate debts to a lower rate.
If you decide a debt consolidation personal loan is the right option for you, make sure to compare a range of loans in the table below and only borrow from a reputable lender.
Balance transfer credit card
Balance transfer credit cards allow you to transfer your existing credit card debt over to a new card. You will then pay low or 0% p.a. interest on that balance for a set introductory period, such as 6, 12 or 20 months. This means you can avoid high interest charges and consolidate your debt, providing significant savings as you pay off the money you owe.
However, make sure you're aware that a one-off balance transfer fee may apply and these cards usually also charge an annual fee. Once the introductory period ends, the low or 0% p.a. interest rate will revert to a higher rate.
Consolidating debts into your home loan
Refinancing your home loan can help you find a better interest rate on your mortgage, but it can also be used to help you consolidate debt. By refinancing to a debt consolidation home loan, you can combine credit card and personal loan debt with your mortgage, resulting in one monthly repayment to pay down multiple debts.
You'll need to closely consider the interest rates and fees offered when refinancing, making sure to compare loans from a variety of lenders. You should also be aware that consolidating short-term debt into a mortgage with a 30-year term may not work out to be the most cost-effective option.
Part 9 debt agreement
A part 9 debt agreement is a binding agreement between you and your creditors. If you enter into such an agreement, your creditors agree to accept a certain amount of money that you can afford to pay, over a specified time period, to repay the money you owe. Once you've paid this money, there is no way for your creditors to recoup the rest of your unpaid debt.
However, debt agreements should only ever be considered after you've explored all other options. Proposing a debt agreement is an act of bankruptcy and if the agreement is rejected by your creditors, they may apply to the court to have you declared bankrupt.
Entering into one of these arrangements means that your name and details will be included on the publicly-accessible National Personal Insolvency Index (NPII). It will also be included in your credit file for five years or more and can have a seriously detrimental impact on your ability to access credit.
Bankruptcy
If you're unable to pay off your debts you can apply for bankruptcy. This step is a last resort and should only be taken after you've explored all other debt consolidation options and sought professional financial and legal advice.
Bankruptcy is when you are legally declared unable to repay your debts. Applying for bankruptcy will mean that you are legally released from most of your debts, but it can permanently hinder your ability to access credit in the future.
If you're declared bankrupt the classification remains in place for three years and a trustee is appointed to manage your financial affairs. Bankruptcy will be listed on your credit report for five years from the date you become bankrupt or two years after bankruptcy ends, whichever occurs later, and your name will be entered in the NPII.
Getting professional debt advice
If you're struggling with debt or feeling overwhelmed, consider getting free financial counselling to help you take control of your finances. A great place to start is with the National Debt Helpline (1800 007 007). This free national hotline will help you find a financial counsellor, while you can also search for a counsellor through the Helpline's website (www.ndh.org.au).
You can also access credit, debt and legal advice from a range of other organisations:
NSW: Financial Rights Legal Centre 1800 007 007
Tasmania: Consumer Credit Helpline (Hobart Community Legal Service) 1800 232 500
Victoria: MoneyHelp 1800 007 007 and Consumer Action Law Centre 03 9629 6300
South Australia: Consumer Credit Law Centre 08 8342 1800
Western Australia: Consumer Credit Legal Service 08 9221 7066
If you live in another state or territory, you can access financial counselling and debt help through your nearest community legal centre.
Questions we get asked about debt
What's the difference between secured and unsecured debt?
If you are required to provide an asset as security for your loan, this is known as secured debt and the lender can sell that asset (such as a house or car) to recover the money owed if you default on your loan. Unsecured debt is not tied to any particular asset.
How can debt affect my credit history?
Your credit file contains positive and negative information about your debt repayment history, as well as details of debt agreements and bankruptcy. Find out more about what's included in your credit file here.
Can I still get a home loan if I have an ATO tax debt?
Yes, it's still possible to qualify for a home loan with tax debt.
What if I want to dispute a debt?
The first step is to contact the lender or credit provider and notify them that you dispute the debt. You could also access a free external dispute resolution scheme and should definitely seek legal advice.
I'm being unfairly harassed by a debt collector – what can I do?
You can complain to the creditor or to a consumer protection agency such as the Australian Competition & Consumer Commission.
Can I balance transfer a personal loan to a credit card?
Yes, but this feature is only offered by a very limited number of credit card providers.
Picture: Getty Images
More guides on Finder