Hairdresser and Beauty Salon Insurance
Styling insurance to you: Why it's vital for hairdressers and beauty therapists get covered.
We're reader-supported and may be paid when you visit links to partner sites. We don't compare all products in the market, but we're working on it!
Whether you own your own salon or rent out a chair, you are someone who deals with members of the public everyday, which puts you at risk should anything go wrong. Let's consider some of the risks you may encounter:
Harming a client with a product.
Damaged or stolen equipment.
Clients injuring themselves in your salon.
Whilst you take expert care, your services can put you in a vulnerable and precarious position should an incident occur. This is where hairdresser, salon and beauty therapist insurance can come in handy – it covers you financially for mistakes and damages.
Get the right insurance for beauty salons and hairdressers
Get quotes online Speak to a broker
If you are ready to speak with a consultant about different business insurance options available, simply enter your details in the form. Keep reading if you want to learn more about the different types of cover available.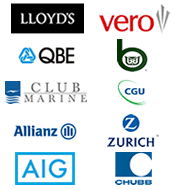 What is salon business insurance?
Your business risks are unique to you depending on the industry you're in, the services you offer, your physical location and your personal needs. When business insurance is customised to protect you against your unique risks as a salon owner, it becomes known as salon insurance - it's that simple!
Maybe your salon allows clients to "build their own package". Well, that's kind of how business insurance works. You can choose exactly how much you need of only those things you need, and ignore the rest.
And like a great salon owner might do, insurers and brokers will ease the burden by consulting you through the process.
Hairdresser and Beauty Salon insurance quick tips
Insurance requirements

As a service provider, you need protection if something about that service goes wrong. PI insurance protects you if you injure someone during a treatment, or if they injure themselves after following any of your advice.

If you have a salon, or physical shop, someone could get injured on your property - like if they slipped on a spillage. Public liability insurance protects you from situations like these.

What would you do if an injury meant you couldn't hold a pair of sheers? Personal accident insurance gives you a source of income if you can can't work temporarily as a result of an accident.
Average cost based on historical costs using our engine. Last checked April 2021
What risks does it protect against?
The purpose of salon insurance is to protect your hair or beauty salon from unexpected financial burden that could jeopardize an otherwise healthy business. That means it won't protect you from losing business due to bad management practices, but broadly speaking, it will protect from the following:
Law suits
Damaged or stolen property
Loss of revenue (under certain circumstances, see table below)
Here is a more detailed breakdown of the common risks facing salons and how business insurance reduces the risk.
| Scenario | The type of insurance you'll need | An example | Keep in mind |
| --- | --- | --- | --- |
| An employee is injured at work | Worker's compensation | An employee cuts themselves with a pair of clippers | This is mandatory insurance for any business that employs people, whether paid or unpaid (eg intern) |
| A customer has been injured on your property | Public liability | Someone slips in your shop and needs medical treatment for a broken ankle | There is some overlap among these two and professional indemnity(below). We explore these differences in more detail later in the article. |
| A customer has been injured by one of your products | Product liability | You sell someone a bottle of shampoo that burns their scalp | |
| Your advice or service has caused someone physical, emotional or monetary loss | Professional indemnity | While bleaching someone's hair, some of it gets into their eye causing them to need medical attention | This may not cover certain specialised services like hair removal, Botox injections, tattoos or piercings. If you want to have these services covered, you may be required to pay an additional premium |
| Your property is damaged | Property damage | Your building and equipment are destroyed by fire. | This covers both the building and its contents (excluding glass, see below). Commercial leases often require the tenant to organise building insurance, which is why building and contents insurance are usually bundled together. |
| Your property is stolen | Property theft | Thieves break in and destroy your property and steal your equipment | Property damage (above), property theft and theft of money are often offered separately. |
| Your money is damaged or stolen | Theft of money | Someone steals your money or it is destroyed in a fire | |
| Your glass storefront is broken or shattered | Glass | Your glass storefront is shattered by a rock flying out from under a passing car | Usually also covers signs and showcases, and will often cover additional costs like repairing frames and fittings or replacing sign-writing |
| You can't earn revenue because you have to unexpectedly close the shop temporarily | Business interruption | Fire damages your business and you have to close for a few weeks while its repaired | Damage from the fire would be covered under property insurance, whereas the loss of revenue would be covered here |
| You cause a traffic accident with your mobile salon's vehicle | Third-party commercial motor | You crash your mobile salon into someone else's car | This is mandatory for any business that uses a vehicle for business purposes |
Are all of the above required?
The only insurance you are required to have is worker's compensation if you have employees and third-party commercial motor if you use a vehicle for business purposes. That said, it's easy to see why some of the other insurance types are a necessary part of protecting your business.
Since it's a "build your own package" type of situation, you can choose whatever cover you want, at any level you want. In fact, it makes sense for business of different lengths and textures to take out packages of different lengths and textures.
While we recommend talking to an insurer first, here some common ways insurance can be packaged:
Are you a contractor or a home-based business with no employees? You don't have a storefront to protect and your few pieces of equipment rarely leave your side. You can find packages offering only public liability, product liability and professional indemnity.
Are you a small business? Hey, you're just a corner barber shop with one employee. Your lease requires you to insure the building, but it wouldn't be the end of the world if someone stole a few sets of clippers. Protect yourself with what the contractor did and add worker's comp, property damage and glass insurance.
Are you a growing business? Now you've got some heavy-duty equipment and lots of cash coming in and out. Time to add property theft and theft of money.
Are you a franchise? You'll definitely need to talk to someone in this scenario, but rest assured, an insurer or a broker can certainly tailor a package to suit your needs.
Keep in mind, these are only basic examples. Every business is different, so make sure you do your research and talk with an insurer or a broker before purchasing insurance for your salon.
Who offers salon and hairdressers insurance?
There are a few places to get salon insurance:
General insurers. Most major insurers and a host of smaller ones offer business insurance, and they will work with you closely to create a custom policy.
Business insurers. These insurers specialize in insurance for many types of businesses, and can help tailor a customised solution specifically for your salon.
Specialised salon insurers. These insurers offer salon insurance and only salon insurance. They'll have a good understanding of what you need before you even talk to them, although you'll still need to spend some time going over your specific needs.
Brokers. These professionals will work with you to establish what you need for your business and then contact a host of business insurance providers on your behalf. They'll come back with a few options for you to compare.
Our money is on the specialised salon insurers or the brokers.
You'll spend less time explaining your industry to a salon insurer, meaning you'll have time to talk to a few. Plus, they'll have loads of experience dealing with salon-related claims, reducing any friction you might experience when it's your time to claim.
Going with a broker is also a good choice, because you only have to explain your needs once, but you'll receive multiple quotes. That's a huge time savings, especially if you're a franchise or you operate in multiple locations.
Need a loan? Compare options for hairdressers
What is the difference between public liability, product liability and professional indemnity insurance?
If these three types of cover have you confused, you're not alone! Many business owners have asked the same thing. There can be significant overlap among all three of these products, and insurers will usually create exceptions within your policy aimed at reducing this overlap. Pay close attention to these exceptions to make sure they don't create gaps where you're not covered.
That said, here are some examples that illustrate the basic differences:
Protects you if someone on your property is injured/dies or their property is damaged. Also protects you if you cause someone's injury/death or you damage their property in a situation not related to your professional service.
Example one. Someone on your business premises slips on a loose tile and breaks their ankle.
Example two. You are a mobile hairdresser and you drop your equipment in the public area of someone's apartment building, damaging the floor.
Protects you if you sell someone a product and it causes them injury, death or damage.
Example. You sell someone a faulty hairdryer that burns them.
Protects you if your advice or service causes someone injury, death or damage.
Example one. You are cutting someone's hair and you injure them by cutting their ear.
Example two. You are trimming someone's eyebrows and accidentally shave one off, causing them emotional distress and out-of-pocket expense required to fix the problem.
Example three. You suggest a diet plan that ends up making someone sick.
Who is covered by salon insurance?
Salon insurance is for anyone in the beauty industry running their a business. The beauty of salon insurance is how it can be moulded to suit anyone's needs. All of the following can benefit from a unique package protecting the business they hold dear:
Hair and beauty salons
Home-based hairdressers or beauticians
Mobile hairdressers or beauticians
Barbers
Independent beauty contractors
Nail salons
Tanning salons
Day spas
Salon franchises
What is not covered by salon and hairdressers insurance?
Every insurance policy has its own set of exclusions that apply to the policy as a whole and to each of the business insurance sub-types. Because the exclusions differ from insurer to insurer, it is important that you are clear how your particular policy treats them.
Here are some general situations in which your policy may not cover you:
Specialised services. Claims for certain services unless you've specifically added those to your policy (such as hair removal, Botox injections, tattoos and piercings).
Digital. Anything to do with the loss or destruction of electronic data or with misuse of the Internet.
Unrest. Anything to do with war, terrorism, riots or similar.
Unoccupancy. Claims related to your premises being unoccupied or 30 consecutive days or more.
Deceit. False and fraudulent claims or claims from anything you've caused intentionally.
Risky behaviour. Anything caused while committing a crime or while under the influence of drugs or alcohol.

Picture: Unsplash
Icons made by Smashicons, Freepik from www.flaticon.com is licensed by CC 3.0 BY

More guides on Finder