Finder makes money from featured partners, but editorial opinions are our own.
9 best hardware wallets in Australia
Compare some of the top cold storage wallets for keeping your digital assets safe.
Each year, we conduct an extensive review of the best hardware wallets available in Australia. To arrive at our picks, we review the best hardware wallets on the market for overall safety, functionality, cost and supported digital assets — including coins, tokens and NFTs.
Best hardware wallets in Australia for 2023
You've probably noticed that brands like Ledger and Trezor dominate our list of the best hardware wallets. These companies created some of the first-ever cold storage wallets and each has a long track record of producing devices that have successfully protected customers' assets.
This isn't to say that other hardware wallets can't offer suitable security and cold storage functionality. Due diligence is especially important regarding crypto self-custody, so we've chosen only to showcase wallets that our team has first-hand experience with or that meet our strict criteria for inclusion.
This is not an endorsement of cryptocurrency or any specific provider, service or offering. It is not a recommendation to trade or use any services.
1. Ledger Nano X — Best hardware wallet overall
Ledger Nano X Wallet
Free shipping
The Ledger Nano X is the top-tier USB-style hardware wallet from Ledger, a company that has produced industry-leading security for self-custody of digital assets since 2014.
It was our pick for the best overall hardware wallet because it allows you to securely store the keys to over 5,500 crypto assets and NFTs and put your assets to work through staking — all while on the go.
Unlike Ledger's cheaper Nano S Plus model, the Nano X has Bluetooth functionality and is compatible with both Android and iPhone for maximum portability.
Of the hardware wallets we compared, no other device provided this level of security alongside such a broad range of features.
Mind you, while Ledger devices have not had any recorded security breaches, the software is closed-source. This means that it is not open to independent scrutiny, and you must place some degree of trust in the manufacturer. Read our full review for more information on the pros and cons of Ledger devices.
Manage over 5,500 crypto assets
Run up to 100 blockchain apps simultaneously
Highly secure - no Ledger device has ever been hacked
Can be synced with third-party wallets like MetaMask to use with DeFi apps
Android and iOS compatibility
Bluetooth functionality
Pricier than alternatives
Can't stake many cryptos via Ledger Live
Closed-source software
2. Ledger Nano S Plus — Best value hardware wallet
Ledger Nano S Plus Wallet
The Ledger Nano S Plus is our top contender for value because it offers the same high level of security and most of the same features as the Ledger Nano X — but at nearly half the price.
The Nano S Plus also supports cold storage for 5,500 crypto coins, tokens and NFTs, as well as staking and crypto exchange features through Ledger Live.
If you're content with safe offline storage of your private keys and don't need to use the device on the go with a mobile phone app – there's no Bluetooth functionality in the Nano S Plus – then this hardware wallet will likely tick a lot of boxes.
One potential issue with Ledger devices is that the software is closed-source, which means it is not open to independent scrutiny or review.
The Ledger Nano S Plus strikes such a good balance between security, coin support, features and relative affordability that we were hard pressed to find a better value option on the market.
Manage over 5,500 crypto assets
Run up to 100 blockchain apps simultaneously
Highly secure - no Ledger device has ever been hacked
Can be synced with third-party software like MetaMask
Stores the private keys to NFTs
Can't stake many cryptos via Ledger Live
Not compatible with iOS
Closed-source software
3. Trezor Model T — Best hardware wallet for experienced users
Trezor Model T Wallet
The Trezor Model T gets our pick for best wallet for experienced users because it offers a suite of advanced features that will really appeal to pros.
One of those features is the wallet's multisignature — or multisig — capabilities. Multisig provides an added layer of protection for Bitcoin, as multiple stakeholders must sign off on any transactions.
The Trezor Model T also supports Taproot — an upgrade to the privacy of the Bitcoin network. It also reduces transaction fees and allows users to engage with BTC smart contracts.
If anonymity is important to you, you can anonymise your transactions via the Tor network using the Trezor Suite interface.
You can also utilise the novel Shamir backup system with your Model T. The Shamir backup distributes your recovery phrase across multiple recovery shares, which can be stored in different locations for added security.
Features a large touchscreen
Offline storage for 1,450+ assets
Multisig protection for your Bitcoin
Offers transaction anonymity
Can be synced with third-party apps for DeFi
Can sync with Exodus Wallet for improved usability
One of the more expensive hardware wallets
Only supports 14 blockchains
No native staking in Trezor Suite
4. SafePal S1 – Best budget hardware wallet
SafePal S1 Wallet
Free shipping when you buy 2 or more products. T&Cs apply.
The SafePal S1 is a hardware wallet developed by Binance Labs.
Much like how Binance provides you with access to many crypto assets, the SafePal S1 allows you to store potentially unlimited cryptos on 54 different blockchains.
The device has the same internal security hardware – the Secure Element chip – that the more expensive Ledger hardware wallets have, but it's significantly more affordable.
That said, it's been reported that setting up the device has been difficult for some and that sending transactions on the device can be complicated.
So, while this device may be a good choice if you're on a budget, it might not be the best option for crypto newbies.
One of the most affordably priced hardware wallets on the market
Supports 15 languages, 54 blockchains and tens of thousands of cryptos
CC EAL 5+ security certification (highest level of security against penetration tests)
Self-destruct mechanism to defend against malware attacks
100% offline, air-gapped signing mechanism (fully cold storage)
Activation process reported to be difficult
Sending transactions can be complex
The SafePal S1 doesn't integrate with software wallets other than SafePal
5. Ledger wallets — Best hardware wallet(s) for staking
Ledger wallets
We chose Ledger's range as the best hardware wallets for staking because the Nano X, Nano S Plus and even the retired Nano S can be used to stake a wide variety of crypto assets.
You can use the native Ledger Live interface with any Ledger hardware wallet to stake 9 different cryptos – including Ether (ETH), Solana (SOL) and Cosmos (ATOM).
To stake an even greater assortment of digital assets, you can sync your Ledger hardware wallet with third-party apps like MetaMask or Yoroi and use these software wallets as a bridge to staking interfaces — all while safely storing the private keys to your assets offline.
Stake up to 9 cryptos via Ledger Live
Easily synced with third-party software to stake a wider variety of assets
Keeps the private keys to assets stored offline while staking
Staking certain assets via Ledger Live can be a bit complex
Syncing your Ledger wallet with third-party software can be complicated at first
Closed-source software
6. Trezor Model One — The original hardware wallet
Trezor Model One Wallet
The Trezor Model One is the original cryptocurrency hardware wallet. It's a small USB device for securely storing the private keys to your digital assets in cold storage – offline and physically separated from your computer.
The Model One is all you need to manage major crypto assets like Bitcoin (BTC) and Ether (ETH). It is excellent for using with DeFi applications on Ethereum, including layer-2 networks.
Trezor won Finder's Customer Satisfaction Award for cryptocurrency wallets in 2023, with 84% of users saying they would recommend Trezor products to a friend. Trezor received exceptional scores for its security and overall experience.
Warning: On May 25, 2023 a security firm named Unciphered claimed that they were able to extract the private keys from a Trezor Model T. The exploit requires physical access to the device as well as specialised tools and knowledge. Trezor has previously addressed this type of vulnerability in a blog post and says that the attack can be prevented by using a strong passphrase.
One of the most affordable hardware wallets
Easy-to-use interface and software
Can be linked with MetaMask for use with Web3 and DeFi
Highly reputable and rated brand
Small number of blockchains supported
Not Bluetooth enabled
Not iOS compatible
I've been using a Trezor One for over five years and it is still my daily wallet for crypto, despite now owning other more advanced and expensive hardware wallets. It's simplicity makes it much easier and faster to use than other wallets I own, which is key for DeFi.
7. Ledger Stax – Best-designed hardware wallet
Ledger Stax Wallet
Free shipping
The brand new Ledger Stax was created by Tony Fadell – co-creator of the iPod and iPhone.
The device is just as secure as previous Ledger hardware wallets, but it's more stylish and was designed with everyday users in mind – not just tech geeks.
The stand-out feature of the Ledger Stax is its 3.7in (672x400px) electronic ink (e-ink) touchscreen, which makes managing your assets and clear-signing transactions via the device easy and convenient.
Other features that separate it from previous iterations of Ledger wallets include the fact that you can charge the device wirelessly and customise the lock screen with one of your NFTs.
The device is the size and shape of about 5 credit cards stacked on top of one another, whereas previous Ledger hardware wallets resembled a flash drive.
One potential issue with Ledger devices is that the software is closed-source, which means it is not open to independent scrutiny or review.
Large e-ink touchscreen
Wireless Qi charging
Bluetooth-enabled
Enables clear-signing (to prevent hacks and phishing attacks)
CC EAL 5+ security certification (highest level of security against penetration tests)
Lock screen can be customised with NFTs
Strong casing
Sleek design
Most expensive Ledger hardware wallet
Can't stake many cryptos via Ledger Live
Closed-source software
8. COLDCARD Mk4 — Best hardware wallet for Bitcoin
Read review
COLDCARD Mk4
As a specialist Bitcoin hardware wallet, the COLDCARD Mk4 doesn't have as many of the features of Ledger or Trezor devices, but it does keep the private keys to your BTC stored securely offline.
The COLDCARD Mk4 was created by cypherpunks — technologists who advocate for privacy-enhancing cryptography — for Bitcoin minimalists.
Like Ledger hardware wallets, the COLDCARD Mk4 uses a Secure Element chip — the same type of chip found in passports and credit cards — to protect the private keys to your Bitcoin.
Using the Sparrow Wallet desktop software and a microSD card, you can send Bitcoin to and from your COLDCARD Mk4 without ever plugging the device in. The obvious downside to this is that you'll have to purchase a microSD card adapter for your computer if you plan to transfer data this way.
Highly secure
Contains 2 Secure Element chips sourced from different manufacturers
Doesn't require a connection to computer
Features a high-contrast 128 x 64 pixel screen for messaging
Multisig enabled
Only supports BTC
The user interface for Sparrow Wallet is less intuitive than competitor alternatives
You will have to purchase a microSD card adapter for your computer if you prefer to transfer data via the card
9. Blockstream Jade — Best for Bitcoin Layer 2 assets
Blockstream Jade
Get 10% off when you pay in Liquid USDt. T&Cs apply.
Blockstream is involved in many Bitcoin-related endeavours from Bitcoin mining to the development of the Liquid Network — a Layer 2 on Bitcoin for digital asset issuance.
Given its extensive experience with the Bitcoin network, it's no wonder that the Blockstream Jade is one of the most respected hardware wallets in the Bitcoin community.
Like the COLDCARD Mk4 — another beloved Bitcoin hardware wallet — the Blockstream Jade is a secure Bitcoin cold storage wallet designed with open-source code and multisig capabilities.
But the Blockstream Jade differs from the COLDCARD Mk4 in a number of ways including:
Blockstream Jade supports assets like Tether (USDT) on the Liquid Network
Blockstream Jade has native software: Blockstream Green
Blockstream Jade is significantly cheaper
The device also doesn't have a Secure Element chip — the primary security mechanism for the COLDCARD Mk4 and Ledger wallets.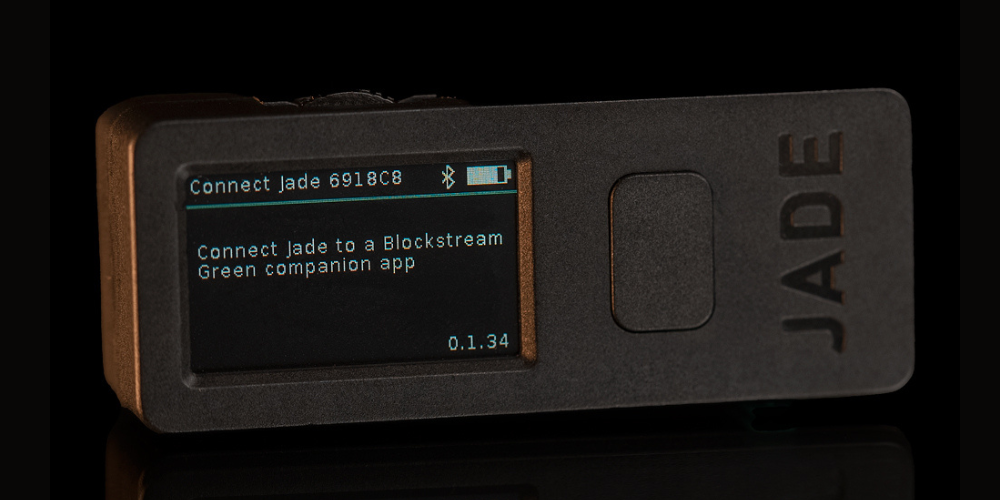 Developed by a seasoned team that specialises in securing Bitcoin
Affordably priced
Multisig support
Air-gapped with a built-in camera for QR code scanning
Open-source hardware and software code
Supports remote blind server authentication as a security mechanism
Bluetooth-enabled
Offers passphrase protection (a level of security on top of your seed recovery phrase)
No support for blockchains other than Bitcoin
No Secure Element chip
Bluetooth only works with iOS mobile devices
Bonus: Billfodl — Best recovery phrase backup device
Billfodl
Seed backup device

Wallet type
Free shipping
We chose to give Billfoldl an honourable mention as the best recovery phrase backup device because it helps protect your chosen hardware wallet's recovery phrase from fire, flooding and any type of decay.
Most hardware wallets will prompt you to write down your recovery phrase on a sheet of paper when you set up your wallet. But if your recovery phrase sheet gets damaged or lost, you can lose access to your crypto – permanently.
Billfodl is a solid steel case that allows you to stamp your 24-word recovery phrase using metal tiles engraved with letters.
The tiles slide into three different rows on both sides of the device, and the device comes with a cover that swivels over your recovery phrase once you've properly arranged the tiles.
It's worth considering the added layer of security and peace of mind afforded by recovery phrase backup devices like Billfodl if you invest in a hardware wallet.
Preserves your recovery phrase much better than paper and pen solutions
Reasonably priced
Slightly bulky design
Sliding tiles into place can be a clumsy experience
Compare more cold storage hardware wallets
What is a hardware wallet?
A hardware wallet is a physical vault designed to offer safe storage for your cryptocurrency private keys. These specially designed hard drives usually connect to your computer or smartphone via USB and, because you keep them offline, provide cold storage for your coins and tokens.
Hardware wallets contain a range of security features to protect your digital currency keys.
They're protected by a PIN and often include other security measures, such as a screen for viewing transaction details and buttons on the device for manually verifying transactions.
There are essentially two separate parts to a hardware wallet. The first part is a desktop, mobile or web client connected to the internet and performs nearly all the same functions as any ordinary hot wallet.
This software wallet creates the transactions but can't sign them — which is where the second part, the physical hardware wallet that contains your private keys, comes in. The transaction must be sent to your offline hardware wallet, verified by you and signed by the device before it can be completed.
Hot or Cold?
A hot wallet is any wallet that has an active connection to, or is hosted, on the internet. Hot wallets are more common than cold wallets and are often more user-friendly. Thanks to their connection to the internet, moving funds in and out of these wallets is quick and easy.
Unfortunately, this ease of use also comes with disadvantages, such as making them susceptible to hackers, phishing scams and other vulnerabilities. Examples of hot wallets include those offered by exchanges or web wallets such as MyEtherWallet.
A cold wallet refers to any wallet stored offline. Cold wallet storage can refer to numerous methods, such as creating a paper wallet with a QR code, storing a wallet on an air-gapped computer (disconnected from the internet) or using a hardware wallet.
While considered more secure than a hot wallet, cold wallets are often slow to use, require a physical object and can be damaged in ways hot wallets can't. Hardware wallets are a particular type of cold wallet, popular for their additional security and redundancy features.
Why use a hardware wallet?
Generally speaking, crypto hardware wallets are considered the safest way to store the private keys to your digital assets for the following reasons:
Private keys stored offline. Unlike browser extensions, mobile and desktop wallets — which are exposed to risks like hacking, malware and phishing scams — hardware wallets store the private keys to your assets offline.
12- to 24-word recovery phrase. If you lose your hardware wallet, you can regain access to your private keys using your 12- to 24-word recovery phrase.
PIN and password protected. Hardware wallets are PIN or password protected for additional security.
A hardware wallet is essential for anyone serious about cryptocurrency. They offer the highest level of security for your long-term investments and can be paired with a Web3 wallet for use with DeFi. I never use crypto without one. After security, the main difference is the number of blockchains supported, so make sure to choose one that suits your portfolio.
How to choose the best hardware wallet
If you've decided that offline storage in a hardware wallet is the best option, the next step is actually choosing a wallet. There are several reputable options available, so make sure you consider the following factors when deciding which one is right for you:
Security features. How secure is the wallet, and what features does it offer? Is it secured by a PIN? Does it include its own screen? Can you verify transactions by manually pressing buttons? Have there ever been any reported instances of security breaches involving the wallet?
Ease of use. Consider how easy the wallet is to set up and use. If you don't completely understand the processes involved, there's always the very real risk of losing some or all your funds. With this in mind, make sure the wallet makes it as simple and straightforward as possible to keep track of your crypto holdings.
Supported coins. Check the fine print to make sure the coins, tokens or NFTs you want to store are actually supported by the wallet you're considering using.
Supported operating systems. Is the device compatible with the operating system you're running on your computer or smartphone?
How you actually access your crypto. Hardware wallets usually come with their own native software interface (like Ledger Live or Trezor Suite). Many devices also allow you to interact with your crypto holdings using a third-party wallet — for example, if you were storing Ether (ETH) on a Ledger Nano X, you could manage your tokens using either the Ledger Live app or the third-party wallet MyEtherWallet.
Back up and restore. Read up on the process required to back up your wallet, and restore your coins if something goes wrong. Is this process easy, and will it increase the level of security for your funds?
Price. This is an important factor for many as hardware wallets aren't free. Compare the prices of competing wallets, including exchange rates and shipping costs if buying from an overseas retailer, to get a better idea of which option offers the best value.
Portability. This may not be an important feature for all users, but if you want to transport your wallet with you, consider how easy it would be to carry it around daily.
Independent reviews. Do your research to find some independent reviews of any wallet you're considering. What do those reviewers list as the wallet's pros and cons? What problems (if any) have they had when using it, and do they recommend it?
By considering these important features, you'll have a much better idea of which hardware wallet is right for you.
Ask the experts: What are the most important features in a crypto wallet, besides security?
A wallet should have an intuitive and easy-to-use interface, making it accessible to both beginners and experienced users. The ability to store and manage a variety of cryptocurrencies is crucial, as the crypto market consists of numerous digital assets. A good wallet should provide a reliable backup and recovery system to protect against data loss or theft of the wallet's private keys. Access to transaction history and reporting features is essential for tracking your cryptocurrency holdings and activities.
Interoperability with web3-enabled sites is probably the most important feature after security for crypto wallets today. WalletConnect makes it possible to use a wide range of wallets to interact with web3 sites. Cross-chain compatibility and the ability to do swaps inside the wallet can also make life a lot easier.
The wallet should be easy to use and navigate. Users should be able to easily send, receive, and store their cryptocurrencies. The wallet should support the cryptocurrencies that users want to use. Multi-signature wallets require multiple signatures to authorize transactions. This makes them more secure than single-signature wallets.Cold storage wallets allow users to store their cryptocurrencies offline. This is the most secure way to store cryptocurrencies, as it protects them from hackers. Some crypto wallets offer additional features, such as staking, lending, and decentralized exchange (DEX) integration.
Hardware wallet pros and cons
Pros
Considered to be the most secure way of storing private keys — more so than software or Web3 wallets
Give you full control of your private keys
Support a wide range of coins and tokens
Allow you to recover your coins if your wallet is lost or stolen
Cons
You'll need to buy one — and prices can run up into the hundreds of dollars
Not quite as convenient as other wallet options when you need quick access to your crypto
Not all coins are supported by every wallet
Hardware wallet security tips
Keep the following tips in mind to help ensure the security of your crypto coins and tokens:
No wallet is 100% secure. If you want to ensure the safety of your funds, the buck stops with you. The most secure wallet in the world is useless unless you properly follow wallet setup or security instructions, so exercise caution at all times.
Only buy from a reputable seller. Only buy hardware wallets direct from the manufacturer or an authorised reseller since buying a second-hand wallet puts you at risk of hacking and theft.
Keep private details private. You should never disclose your hardware wallet's secure PIN and your crypto private keys to anyone.
Don't lose your recovery seed. You need your recovery seed to access your crypto coins if your wallet is lost or stolen, so make sure you write this seed on a piece of paper and keep it safe. Better yet, write it on several pieces of paper and keep them all in separate but secure places. Consider purchasing a recovery phrase backup device like Billfodl for even greater peace of mind.
Risks of using a crypto wallet
When you use a non-custodial crypto wallet, you reduce the risk of a third-party custodian like a crypto exchange going under and taking your funds with it. However, there are still risks to using both software and hardware crypto wallets.
Software wallets are always connected to the internet, and, for that reason, can more easily be hacked. Also, if the code for a software wallet is closed-source, you are placing trust in the creator of that wallet to not extract your private keys and, therefore, gain access to the digital assets you manage via the wallet.
Hardware wallets are generally more secure than software wallets in that they remain disconnected from the internet when they aren't in use, while some never have to be connected to the internet. However, if you use a hardware wallet that has native software — like a Ledger or Trezor wallet — there is always the risk that your private keys can be extracted through an issue with the underlying software.
For extra safety, it's best to create a multisignature — or "multisig" — set up in which you use two or more wallets to sign transactions and protect your crypto.
Bottom line
You might balk at spending more money to protect your crypto investments, but as countless well-publicised stories of exchange theft and insolvency have demonstrated over the years, "not your keys, not your coins."
Storing the private keys to your crypto assets on a hardware wallet is widely recommended for anyone planning to make significant investments or to hold crypto for the long term.
As always, though, do your own research to find the crypto wallet that's right for you. Our guide to the best crypto wallets covers the different types of wallets and can help you decide which will best suit your needs.
Methodology
To evaluate our 2023 picks for the best crypto hardware wallets, we compared 10+ cold storage wallets on a range of criteria, including the following:
Crypto and blockchain support. Is it compatible with multiple blockchains and how many coins and tokens are supported?
Usability. Is the device simple to use and appropriate for beginner crypto investors?
Security. How is the recovery phrase stored, and how might this impact the security of the wallet?
Pricing. How much does the hardware wallet cost, and how does it compare to other products on the market?
Extra features. Does it provide support for NFTs or extra features like staking?
Mobile management. Can you manage your portfolio from a smartphone?
Web3 accessibility. Can you access Web3 and decentralised applications (dapps) directly from the device?
Crypto wallets market update: November 2023
Ledger 'Recover' launches. Ledger has finally launched its controversial recover service for the Nano X. It involves encrypting a seed phrase and breaking it up into three pieces, each held with a different third-party custodian: Ledger, Coincover and an independent backup service provider.
New MetaMask security feature. MetaMask has partnered with Blockaid to add a the new Privacy Preserving Offline Module (PPOM) to the popular Web 3 wallet. It helps determine if a smart contract is malicious and sends the user a warning. It is currently an opt-in feature.
Over 80% of BTC wallets in profit. Research by Glassnode shows that with Bitcoin returning to $34,000, over 80% of wallets are now in profit.
Hardware wallet FAQs
Do I need a hardware wallet?
A hardware wallet isn't essential, no. You can leave the private keys for your crypto in the hands of a centralised exchange. But you risk losing access to your assets if the exchange becomes insolvent or gets hacked.
You can also custody the private keys to your digital assets with a non-custodial wallet like Exodus or MetaMask.
Can hardware wallets store any crypto?
No. Different hardware wallets support different cryptocurrencies. For example, Ledger wallets can store the private keys to over 5,500 crypto assets, while the COLDCARD Mk4 can only store the private keys to your Bitcoin.
Which hardware wallet supports the most coins?
Of the hardware wallets we reviewed, Ledger's support for more than 5,500 coins, tokens and NFTs puts its nose in front of the competition.
Which is the most secure hardware wallet?
Of the wallets we reviewed, Ledger wallets have the best security track record.
No Ledger wallet has ever been hacked, but researchers have pointed out vulnerabilities in older versions of the COLDCARD wallet and the Trezor Model One — each of which has now been addressed by the wallets' teams.
Disclaimer: Cryptocurrencies are speculative, complex and involve significant risks – they are highly volatile and sensitive to secondary activity. Performance is unpredictable and past performance is no guarantee of future performance. Consider your own circumstances, and obtain your own advice, before relying on this information. You should also verify the nature of any product or service (including its legal status and relevant regulatory requirements) and consult the relevant Regulators' websites before making any decision. Finder, or the author, may have holdings in the cryptocurrencies discussed.
More guides on Finder
Get started with crypto