How much do removalists cost?
Moving house is exhausting at the best of times but a good removalist can ease some of the pain. Just make sure you budget for the costs.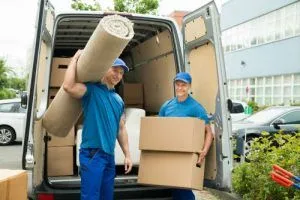 It doesn't matter how prepared or organised you are. Moving house sucks. Between cleaning, transferring your various services, end of lease inspections and getting accustomed to a new home, moving is stressful even before you get down to packing and shifting all your belongings.
The bad news is this: there's really no such thing as a pain-free move. However, a good removalist can at least minimise your pain.
Why hire removalists?
The number one reason to hire removalists is sheer convenience. Removalists can offer various levels of service depending upon your needs, from loading your belongings onto a truck and unloading them at your new property to actually handling all the packing and unpacking.
Because removalists are specialists in transporting home contents, you can usually count on your belongings being handled with care. They can also help make your move quicker and more efficient.
Learn more: everything you need to do before moving in
Can I DIY?
You may choose to save money by handling your move yourself. This can be a good option if you're only moving a single room or a small house. You can buy your own packing materials, package all your belongings and hire a truck to transport them.
If you're looking to handle a bigger move yourself, some companies offer storage containers that can be dropped off at your house, allowing you to load them at your leisure. When you finish, they can be transported to your new property where you can unload them.
However, before you decide to DIY, you should keep a few things in mind:
Handling the entire move yourself is likely to take substantially more time.
You'll have to shell out for packing materials, truck hire and insurance.
You'll also need to figure out how to manoeuvre large items.
If you can rope in a few friends with the promise of some beer and food, a DIY move can be a good lower-cost alternative. But be aware that the time, effort and frustration that comes with handling your move yourself could end up outweighing removalists' fees.
The complete moving house checklist
How much do removalists charge?
A recent study by ING found that the average cost of moving home in Australia is $1,618. This includes removalists, cleaning and reconnecting utilities. However, the actual cost of removalists varies significantly.
The Home Purchase Advisory Service of Australia's A Guide to the Cost of Home Purchase recommends budgeting between $550 and $3,500 for removalists. Obviously this is a massive range. An ING study further broke down the average cost. According to ING, on average Australians pay a total removal cost of:
$3,655 for removalists doing everything, including packing and unpacking
$2,099 for removalists, but DIY packing and unpacking
$782 for DIY with truck or trailer hire
$624 for DIY using own car or trailer
The exact price you'll end up paying depends on a few factors.
How your removalists charge
Removalists typically charge using one of two different price structures: a flat fee or a time-based rate.
If a removalist charges a flat fee, they will likely send an expert to your home to assess the size of your move and provide a detailed quote. If you agree to this quote, you'll know exactly how much your move will cost. Flat fees make budgeting for a move easy and take a bit of the pressure off the removalists performing their task within a tight timeframe. However, you can end up burned by a flat fee if your move ends up being quicker and easier than expected.
Removalists that charge a time-based rate generally charge either by the hour or half-hour. The benefit of an hourly or half-hourly rate is that it can keep your costs low. If your move goes quicker than expected you can end up saving money. However, this fee structure can be extremely difficult to budget for. If your removalists drag their feet, run into difficulty with any of your items, have difficulty accessing either property or even get caught in traffic, the time for your move and its subsequent cost can blow out.
Size of your move
The size of house you're moving will also dictate the cost of your move. If you're moving a larger home, you'll need a bigger truck and more removalists. Most removal companies will have different rates for different sized homes.
If you do have a larger home, you can save some money by moving smaller items yourself. If you move your own clothing and boxes, you can leave only heavy items and large pieces of furniture for the removalists, potentially cutting down on the size of truck and number of workers you'll need for your move.
ING found the average total cost of a move by size was:
$1,197 for a 2-bedroom apartment or less
$1,460 for a 3-bedroom house
$2,329 for a 4+-bedroom house
Distance of your move
If you're moving interstate, you could pay thousands more for removalists than moving within the same city. Likewise, if you're moving a great distance within the same city you're likely to pay much more than moving between adjacent suburbs.
The ING study found the average cost to move over a great distance was:
$2,955 to move from overseas, excluding shipping costs
$3,606 to move interstate
$2,501 to move at least 100 kilometres intrastate
$1,282 to move 20–100 kilometres intrastate
$1,116 to move less than 20km
Their involvement
The fee you pay will also vary depending on the level of service you require. If you do your own packing, you can expect to pay a much lower fee.
How do I choose a removalist?
Most removalists will offer free quotes either via their website or a phone call. It's important to get a number of quotes to find the most competitive deal for your move.
You should also pay close attention to reviews of removalists. Not all removalists are created equal, and while many will be quick, efficient and professional, others may be careless or slow, ending up costing you more money.
A good rule of thumb is to look for removalists that are members of the Australian Furniture Removers Association (AFRA). This industry body offers accreditation and holds its members to minimum standards for training, equipment and insurance cover.
Moving is a hassle and you're unlikely to get through the process unscathed. A good removalist may cost a bit of money, but you'll be thankful when you make it through your move bruised and battered, but alive.
Need a home loan? Start comparing your options
An Aussie mortgage broker can find the right home loan for you.
FREE Suburb and Property Report with every appointment.

Access 3,000+ loans from over 20 lenders.

Get expert help with your loan application, including paperwork and eligibility.
---

The Adviser's number 1 placed mortgage broker 7 years running (2013-2019)
Rates last updated April 7th, 2020
Related Posts