Is a fully furnished investment property a foolproof plan for property investors?
Providing renters with a ready-made solution to their housing needs has several upsides, but comes with its own set of considerations.
We're reader-supported and may be paid when you visit links to partner sites. We don't compare all products in the market, but we're working on it!
Before you decide to rent out your investment property fully furnished, there are a few factors to keep in mind.
Furnished units appeal to students, professionals working on contract, or families on vacation. Therefore the location of your property plays a big role in attracting these types of tenants. To a lesser extent, the size of your property should also be a consideration. A multi-storey home will be less likely to attract a professional working on contract, while a small unit may not be as highly sought after in a family vacation area. And above all, property investors need to evaluate if there is a demand for furnished properties in their area.
Pros and cons
Pros
Financial: According to Damian Collins, managing director of Momentum Wealth, "the main benefit of furnishing your investment property can provide additional returns above the standard rent on a property." People are willing to pay more for the convenience of moving into a furnished place, as well as the benefit of shorter-term stays that are associated with furnished properties. In addition, Lindy Bonnett, founder of Homely Houses, points out that landlords of short stay furnished apartments aren't bound by leases or regulations as to how much owners can charge or when to increase prices. "This give you flexibility in moving your pricing with the market," she says.
Short term leases: Furnished apartments are the perfect solution for vacationers, students, expatriates working overseas on contracts, or people going through a relationship breakdown. As a result, you have greater flexibility in the length of your rental contract. Short stays might be the perfect solution for property investors who also want to use the property as a vacation home. In addition, higher turnover allows owners to inspect the property more frequently.
Better tenants: "If you are leasing a property in a city centre, you may attract a business traveller who does not want to spend several months in a hotel room or a serviced apartment," says Anne Warren, director of True Property Management. Furnished apartments – particularly those in the CBD, attract professionals from corporations who are not only willing to pay a higher rent, but are generally less likely to damage the property or behave unacceptably.
Damage control: Providing tenants with a furnished unit means less damage on walls when renters move in and out. As well, Bonnett notes that people use short-term properties in a different way to long-term rentals. "They don't assume they can put up shelves, or remove light fittings – and as they generally have less occupancy they also have less wear and tear in general."
Tax advantages: "Depreciation is always a good advantage – other tax advantages may depend on the type of dwelling it is (separate house, apartment in a managed complex) and your tax advisor will need to advise you on these," advises Bonnet. According to Collins, furniture can typically be written off at a reasonably rapid rate. Items under $300 can generally be written off immediately and items of a low value more than $300 can be written off at an accelerated rate using the low value pooling system. Higher priced items are written off over their estimated effective life.
Cons
Costs: Obviously renting a furnished apartment means you're going to have to buy all of the furniture. As well, the furniture must be updated from time to time, repaired and cleaned – all of which is an ongoing cost. According to Bonnet, it's not a "set and forget solution". "Furnished properties, whether short or long term, require more maintenance and attention," she says. Bonnet also notes that landlords need to factor in costs such as electricity, gardening, phone, et cetera, "which is fine if they are factored into the price you charge," she says.
Higher turnover: "Short term rentals mean advertising and marketing, taking care of bookings and more of a business involvement and this may not suit everyone," says Bonnet. In addition, furnished properties – particularly those associated with vacation rentals – have seasonal rental periods. Property investors need to be able to manage the cash flow disruptions that come during the off-peak.
Market disruptions: Furnished rentals are also affected by changes to currency, the weather, timing of holidays and other major events.
Insurance: While deliberate damage is rare, Bonnet says, accidents do happen. "Also with a furnished property there is a greater exposure to the potential of public liability claims, so it's really important to talk with your broker and get some sound advice," she says.
Limited appeal: Furnishing your property will limit the number of potential tenants, as many renters already have their own furnishings and are unwilling to store them at a price.
What does fully furnished actually mean?
Landlords have the option of providing furnished, unfurnished or partly furnished rentals. According to Nest Designs interior stylist Emma Blomfield, the necessities of a fully furnished rental include:
As for electricals, Bonnet suggests including: LCD TV, DVD player, stereo/iPod dock, standard size refrigerator, dishwasher, washing machine, dryer, air conditioners, barbeque.
"In general have good quality items as they will look good for longer, need less replacement and need less maintenance. It's very easy at the moment to buy cheap furniture packages from the larger retailers, but these may be a false economy if the tables are easily scratched, the chairs fall apart and the couches are uncomfortable." Bonnet says.
You don't want to end up with cranky tenants who complain about the furniture,"
Collins agrees, adding that "a darker, leather sofa for example might be more pricey than a fabric one but cleaning off greasy hand-marks or a red wine spill will be easier and less likely to show stains. Therefore the property and its contents are much more appealing when new tenants move into the property."
Investment property owners can expect to pay from $12,000 to fully furnish and equip a 1-bedroom apartment, suggests Blomfield. "You need to ensure the furniture is good quality and able to withstand heavy use. Good quality furniture doesn't always mean it has to be expensive, spending a fortune on a designer sofa is not practical for investment properties, especially in holiday areas where you know children or pets will be staying."
About important things to find out when buying a property
Decorating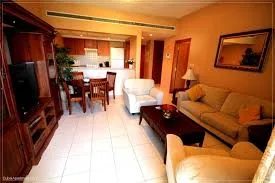 In terms of decorating, property investors should consider the location of their unit and its surroundings. "It needs to be sympathetic to the surroundings plus it needs to be an inviting and welcoming space," says Blomfield. "I always start with a neutral palette - large items such as sofas, armchairs, dining tables et cetera in neutral colours such as greys or beiges. It sounds a bit dull, but it's easier to mix up the style and decor with a neutral base than having to work with a bright red sofa for years to come. Colour can be added in the accessories such as vases, lamp shades, scatter cushions and artwork," she says.
Blomfield's advice is to keep it modern, contemporary and fresh. "Start with a neutral base and build on it with decorative items. Ultimately you should be looking for quality items that will be able to last more than a few months of heavy use, choose items with wipeable surfaces, eg. a glass top bedside table is easy to wipe with some Windex and a cloth. Timber can get watermarked from glasses and dents and scratches much more easily. If you make smart choices when furnishing from the beginning it will pay off in the long run."
What to avoid
Accessories, antiques and expensive breakables top the list of items to avoid.
"Don't include anything that would break your heart if it was broken," Blomfield says. "If you know your property will be used by children, don't have things displayed at kid height, if you want to use decorative items like vases and glass trinkets, make sure they are out of reach. Keep it practical and stylish."
She adds: "I wouldn't over accessorise with trinkets and things that can clutter surfaces such as kitchen bench tops, bathroom benches, bedside tables etc. It's important to keep them clean and neat and uncluttered to show off the space."
Expensive electronics are also best avoided.
Partly-furnished
Many newlyweds or young renters will have already amassed some furniture, but are still keen to rent properties with some items – particularly white goods such a fridge, washing machine/dryer, dishwasher and stove. White is usually the best colour of choice for appliances and generally looks less dated.
Home staging
While you might not be keen to furnish your investment property, there are advantages to showing your unit with furniture.
Home staging gives the tenant an idea of how their furniture will fit into the space, as well as giving the property an inviting look.
Warren notes, "If you have purchased a "compact" property size wise a clever furniture combination can make a small space look absolutely fabulous and tremendously appealing."
Obviously less furniture is needed, but the same rules apply in terms of keeping the furnishings modern, neutral and simple.
Landlords using this approach also have to factor in the added hassle of buying or renting the furniture, storing the furniture and moving it in and out.
Property investor? Protect against the worst with landlord insurance
Compare the latest investor mortgage rates
After entering your details a mortgage broker from Aussie will call you. They will discuss your situation and help you find a suitable loan.
A comparison of home loans from multiple lenders.

Expert guidance through the entire application process.

Free suburb and property reports.
---

The Adviser's number 1 placed mortgage broker 8 years running (2013-2020)
Keep your investment property clean with a professional cleaner from Helping
It looks like we don't have any coupons at the moment. Take a look at our most recent deals
More guides on Finder