Buying and selling property during coronavirus
Property inspections and auctions have changed completely during the COVID-19 pandemic. Here's what buyers and sellers need to know.
We're reader-supported and may be paid when you visit links to partner sites. We don't compare all products in the market, but we're working on it!
The coronavirus pandemic has turned the property market upside down, with changes to auctions and inspections making life hard for agents, buyers and sellers alike. But despite these challenges the industry has not shut down, and smart buyers and sellers need to prepare to navigate these unfamiliar circumstances.
Read on to find the rules and restrictions affecting Australian property transactions during coronavirus, plus some expert tips for buyers and sellers.
COVID-19 restrictions lifted in some states
As coronavirus case numbers subside some governments have begun to loose restrictions on inspections and auctions. See below for details.
What has changed for buying and selling property?
On 25 March the Australian government introduced temporary restrictions on property auctions and inspections. These restrictions are still in place in some states but beginning to be loosened in others.
Limits on open house inspections. Instead of open inspections interested buyers must register for a private inspection conducted via an agent. In some states this has been loosened up to a maximum of 10 people.
Auctions online or via phone. Properties must be sold either by private treaty (that is, no auction) or through online or phone auctions. Again, auctions are now back in many jurisdictions, with some limitations.
Inspection and auction rules by state
Now that restrictions are easing in some states the blanket national restrictions announced in April now differ depending on your state/territory.
NSW. From 9 May 2020 property inspections and onsite auctions can resume in NSW as coronavirus cases subside. All physical distancing rules must be followed and there must be at least four square metres of space for every person at an open property. Observers can turn up for auctions too: you don't need to be a registered bidder.
VIC. From 13 May 2020 Victorians can attend inspections and onsite auctions, up to a maximum of 10 people including agents.
QLD. In Queensland from 1 May 2020 restrictions were eased to allow up to six people (including an agent) to attend an open home. Public onsite auctions remain banned for now.
WA. In Western Australia a maximum of 10 people (including an agent) can attend a property inspection. Auctions remain online only for now.
SA. Auctions and inspections are open again with a maximum of 10 people in the property and 4 square metres of space per person.
Helpful tips for buying a property during COVID-19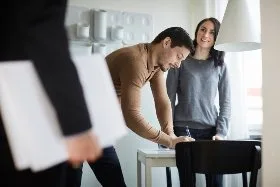 Private inspections and online auctions sound less daunting in some ways, and the reduced competition as more buyers hold back seems like it's actually a good time for buyers. But new pressures make it harder than ever.
Property expert Cate Bakos helps buyers find and purchase properties in Melbourne. She says that the new conditions are tougher for buyers even though "competing buyer numbers are lower."
"Negotiations and deals are occurring in a less predictable, tighter timeframe and buyers are often being caught out," Bakos says. "Many properties are going under offer before buyers have even started their due diligence preparation. Buyers are missing out on these rapid deals."
People buying property during the coronavirus pandemic need to be ready to move quickly. This means organising private inspections early, deciding if you really want to purchase, and potentially making an offer before auction day.
If selling via auction, check with the agent beforehand so you know how the auction will take place, whether by phone or online. If it's online, make sure you understand how the technology works. You may need to install a program like Zoom or Skype, set up an account and be prepared to show your face on the webcam.
It's also important to get in touch with a conveyancer before you're ready to buy so you can send them a contract of sale fast. It's not uncommon for an agent to ask you to sign quickly when there are multiple interested buyers.
Helpful tips for selling a property during COVID-19
The current situation is clearly stressful for sellers too, especially those looking to sell fast to finance their next purchase. And having multiple people enter your home while you're trying to self-isolate is less than ideal.
For sellers, Bakos advises to be patient and trust your real estate agent. "Unless a genuine time horizon applies, vendors should choose their agent confidently and allow them to do their job to the best of their ability."
"Sellers who are placing hard time pressure on their agent are the sellers who I'm seeing achieve lower sales results. The agents are navigating a changed landscape, but experienced agents still know how to deal with buyers and the art of negotiation."
Get your finances organised
For both buyers and sellers during the coronavirus pandemic, getting your finances organised has never been more important. Unemployment is rising as a result of coronavirus. Lenders will scrutinise your application and their biggest concern is definitely employment and income.
Make sure you have a history of genuine savings and get all your application documents together quickly. Be prepared to provide letters of employment or other proof that your job situation is secure.
And if you're buying a property currently leased to tenants, you have to accept a higher chance now that they could lose their income and struggle to pay rent during coronavirus.
Getting finance organised in the middle of a shutdown can be tricky too. Conveyancers and mortgage brokers are working from home, making in-person consultations difficult. But some property documents may need to be signed physically and witnessed by another person.
You might have an easier time with a tech-savvy online lender. Some, like the neobank 86 400, offer mortgages entirely through brokers and have developed a "social distancing-friendly solution" process that can be completed entirely without face-to-face contact.
Need a home loan? Check out rates and apply
After entering your details a mortgage broker from Aussie will call you. They will discuss your situation and help you find a suitable loan.
A comparison of home loans from multiple lenders.

Expert guidance through the entire application process.

Free suburb and property reports.
---

The Adviser's number 1 placed mortgage broker 8 years running (2013-2020)
More guides on Finder