Best budgeting and money apps
See who we ranked as the top 10 best money apps.
We're committed to our readers and editorial independence. We don't compare all products in the market and may receive compensation when we refer you to our partners, but this does not influence our opinions or reviews. Learn more about Finder .

If you're trying to get your finances under control, the tool to do this could be your mobile phone or your tablet. Here's our pick of 10 of the best money management apps on the market to help you get your money situation sorted.
Must read: Looking for the best budgeting app?
There's no single personal finance app that's best for everyone as all our needs are different - and what's best for you might not be best for someone else. Keep in mind that we don't compare every product in the market and this isn't an exhaustive list, but we hope that our tools and information will allow you to compare your options and find the best budgeting app for you.
1. The Finder app
This free app lets you see all of your money in one place, even if you have multiple accounts with different banks or providers. The Finder app scans your accounts and helps you save by finding better deals across products like your credit cards and savings accounts.
The app works 24/7 by keeping an eye on your regular expenses and transactions and finding ways to help you save money. The app will send you alerts automatically when it's got a suggestion for you, including how much you could save by switching to a different account in the market.
The Finder app is completely free to download and use, and is compatible with both Android and iOs devices (Apple).
---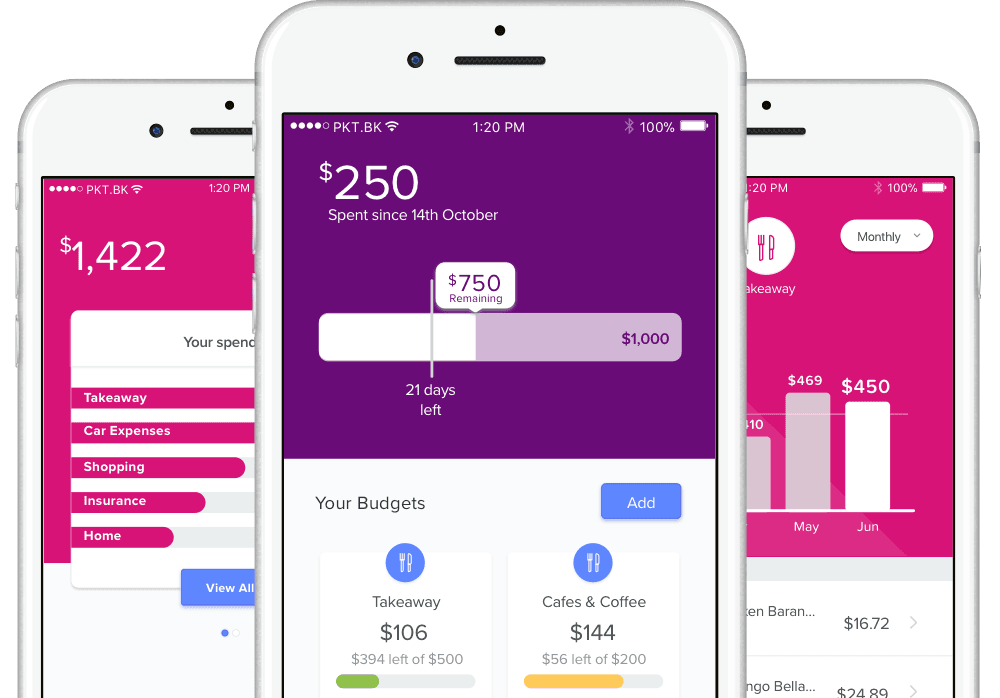 2. Pocketbook Personal Finance Expense Tracker
This Australian-grown app syncs easily with your all your financial needs including bank accounts, credit cards and loans. Pocketbook categorises more than 80% of your transactions after it searches for your regular payments such as bills. Some more features include:
An activity feed updated with the latest insights on your money
Single view of your budgets, recent transactions, balances and upcoming bills.
Syncs with your Australian bank accounts, which means no manual entries needed.
Get upcoming bill reminders and track recurring payments.
Safely Spend tracks and limits your discretionary spend beyond your bills.
Weekly summary warns you about upcoming bills.
Compatibility: Available for iPhone, iPad, iPod touch and Android
---
3. Raiz Invest (formerly Acorns Australia)
Raiz encourages you to save and redirect loose change from everyday transactions into a portfolio that consists of a wide range of stocks, via investing in exchange traded funds (ETFs). This is a good tool if you want to begin investing but don't know where to start or how to navigate the complex waters of investing. Here are some of the features:
Raiz makes it easy to invest regularly while optimising your investment through diversification. In other words, it gives you an automated system to help you follow good principles of investing.
This app protects your information, prevents unauthorised account access and notifies you of unusual activity.
Compatibility: Available for iPhone, iPad, iPod touch and Android
---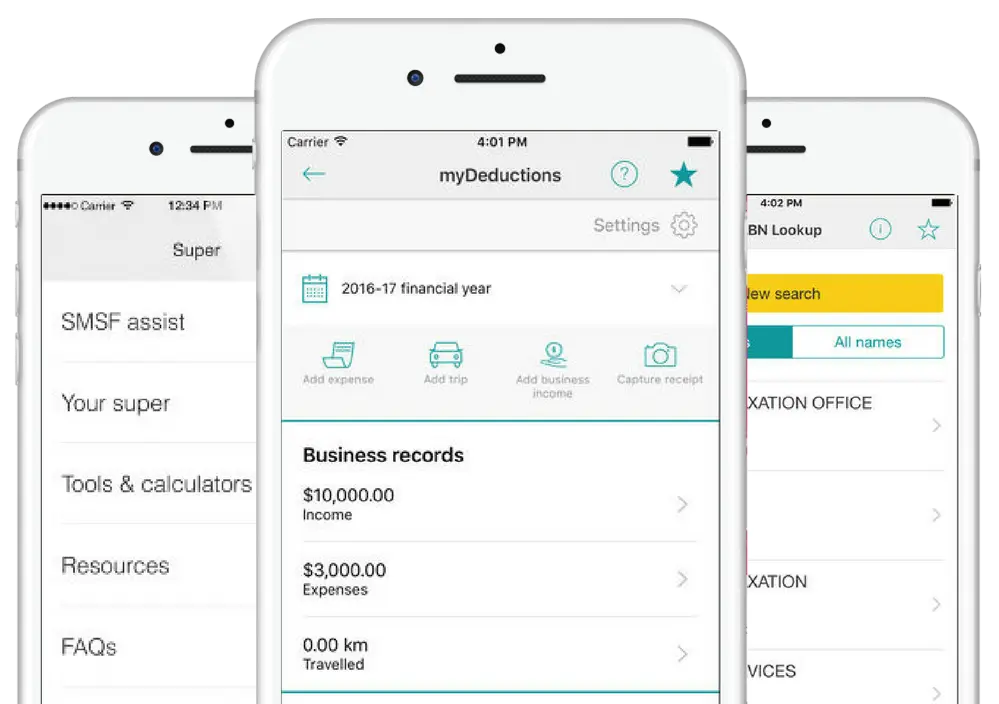 4. Australian Taxation Office (ATO)
The ATO app organises tax and super help so it's easy to access. This is a relevant app with useful tax and super tools for individuals, small businesses and super trustees. Use the app to:
Record all your expenses which may include work-related travel or family vacations using myDeductions.
Do a financial health check-up for your business with Business performance check.
Use the tax withheld calculator.
See the level of return you're getting.
Lookup an Australian business number (ABN).
Check out additional resources like videos and checklists to gain more insight to SMSF for trustees.
In order to use the online services, it's imperative that you link a myGov account to the ATO. Compatibility: Available for iPhone, iPad, iPod touch and Android
---
5. TrackMySPEND by Australian Securities and Investments Commission (ASIC)
Track your personal expenses wherever you are with this app from MoneySmart. It gives you an easy-to-read download describing how you spend your money. It's particularly good for people who struggle with budgeting. Here are the features:
Control your spending by using the tracking bar to check your disposable income against your budget.
Set up a "favourites" module for your more habitual transactions.
View your expense history.
Backup all your financial information for free.
Export your financial information to CSV (Excel).
TrackMySPEND can be used interchangeably on any compatible device.
The money-saving app is designed to help you set and stick to a realistic spending goal. TrackMySPEND can help you save through the use of savings categories which help distinguish between "needs" and "wants".
Compatibility: Available for iPhone, iPad, iPod touch and Android
---
6. Splitwise
Splitwise is quite useful for people that have shared housing, like students living at uni. The app organises the household income and spending. It works out who has spent what and who owes you money. It's a handy tool for keeping track of debt and runaway spenders.
Keep track of apartment bills, group trips and random IOUs.
Everyone can log in, see their balances and add new expenses.
Get notifications with every update or just when important bills are due.
Compatibility: Available for iPhone, iPad, iPod touch and Android
---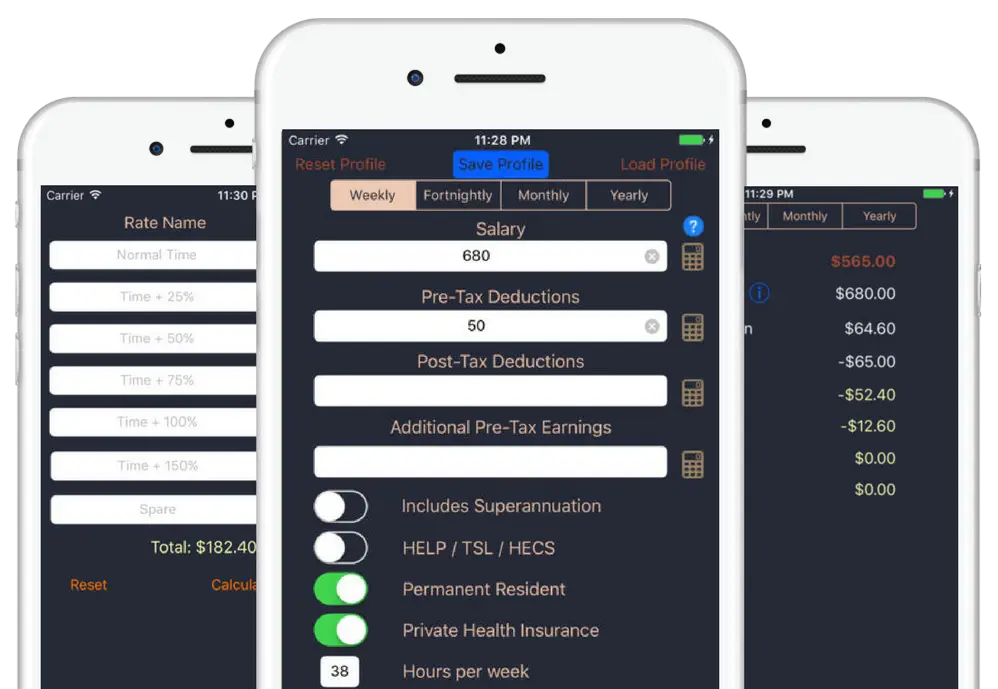 7. Australian Pay Calculator
Calculate your Australian income tax from your annual salary, or see how much that new job offer will really pay for. This app makes it easy to calculate how much tax you'll be paying from your wages in Australian dollars. It also includes provisions for the Medicare levy, Low Income Tax Offset, HECS/HELP and Super to be incorporated into your income. Compatibility: Available for iPhone, iPad, iPod touch - not available for Android.
---
8. My Currency Converter & Rates
My Currency converter is an app designed to help people work out currency conversions, with the ability to convert cryptocurrency as well. The app has the following features:
Real-time currency conversion.
Supports BitCoin, LiteCoin and Dogecoin.
Every major currency with over 150 countries available.
Refresh and save rates for offline mode when travelling.
Compatibility: Available for iPhone, iPad, iPod touch - not available for Android.
---
9. MoneyBrilliant
This personal finance app is designed for use on Macs and iOS devices. It has everything you need to get your finances under control. Here are some of the money-saving features of the app:
Connects all your financial accounts to understand how you spend your money and find opportunities to spend less
Automatically creates a budget based on your historical income and spending, and tracks and reports your progress
Automatically finds the cheapest gas and electricity deals based on your bills and energy usage data.
Compatibility: Available for iPhone, iPad, iPod touch and Android
---
10. MoneyPad
If you're looking for an easy-to-use financial app to use on your iPhone or iPad, MoneyPad could be the one for you. Manage your income and track as many accounts as you want with this app. Check out some of the features:
Real-time statistics for spent vs remaining budget. Based on last month's budget, the rollover is automatically on the first day of the month.
Create, add notes and organise recurring events by expense, income and transfer.
Compatibility: Available for iPhone, iPad and iPod touch - not available for Android
---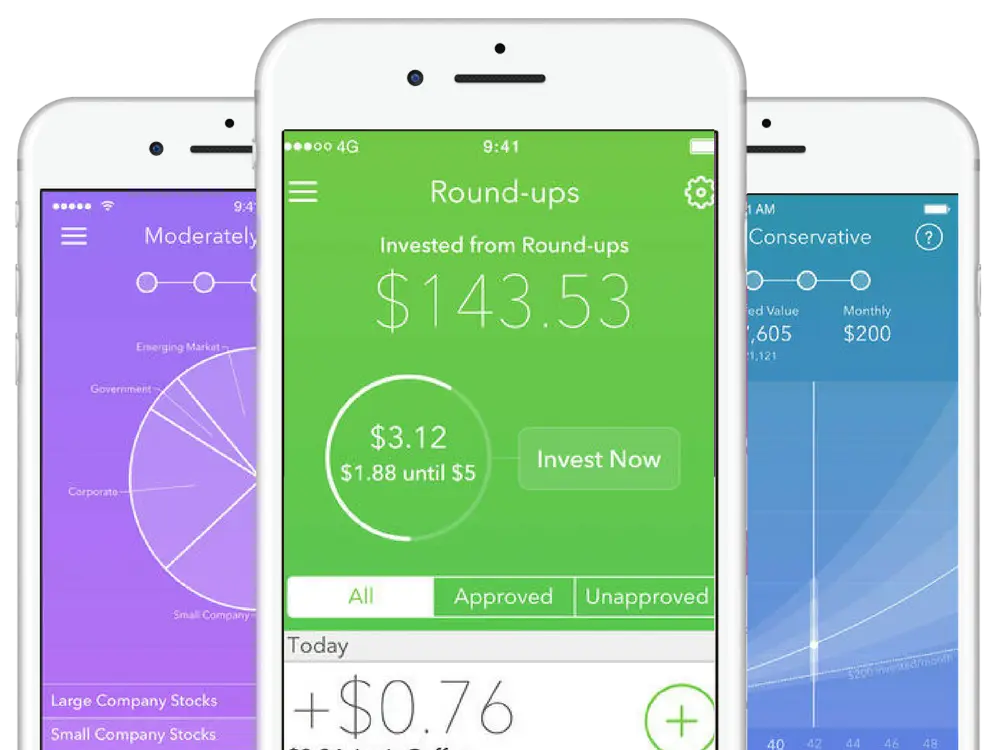 Have you considered a banking apps with savings features?
Some banks also have mobile apps which offer features to help you track your budget, set savings goals and manage your finances with calculators and tools. Here are some of the banks with mobile apps that can help you get closer to your savings goals. Compare their rates and find how much you can save using the calculator below.

More guides on Finder