Life insurance or funeral insurance
What's the main difference between life and funeral insurance?
We're committed to our readers and editorial independence. We don't compare all products in the market and may receive compensation when we refer you to our partners, but this does not influence our opinions or reviews. Learn more about Finder.
Both life insurance and funeral insurance provide a lump-sum benefit in the event of death or terminal illness but both products still offer different benefits that will impact your decision of what option to go for.
Continue reading this guide for an idea of what each covers and what is right for you. Alternatively, you can get a quote for both from an expert.
Life insurance vs funeral insurance: The pros and cons
In order to make a more informed decision about which form of coverage is best for you and your loved ones, consider the following pros and cons:
| Pros | Cons |
| --- | --- |
| Your beneficiaries can use the lump sum payment however they like. | Coverage may be expensive if your current health condition is poor . |
| Generally more affordable compared to funeral insurance cover. | Your benefit payout may be received after the funeral. |
| Some policies also cover accidents, illnesses and injuries. | You may need to have a medical examination, which is not ideal for people with health issues, particularly seniors. |
| Pros | Cons |
| --- | --- |
| Benefit payment is processed as soon as the claim has been approved. | The premiums can be more expensive than premiums on term life insurance cover. |
| Medical exam is usually not required. | You may live to a ripe old age, which means that you may end up having spent a fortune on your cover by the time you die. |
| Longer expiry date than life insurance. | |
Compare direct life and funeral insurance brands
An adviser can help you find cover from trusted life insurance brands.
Get competitive quotes from multiple brands

Lower rate of declined claims (according to ASIC)

Save time and effort
---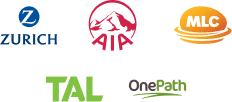 Do I need funeral insurance if I have life insurance?
In Australia, most life insurance policies have a funeral component. Check with you're provider if you have cover in place, if you do then you won't need to take out additional cover. If you don't, find out how much extra it would cost to add that to your policy.
A closer look at funeral insurance
Aside from the above-mentioned similarities, funeral insurance is very different to life insurance. The basic purpose of funeral insurance is pre-payment for your funeral expenses. Aside from the funeral expenses, there is no lump sum benefit which can be used for other purposes.
Key benefits
It is easy to understand - Since it will just cover for your funeral expenses, there are no other things that you need to consider or understand.
It is cheap - A typical funeral insurance cover is between $5,000 and $15,000 making it one of the most affordable insurance solutions in the market.
It does not require a medical check-up - Since funeral insurance is paid upon your death, you don't need to worry about any pre-existing medical conditions or medical proof upon application.
It provides your family with cash right away - Once the insured dies, you can process your claim and receive the benefit payment to financially assist you with any expenses regarding the funeral.
Is funeral insurance for me?
If you purely want to cover your funeral expenses, then this is the ideal insurance product for you.
If are ineligible for life insurance, then funeral insurance also might be suitable for you.
If you are expecting a cash lump sum for your family to be used for any purpose, funeral insurance is not the right product . You should consider taking out a life insurance policy for you for this purpose.
---
A closer look at life insurance
Life insurance can cover you for death, accidents and illnesses, depending on the type of life insurance policy you take out. The key difference between life insurance from funeral insurance is that you get a lump sum benefit that you can use for other purposes other than the funeral.
Types of life insurance payments available
Aside from the different types of life insurance policies, life insurance has different premium payment options whereas, funeral insurance has none. Regarding life insurance premiums, you can choose between stepped and level premiums.
Stepped Life Insurance. Stepped life insurance premiums have cheaper initial payment but it increases every year throughout the life of your policy. This means that as you grow older, your premium payment also goes higher.
Level Life Insurance. It begins with a much higher initial payment but the premium remains the same throughout the policy. Thus, even if you get a 30-year cover with a level premium payment, you get to pay the same amount for 30 years unless you made some changes and adjustments in your policy.
Why should I consider either type of cover?
The question remains in your mind just like many other Australians who question the importance of having life insurance cover. Whether you get funeral or life insurance cover, here are some of the benefits you can get from it.
You spare your love ones from any future financial burdens. Taking care of your future expenses including your funeral and mortgage repayments lessens the burden of your surviving loved ones that might be emotionally affected by your demise. More so, it makes them focus more on important things instead of worrying about their finances.
You give yourself some peace of mind. Having the financial side taken care of also lessens your worry about the future. Everybody agrees that one of the reasons why people worry is the fear of lack in the future. With insurance, you know that any extra expenses that might arise in the future are covered.
You help your family adjust faster. The death of a loved one will always leave a huge emotional vacuum in somebody's life. Aside from the emotional side, it can also affect the family's finances, especially if the person is the breadwinner. When you have insurance to cover you - whether it is funeral or life insurance, your loved ones can get over your loss much faster because they will be able to grieve properly without worrying about paying whatever debts or financial obligations you might leave behind.
There are other benefits you can get from having insurance for you. Just remember that before you sign your name on the dotted line, read the fine print carefully so that there will be no unpleasant surprises or false expectations when you make a claim because of some misunderstanding.
More guides on Finder