CommInsure Income Protection
Protect up to 75% of your income if you can't work due to illness or injury with CommInsure
We're reader-supported and may be paid when you visit links to partner sites. We don't compare all products in the market, but we're working on it!
With CommInsure Income Protection, you can choose up to three different levels of protection and customise your insurance to closely meet your financial needs if you can't work due to serious illness or injury. You can choose the level of protection, waiting period, benefit period and portion of income to insure so you can get protection that meets your cover requirements and budget.
An adviser can help you find cover from trusted life insurance brands.
Get competitive quotes from multiple brands

Lower rate of declined claims (according to ASIC)

Save time and effort
---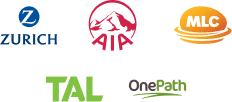 Maximum monthly income benefit
$30,000 (Up to 75% of your monthly income)
Cover types

Income Care coverage
Income Care Plus
Income Care Platinum
Essential Cover

Age of entry
18-64
How much can I expect to pay?
For an annual income of $75,000:

$69.29 per month to cover 75% of your monthly income

How do I apply?
With an adviser over the phone
Maximum cover amount and age of entry varies with occupation and other policy features. Based on CommInsure Protection Income Protection Insurance. Age of entry varies with the type of premium you choose. Costs are an estimate based on a male, non-smoking office worker and was taken out on July 2020 using Finder's quote engine. Cost is subject to change at anytime.
| Pros | Cons |
| --- | --- |
| Includes a wide range of additional features and options | Options are more limited with high risk occupations |
| Four levels of cover for different needs | Choosing more optional extras may raise premiums |
| Lower average claim time than industry average (APRA) | |
Information last checked on July 2020. Always consult the Product Disclosure Statement (PDS).
This cover might be suitable if:
You'd like the help of an adviser to match the right level of cover with your situation.
You want income protection for both when you are completely out of work and for when you can return in a limited capacity.
You are after additional benefits that make your cover stronger.
You are after something cheaper - our research suggests Comminsure is at the lower end in terms of price for a 35 year old male.
Don't get this cover if:
You don't want to use an adviser
Based on CommInsure Protection Income Protection Insurance. Information last checked on July 2020. Always consult the Product Disclosure Statement (PDS).
What does CommInsure Income Protection cover?
CommInsure Income Protection can pay you up to 75% of your regular income if you can't work because of illness or injury. It offers a choice of three levels of income protection including:
Income Care & Income Care Plus provides total and partial disability benefits due to illness or injury, even when you're working reduced hours
Essential Cover covers accidents only at a discounted premium
Business Overheads Insurance helps pay the operating expenses of your small business if you can't work due to illness or injury.
| Included benefits | Income Care, Income Care Plus | Income Care Super | SMSF Plan |
| --- | --- | --- | --- |
| Total Disability Benefit | Yes | Yes | Yes |
| Partial Disability Benefit | Yes | Yes | Yes |
| Recurrent Disability Benefit | Yes | Yes | Yes |
| Boosted Total Disability Benefit | Yes | Yes | Yes |
| Medical Professionals benefit | Yes | No | No |
| Reward Cover benefit | Yes | Yes | Yes |
| Rehabilitation benefit | Yes | No | No |
| Unemployment Cover benefit | Yes | No | No |
| Death benefit | No | Yes | No |
| Waiving Premiums | Yes | Yes | Yes |
| Other Premium waivers | Yes | Yes | Yes |
| Waiver of waiting period for specific conditions | Yes | Yes | Yes |
| Automatic indexation | Yes | Yes | Yes |
| Guaranteed insurability | Yes | Yes | Yes |
| Reduced waiting period | Yes | Yes | Yes |
| Extended cover | Yes | Yes | Yes |
| Continuation option | No | Yes | No |
Some of the features that make income protection flexible
Other built-in features of CommInsure Income Protection designed to give you greater flexibility in your cover include:
No premium payments while receiving Total or Partial Disability benefits
No premium payments for up to six months if you become unemployed, go on parental leave or suffer financial hardship
No waiting period to receive a Total or Partial Disability benefit if you are suffering from a specified medical condition
Automatic annual cover increases to keep pace with inflation
The ability to increase your monthly benefit by up to 10% once in any three-year period without providing further medical evidence
A reduced waiting period for income protection taken out to complement an existing policy
Extended coverage to age 70 if you reach 65 and still have income protection cover.
Back to top
Exclusions to be aware of
All policies contain exclusions, which you cannot make claims for. Some notable CommInsure income protection exclusions are:
Pre-existing conditions: You are not covered for health issues which were apparent prior to taking out cover, unless you had to reason to be aware of them or disclosed them to the insurer.
Receiving benefits outside of Australia: You can only receive benefits outside of Australia for up to 6 month.
Reduction of cover: Depending on your chosen benefit period you might be able to receive benefits beyond the age of 65, even though your cover has expired. Here, your monthly benefit payments will be reduced by 20% each year.
You are also not covered for disability or health conditions arising from:
Acts of war
Self-inflicted injury or suicide attempts
Professional banning, deregistering or disqualification which prevents you from practising your occupation
Elective surgery within 6 months of taking out, reinstating or increasing cover
Back to top
Additional options to consider
CommInsure Income Protection also offers a range of additional options to make your cover more flexible, including:
Permanent Disablement Cover. which provides a lump-sum payment instead of monthly payments
Total Temporary Disability Cover. which lowers premiums in return for restricted benefits
Accident cover. which pays a benefit for three days during the waiting period for a total disablement claim due to injury
Super Continuance. which allows you to cover your super as well as your income
Back to top
How much will CommInsure Income Protection cost?
Premium rates are set for the first 12 months of a policy and may change after that time. Premium rate options include level premiums, where your premiums don't increase as you get older, and stepped premiums, where they do. Other factors that affect how your premium is calculated include:
Your age. The older you are, the higher your premium.
Your health. The better your health, the lower your premium.
Your gender. Mortality and illness rates differ between men and women.
Your occupation. The higher your occupation risk class, the higher your premiums.
Your smoker status. Smokers pay more for insurance than non-smokers.
Your activities. The riskier the sporting or recreational activities you pursue, the higher your premiums will be.
The options you choose. The more options you select, the more you will pay for cover.
The cover you select. The higher the benefit limits you opt for, the more you will pay for your premiums.
Back to top
Conditions for a benefit payment
You have three months following a disabling event to inform CommInsure of a claim. Do this by calling 13 1056 to receive a claims kit and the relevant forms. You and your doctors will need to fill it and send it in. CommInsure will then assess it and let you know the outcome.
Your claims will need to include:
Proof of age
Financial information, such as tax returns or other financial records, or business records if you're self-employed, a working director or in a partnership.
Note: While you are receiving benefits you may be asked to complete a record of your daily activities, as well as undergo further medical tests at CommInsure's expense.
Back to top
What is the age of eligibility for CommInsure Income Protection?
The eligible age range for CommInsure Income Protection depends on your policy type or the occupation class you are in;
Level premiums – 18 to 55
Stepped premiums – 16 to 64
Aviation occupation class – 20 to 55
Specialist risk occupations – 18 to 50.
Cover ends for all income protection policies on the policy anniversary before you turn 60 or 65. The exception is when you still have income protection at age 65, in which case cover can be extended to age 70.
Back to top
Other things to know
Other things to be aware of with CommInsure Income Protection:
Cooling off period. If you change your mind about your policy, you have 30 days to inform the insurer to receive a full refund. This must be in writing, and your policy must be attached.
Link with other cover. Your CommInsure Income Protection policy can be linked with other forms of cover. For example, package your Business Overheads Insurance with Income Care or Income Care Plus and you'll receive a 10% discount on your premiums.
Flexible payment options. You can pay your premiums monthly, quarterly, half-yearly or annually, although paying annually will avoid a frequency charge of 4% or 8%.
Flexible premium structure. As previously mentioned, you have the choice of level or stepped premiums. Stepped premiums are cheaper early on and get more expensive, particularly after age 50, whereas level premiums cost more at first but usually become more affordable later in life as you accumulate more wealth.
Looking to receive a quote for Commonwealth Bank Income Protection?
If your interested in receiving a quote for CommInsure Income Protection or just want to find out more, you can make a secure enquiry via the form located above. A consultant will provide you with a quote for cover and explain any of the features you are not sure of. Once you have found suitable cover, they will assist you through the application process.
More guides on Finder