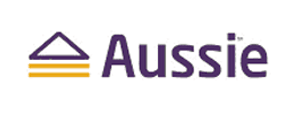 Interest Rate (p.a.)

12.99%

Min Loan Amount

$3,000
Summary
This personal loan comes with a low minimum amount and a fixed interest rate. Establishment fees and ongoing fees apply.
Aussie is no longer offering its personal loans to new customers. You can compare your other personal loan options here.
The Aussie Personal Loan offers fixed repayment amounts and repayment schedules tailored to fit your budget. The minimum borrowing amount is $3,000, with loan terms between 1 to 7 years. You can choose the standard monthly repayment schedule. Or you can make repayments weekly or fortnightly, depending on your budget. This loan is unsecured and there is a penalty for paying off the loan early. Establishment fees are $199, and an ongoing $10 administration fee applies each month.
Pros
Interest rates from 12.99% p.a.* comparison rate 13.94%#

Quick and easy to apply online

Flexible repayment options.
Cons
Unavoidable application fee of $199

$10 monthly service fee.

Can not be used for investment or business use
| | |
| --- | --- |
| Product Name | Aussie Personal Loan |
| Interest Rate (p.a.) | 12.99% |
| Comp. Rate (p.a.) | 13.94% |
| Interest Rate Type | Fixed |
| Min Loan Amount | $3,000 |
| Loan Security | Secured |
How does the Aussie Personal Loan work?
The Aussie Personal Loan can be used for a variety of purposes including holidays, weddings, cars, renovations or debt consolidation. The loan comes with a fixed interest rate of 12.99% p.a. so your repayments are locked in to keep your finances simple. The Aussie Personal Loan is unsecured so you won't have to put any of your assets up as collateral. Keep in mind that paying off your loan early will attract a fee.
How to Apply?
If the Aussie Personal Loan sounds like the right option for you, click "Go to Site" to be transferred to Aussie's secure online application form. In order to be approved you must:
Be 18 years or older
Have permanent residency in Australia
Be working in a consistent job that pays more than $24,000 p.a.
Have had a clean credit history for the past five years
Have the following on hand to complete your application:
Your driver's licence or proof of residency
Details of your financial situation including income, assets, expenses and liabilities
Proof of employment including details of your employer and tax returns
It will take approximately 15 minutes to complete the online application form. You do not need to be a current customer of Aussie to apply.
The Aussie Personal Loan offers reliability and peace of mind with a fixed rate and repayment options. Click "Go to Site" if it sounds like the right loan for your next purchase.
Features of Aussie Personal Loan
Fixed interest rate. The Aussie Personal Loan features a fixed rate from 12.99% p.a. for the life of the loan (comparison rate of 13.94% p.a.).
Fees and charges. There is a $199 establishment fee and an ongoing administration fee of $10 per month. If you choose to pay off your loan early, there is also an early termination fee.
Loan terms. Choose a loan term between 1 to 7 years.
Loan amount. The minimum loan amount to qualify for the advertised fixed interest rate is $3,000.
Repayment options. Standard repayments are monthly but you can choose to make them weekly or fortnightly to line up with your budgeting preferences.
Compare other personal loan