What type of private health insurance do I need? Steps for finding the right health fund.
Are you in need of health insurance? Whether you're looking for a comprehensive hospital and extras policy for you and your family, or you're just trying to avoid having to pay Medicare Levy Surcharge (MLS) or the Lifetime Health Cover (LHC), you've come to the right place. Here at finder.com.au, we strive to help make comparing health insurance quick and easy.
By reading this guide, you will be able to find out about and compare the different health insurance options in available, which will help you find the best* private health insurance for you and your family. This guide takes you through all the important aspects of comparing and choosing a private health insurer.
Compare health insurance securely with the help of an advisor
Complete the form and you'll be contacted by a consultant for an obligation free discussion about your health insurance options.
The consultant will work with you to compare a range of health insurance providers which may include: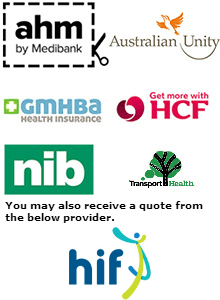 I need health insurance – Four steps to finding the right cover
Step 1: Why do I need private health insurance?
Why should I get private health insurance?
By taking out private health insurance, you are protecting you and your family from having to pay out of pocket for medical treatments. The benefits private health insurance include:
The ability to choose the hospital where you're treated
The ability to choose between being treated in a public hospital or a private hospital
The ability to choose the doctor who will treat you
Shorter wait times at hospitals and doctors'
Cover for a range of different fees including doctors' fees, theatre costs and accommodation costs
A range of additional services such as chiropractic, dental care, optical care, remedial massage, appliances such as hearing aids and acupuncture
As you can see, if you have private health you can enjoy better service in terms of shorter waiting periods and greater choice of hospitals and doctors. Private health insurance covers a range of additional services as well, including preventive therapies and alternative medicine such as acupuncture and massage.
Private health insurance is supported by the Australian Government
If you take out private health insurance you can enjoy a standard rebate of 27.820% for those under 65
If your an older Australians you can enjoy a higher rebate, Australians aged 65-69 receive 32.457% rebate and Australians aged 70 and over enjoy a

37.094% rebate
There are a number of different ways to claim your rebate:
You can deduct it from your premium
You can claim the rebate on your tax return
The earlier you take out cover, the better
This point is two fold. First, generally the younger you are, the healthier you are, and so your premiums are less. Second and more importantly, taking out cover later means that you'll be affected by the Lifetime Health Cover loading.

Lifetime Health Cover loading
The Lifetime Health Cover (LHC) is a Government initiative designed to encourage people to take out hospital insurance earlier in life and to maintain their cover. If you haven't taken out private health insurance by the 1st of July following your 31st birthday, you will pay a 2% loading on top of your premium for every year you are aged over 30. The 2% surcharge is applied every year up to a maximum of 70% – for example, if you sign up at 45 you will pay 30% more than someone who joined up at the age of 30.
Doesn't Medicare cover me?
About a third of all health care in Australian is funded by the private health system and one of the major benefits of private treatment is the choice of receiving treatment in both public and private hospitals. One of the other major shortfalls of Medicare is that it does not cover various ancillary services, such as chiro and physio.
What is the Medicare Levy Surcharge (MLS)? Medicare Levy Surcharge is charged to any individual earning more than $90,000 a year or a family earning over a combined $180,000. If they do not have private health insurance (and hospital cover) then they will have to pay this surcharge, on top of a 1.5% Medicare Levy that almost everyone already pays with their taxes.
How can I avoid paying the Medicare Levy Surcharge? Take out hospital cover with an excess of $500 or less, or, if you're taking out cover as a couple or family, $1000 or less.
How much will health insurance premiums increase in 2016?
Australian private health insurance premiums increased by an average of 5.59% as of 1 April 2016. The exact increase for your private health cover will differ depending on the health fund that offers your insurance – while some funds raised their premiums by up to 8.81%, others announced increases as low as 3.76%.
The 2016 private health insurance price rise was the lowest in four years.
Australian health insurers increase their premiums in April each year. The premium rises reflect increasing health insurance benefit payments, which are influenced by:
Increased costs for medical treatments and services
New technology and increasingly complex medical treatments
Rising wages for medical professionals
Increased doctors' fees
An ageing population
Step 2: What cover do you need?
Do you need hospital, extras or both?
When comparing your health insurance options, you'll need to decide whether you want cover for hospital, extras or a combination of the two.
Hospital cover
What are the different levels of hospital cover?
When it comes to hospital cover, you can choose the level of cover that you would like to pay for. In general, there are three basic levels of cover available.
Top cover
The top level basically means you're covered for treatment in both a public and private hospital as a private patient. By being fully covered and a private patient, you are able to eliminate public hospital waiting lists.
Mid cover
By signing up for the middle level of cover, you are basically not covering yourself for all the treatments available in a private hospital. However, you will generally be able to get treatment in a public hospital with the doctor of your choice.
Basic cover
These policies have many different restrictions and exclusions. They generally also have a fairly high excess too. However, you should be able to avoid the Medicare Levy Surcharge if you find the right deal.
Questions to ask of before getting hospital cover
Are any of the treatments only available at public hospitals, are any of the treatments excluded and could you end up being a private patient in a public hospital?
Does your local hospital – or the hospital you want to be treated at – and your doctor have an arrangement with the fund?
With excess, do you have to pay the excess once or multiple times if you are admitted to hospital?
With co-payments, how many payments would need to be made and how much would these payments be?
Even if you are "100% covered" are you going to need to pay any extra costs during your stay in hospital?
Are there any treatments not fully covered or limited in scope?
Extras
What are the different levels of extras cover?
Extras cover generally also has three levels of cover to choose from:
Top cover
With a top level policy, you'll be covered for all kinds of extra services and treatments such as dental and optical.
Mid cover
The next level down is middle level cover option, which will still give you some dental care and other services, but not as much as with the top level cover policy.
Basic cover
Generally, dental care is still available but orthodontic treatment is not available.
Questions to ask of before getting hospital cover
If you are going to receive any extra benefits, what are the extra costs that you will be charged every year and is the cost per membership or per person?
Be sure to find out whether the extra benefits cost a percentage of any fee that is charged or if it is a percentage of a "reasonable fee" set by the private health insurers – this can sometimes be a trap, as your extras can end up costing a lot more than they should if you are paying a percentage of a fee set by your fund.
Ask your fund if any of the providers of the extra services need to be either registered with the appropriate state board or if they need to actually be registered with your fund. If you are looking to receive a particular benefit, such as massage therapy, and you have a certain practitioner in mind, you will want to check with your fund whether you will be able to be treated by them on your ancillary cover. Otherwise, you could end up getting ancillary cover that you can't use and is totally useless to you.
Ambulance cover is another type of cover that is normally offered with hospital cover and sometimes even with ancillary cover. However, this type of cover can be very different depending on the fund.
What does hospital and extras cover?
Finally, there is of course the option to combine both the hospital cover and ancillary cover together to give yourself greater protection and all-around cover. A combined Hospital and extras cover allows you to customise your cover, and you can mix and match how you need. For example, you may only want mid level hospital cover but need top extras because you have three children who all need ongoing orthodontic work.
How do I know which private health insurance policy is right for me?
When looking at buying health insurance, it's important to see how much you will get back for a particular treatment. You will also want to find out what the overall limit is that you can claim in a year.
Know what the limits are for the policy. Some policies will combine the maximum limits. For example, they may tell you that you can have $500 worth of physiotherapy and chiropractic in a year – that's $500 shared between the two different treatments, not $500 each. Also, it is worth looking into the details of family limits and single limits. Some policies may limit the amount of times that a family can claim for some services and treatment.
Cover you don't always need. There are lots of extras and benefits offered by funds that vary from ambulance cover and treatment at their own dental or optical clinics – these extras are sometimes deal breakers for some people, so it's always a good idea to check whether the policy is suited to your needs.
Getting the cover that's right for you. The main thing to look at when trying to find the right health cover for you is your budget and lifestyle. For example, if you're young and on a low income, take out a basic package. You can increase your options later as needed, don't pay for unnecessary cover.
What are waiting periods?
Waiting periods after joining a fund. There is a certain amount of time after signing up for your cover that you have to wait before your health insurance cover comes into effect. Waiting period varies from policy to policy. However, if you have an accident after you take out the policy, you will normally be covered and your insurance should be able to cover you for any hospital stay and/or treatment that you receive. Waiting periods after switching funds. Another key point is that if you are changing your policy from one health fund to another, you will not have to endure any waiting time as you would've already done so when you signed up for your original policy. What are maximum waiting periods? Maximum waiting periods were brought in by the Australian government to stop health funds from excluding members  unreasonable amounts of time. The maximum waiting periods that health insurers can apply are:
Always check the fine print
It is vital to make sure that you fully understand all of the ins and outs of any policy that you are getting into. You will want to ask your fund a few things before you decide whether you are going to sign up with them for their private health insurance cover:
Who is covered by a family policy? Family cover will almost always include your partner and any children who are under a certain age. The maximum age can vary from anything from 16 to 23 depending on the policy. Also, if your child is a full-time student and is under 25, they may be eligible to be covered on the family policy.
Does the insurer offer discounts or benefits? Some insurers offer loyalty bonuses, the longer you have been with them the greater the discount.
Are there additional costs for specifying your doctor or hospital? Ask your fund whether there are any extra charges if you specify the private hospital you are treated, and/or if you choose the doctor.
What are the waiting periods like? Also, ask them if there are any waiting times that will apply to your policy after you sign up. Some policies have up to a maximum of 12 months.
What Extras are covered? You will also want to ask your potential fund about your hospital, ancillary and ambulance cover. Here are some of the questions you might want to consider asking them.
Who is going to be covered?
Deciding your cover needs is simple. Are you a me, we or us? That is, are you after single, couple or family cover?
Are you single?
Taking out cover as a single is the cheapest and easiest type of cover. Having cover when you're young and single can really pay off. The earlier you take out cover, the less you'll pay in the long run.
Looking for cover built for two?
If you're a twosome, you might be able to save on cover by getting a combined policy. Not only can you save money, it is also a timesaver.
Have you got dependants to think about?
Getting cover for the whole family is a quick and easy solution. Have everyone in one family on one policy.
Does health insurance cover ambulance?
Costs associated with ambulance transportation are not covered by the Government in many states.
Available cover is available as standalone ambulance cover or as part of a hospital or extras health insurance policy, and is offered in two forms: emergency only or comprehensive cover.
Emergency only cover. Emergency only is the cheaper of the two options and it provides cover for air and road ambulance transport in an emergency, such as following a major accident or heart attack.
Comprehensive ambulance cover. Comprehensive ambulance covers emergency air, road and sea transport, as well as features such as on-the-spot ambulance treatment, ambulance transportation between hospitals and even paramedic attendance when you do not need to be transported to hospital.
Whether you need will depend on where you live. For example, residents of Queensland and Tasmania are covered by their state government for ambulance. Others automatically qualify for free ambulance services, such as those who hold a Health Care Concession Card, Pensioner Concession Card, and Commonwealth Seniors Health Card holders in NSW.
Do you qualify for reciprocal health care?
Are you a non-resident? You may qualify for cover under the Reciprocal Health Care Agreement (RHCA).
The RHCA allows visitors to Australia from partner nations access to subsidised health services for essential medical treatment. Currently, Australia has RHCAs in place with the United Kingdom, the Republic of Ireland, New Zealand, Belgium, Italy, Malta, the Netherlands, Norway, Sweden, Slovenia and Finland.
Cover varies depending on the agreement Australia has with its partner nation. You may also be eligible for overseas visitor health cover.
Step 3: How much does it cost?
How health insurance premium is calculated
Unlike many other types of insurance, the premiums for health insurance are not calculated based on risk factors such as your age, lifestyle, gender or health status. However, there are still multiple factors that influence the cost of your private health insurance premiums, including:
The level of cover you select. A comprehensive policy will obviously cost more than an entry-level policy.
The type of cover you select. Purchasing standalone hospital or extras cover will obviously result in cheaper premiums than if you purchase a combined policy that offers both hospital and extras cover.
Your status. A single policy will be cheaper to purchase than a couples or family policy.
Where you live. Different health services can cost more or less to provide in different states and territories, while the claims profile is also different for each state and territory and therefore affects premium amounts.
Your age when you take out cover. Under the Australian Government's Lifetime Health Cover Scheme, if you don't take out private hospital cover until July 1 following your 31st birthday, you'll need to pay a premium loading.
Your income. Your annual income will determine whether or not you are eligible to receive the private health insurance rebate.
When you seek a quote for private health insurance cover, you'll need to answer questions about the type and level of cover you want, whether you want a single or multiple-person policy, and where you live. This will help the health fund present you with an accurate quote for the cost of premiums.
How and when are you going to pay your premiums?
How and when are you going to pay your premiums is an important thing to know. Why?
Paying by the month. If you're young and carefree and can't afford to pay your premiums in a lump sum, you'll probably pay your premiums by the month. While this means that there isn't one big hit to your hip pocket, you'll end up paying more in the long run.
Paying your premiums annually. Conversely, if you pay your premiums annually you will pay less than the person paying monthly because of the lack of administration.
Discount for convenience. Some providers offer discount if you set up a direct debit because you are affectively lowering the administration needs of your policy.
Money saving tips
Avoid the MLS by taking out private health insurance. If you earn more than $90,000 (or $180,000 if you're a couple/family) then you'll pay a minimum 1% surcharge of your annual income to Medicare, on top of the 2% Medicare levy. However, you do not have to pay the MLS if your family income exceeds the threshold but your own income for MLS purposes was $20,896 or less. You can also avoid this charge by taking out hospital insurance.There are a few different ways you can save money by being aware of the different options and offers available. The rebate and surcharge levels applicable from 1 April 2016 to 31 March 2017 are:


SinglesFamilies
≤$90,000≤$180,000
$90,001-105,000$180,001-210,000
$105,001-140,000$210,001-280,000
≥$140,001≥$280,001
Rebate
Standard
Tier 1
Tier 2
Tier 3

< age 65

26.791%
17.861%
8.930%

0%

Age 65-69

31.256%
22.326%
13.395%

0%

Age 70+

35.722%
26.791%
17.861%

0%

Medicare Levy Surcharge

 All ages
0.0%
1.0%
1.25%
1.5%

Consider the excess. You can save a fair amount of money by having an excess on your policy, meaning you have to pay a certain amount of money for staying in a hospital before your private health fund pays anything.
Private patient in  public hospital. By only being covered as a private patient in a public hospital, you can find a cheaper policy.
Consider co-payments. Another way to save on your policy is by paying a co-payment if and when you go into hospital. Every time you receive a service, you pay an agreed amount, which is usually a set amount per day for a certain number of days whilst you are in hospital.  For example, if you have a co-payment of $100 for 3 days, you'd pay $100 for the first 3 days that you are in hospital and then after this time, you will be covered for the rest of your stay by your health insurance.
Excluding certain treatments. By choosing a policy that does not cover treatment for certain conditions (conditions that are covered by public health insurance), you can save money.
What does "gaps" mean?
When it comes to health care, a "gap" is the amount you pay either for hospital or medical charges that are more than what you get back from your private health insurer or Medicare. Luckily, there are some private health insurers that have gap cover arrangements to insure against some or all of these additional payments.
Step 4: Comparing your options
How do I compare policies?
Have you looked around? You can compare you options in many ways by going into private health insurers store fronts, speaking with them on the phone or by comparing policies online.
Does the policy allow you to choose your own doctor? If this is important to you, this is a very easy benchmark to set, in order to whittle down the list. You can use any or multiple benchmarks to cut down your list to only a few providers.
Does the cover suit your needs? Have a checklist of items you want cover for. For example, does the policy cover:

Ambulance fees
Chiropractic treatment
Complementary therapies such as acupuncture
Dental care
Home nursing

Hospital expenses in a private hospital
Optical
Physiotherapy, occupational, speech and ocular therapy
Pharmaceutical costs
Podiatry

How much is it going to cost? By this time (after all your research) you should be able to anticipate your costs, roughly, include the premium, deductibles and any co-payments.
Have you spoken with someone in the know? Most private health insurers offer different tiers and combinations of cover. Speak with an advisor about getting the cover that is right for you and your family.
Speak with an advisor
If you're not sure what type of cover you need or just want to talk through your options, complete the quote form at the top of the page and an advisor will be in touch.
Compare health insurance polices today
Finding a private health insurer
The following table gives you an overview of some of the private insurance companies in Australia. Of course, there are other smaller companies who do provide private health insurance as well, but you can get a good idea from the following data:
| Title | Type | States |
| --- | --- | --- |
| ACA Health Benefits Fund | Restricted | ACT, NSW, QLD, SA, TAS, VIC, WA, NT. |
| ahm Health Insurance | Open | ACT, NSW, QLD, SA, TAS, VIC, WA, NT. |
| Australian Unity Health Limited | Open | ACT, NSW, QLD, SA, TAS, VIC, WA, NT. |
| Bupa Australia Pty Ltd | Open | ACT, NSW, QLD, SA, TAS, VIC, WA, NT. |
| CBHS Health Fund Limited | Restricted | ACT, NSW, QLD, SA, TAS, VIC, WA, NT. |
| CDH Benefits Fund | Open | ACT, NSW, QLD, SA, TAS, VIC, WA, NT. |
| Central West Health Cover | Open | ACT, NSW, QLD, SA, TAS, VIC, WA, NT. |
| CUA Health Limited | Open | ACT, NSW, QLD, SA, TAS, VIC, WA, NT. |
| Defence Health Limited | Restricted | ACT, NSW, QLD, SA, TAS, VIC, WA, NT. |
| Doctors Health Fund | Restricted | ACT, NSW, QLD, SA, TAS, VIC, WA, NT. |
| Frank Health Insurance | Open | ACT, NSW, QLD, SA, TAS, VIC, WA, NT. |
| GMF Health | Open | ACT, NSW, QLD, SA, TAS, VIC, WA, NT. |
| GMHBA Limited | Open | ACT, NSW, QLD, SA, TAS, VIC, WA, NT. |
| Grand United Corporate Health | Open | ACT, NSW, QLD, SA, TAS, VIC, WA, NT. |
| HBF Health Limited | Open | ACT, NSW, QLD, SA, TAS, VIC, WA, NT. |
| HCF | Open | ACT, NSW, QLD, SA, TAS, VIC, WA, NT. |
| Health Care Insurance Limited | Open | ACT, NSW, QLD, SA, TAS, VIC, WA, NT. |
| Health Insurance Fund of Australia Limited | Open | ACT, NSW, QLD, SA, TAS, VIC, WA, NT. |
| Health Partners | Open | ACT, NSW, QLD, SA, TAS, VIC, WA, NT. |
| health.com.au | Open | ACT, NSW, QLD, SA, TAS, VIC, WA, NT. |
| Latrobe Health Services | Open | ACT, NSW, QLD, SA, TAS, VIC, WA, NT. |
| Medibank Private Limited | Open | ACT, NSW, QLD, SA, TAS, VIC, WA, NT. |
| Mildura Health Fund | Open | ACT, NSW, QLD, SA, TAS, VIC, WA, NT. |
| National Health Benefits Australia Pty Ltd (onemedifund) | Open | ACT, NSW, QLD, SA, TAS, VIC, WA, NT. |
| Navy Health Ltd | Restricted | ACT, NSW, QLD, SA, TAS, VIC, WA, NT. |
| NIB Health Funds Ltd. | Open | ACT, NSW, QLD, SA, TAS, VIC, WA, NT. |
| Peoplecare Health Insurance | Open | ACT, NSW, QLD, SA, TAS, VIC, WA, NT. |
| Phoenix Health Fund Limited | Open | ACT, NSW, QLD, SA, TAS, VIC, WA, NT. |
| Police Health | Restricted | ACT, NSW, QLD, SA, TAS, VIC, WA, NT. |
| Queensland Country Health Fund Ltd | Open | |
| Railway and Transport Health Fund Limited | Restricted | ACT, NSW, QLD, SA, TAS, VIC, WA, NT. |
| Reserve Bank Health Society Ltd | Restricted | ACT, NSW, QLD, SA, TAS, VIC, WA, NT. |
| St Lukes Health | Open | ACT, NSW, QLD, SA, TAS, VIC, WA, NT. |
| Teachers Health Fund | Restricted | ACT, NSW, QLD, SA, TAS, VIC, WA, NT. |
| Transport Health Pty Ltd | Open | ACT, NSW, QLD, SA, TAS, VIC, WA, NT. |
| TUH | Restricted | ACT, NSW, QLD, SA, TAS, VIC, WA, NT. |
| Westfund Limited | Open | ACT, NSW, QLD, SA, TAS, VIC, WA, NT. |
Source:http://www.privatehealth.gov.au/dynamic/searchbyinsurer.aspx
Compare health insurance polices today
* The offers compared on this page are chosen from a range of products finder.com.au has access to track details from and is not representative of all the products available in the market. Products are displayed in no particular order or ranking. The use of terms 'Best' and 'Top' are not product ratings and are subject to our disclaimer. You should consider seeking independent financial advice and consider your personal financial circumstances when comparing products.
Picture: Shutterstock