IG trading platform review: Hands-on look at the IG CFD and forex trading platform
The IG trading platform is easy to use, customisable and offers a suite of news and analysis resources.
IG Markets is one of the biggest brokers in the world. The company constantly tweaks its forex and CFD platform in order to keep it fresh, always adding new features and markets to trade. In this IG trading platform review, I highlight some of my favourite features, fee structure and how I think it compares to other platforms I've used. I'll also explain how to get the most out of these features and help you get started with an IG trading account.
Disclaimer: CFDs and forex are complex financial products that come with a high risk of losing money. Most retail client accounts lose money trading CFDs and forex. Consider whether you can afford to lose your money.
Key features of the IG trading platform
The first thing I noticed when logging into the IG platform was the simplistic nature of the first screen. Something I'm sure you'll find a welcome feature too. Once you get past the initial screen, here are a few more key features to look forward to.
Navigation window
One of the most important features of the platform worth highlighting, is the navigation tool. By typing in the market I'm looking for in the "Finder" window, the platform will shortcut to the market I'm searching for. No matter what I'm looking for, a quick search will bring up all the variations of any product I want to trade.
For example, this is what appears when I search for "oil":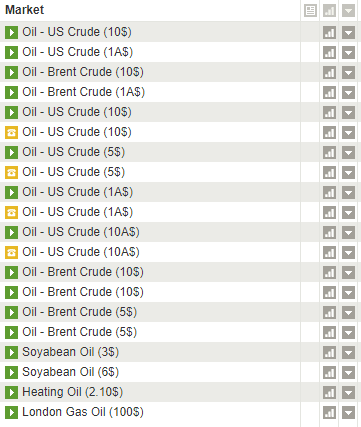 (Source: IG)
When using the IG trading platform, you're going to see just how many options you have to choose from when searching for a market as broad as 'oil'. Market choice is definitely a strength of IG Markets.
From this point, you can decide if you would like to trade spot, futures and even some options markets. However, if you're a new trader, I would suggest you stick to the more liquid markets, such as the forex majors, just until you're confident in your trading strategy.
Customising the platform
Once I worked my way around the navigation window, having the ability to customise the platform to my own tailored needs was the next step worth highlighting. This is actually quite easy to do on the IG trading platform. I was able to create a watchlist using the clean, simple and speedy customisation feature.
After searching for my desired market using the process we spoke about above, I pressed the dropdown menu (marked by an arrow on the right of the asset as shown below) and added the market to my watchlist.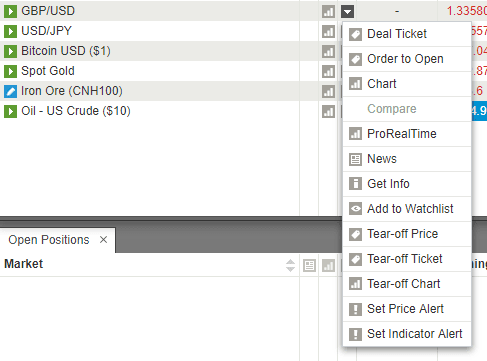 (Source: IG)
I was also able to open a chart for the asset, see the latest news and even set a price alert, all of which I think is really handy.
Placing a trade
Once I added the market I'm looking to trade to my watchlist, I found the process of placing a trade was relatively simple. On the bottom left of the main trading screen there's a "Watchlists" tab. Clicking on the tab reveals all of my chosen markets.
To place a trade, all I have to do is click on the name and a trading ticket will show up, as you can see below.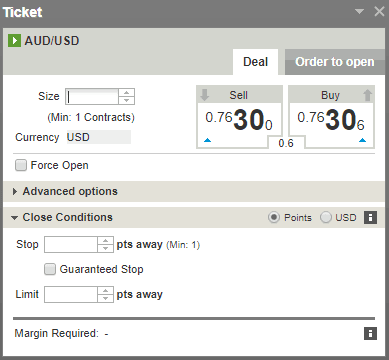 (Source: IG)
Once my trading ticket is open I just need to choose the size of the trade (note that many markets have minimum trade size amounts) and then the direction of the trade. To manage risk I, use the stop and limit options, which I definitely recommend doing.
Charts
Charts on the IG trading platform are provided by Pro Real Time, ensuring they're of a very high standard. I find them easy to use and they offer some great features and functions. All of the major trading indicators are available, but if you want to access advanced features you may need to sign up with Pro Real Time itself.
One of my favourite charting features, is the fact you can open and manage positions directly from the charts themselves. You can open deal tickets, order tickets and alerts on the top tabs of the chart, a feature which I find extremely useful. Once positions are open I can even manage risk limits and profit targets by adjusting to the desired levels within the chart.
Market news and analysis
The IG Markets trading platform offers a huge amount of value, in the way of market news and analysis. The company's expert opinion and coverage from around the world is truly second-to-none.
IG owns DailyFX, which covers news from all the world's time zones. If you're trading forex, which is what I trade, there's always some good material to read regardless of the time.
IG TV has a whole host of interviews and analysis including special guests and market round-ups for every session.
Reuters news is also featured on the platform, but I want to note that this not the same feed as on the Reuters platform (Eikon). All the content is relevant, but just slightly delayed.
IG also offers a Squawk service run from London. This is an audio financial news service where people can listen to breaking news events live.
I think the economic calendar provided is very comprehensive and outlines all the key events to keep an eye on on a day-to-day basis.
Spreads and charges
Brokers make their money by offering different buy and sell prices on markets. To make this idea more simple, whenever you enter a trade, the broker charges you the difference between the buy and sell price, more commonly known as the spread.
Typical spreads you'll find on the IG trading platform are reasonable when compared to other brokers. They're not the highest, but they're certainly not the lowest either. In the case of the AUD/USD (Australian Dollar vs US Dollar) market for example, IG's spread is a reasonable 0.6 pips.
Personally I believe this is good value as the security of funds with a big broker like IG Markets is important to me. They're also a listed company on the FTSE 100 in the UK which means it does have to adhere to certain regulations.
A recent incident that the big brokers had to deal with was the Swiss National Bank (SNB) removing the floor of the Swiss Franc (CHF). IG survived this incident when other brokers folded, which is certainly a good sign of the security of your funds.
How does the IG trading platform compare to its rivals?
The biggest rival that immediately come to mind for me, is Pepperstone. Pepperstone is a forex broker that also offer a whole range of indices and commodities CFDs for clients to trade on their industry standard MetaTrader 4 (MT4) platform. From a pure forex charting point of view, it's hard to go past MT4, but it is limited in its customisation and full list of share market CFDs that are available through the IG platform.
I certainly think that the IG trading platform performs better when it comes to streaming market news and analysis thanks to their partnership with Daily FX. In saying this however, the research department of Pepperstone featuring Kathy Lien and Boris Schlossberg has some serious star power and certainly offer forex market analysis from a different angle.
All in all, there are many pros and cons for both IG and their competitors, making the comparison sometimes unfair. If you're looking for an alternative to the IG markets trading platform, then you need to conduct your own research into the features that matter most to you.
What I can say, is if you're a newbie trader then I think you'll appreciate the clean style of the IG platform. Execution is reliable and performed at a fair speed. The platform is easy to use and the customer service is useful. But most of all, getting started is easy and the support tools are there for any new starter.
How do I apply for an IG trading account?
Signing up for an IG Markets account is simple. Just click the 'Go to site' button at the top of this page and open an account in minutes. If you're not ready yet, you can alternatively read our full IG markets review, or compare forex trading platforms using the handy comparison table on our main forex guide.