What is the property clock and how does it work?
The property clock can help you determine the perfect time to buy and sell your investment.
We're reader-supported and may be paid when you visit links to partner sites. We don't compare all products in the market, but we're working on it!
Whether you're a first home buyer or an experienced property investor, you'll probably be aware of the importance of buying or selling at just the right time. Property markets in Australia and around through the world go through a cycle, and if you manage to time your purchase or sale just right it can make a difference of tens of thousands of dollars.
But how do you know where the market is in its cycle and whether or not it's a good time to buy or sell? That's where the property clock comes in.
What is the property clock and how does it work?
The property clock is a useful method of tracking the property market cycle. It is based on the recognised stages of the property cycle: a "boom" followed by a downswing in prices, "bust" as the market hits the bottom of the cycle, and then a recovery period as the market builds towards the next boom.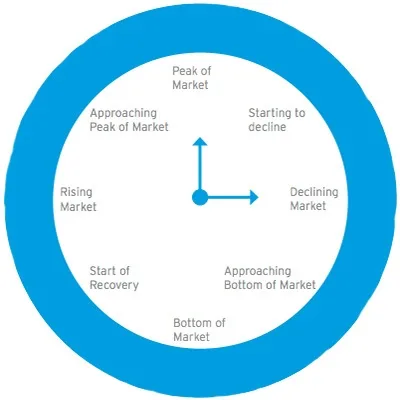 This clearly-defined cycle can be expressed in the form of a clock. When the hour hand on the clock is at 12, the property market is in a boom period, demand is outpacing supply and prices are at their peak. As the hand moves down clockwise around the face, the market enters a downswing period and prices start to cool until, when the hand reaches 6, there is an oversupply of houses and the market bottoms out.
But then things start to turn around as the recovery period begins. Rental returns start to improve and interest rates fall, which means demand for housing increases and prices start to rise once again. This continues as the hand moves further around the clock face and up towards 12, the next boom period once again.
How to use the property clock
The property clock makes a nice graphic and is a useful illustration of market performance, but it also serves a practical purpose. By working out where a particular suburb sits on the clock, you can time the market just right to get the best value for money: that is, selling at the peak and buying when prices are at their lowest.
The property clock offers an extra degree of certainty and reliability when predicting which regions and suburbs are ripe for investment. It can help new investors gain a better understanding of the property market and the dependable cycle it follows. Once you have a better understanding of the different periods of market performance, you can examine patterns and market trends to establish exactly where a certain region sits on the property clock.
For example, let's say you have worked out that a regional area of NSW is sitting at around 7 or 8 o'clock on the cycle. Now could be the perfect time to buy, as while prices are still fairly low, there is the potential for a substantial upswing in property values before the boom period occurs.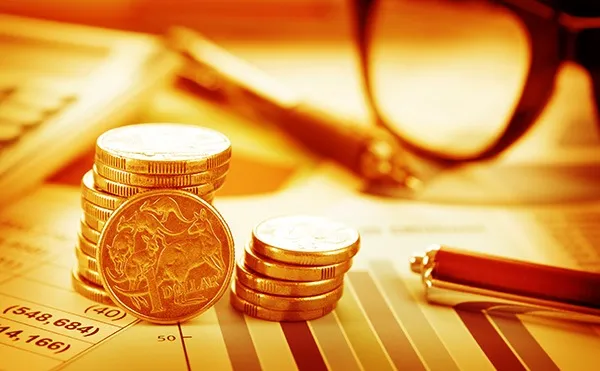 On the other hand, if a region sits at 12 o'clock on the property cycle clock, this is the worst time to buy, as prices are at their absolute peak. By using the property clock, you can work out the best times to buy and sell and develop a safe and successful property investment strategy.
Working out where a region sits on the property clock
Accurately calculating just what "time" it is on the property clock in a particular region can sometimes be easier said than done. That's because there are several factors that affect the property market and while there are certainly well-established cycles in place, it's rare that property prices will follow the exact path you predict.
Factors that influence the property market cycle can range from small local issues to developments on a global scale. For example, if the largest employer in a small town gets into financial difficulty and has to lay off a large portion of its workforce, you can expect the market to cool. On the other hand, if interest rates fall around the country, the more favourable borrowing conditions this leads to will cause increased housing demand that leads to a rise in prices.
You should also know the signs to look out for that may give you a better idea of what "time" it is. For example, rising prices and auction clearance rates of more than 50% could indicate a rising market, while properties regularly selling for higher than the asking price and only being listed for a very short period could indicate that the market is at its peak.
It's quite easy to perform your own calculations and create your own version of the property clock. There's a huge range of property market data available from providers like APM Monitors and RP Data, or even through listings websites like Domain and realestate.com.au, that you can use to tell the time.
Alternatively, you can also access regular property clock updates from Herron Todd White, Australia's largest independent property valuation and advisory group. In the June 2016 property clock for residential houses, areas like Adelaide, Canberra and Cairns were classed as being rising markets while Perth and Alice Springs were declining.
Limitations of the property clock
While the property clock is undoubtedly a useful tool for home buyers and investors, it does have a few key limitations you should be aware of. It's worth remembering that the property clock is basically used to predict the future, so there's always a risk of unexpected economic or market developments producing a deviation in the property cycle.
The property clock can also cause some investors to take too much of a short-term view on property investing. With the obsession of timing the market just right, it can be easy to forget about the long-term benefits an investment property portfolio can generate.
Finally, it's worth remembering that no matter what stage of the cycle the market is at, even during a downswing or a period of stagnation, it's still possible to make money in real estate. You just need to know what you're doing and where to invest your money.
Compare the latest investor mortgage rates
After entering your details a mortgage broker from Aussie will call you. They will discuss your situation and help you find a suitable loan.
A comparison of home loans from multiple lenders.

Expert guidance through the entire application process.

Free suburb and property reports.
---

The Adviser's number 1 placed mortgage broker 8 years running (2013-2020)
Pictures: Herron Todd White, Shutterstock.
More guides on Finder