Coronavirus: Help if you have a small business
How will the government's national stimulus package assist your small business during the crisis?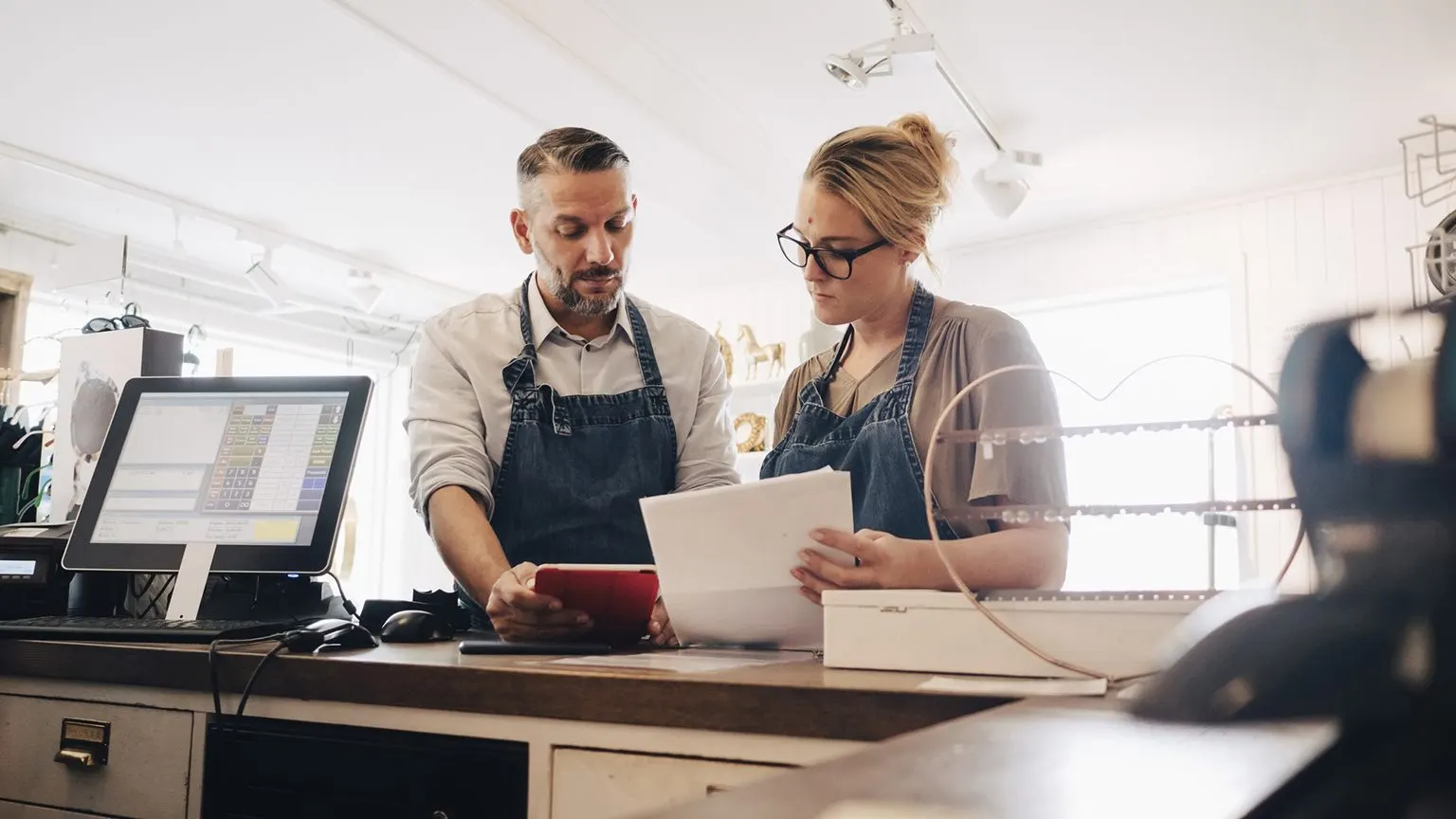 We're reader-supported and may be paid when you visit links to partner sites. We don't compare all products in the market, but we're working on it!
If you're worried about your small business amid the current coronavirus crisis, you're not alone. Luckily, there's support out there for you. To make things a little easier and help get through these tough times, we've put together a list of possible options and steps worth taking.
We will be updating this page as new measures and stimulus packages are announced.
Update: On March 30 the Australian federal government announced a $130 billion wage subsidy package to support businesses and employees. Struggling businesses are eligible to receive up to $1,500 per employee on a fortnightly basis. This would then be passed on in full to eligible workers.
What is being done to help small businesses?
The Australian government has announced stimulus packages that are largely aimed at assisting small businesses and sole traders, with a specific focus on tourism, agriculture, and education as industries that will be hardest hit by the coronavirus. States are implementing their own measures to supplement federal aid, the exact details of which depend on the state.
Sole traders make up about 60% of Australia's small business, and what benefits they will be able to access depends on whether they have employees of their own or not. Sole traders with their own employees are eligible for more assistance than those without.
Small businesses will have access to:
Fortnightly wage subsidies of up to $1,500 per employee for up to 6 months under JobKeeper. Due to Australia's quick recovering from coronavirus, this may end sooner than expected, with an announcement set to be made on 23rd July.
Up to $100,000 to keep their staff employed.
Guaranteed unsecured loans of up to $250,000 for a term of up to three years.
State by state support - updated:
NSW: The NSW Government announced on 2nd April it will put $750 million into the Small Business Support Fund to help keep small businesses afloat. The fund has been designed to help eligible businesses such as local cafés, restaurants, corner shops, gyms, and small accommodation providers.
The NSW government is also waiving a range of license and permit fees for businesses for 12 months from April 2020. Details here.
SA: Tens of thousands of South Australian small businesses and not-for-profits will be offered a one-off $10,000 emergency cash grant in an announcement made by the South Australian government on 9th April. Details on eligibility here.
VIC: Has introduced a similar scheme for eligible small businesses. Details here.
WA: Announced a stimulus package for small businesses in the west on 6th April.
Will government stimulus packages help my business?
Government packages have so far been largely aimed at relieving the pressure on small to medium businesses.
National stimulus package
The government's $17.6 billion stimulus package was aimed heavily at supporting small and medium sized businesses. On 22 March 2020, they've updated it with an additional $66 billion of support, totalling $189 billion in economic support. The main takeaways include:
Businesses that have seen turnover fall by more than 30% are eligible to receive wage subsidy payments of up to $1,500 per employee on a fortnightly basis for up to 6 months. This is in a bid to support businesses and keep people in the workforce. Self-employed workers are also eligible for JobKeeper payments.
Small business who withhold salary and wages from their employees will receive 100% of the withheld payments back once they've lodged their Business Activity Statement. This is open to businesses with a turnover less than $50 million, as well as not-for-profit charities.
The payment will be received as a credit on you activity statement. The maximum payment has been increased to $50,000, and will be available for the April-June quarter as well as the July-October quarter, meaning employers stand to receive up to a $100,000 credit.
Immediate plans to increase the instant asset write-off to allow businesses with an annual turnover up to $500 million (up from $50 million) to claim instant deductions on items worth up to $150,000 (up from $30,000).
SME Guarantee scheme: Beginning in April 2020, for small business owners who take out a new unsecured business loan, the Government will guarantee 50% of the loan, providing its been taken out with an eligible provider. The scheme is open to SMEs and sole traders with an annual turnover of less than $50 million. The maximum loan will be $250,000 with a 3-year repayment period.
How do I access the government payments?
The amount will be paid automatically by the Australian Taxation Office based on the business' monthly or quarterly business activity statements. This means that it will be directly linked to keeping someone employed.
State stimulus packages
State and territory governments have been announcing their own series of economic relief packages to supplement the stimulus packages announced by the federal government. Some of the measures being announced by state leaders include:
Waiving payroll tax for small businesses until 30 June 2020 or later.
Millions of dollars towards helping cafes, restaurants, bars and tourism companies waive fees and charges.
Millions of dollars towards funding 12-month interest free loans.
Rent relief for some commercial tenants
Funding directed to different industries including infrastructure, cleaning services and the entertainment and the arts.
These are just some of the measures being adopted by states and territories.
How can different stimulus incentives help your business
There are several different stimulus incentives being rolled out. It's worth keeping in mind that not all may apply to your business, since all state packages are slightly different.
The instant asset write-off. The threshold has been increased from $30,000 to $150,000. It's also been expanded to include businesses with aggregated annual turnover of less than $500 million - up from $50 million. The threshold applies on a per asset basis, meaning that eligible businesses can immediately write‑off multiple assets.
Backing Business Investment (BBI). This is a time limited 15 month investment incentive intended to boost business investment by providing a deduction of 50% of the cost of an eligible asset on installation. Businesses with an aggregated turnover below $500 million are eligible.
Payroll tax relief. Many states are providing payroll tax relief for small businesses. For instance, in NSW, $450 million is being allocated to waive payroll tax for the next three months, or until the end of the financial year. This will be available to all small businesses with payrolls of up to $10 million.
Fee waving. States are also waiving certain fees and charges that apply to businesses in vulnerable sectors. You could benefit from this if you operate a bar, cafe, restaurant or trade.
Interest free loans. The Interest free loans being offered will help businesses borrow enough to stay afloat during the coming weeks and months of economic downturn and potentially invest. It also ensures businesses can retain staff.
Apprentices and trainees. If you employ an apprentice or trainee you may be eligible for a wage subsidy of 50 per cent of their wage. You can register for the subsidy from early April 2020.
Boosting Cash Flow for Employers. This will provide small businesses with an aggregated annual turnover under $50 million with up to $25,000, the minimum payment being $2,000 for all eligible businesses. It's also tax free.
Financial and emotional advice and support:
The Australian Small Business and Family Enterprise Ombudsman has developed resources, contacts and guides for small business owners for managing their finances during coronavirus and also their mental health and that of their employees.
What are other institutions doing?
In addition to official government stimulus, Australian banks are committing to some form of assistance for businesses and individuals impacted by the coronavirus. Some of these measures include:
Early access to term deposits without fees.
Access to additional credit.
Deferring repayments on for various products, plus vehicle and equipment loans.
Deferring repayment on business loans.
Access to business financial counselling.
Banks also announced that they will defer loan payments for six months from March 30 to help relieve loan stress on small and medium sized businesses. While this will undoubtedly help relieve stress for business owners with loans, it is important to note that payments will have to repaid after the deferral period. This could cause more stress at a later date.
Utility providers have also signalled willingness to provide assistance to those experiencing financial hardship related to the coronavirus outbreak. You can get more information on this measures on our COVID-19 financial help page.
Budget Direct are also offering sponsorships of $1,000, $2,500, or $5,000 to eligible organisations that provide local or statewide community services. You can find more on eligibility here.
Can business insurance help me?
Unfortunately, business insurance is unlikely to cover claims related to the coronavirus, as most policies exclude claims that arise from a quarantinable disease.
However, the Australian Competition and Consumer Commission (ACCC) announced a relief package for small businesses on 2 April, which may offer some financial help for struggling business owners.
As part of the package, eligible businesses may be able to defer their insurance premiums for up to six months, without losing coverage. Refunds on premiums will also be available for businesses that had to cancel any insurance policies as a result of the coronavirus. There will be no admin or cancellation fee applied.
So far, the package applies to Suncorp, Allianz, and QBE Insurance customers, but the ACCC has said it's open to any other insurers or brokers who choose to take part - as long as they notify the ACCC.
Can you still get business insurance?
Yes, but you won't be covered for any issues related to coronavirus. That's because it's a 'known event', which basically means providers won't insure you for something that's already occurred and you are well aware of. Business insurance only covers you for unexpected events; coronavirus definitely doesn't qualify for that anymore.
What will business insurance cover if you've already got it?
If you already have business insurance, you'll still be covered for a lot. Even during the current coronavirus crisis, business insurance can cover you for the following:
Professional indemnity cover. This covers you from negligence if your business provides advice or a service.
Liability. This covers you from third-party injuries or damages caused by products your business sells. Similarly, public liability protects you in case you cause third-party injuries or damages in public.
Fire and theft cover. This protects your property and items from damage due to fires and losses from theft.
Business interruption. You might not be covered for coronavirus, but business interruption cover can still help recover your losses for other reasons, for example, if your building is damaged and you can no longer work in it.
Can I take out a business loan?
Business loans are always an option but do come with risk. Some state governments are offering interest-free loans to small and medium businesses in order to keep them afloat during the coronavirus crisis. Loans outside of these government schemes will be assessed on your businesses needs and whether you will be able to pay the loan plus interest back.
The Reserve Bank of Australia (RBA) announced on the 19th March that it is opening up a $90 billion lending facility that will incentivise banks to continue lending to businesses through the crisis. In addition to this the Australian government has also announced an addition $15 billion for smaller banks and credit unions to help supply low-cost loans to both consumers and small business.
In some cases you will have to secure the loan against an existing asset such as property. You will need to make sure your business will be in a position to pay back the loan after the crisis otherwise you may find yourself in large amounts of debt, worsening your situation.
Picture:GettyImages
More guides on Finder