Credit card processing for small businesses
Want to accept credit card payments at your small business? Compare the available options and costs in this guide.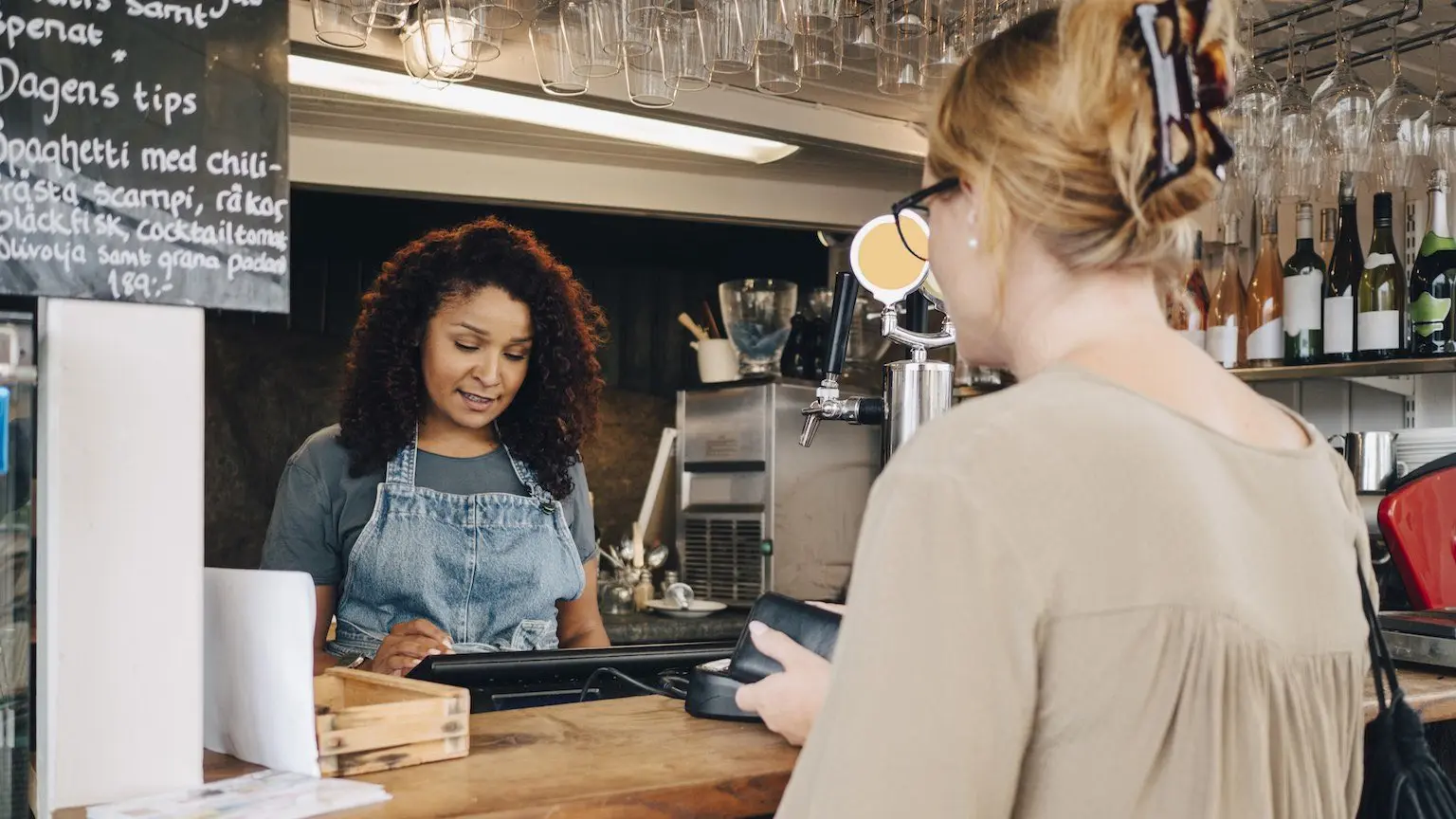 We're reader-supported and may be paid when you visit links to partner sites. We don't compare all products in the market, but we're working on it!
Australia is one of the leaders in the tap-and-go trend and there are plenty of ways for small businesses to accept credit card payments. You can use this guide to compare the different options available, including costs and other factors to consider that will help you choose a payment option that suits your business.
EFTPOS machines
EFTPOS (electronic funds transfer at point of sale) machines are secure and simple to use. Customers can swipe, insert or tap their cards against a reader to make payments. EFTPOS machines accept most credit cards and come in three main categories:
Countertop machines. These machines are attached to your Point of Sale (POS) computer system via cables. You can use them to process card payments from a fixed location in your store. Payments are processed in under 1.6 seconds and are compatible with Ethernet or 3G. Countertop machines are suitable if you're processing your payments from one location (such as a cafe or retail store where payments are accepted at the counter).
Mobile EFTPOS machines. You can use mobile EFTPOS machines to process payments wherever you go. These work in a similar way to countertop EFTPOS machines, except they're portable. This type of EFTPOS machine could be beneficial for small businesses like delivery services, outdoor market stalls or cafes and restaurants where you can process payments from the customer's seat.
Integrated machines. This option is integrated with your POS system via the Internet to help simplify sales reporting and reconciliations. They are best suited for businesses processing a high volume of transactions, such as supermarkets.
What are the costs of using an EFTPOS machine?
Depending on the vendor, you could be potentially charged a combination of the following fees:
Establishment fee. Some EFTPOS providers charge a one-off account establishment fee when you first sign up.
Monthly plan fee. Most EFTPOS providers charge a monthly fee. This varies between plans but typically ranges from $29 to $150 or more.
Card transaction fees. Some EFTPOS providers include a set volume of card transactions as part of their monthly plan costs. Others apply a separate percentage cost per transaction, for example, 1% or 2% of each card payment processed through the machine.
Additional payment fees. Extra costs may apply if you want to accept payments through services such as UnionPay, or over the phone. Some providers also apply a higher card transaction fee for American Express and Diners Club cards.
Additional EFTPOS machines. EFTPOS plans typically include a single EFTPOS machine or a set number of machines. If you need more, fees will apply.
Printer costs. For EFTPOS machines that have internal receipt printers, you'll need to pay for additional printer rolls and ink.
Keep in mind that the specific fees charged do vary between companies and plans. For example, one EFTPOS provider may offer a fixed monthly contract with no set-up fees and an included number of transactions each month. If you processed more than the set number of transactions, additional fees would apply.
In comparison, another provider may charge a smaller monthly rental fee, along with a percentage fee for each transaction. With either option, the total monthly costs also vary depending on how many payments you process through the EFTPOS terminal. So make sure you consider the relevant charges and your average number of monthly credit card transactions before deciding which EFTPOS plan is right for you.
Example: Choosing the cheapest EFTPOS option for a small business
In this scenario, let's say your business processes an average $20,000 worth of card transactions each month. Now, let's compare the costs of two different EFTPOS plans based on their monthly fees and transaction fees.
| Fee type | Plan 1 | Plan 2 |
| --- | --- | --- |
| Monthly fee | $180 | $50 |
| Transaction fee | 0% for the first $15,000 of card transactions per month, then 2.5% per card transaction for the rest of the month | 1% per card transaction |
| Total monthly cost based on $15,000 transaction value: | $305 | $250 |
Based on this scenario, Plan 2 is the cheapest option, with a saving of $55 per month compared to Plan 1. This is despite the fact that Plan 1 includes $15,000 of card transactions per month. For businesses with higher or lower monthly card transaction values, the results could be very different. So it is important to consider your own business details when you are trying to find the most affordable EFTPOS option.
Mobile credit card readers
You can use a mobile credit card reader to process payments through your smartphone or tablet. This type of mobile option usually involves either a card reader which you plug into your mobile device or an app you download and use for payments. Customers can then insert or tap their card against the card reader to make transactions.
Some popular mobile credit card readers in Australia include:
These products are compatible with iOS and Android devices, so you can manage them via an app. This option suits sole traders and smaller businesses that trade on-the-go. This includes vendors at a market, food trucks, plumbers and electricians.
What are the costs of using mobile credit card readers?
You'll need to pay a fee for the mobile card reader or app. Most mobile credit card processing services charge a flat fee. The two most common models include:
A percentage of the sale
A percentage of the sale plus an additional fee per transaction
Online credit card processing services
The main ways you can accept credit card payments online are merchant accounts, payment gateways (such as PayPal, Braintree and SecurePay), BPAY and direct debits. You can see Finder's guide to accepting credit card payments online for more details.
What are the costs of setting up online credit card processing for a small business?
The fees you'll pay will depend on the service you're using, but you may be charged set-up fees, account fees (usually charged monthly or yearly) and payment processing fees.
Credit card payment options for small businesses
Factors to consider to choose the right credit card payment processor
Business type. The right type of credit card payment option for you will depend on your business. For example, a countertop or mobile EFTPOS machine may work for you if you're running a cafe, restaurant or clothing boutique. If you own a small business that often sets up shop at different markets, a mobile credit card reader might make more sense.
Software integration. If you have existing POS software, you will need to find out whether the processing service will integrate with your current software. On the other hand, it may be time to migrate. When doing your research, look out for EFTPOS or smartphone or tablet processing devices that offer the most comprehensive solutions, such as accounting or sales reporting features. This can help streamline your other business costs.
Card acceptance. Most options accept all major cards but it's important to check before you decide. You should also consider if the service will charge different fees depending on the type of card being processed (for example Visa, Mastercard or American Express).
Revenue. The value of the machine should offset the cost of setting up a card payment service and any ongoing processing fees.
Surcharges. It is common for businesses to pass on the cost of processing to the customer by applying a surcharge if they pay with a card. If you choose to do this, make sure you have clear signage to inform customers.
With so many methods of accepting credit card payments available, small businesses in Australia are spoiled for choice. Some payment processing options will be more suitable than others, so it is always good to start by considering the needs of your business. It is also important to do the maths and weigh up the extra costs against your business profits to decide if it's worth the investment.
Picture: Getty
Back to top
More guides on Finder