Retail business loans
Need a loan to help you start a new retail business or buy an existing one? Here's how to find the right finance solution.
We're reader-supported and may be paid when you visit links to partner sites. We don't compare all products in the market, but we're working on it!

Whether you're starting a new retail business from scratch or looking to buy an existing shop, finding the right finance is crucial. There are business loans available to help you buy retail space, fit out your premises, solve short-term cash flow problems and meet a range of other business needs, including covering the expenses associated with running an online retail store.
But how do you know which retail business loan is the right fit for you? Let's take a closer look.
How can a business loan help me?
Australian retail businesses face a variety of challenges in the modern world. Retail business loans can provide flexible access to funding so that you can overcome those challenges. There are business loans available to help you:
Buy an existing business
Buy a vacant shop front
Cover the startup costs for a new retail business
Fit out your business premises
Purchase the latest point-of-sale technology
Purchase stock
Cover web design and online store setup costs
Upgrade your business premises with new fixtures and fittings
Provide working capital to help with the day-to-day management of your business
Fund advertising and marketing campaigns to boost sales
Expand to a second location
Hire more staff during busy periods
Take advantage of an urgent business opportunity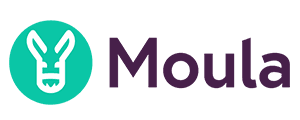 Moula Business Loan
Borrow up to $250,000
Flexible lending criteria
No hidden fees

100% confidential application
Moula Business Loan
An unsecured business loan with online application and no upfront or early repayment fees.
Interest rate type: Fixed
Loan security: Unsecured
Upfront fee: 2% Establishment fee
Minimum loan amount: $5,000
Maximum loan amount: $250,000
Maximum loan term: 2 years
Loans you can compare for your retail business
What types of retail businesses can get a loan?
Australia's retail sector includes a wide range of businesses selling an even more diverse range of products. The good news is that there are loans available to suit any number of retail businesses, both online and in the "real world", including:
Supermarkets and grocery stores
Convenience stores
Fashion retailers
Footwear retailers
Toiletries and cosmetics stores
Furniture stores
Homewares retailers
Appliance retailers
Electronics retailers
Sporting goods stores
Gift shops
Book stores
Discount and variety stores
Health stores
Jewellery stores
Toy stores
Pet stores
Types of business loans to consider
What type of loan does your retail business need to overcome important challenges? Check out the table below for a guide to the finance options available:
Type of loan
Loan amount
Pros
Cons
Equipment finance
The cost of the equipment you need to purchase

Provides the funds you need to purchase major equipment, such as office equipment or anything needed to improve customer experience when visiting your store

The equipment you buy is used to secure the loan
Variety of finance options available
Flexible payment options
Fixed and variable rate options
Many tax deductible options available

Fees apply
Can be confusing choosing the right option from the range of equipment finance solutions available

Line of credit
$10,000 to $100,000,000

Access funds when you need them
Overcome cash flow problems during periods of downturn
Interest charged only on the money you spend
Less risk exposure than a term loan
Freedom to negotiate fixed or ongoing terms

Good credit history required
Can't be used to purchase an existing business or to provide long-term business financing
Interest charged monthly and fees also apply

Business overdraft
$10,000 to $100,000,000

Overdraw on your business bank account up to a predetermined limit
Can help you manage day-to-day cash flow fluctuations in a retail business
Can be secured or unsecured
Flexible repayment schedule as long as you stay under the predetermined limit
Freedom to use the funds for a wide range of purposes

Interest usually charged monthly
Higher fees apply than to other loan options
Need to have an existing business bank account in place

Term loan
$5,000 to $500,000

Borrow a single sum that can be paid back over time
Fixed and variable rates available
Regular repayments required
Can be used to fund major purchases and expenses
Terms of up to 15 years or more available

Borrowing a larger amount comes with a higher level of risk
You will usually need to offer an asset as security for the loan
Not as flexible as other finance options

Business credit card
Depends on card limit

Spend money as and when you need to
Make monthly repayments to pay down your debt
Great for managing your business from day to day
Can earn rewards or frequent flyer points on your spending

Good credit history required
Interest charges can quickly accrue
Need to keep track of your spending so you don't exceed the card limit
Annual fee applies

Unsecured business loan
$5,000 to $300,000

Easy application process and fast approval
Quick access to the funds you need
No security required for the loan means you don't have to risk any assets
Short- and long-term financing available
Help overcome cash flow problems
Early repayment often allowed

Higher interest rate and fees
Penalties if you miss a repayment

Merchant cash advance
Up to $250,000

A lender pays your business to purchase a percentage of your future transactions
Suitable for businesses that receive the majority of their payments by card
Quick and efficient access to funds
Don't need to offer an asset as security
Sometimes available to borrowers with less than perfect credit history
Repayment amounts change in line with your earnings

Can be more expensive than other business finance options
Plans usually only last for a maximum of 12 months so are not a long-term solution
If sales figures don't meet expectations, you may need to find money elsewhere to pay off the advance

Commercial property loan
Generally 60 to 70% of the property's value, but up to 80% in some circumstances

Finance to help you purchase a commercial property
Wide range of loans available
Flexible repayment options to suit your business's cash flow

There's always risk when borrowing a large sum of money
Higher interest rates and fees than residential home loans
Security required for the loan
The best retail business loan for you from the above options will vary, depending on a range of factors such as:
Your finance needs. The loan you choose could vary depending on whether you want to buy a retail space, purchase equipment, manage cash flow fluctuations or satisfy a range of other financial requirements.
Your assets. If you have valuable assets you can offer up as collateral for a loan, this will allow you to access a wider range of finance options.
Your credit history. While there are finance options available for borrowers with bad credit, having a good credit history improves your chances of accessing funding.
Expenses to consider when opening a retail business
Starting a new business of any kind can be a huge undertaking, and that's no different in the retail sector. Many businesses fail because they simply do not have enough capital to meet all the expenses associated with getting a business up and running. That's why it's important that you're fully aware of all the costs you need to consider before you start comparing finance options.
Expenses to consider when opening a retail business include:
Purchasing or leasing retail space
Store fit-out and fixtures, including furniture, shelving, display cases etc.
Store equipment, such as computers, cash registers, point-of-sale payment systems and security cameras
Hiring and ongoing payment of staff
Initial marketing and advertising costs
Purchasing inventory so you have products to sell when your store opens
Office supplies
Internet/phone and power connection
Insurance cover, including public liability protection
Professional legal and accounting services
Of course, it's also worth pointing out that many new retail businesses today operate purely in the online world and don't manage any bricks-and-mortar shop fronts. Despite this fact, many of the expenses listed above still apply to online businesses, while you may also have an increased emphasis on other costs such as web design, SEO optimisation, and even finding suitable warehouse space to store your inventory.
The best way to wrap your head around the full cost of opening a new business is to put together a comprehensive business plan. This should outline your startup costs and operating expenses, as well as a realistic timeframe of how long it will take you to break even and start making a profit.
Expenses to consider when purchasing an existing business
If you're buying an existing business, the good news is that the previous owners have already done some of the hard work for you. The bad news is that they may not have been running the business as successfully as possible, and you may need to incur some extra expenses to ensure that your newly purchased retail store performs to its full potential.
Expenses to consider when purchasing an existing business include:
The cost of buying the retail business
The cost of purchasing or leasing retail space
Improvements and upgrades to old equipment
Upgrade of shop fit-out and fixtures
Purchasing new inventory
Paying staff
Marketing and advertising costs
Insurance
Professional legal and accounting services
In the end, there may be a much greater range of expenses involved than you first anticipated, which is why it's essential to do your due diligence before purchasing an existing business. Consider why the current owner is selling and look at the business's sales, operating costs, profits, assets and liabilities before deciding whether or not you should buy.
How to compare business loans
Once you've decided on the type of business loan that's right for your retail business, the next step is to compare a range of loans to find the best finance option. Consider the following factors when weighing the pros and cons of loans:
Interest rate. This is an obvious place to start, so look at the interest rate that will apply to the funds you borrow. Is the rate fixed or variable? How does it compare to the rate on other finance options.
Fees. Fees and charges can have a huge impact on the total cost of a retail business loan. Compare establishment fees, ongoing fees and any penalties that apply to late or missed payments.
Loan terms. How long will you have to repay the funds you borrow? Is it a short-term loan of less than 12 months, or will you have several years to pay off your debt? Whatever the case may be, remember to calculate how the loan term will affect your regular repayment amount and the total cost of the loan.
Repayment schedule. Next, take a look at the repayment schedule attached to the loan. Will you be able to comfortably afford each regular repayment? Does the finance option provide flexibility with repayments, such as tailoring repayments to match your fluctuating cash flow?
Loan risks. It's also important to consider the risks attached to each loan. For example, will you need to offer any assets as security for the loan? If you're taking on a large debt, what will the consequences be for your business if you can't afford to make repayments?
How to maximise your chances of getting approved for a loan
Many lenders view retail businesses as higher-risk borrowers than other types of businesses, largely due to the fact that an economic downturn can have a significant financial impact on many retail operations. With this in mind, it's important you prepare the best possible loan application to increase your chances of approval.
Keep the following tips in mind when you apply for a retail business loan:
Develop a comprehensive business plan. Your business plan should outline the future trajectory of the business – that is, the service you will offer to customers and how you will make a profit. Be realistic with your forecasts and goals, and include as much relevant information as possible to help the lender develop a complete picture of your business.
Provide comprehensive financial information. If you're starting a new business, detailed forecasts of sales, ongoing expenses and cash flow will be essential. If you're buying an existing retail business, you'll need to supply information about the business's current financial performance, including tax returns, a statement of profit and loss and a balance sheet.
Put up security if possible. If you have an asset that you can offer as security for a loan, for example a property you own, this won't just strengthen your chances of approval but can also increase your borrowing power.
Rely on your track record. Finally, if you've got a prior history of successfully running a retail business, remember to include this in your application.
Frequently asked questions about retail business loans
More guides on Finder