How much spending money do I need for Fiji?
We suss out budgeting costs for everything from backpackers to honeymooners.
We're reader-supported and may be paid when you visit links to partner sites. We don't compare all products in the market, but we're working on it!
With 330 islands that lily-pad their way through the South Pacific Ocean, Fiji is one of the world's most photogenic countries. But being a resort-island destination, holidays here don't always come cheap.
If you're looking to keep that budget at bay, staying on the main island of Viti Levu in the main city centres can offer you well-priced hostels and motels. You can also score everyday items like bread and water at up to 50% cheaper than in Australia if you purchase locally.
If you're more lavish in your holiday ways, resorts on Denarau Island or one of many Mamanuca or Yasawa islands can give you that 5-star pamper, but at a price. Everyday items are also more expensive in these areas.
How much spending money do I need for Fiji?
So how much should you budget? Outside of flights and hotels we recommend bringing the following in Australian dollars.
$150 per person per day for backpackers. This lets you get around on public transport, eat out locally and see some sights.
$350 per person per day for luxury seekers. This gets you into taxis, lets you eat out with a splurge or two at your hotel restaurant and book yourself on a few tours throughout your trip. This number is loosely based around a Fiji honeymoon case study that came to $335.10 per day, per person in on-ground costs.
What is the best way to take money to Fiji?
Many big hotels, touristy restaurants and larger supermarkets accept debit and credit cards in Fiji. However, you'll need some Fijian dollars if you wish to eat at small eateries and shop at markets.
You'll find ATMs in large cities like Suva and Lautoka and hotel resort lobbies.
How much are taxis in Fiji?
Yellow airport taxis and local taxis charge slightly different amounts in Fiji. The flagfall is FJ$1.50 ($0.98) for a local taxi and FJ$5 ($3.25) for a yellow taxi. After that, the cost of a taxi journey is about FJ$1 ($0.65) a kilometre.
Drivers in more-rural areas don't always use a meter, so you may have to negotiate the cost of a trip before you travel.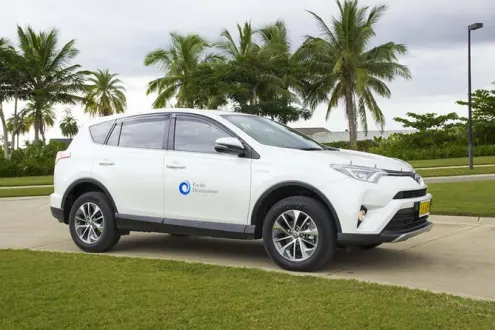 Fiji ground transfer from $5.61
from Viator
Travel around Fiji's magnificent spots or book a ride to/from the airport by private transfer.
View details
How much does a hire car or scooter cost in Fiji?
You can hire a car from locations like Suva and Nadi Airport from around $615 for a week. Big brands like Avis and Hertz operate on the island.
Scooters, meanwhile, cost about $125 to hire per day. If you're going to explore Fiji on four wheels, keep an eye out for potholes.
How much is food and drink in Fiji?
Fiji may be known as a luxury travel destination, but that's not to say you need to remortgage your home to travel here.
If you're on a budget you can grab a cheap breakfast or lunch at a bakery such as Hot Bread Kitchen in Nadi where takeaway pies cost as little as $2. There are also plenty of family run cafes dotted around the country where you can get a simple lunch without breaking the bank.
If your budget is bigger, the country is your oyster. A two-course meal at a fine dining restaurant, such as the Sundowner Bar and Grill at the Outrigger Fiji Beach Resort will set you back about $60 per person.
On the subject of alcohol, popular local beers include Fiji Gold and Fiji Bitter and these cost between $2 and $4, depending on where you buy them. Fiji doesn't produce its own wine, so all bottles available on the island have to be imported, which nudges the price up to at least $20 a bottle.
How much is sightseeing in Fiji?
Tourist attractions and activities can be pricey in Fiji, especially if you're interested in watersports or sailing activities. Full-day snorkeling cruises and packages to secluded islands like South Sea Island, cost around $120-$150.
If you're looking to get a taste of local life, visits to villages and cultural tours are also a popular tourist activity and can be organised for less than $100 per trip, including transportation.
For those into bushwalking, you're looking at paying entry fees of between $20 and $25 to visit sites like the Tavoro Waterfalls on Taveuni Island and the Sabeto Hot Springs on Nadi.
You can pre-book the iconic Cloud 9 experience, which is a floating two-level pontoon with a bar and restaurant surrounded by turquoise waters that are perfect for snorkelling, including bar tabs and hotel transfers for about $150.
If you just want to know the top things to do and decide from there, check out our list of our favourite things to do in Fiji.
How much for a SIM card in Fiji?
SIM cards with big brands like Vodafone can be picked up in the arrivals halls at Fiji's main airports. You should budget about $42 for a SIM that's preloaded with 8GB data and lasts 15 days.
How much money do I need for a week in Fiji?
On the whole Fiji isn't a budget destination. Ideally, to enjoy the country's food, sundowner culture and some memorable sightseeing trips you'll need to budget around $1,400 per person on a stricter budget to last you the week.
On a more generous budget, start yourself at around $2,100 per person to see you through the week.
Quick facts about money in Fiji
Currency: Fijian dollar (FJD)
Exchange rate to AUD: $1 equals FJ$1.55
Cost of food: $6–$50
Cost of a local beer: $4.50–$7
Compare: Travel money cards for Fiji
Exchange rate is approximate, obtained from xe.com on 29 November 2018.
Compare travel money options for Fiji
---
Prices listed on this page are accurate as of time of publish in December 2018.
More guides on Finder