How to access working capital if you have a bank overdraft
Have you maxed out your overdraft account, and still need more funding? Get quick access to the working capital you need with several alternative financing options.
We're reader-supported and may be paid when you visit links to partner sites. We don't compare all products in the market, but we're working on it!
When it comes to maintaining short- and long-term cash flow liquidity, every business has its own unique needs, but there is quite a lot each business can do to survive rough business fluctuations.
Most businesses already have an overdraft account with their bank. But when that dries up, where do you get financing from? Whether you need working capital to grow your business, fill large orders, make payroll or to simply have access to emergency funding, there are several ways to get the capital you need for your business.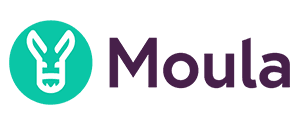 Moula Business Loan
Borrow up to $250,000
Flexible lending criteria
No hidden fees

100% confidential application
Moula Business Loan
An unsecured business loan with online application and no upfront or early repayment fees.
Interest rate type: Fixed
Interest rate: from 8.3% p.a. to 29.22% p.a.
Comparison rate: from 15.64% p.a. to 52.14% p.a.
Establishment Fee: 2% Establishment fee
Minimum loan amount: $5,000
Maximum loan amount: $250,000
Business lenders you can compare
Will my business be eligible for extra finance if I have a bank overdraft?
One of the most common business banking facilities is an overdraft. This type of financing ranges anywhere from $50,000 to $200,000 and is usually secured by property or other assets. Many businesses may come across situations where they need more funding but their bank doesn't approve the loan. This is usually because their secured assets only allow a certain funding limit.
If you're in a position where your bank won't increase your overdraft, you may still be eligible for extra financing, although it does depend on factors such as credit history, type of financing, assets and accounts receivables. Nonetheless, there are a host of options you can choose from.
What finance options can I consider if I have a bank overdraft?
Common financing facilities include lines of credit, charge cards and term loans. A host of non-bank lenders also offer non-traditional facilities such as invoice financing. In the end, the right decision should be based on your own situation, so consider your options carefully.
Line of credit
Here, your lender approves your credit up to a maximum limit. Repayments are made only based on the amount you withdraw and interest is charged on this amount. You'll also likely pay an annual fee.
Charge cards
These help manage day-to-day expenses by allowing you to charge transactions to a card. However, the amount borrowed must be paid in full by the end of the month. Although no interest is charged, you are required to pay an annual fee.
Term loans
These are secured or unsecured lump-sum loans, with the full amount disbursed upfront. You'll make fixed monthly repayments according to a predetermined schedule for the loan to be paid in full, with interest, by the end of the term (anywhere between one and seven years).
Invoice financing
This is an unsecured facility where you can get up to 85% of your invoices paid upfront from a factoring company, rather than waiting the full 30 to 60 days to receive payment from customers. Invoice factoring, which involves the financier collecting the invoice payments directly, is also an option.
Compare the invoice financing products
What should I consider before I apply?
In addition to considering your own business situation, ask yourself the following questions before applying for other financing options:
What do I need the loan for? If you need a large amount of cash for a one-time payment to buy equipment or for covering large customer orders, perhaps a term loan or invoice factoring would be suitable. If you need an ongoing sources of funding, a line of credit, charge card or invoice financing may be more appropriate.
How much will it cost me? Be aware of all upfront and ongoing fees charged by your lender. Also, make sure you know the interest rate and whether it's fixed or variable. You can also use the comparison rate, which combines a lender's interest rate and fees, to better compare options between Working capital lenders.
What about my lender? There's been a surge of non-bank lenders offering alternative sources of financing, so make sure you know the reputation of the lender to ensure it is legitimate. Also, be aware of all upfront and hidden fees before signing your name on the dotted line.
Image: Shutterstock
More guides on Finder