Travel Money Guide: Singapore
Compare how you can take your money to Singapore using a prepaid travel card, debit or credit card.
We're reader-supported and may be paid when you visit links to partner sites. We don't compare all products in the market, but we're working on it!
Before you head off on your trip to Singapore, it's important to know how you're going to access your money while you're there. Use this guide to discover the savviest ways to spend in Singaporean Dollars without racking up travel money fees and charges.
In this guide you can compare a range of travel money options including prepaid travel cards, debit or credit cards as well as options for buying foreign cash before you leave.
Compare travel cards for Singapore
Which option is right for your next trip?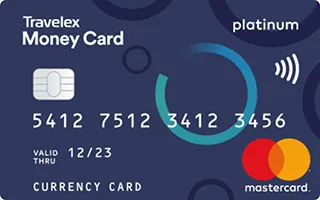 Travelex Money Card
Up to 10 currencies on 1 card
Lock in exchange rates
No overseas ATM fees
Travelex Money Card
Load and hold up to 10 foreign currencies at a time. Lock in exchange rates. Pay nothing for international ATM withdrawals.

No international ATM fees
24/7 emergency assistance
Access wherever Mastercard is accepted
PIN security
Prepaid so you can manage your spending
How many Dollars do I need to bring to Singapore?
Singapore is one of the most expensive cities in the world. However, there are accommodation, food and activity options to suit all budgets.
Singapore
Budget
Midrange
Expensive
Hostel
$10 - $25 per night
2 star hotel
$80 - 120 per night
5 star hotel
$250 - $500 per night
Chicken and fish dumpling noodles (street stall)
$8
Lunch or dinner at a mid-range restaurant
$30 - $60 per person
4 course dinner at the Singapore Flyer
$250 a head
Visit the Singapore Botanic Gardens
free
Visit the Changi war museum
$50 per person
VIP tour of Universal Studios Singapore
$400 per person
*Prices are approximate and based on summer seasonality and are subject to change.
Exchange rate history
Singapore Dollars (SGD) are the national currency of Singapore. The Australian Dollar has weakened against the Singapore Dollar since the Global FInancial Crisis and has been around parity for the past few years.
| Year | Average annual exchange Australian Dollar (AUD) to Singaporean Dollar (SGD) |
| --- | --- |
| 2012 | 1.294160 |
| 2013 | 1.210308 |
| 2014 | 1.143276 |
| 2015 | 1.033175 |
| 2016 | 1.014219 |
| 2017 | 1.07836 |
*Exchange rates are accurate as of 5 September 2017
Today's exchange rate AUD to SGD
Back to top
Which travel cards, debit cards and credit cards are best to use in Singapore?
Major card brands are widely accepted in Singapore. If a merchant insists on applying a credit card surcharge to your purchases, you should consider looking for other alternatives. The majority of travel money cards support SGD, which makes these products a viable option for this destination, but they don't have your name on the front. This can be an issue if the merchant wants to see your I.D. when you make a purchase over the counter. ATMs in Singapore will accept the major brands (Visa, Mastercard and American Express). Compared to other countries, you're spoilt for travel money choice in Singapore.
Travel money options for Singapore at a glance
Travel money option
Pros
Considerations
Debit cards for travel

Singapore bank ATMs do not charge an ATM operator fee
ATMs are located all over the city-state - every bank, MRT station, or shopping center has its own

Most Australian debit cards will charge a currency conversion fee
An international ATM withdrawal fee applies

Prepaid travel money cards

Can be pre-loaded with foreign currency and cancelled at any time
Singapore Dollars are a supported currency on almost all travel money cards

International ATM withdrawal fee, initial load fee, reload fee and inactivity fee applies

Credit cards for travel

Credit cards are widely accepted, especially Visa and Mastercard
Some cards have no annual fees, no foreign exchange fees and they perform currency exchanges at the best possible interchange rate

Credit cards usually charge currency conversion fee
Cash withdrawals using your credit card are considered cash advances which will incur a costly fee and high rate

Traveller's cheques

Security
Can be cashed at Changi Airport and major money changes throughout Singapore

Traveller's cheques are pretty much an old technology in Singapore making it hard to find for those who wants to buy one
A commission may apply to transactions
Exchange rate is less favourable than the Visa, Mastercard and American Express

Cash

Greater payment flexibility
Convenience
There's no set limit as to how much money you can take into Singapore but you need to declare it if it is more the $30000 for money laundering purposes

More difficult to manage expenses
Although SG is considered safer than the other countries, please note that there is a pickpocket syndicate operating in the country
This table is a general summary of the travel money products in the market. Features and benefits can vary between cards.
How different travel money options work in Singapore
Travel prepaid cards
Prepaid travel money cards allow you to load Australian Dollars and exchange the money to a foreign currency via a convenient online portal. Singapore Dollars are a supported currency on almost all travel money cards — the Suncorp, Australia Post and American Express prepaid travel cards don't support spending in Singapore Dollars.
Compare these cards by the front and back end fees such as the international ATM withdrawal fee, initial load fee, reload fee and inactivity fee. The international ATM fee is the main one to avoid because you're going to need cash at various points throughout your trip. Singapore ATMs don't charge a local operator fee, you can withdraw money for free using a prepaid travel card which waives the international ATM fee loaded with Singapore Dollars.
Tip: Prepaid travel cards are dual card accounts, meaning you'll receive an additional card. The second card acts as a backup for the first.
Using Australian debit cards in Singapore
Most Australian debit cards will charge a currency conversion fee when you carry out a transaction in a currency other than Australian Dollars as well as an international ATM withdrawal fee when you use an ATM. The Citibank Plus Transaction Account doesn't charge any of these fees. It also comes with the benefit of fee-free international money transfers to a number of countries. The Citibank Plus is as good at home as it is overseas, you can withdraw free of charge from any Citibank, Westpac, St.George, BankSA and Bank of Melbourne ATM in Australia. Citibank operates more than 250 ATMs in Singapore. These ATMs are evenly distributed throughout the islands of Singapore, so you shouldn't have to look too far to find a Citibank ATM. Withdrawing from one of these ATMs will mean you can access cash for the same price as Australia — even cheaper in some cases.
Tip: Singapore bank ATMs do not charge an ATM operator fee.
Travelling to Singapore with an Australian credit card
Credit cards can be a good way to access a line of credit overseas, which could come in handy for large or emergency purchases. However, using a credit card comes with many fees to consider. Look out for a card that waives the currency conversion fee (of usually 3%) that you'll have to pay when you spend in Singaporean Dollars.
Also, keep an eye out for cards with 0% purchase offer or interest-free days that won't charge you interest when you pay your account in full by the statement due date. Unlike a debit or prepaid card, you shouldn't use your credit card for ATM withdrawals in Singapore. Withdrawals are considered cash advances, and you're likely to incur a costly fee and high rate.
For example, the Bankwest platinum credit cards and the Latitude 28° Global Platinum Mastercard waive the international ATM fee and the currency conversion fee, and you can avoid the cash advance interest rate and cash advance fee too by transferring money onto your credit card. Watch out, though, the card scheme zero liability guarantees do not apply if you're using a credit card with a positive balance.
Tip: Some financial institutions give you free travel insurance when you pay for your return travel ticket to your credit card.
Using traveller's cheques in Singapore
Traveller's cheques have been replaced by modern forms of travel money such as debit, credit and prepaid travel cards. Traveller's cheques can be cashed at Changi Airport and major money changes throughout Singapore. A commission may apply to the transaction and the rate is less favourable than the Visa, Mastercard and American Express foreign exchange rate applied to ATM withdrawals and over the counter purchases.
Getting a refund if you're the victim of a fraudulent transaction
Paying with cash in Singapore
You'll need cash if you want to shop in the market areas of Haji Lane, Sim Lim and Burgis, otherwise you'll find that you can use your card for the majority of purchases in Singapore.
Exchanging cash
Licensed money changers are easy to spot and are located at Changi International and Seletar airports as well as in shopping centers
ATM withdrawals
Singapore bank ATMs do not charge a local operator fee for ATM withdrawals. Provided that your card doesn't charge for currency conversion and international ATM fees, you can make free ATM withdrawals in Singapore.
Finding cash and ATMs
The exchange rate
The card scheme (for example: Visa and Mastercard) foreign exchange rate is applied to over the counter purchases and ATM withdrawals when you use your card. This rate is a touch above the market rate and is better than what you'll get at exchange offices and banks.
Back to top
Buying Singapore Dollars in Australia
It's better to wait till you arrive in Singapore and make an ATM withdrawal or get your Australian Dollars changed at an exchange office rather than get money exchanged in Australia: the rates will be better. You can bring the Aussie dollar equivalent of SGD20,000 into the country without making a customs declaration. If you do want to change money in Australia before you go, consider the following institutions:
Travelex and Australia Post have outlets at major Australian airports. You can order your cash online and collect it from the airport before you leave.
Why you'll need a combination of travel money products
Always have more than one way to access your money, it's a golden rule which applies in Australia as much as it does overseas. A combination of a travel card or travel debit card and credit card will give you options when it comes to saving on fees for over the counter purchases and ATM withdrawals. The products you use are up to you. If you have any questions about travel money for Singapore, get in touch with us using the form at the bottom of the page and a member of the finder.com.au team will be in touch.
Back to top
Get travel insurance quotes for your holiday in Singapore
Type or Select your destination(s)
Popular Destinations
Americas
Asia
Europe
Pacific
Africa
Can't find your destination? Just type it in the box above.
Back to top
More guides on Finder