Compare Personal Loans
Compare personal loans from $2,000 to $100,000 from a range of lenders in Australia.
We're reader-supported and may be paid when you visit links to partner sites. We don't compare all products in the market, but we're working on it!
Personal Loan Finder® can help you find the right personal loan for your needs.

What do you want to learn about?
Finding the right personal loan
This section is about:
How a personal loan works
How to choose a personal loan
What types of personal loans are available
What is a personal loan?
A personal loan is a secured or unsecured lump sum payment or line of credit between $2,000 and $100,000 that you repay over a period of up to seven years.
You can use the money for a range of purposes. This includes things like buying a car, consolidating debt, paying for a wedding or undertaking renovations.
Personal loans are an agreement between you and a lender in which the lender agrees to supply you with a certain amount of money that you repay over a specified time.
Repayments include interest on top of the loan, which is a percentage of the principal sum of the loan. Interest rates are determined by the lender and agreed upon by you. Interest rates come in two forms, the standard interest rate, or the advertised rate, and the comparison rate.
🕗 Ends in

Finder Exclusive: Harmoney Unsecured Personal Loan
Receive a 100% rebate up to $575 on your establishment fee when you apply through Finder, use the promocode "FINDER" and accept your loan offer by 16 December 2020. T&Cs apply.
Why is there an interest rate and a comparison rate?
The comparison rate is how you can understand the true cost of a loan. Expressed as a percentage, it includes both the interest rate and the fees that come with the loan. That's why it will usually be higher than the interest rate charged on the loan.
Comparison rates may be calculated differently depending on the loan. However, if they are provided, it needs to be disclosed how they are calculated. For example, it may be calculated on a personal loan of $30,000 over 5 years.
A comparison rate can be helpful way to work out the true cost of a personal loan. For example, if a personal loan has the interest rate of 12.45% p.a but a comparison rate of 14.52% p.a. it would indicate there is a range of fees included in the loan. If the loan has an interest rate of 10.13% p.a and the exact same comparison rate, then this indicates that there are no fees included in the loan.
How do I find out the comparison rate?
A comparison rate will be displayed alongside the interest rate. On Finder comparison tables, you will be able to see a column labelled "comparison rate" for each loan. By scrolling over this rate you will be able to see how it's calculated.
Don't forget that different loan amounts and loan terms can result in different comparison rates.
Should I still check the interest rate?
Yes! Checking the interest rate is an important part of comparing your personal loan options. Your outstanding balance will be charged interest which will be calculated using the interest rate, not the comparison rate. It's important to know what this rate is and whether it is competitive. Comparison rates are there to give you a comprehensive overall view of the loan. The interest rate is what you will be charged during your loan term (minus fees).
How do personal loans work?
Generally you can expect the following from a personal loan:
Application and approval. You can apply for a personal loan from a bank, credit union or standalone lender online, over the phone or in-branch, depending on what application types the lender offers. The time it takes to be approved depends on the lender, but it can range from anywhere between 60 seconds to a week or two.
Loan contract. When you are approved for a loan you will need to agree to a loan contract that sets out certain terms. These terms include how long you'll have to repay the loan, what fees you'll need to cover, and the rate of interest you'll be charged on your loan amount.
Loan terms. Your loan terms will be set out in your loan contract. Generally, loan terms range between one and seven years.
Loan costs. Lenders agree to lend you money in exchange for interest, which is charged annually. A personal loan interest can be fixed or variable. Other loan costs include establishment fees, monthly fees and annual fees. You should also check if you will be charged fees for repaying your loan early or making additional repayments.
Loan types. Different loans come with unique sets of terms and restrictions. For instance, when you apply for a car loan, the lender often requires that the entire loan amount be used for the car purchase. The car is also often required to be used as security in case you default on the loan. Unsecured personal loans are usually less restrictive, meaning you can use the loan amount in almost any way you choose.
How do I choose a personal loan?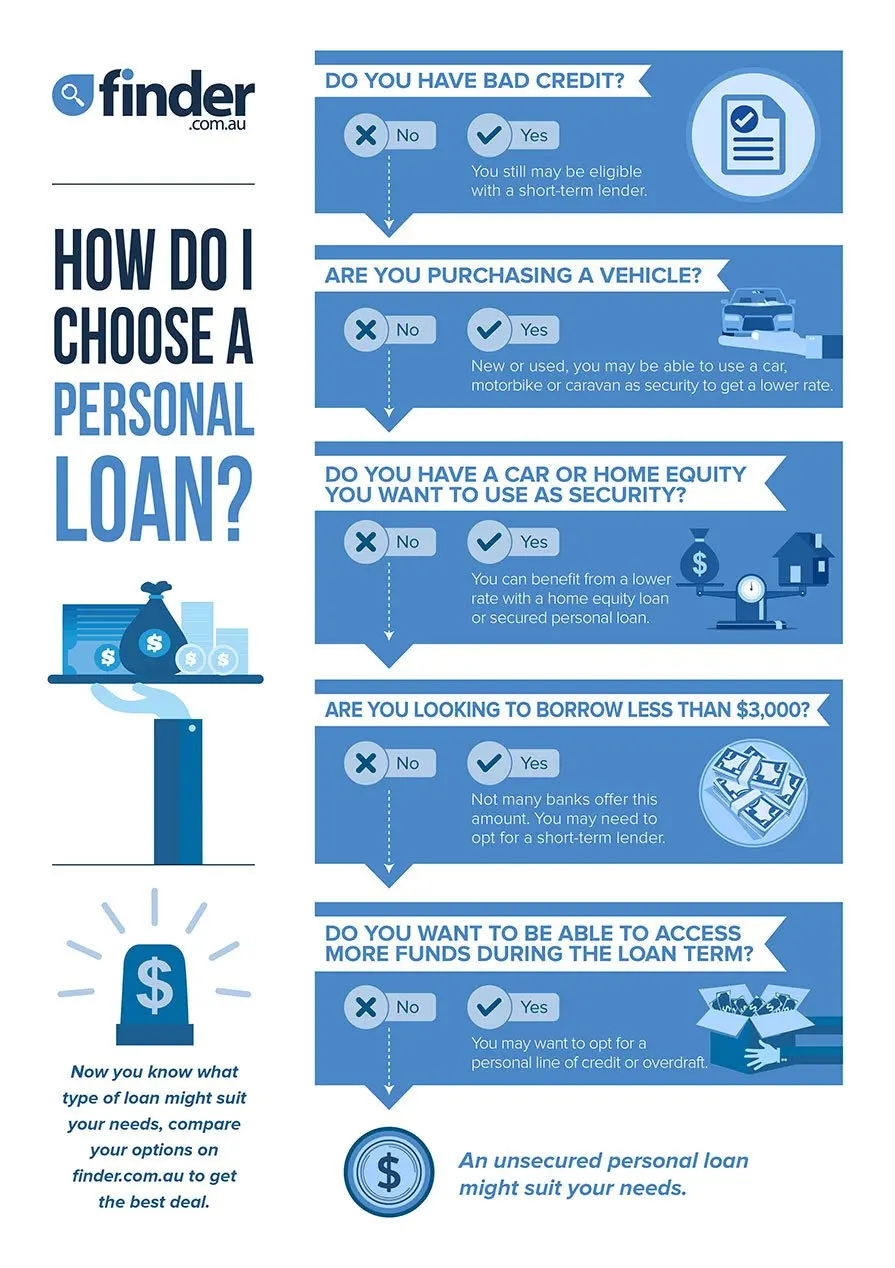 The types of personal loans that are available to you
There is a wide range of personal loans available in Australia. You can be eligible for any one of these loans depending on your income, employment situation, what you're taking out the loan for, how much you can afford to repay and how good your credit is.
Compare different personal loan types below to see which option may work for you:
Secured loans. This type of loan works by you offering an asset as security in exchange for lower rates and fees. Usually, this loan is used to purchase a car, but other types of assets can be used as well. Secured loans can be secured either by the purchase that you're intending on buying, or by a purchase that you already own.
Car loans. Looking to purchase a new or used car? You can opt for a car loan through a bank, lender or even using dealer finance in order to help you make your purchase.
Unsecured loans. If you don't want to put up an asset as security, or want to finance something unsuited to a secured personal loan, you might want to consider a loan that doesn't require a guarantee.
Line of credit. You'll get access to a set credit limit, but only pay interest on the funds you've used. You can consolidate debts or even fund a range of purchases with this type of loan.
Debt consolidation loan. Existing debt can be managed by taking out a debt consolidation loan. Consolidate separate loan accounts into one easy-to-manage loan with a potentially lower rate and with fewer fees.
Overdrafts. An overdraft is a lot like an unsecured loan but it is generally attached to your everyday bank account. You are given a set amount that you can withdraw from your account, once your own funds have been exhausted.
Bad credit loans. If you have bad credit but are in need of a loan, there are still options available to you. Either apply with a lender who doesn't perform a credit check, or who accepts applicants with negative listings on their file.
Top COVID-19 Personal Loan Guides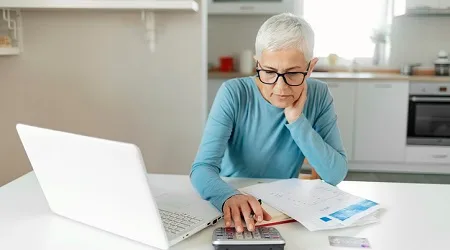 If you are thinking of deferring your loan repayments because of coronavirus, here are the conditions you need to know about.
Read more…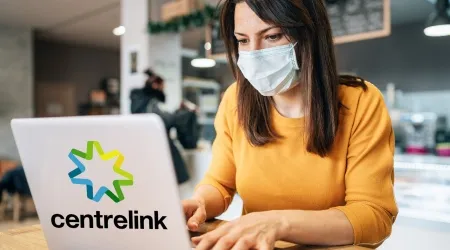 Everything you need to know about this crucial payment.
Read more…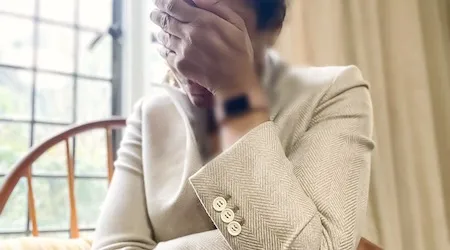 Struggling to repay your personal loan(s) as a result of COVID-19? Find out everything you need to know about what's being done to help people in your situation.
Read more…
All Finder's guides to coronavirus and your finances
How to compare personal loans
This section is about:
What makes a personal loan competitive
The interest rate and fees to expect
Working out your borrowing power
Features of personal loans: What makes a loan competitive?
When comparing your personal loan options, it's helpful to keep in mind the range of features that are available with these loans. When comparing, here are some of the things you will need to consider.
Does the loan have a competitive interest rate?

Rates on personal loans will be either fixed or variable. Compare rates across similar loan products to ensure you're getting the best deal. If the loan is risk-based, it means that you'll receive a rate based on your credit history and your general risk profile. Generally, you'll be able to receive a rate estimate before you apply, without it affecting your credit score. This way you can use the risk estimate to compare your options.

What are the fees and charges?

You'll need to consider both ongoing fees and fees charged at the onset of the loan. Common fees include an application fee, exit fee or loan set-up fee, while monthly fees and annual fees are common ongoing fees. You may also be charged to use additional features of the loan. Keep an eye out to see if you're eligible for cost savings such as fee waivers that can help reduce the cost of the loan.

Is the loan flexible?

How often are you able to make repayments? Are you able to make additional repayments or pay off the loan early without penalty? Is there a redraw facility if you do make early repayments?

Do the loan terms match your needs?

Personal loans are usually offered for terms of between one and seven years, with other loans on offer for shorter time periods. Some lenders are more restrictive than others when it comes to how long you have to repay your loan – for instance, only offering terms of one, three or five years. Make sure the loan terms on offer are what you need. Long term loans over seven years often see lower repayments but a greater amount of interest paid.
What to expect from interest rates on personal loans
The interest rate and fees you are charged depend on the loan you apply with (you can compare these on the table above), but each loan type comes with similar costs, and understanding these can help you compare personal loan options.
Interest rate
Your interest rate will either be fixed or variable. Car loans tend to come with fixed rates while unsecured loans offer both. However, you will find a mix of variable and fixed rates within each loan type.
Variable

Variable rate personal loans mean the loan is more flexible and comes with longer loan terms. However, with a variable rate, your rate could change with time. Meaning that it could go up.
Fixed

Fixed rate personal loans usually come with restrictions, such as not allowing you to make extra repayments. These loans also come with shorter terms, usually up to five years. Fixed rate loans do not go up or down over the life of the loan.
Personal loans can also come with set interest rates or (as previously mentioned) risk-based interest rates. Set interest rates mean the loan comes with a single rate that all approved applicants receive. Risk-based rates mean the loan will come with an interest rate range and you will be approved for an interest rate within that range. The factors that influence what rate you get depend on your credit history, the amount you apply for and the loan term and the details you provide in your application.
Summary: how to compare personal loans
Check the loan type - is it fixed or variable?
Think about security - Do you want to secure the loan against an item for a lower rate?
Check the interest rate
Check for monthly fees
Look at the comparison rate - this will give you an indication of the true cost of the loan
Applying and being approved for a personal loan
This section is about:
Who is eligible for a personal loan?
Documents you need for your application
How to improve your chances of being approved
The application process
Who is actually eligible for a personal loan?
Eligibility for personal loans depends on a few different things:
If you have a low income. Applicants with low incomes can still be approved for low income personal loans. It's always a good idea to check the borrowing requirements and check your repayments with a calculator.
If you're a pensioner. Applicants who are currently receiving pension payments have the option of getting a personal loan for pensioners.
If you receive Centrelink payments. If you're receiving Centrelink payments or other benefits, you can still be eligible for a loan for people on Centrelink payments. However, it's important to make sure you can meet the repayments before applying.
If you have bad credit. You're still able to apply for certain personal loans if you have negative marks on your credit file. You might end up paying a higher interest rate on these loans, so it's important to compare a range of bad credit personal loan offers before applying.
If you have existing credit card or personal loan debt. You may still be approved for a new personal loan if this is the case, but you should calculate your repayments and your debt levels before continuing.
If you don't meet the minimum requirements. You still might be able to apply with a guarantor. This is where someone, usually a family member such as a parent, agrees to 'guarantee' your personal loan should you fail to meet your obligations.
But I'm a temporary resident on a 457 visa - can I still get a loan?
Did you know that you could still get your loan approved if you hold a visa but many of the big banks wont lend to you. If you're researching institutions that might
approve a personal loan on your temporary resident 457 visa
, then it's best practice to go in armed with as much knowledge as possible. Find out what banks could offer you a loan, what the criteria is and how you can maximise your chance of being approved.
What documents will I need when applying for a loan?
Each bank and institution have their own criteria that you will have to meet to finalise your loan application.
How do I know which type of personal loan I need?
Different type of personal loans suit different loan purposes. Here is how to find the right loan to suit your needs:
If you're looking to buy a car
You can consider either a car loan or an unsecured personal loan. A car loan is preferable if the car you're looking to purchase is eligible to be used as security (not all used cars are) as the interest rates are lower. However, if you're buying a used car that is older, don't want to use the car as security for the loan or want to borrow extra funds for something else as well, you may want to consider an unsecured loan. You can compare both on the page above.
If you want to consolidate debt
You can consider an unsecured loan or a balance transfer credit card. The right option for you will depend on the type of debt you want to consolidate, how much debt you have and what products you're eligible for. For example, if you have loan and credit card debt you may need to consider an unsecured loan. There's also the option of either a Citi or a Virgin balance transfer credit card, as these are the only two providers that let you balance transfer personal loan debt. You can compare unsecured loans for debt consolidation on the page above or head here to compare balance transfer cards.
If you want to pay for a wedding, take a holiday or pay for home renovations
You may want to consider an unsecured loan. These can come as either a lump sum payment or a convenient line of credit that you can draw on when you need to.
If you need to borrow less than $3,000
You won't have many options from banks for loans of this amount, so you may need to consider a personal overdraft, a line of credit or a credit card. You can also consider a short term loan (there is a comparison on the page above) but keep in mind these are very high-cost forms of credit and should only be taken out if you have no alternatives.
If you have an asset, such as a vehicle, to offer as security.
You can consider a secured personal loan. This involves you attaching an asset you already own to take advantage of a more competitive interest rate. You can then use the funds for any purpose.
I need a loan for debt consolidation
Debt consolidation loans work by letting you bring debts from different credit accounts together so you can pay them off with one rate and one set of fees.
When you're comparing loans for debt consolidation:
Consider whether the new loan will save you money. Work out your new monthly repayment and if this will be lower than what you are currently paying.
Think about your eligibility for the loan. If you have a lot of debt from several accounts you may not be able to consolidate all of it, or if you have bad credit you may need to consider your bad credit debt consolidation options.
How can I improve my chances of the loan being approved?
There is no way to guarantee you're approved for a loan, but giving yourself the best chance at being approved starts with meeting the eligibility criteria set by the lender. To further your chances of being approved, keep the following in mind:
Establish your borrowing capacity. What repayments can you afford? Lenders will use a variety of criteria to decide how much you're eligible to borrow, but you need to know how much you can afford to repay.
Building a good banking history. Keep your account in good standing to build a positive relationship with your bank, even if you don't plan on borrowing from them.
Keep your credit rating in good standing. Make sure you keep track of all your payments, from credit cards to utility bills, because any arrears, debts, or missed payments will affect your ability to access credit.
Keep track of your saving goals. If you manage to contribute to your savings regularly, it shows lenders that you are likely to manage ongoing loan repayments.
How to apply for a personal loan
Get ready to make your purchase. Make sure you know how much you want to borrow and have worked out that you can meet the repayments.
Choose a secured or unsecured loan. If you already own an asset or are looking to buy one, then a secured loan may be an option. If not, you may want to consider your unsecured personal loan options.
Decide between a fixed or variable rate. A fixed rate loan means your repayments are set for the life of the loan and can't fluctuate, whereas a variable rate loan can increase or decrease your repayments over the life of the loan.
Choose your terms. A calculator can help you work out your repayments.
Start your personal loan research and comparison. This is an important step to finding the best loan option for you.
Click through and apply. Once you find the loan you want to apply for, simply click 'Go to Site' to apply.
---
Popular Searches on finder
*The products compared on this page are chosen from a range of offers available to us and are not representative of all the products available in the market. There is no perfect order or perfect ranking system for the products we list on our Site, so we provide you with the functionality to self-select, re-order and compare products. The initial display order is influenced by a range of factors including conversion rates, product costs and commercial arrangements, so please don't interpret the listing order as an endorsement or recommendation from us. We're happy to provide you with the tools you need to make better decisions, but we'd like you to make your own decisions and compare and assess products based on your own preferences, circumstances and needs.
The questions we've been asked about personal loans
Read more on this topic